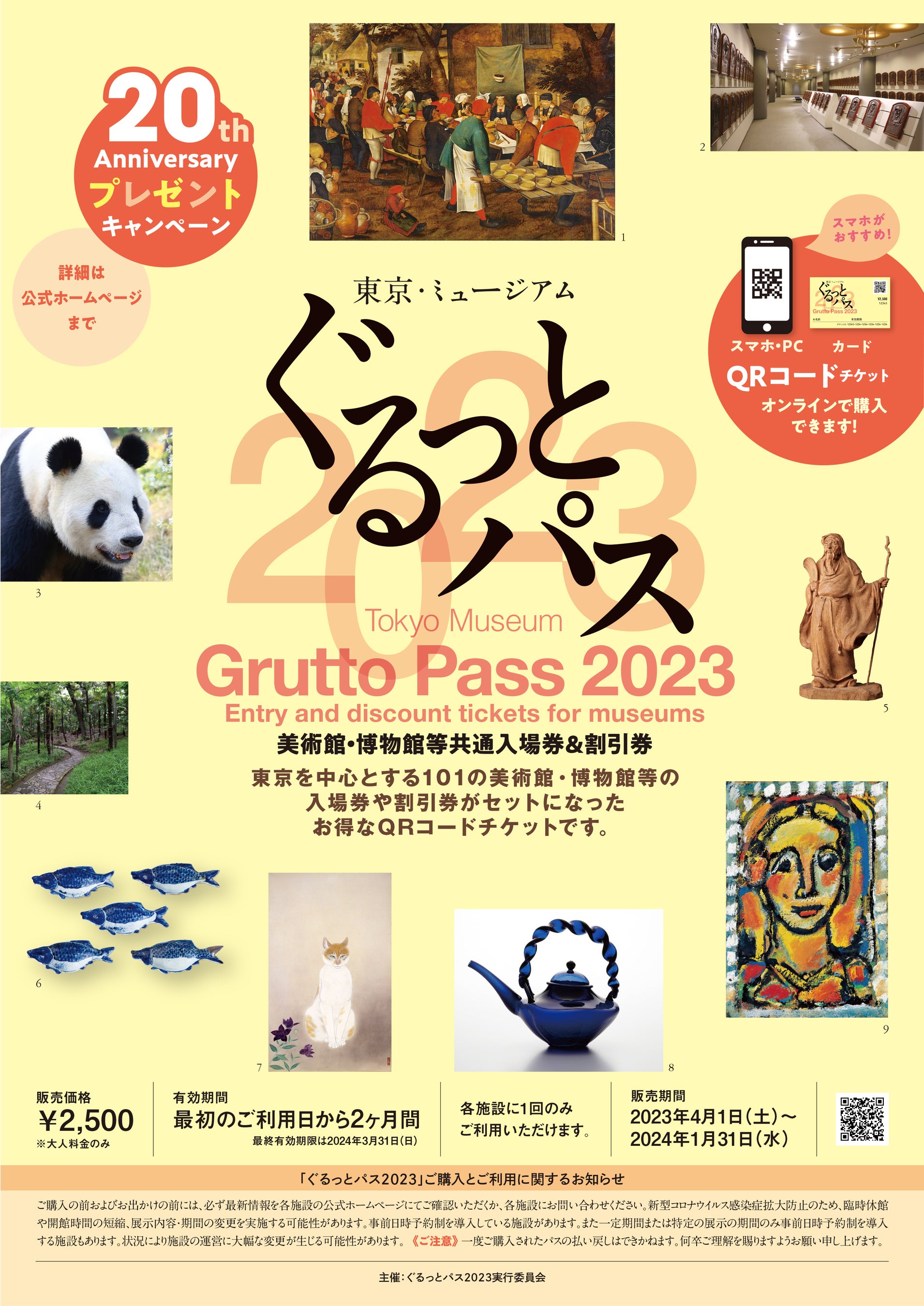 The "Tokyo Museum Grutto Pass 2023" is a great cultural facility excursion ticket for 2,500 yen that includes admission tickets and discount tickets for 101 art museums and museums mainly in Tokyo. https://www.rekibun.or.jp/grutto/



The 2023 edition, which marks the 20th anniversary of the birth of the Grutto Pass, will be released on Saturday, April 1, 2023.

In 2022, the conventional booklet type will be reborn as an electronic ticket and card (QR code).

2023 will be the second year of computerization.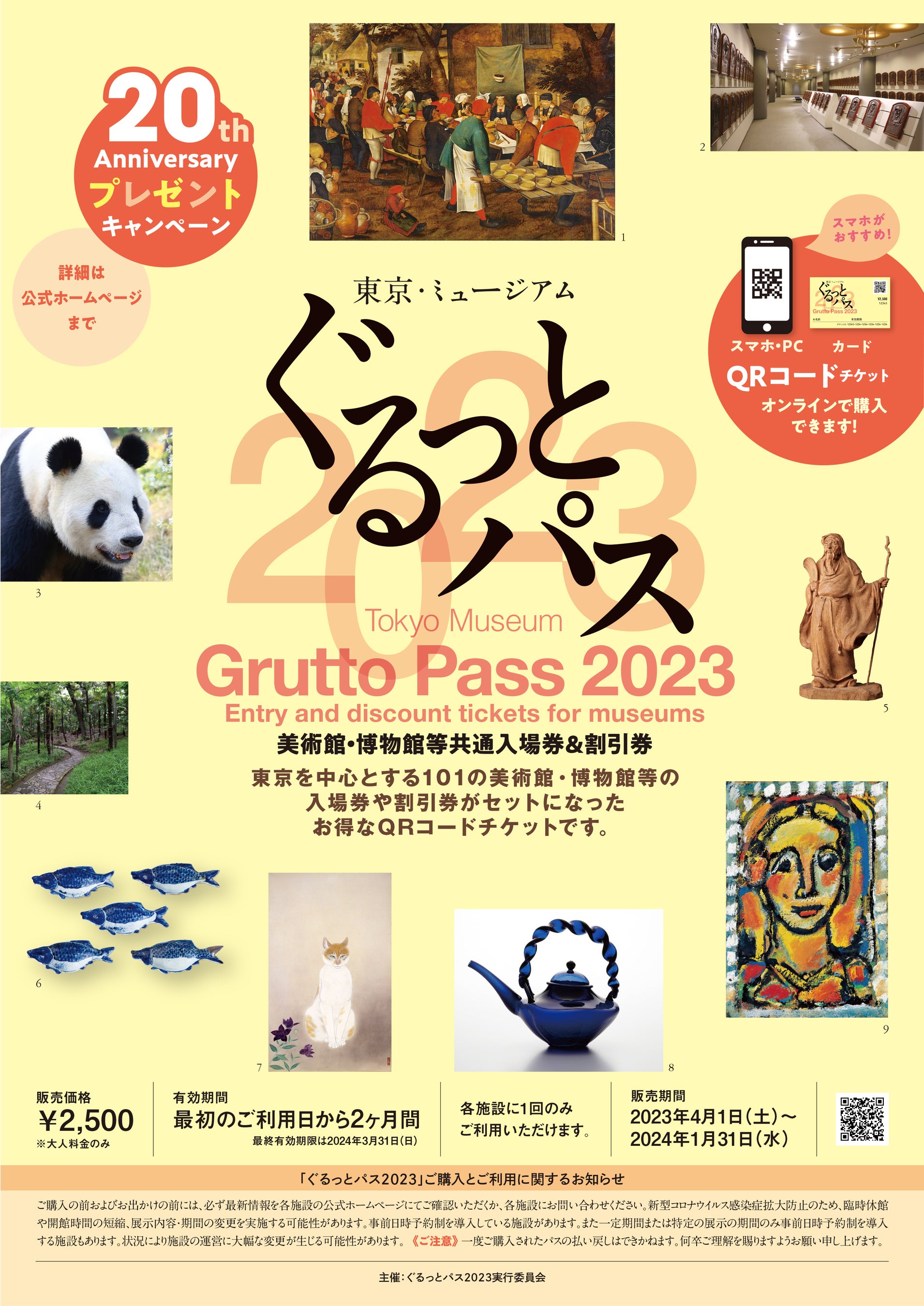 Introducing the appeal of the Grutto Pass 2023.
"Grutto Pass 2023" allows you to enter 101 facilities such as art galleries and museums for free or at a discounted rate. You can choose your favorite facilities within the validity period of 2 months from the start date of use, make your favorite plan and enjoy it.
Electronic tickets are available online 24 hours a day. The feature that allows users to check their usage history on their smartphones, PCs, etc. when purchasing online has been very well received.
"Gurutto Pass Card" (card with QR code) will be sold at 101 target facilities.
No matter which method you purchase, it is convenient to carry around. You can always carry it with you and use it anytime.
Facilities new and re-participating in Grutto Pass 2023
The Baseball Hall of Fame and WHAT MUSEUM will newly participate in the Grutto Pass 2023.
---
---
Baseball Hall of Fame and Museum
Baseball Hall of Fame Museum opened in 1959. It exhibits the history of baseball from its beginning to the present. People who have contributed to Japanese baseball are commended as inductees, and their reliefs are displayed in the Baseball Hall of Fame Hall to honor their honor.
WHAT MUSEUM
Valuable works of art and architectural models entrusted to Warehouse TERRADA by artists and collectors are exhibited. We create a place for encounters with art and architecture by displaying not only the artist's thoughts but also the collector's commitment along with important works.
The Suntory Museum of Art will rejoin.
Suntory Museum of Art
Based on the basic philosophy of "beauty in life," the museum houses approximately 3,000 works ranging from Japanese antiques such as paintings, ceramics, lacquerware, and textiles to glass from the east and west. About 6 times a year, we hold special exhibitions centered on Japanese art.
In 2023, three unique and attractive museums will be added.
Target facility
101 museums, zoos, aquariums, botanical gardens and gardens
* 101 facilities where "Grutto Pass 2023" can be used → https://prtimes.jp/a/?f=d38211-20230123-19bcb923b65cdc736f095ba815fe562b.pdf
*Can be used once for exhibition at each facility.
*There are "exhibitions that can be entered" and "exhibitions that can be used as discount tickets".
Selling price
2,500 yen (tax included) *adult rate only
Sales period
April 1, 2023 (Sat) – January 31, 2024 (Wed)
valid period
2 months from the date of first use
(However, the final expiration date is March 31, 2024 (Sunday))
sales place
① Purchase online
If you have a smartphone or computer, you can purchase an electronic ticket (QR code) on the "Grutto Pass 2023" purchase site. If you are using a computer, please print it out and use it.
②Purchase at target facilities
You can purchase
a "Gurutto Pass Card" (a card with a QR code)
at the window of 101 facilities.
(3) Other sales outlets
■ "Gurutto Pass Card" Sales Counter
Tokyo Tourist Information Center (Tokyo Metropolitan Government No. 1 Main Building 1F)/Asakusa Culture Tourist Information Center (In front of Asakusa Kaminarimon)/Ueno Park Information Center/TIC TOKYO (JR Tokyo Station Nihonbashi Exit)/Tokyo City i (KITTE)/Central Ward Tourist Information Center (in Kyobashi Edogrand) / Chubu Region Information Plaza in Keio Shinjuku / Libro Shiodome Siosite Store, etc.
■ Voucher sales window
We sell vouchers. Please exchange it for a "Gurutto Pass Card" at the target facility.
7-Eleven/Family Mart/Lawson/Ministop etc.
* Refunds and extension of the period are not possible. Please check the details on the "Grutto Pass 2023" website https://www.rekibun.or.jp/grutto/ etc. in advance. (After Saturday, April 1, 2023)
*In order to prevent the spread of new coronavirus infections, the museum may be temporarily closed without prior notice. When you go out, be sure to contact each facility for the latest information, or check the official website of each facility.
【inquiry】

Tokyo Museum Grutto Pass Secretariat
Phone 03-6256-9921 (10:00 am to 5:00 pm on weekdays, excluding Saturdays and holidays)
Arts Council Tokyo, 8F, Kudan First Place, 4-1-28 Kudankita, Chiyoda-ku, Tokyo 102-0073