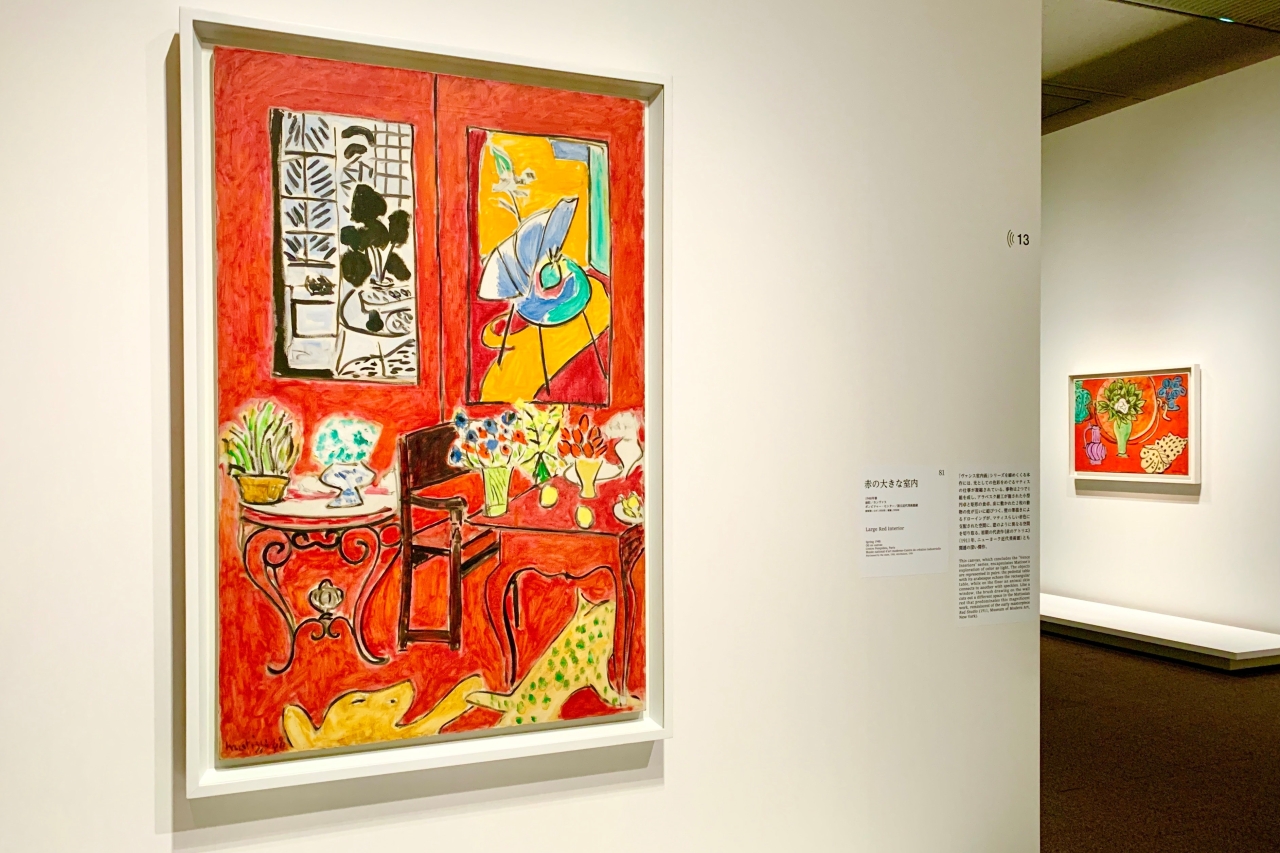 Henri Matisse (1869-1954), a leading French painter of the 20th century, is known as a central figure in the Fauvism movement, whose vivid colors had a major impact on art history. A large-scale retrospective "Matisse Exhibition" is now being held at the Tokyo Metropolitan Art Museum. The exhibition period is until August 20, 2023.
This is a report on the situation at the venue, as I covered the exhibition, which was a hot topic for the first public exhibition in Japan of one of his early masterpieces, "Luxury, Silence, Eccentricity."
Explore Matisse's journey through about 150 masterpieces
Henri Matisse is known as the "Magician of Color". His pictorial expression, which freely released colors from the visible reality, revolutionized art history and left an unforgettable mark on the history of modern art.
The "Matisse Exhibition" currently being held is the first large-scale retrospective exhibition in Japan in about 20 years. About 150 masterpieces were gathered from the Center Pompidou in Paris, which boasts the world's largest Matisse collection. Focusing on paintings, sculptures, drawings, paper cutouts, and materials related to the Rosary Chapel in Vence, southern France, which is the greatest masterpiece of his later years . It is an overview of the life of 84 years dedicated to the search for vivid colors and light that appeals directly to the senses.
The exhibition consists of 8 chapters.
・Chapter 1 Fauvism 1895-1909
・Chapter 2 The age of radical inquiry 1914-1918
・Chapter 3 Parallel Exploration – Sculpture and Painting 1913-1930
・Chapter 4 People and Interiors 1918-1929
・Chapter 5 Spread and Experiment 1930-1937
・Chapter 6 From Nice to Vence 1938-1948
・Chapter 7 Paper-cutting paintings and works of the last years 1931-1954
・Chapter 8 Vance Rosary Chapel 1948-1951
Neo-Impressionism, Fauvism, Cubism…Matisse's Experimentation in a Variety of Painting Expressions
If you look at the works arranged in chronological order, you will notice that Matisse changed his painting style one after another in a short period of time. Here are some examples.
Born in 1869 into a wealthy family in northern France, Matisse set his sights on becoming a painter after he turned 20, and moved to Paris in 1891. One of the earliest works in which he was trying to establish his identity as a painter was Woman Reading (1895), which he made while studying under the symbolist painter Gustave Moreau, who was teaching at the Paris National School of Fine Arts. can be appreciated.
Influenced by Camille Corot's figure paintings, his realistic and restrained style makes one wonder, "Is this Matisse?" It was the first commercial success after it was purchased by the state, but it seems that such traditional painting methods were quickly abandoned.
Gradually, he created blazing, vivid color schemes such as Pont Saint-Michel (c1900) and Still Life with Hot Chocolate Pot (1900-1902), which foreshadowed the arrival of Fauvism a few years later. will be
In 1904, after spending a summer in Saint-Tropez at the invitation of Paul Signac, a central figure in Neo-Impressionism, he created an early masterpiece , Luxury, Silence, Elegance (1904) , using the technique of "split strokes" that he had learned from him. ) was completed.
This work, which will be shown for the first time in Japan, depicts a scene filled with light that can be called a utopia, using pure colors instead of the original colors of the subject. In general, he follows the guidelines of Neo-Impressionist painting faithfully, but if you look closely, you can see traces of experiments that are not in the guidelines, such as the abstract figures being surrounded by outlines to preserve their forms. Although Matisse's lifelong problem of the "collision of color and line drawing" remained unresolved, this work marked an important step in Matisse's painting career.
As early as the following year, he threw away this division of brushstrokes and tackled head-on the problem of the clash between color and line drawing in Collioure in the south of France. Therefore, he created Fauvism with free and bold color expression and rough brush strokes, which emphasized the senses rather than the colors that were visible to the eye.
However, while Matisse caused a scandal in the art world as a leading figure in Fauvism, when we look at Luxury I (1907), which was produced three years after Luxury, Silence, Eccentricity, we can see that the colors are harmonious and the brushwork is harmonious. It is flat. Some people may have a strong image of Matisse as a Fauvist painter, but in reality, Matisse's Fauvist tendencies did not last for several years, and by 1907, the work had already begun to explore painting space. indicates that you have progressed to the stage of
The first world war that occurred in 1914 changed the life of Matisse, who had continued to create steadily. Isolated by the mobilization of his two sons and friends, Matisse immersed himself in creation as if to resist the situation, and proceeded with innovative plastic experiments.
The most eye-catching work from this period is French Window at Collioure (1914), which was produced immediately after the outbreak of World War II. . For Matisse, who repeatedly experimented in his atelier (indoors) throughout his life, the "window" is an important motif, and in Matisse's work, the "window" does not separate the inside and outside, but makes it clear that the inside and outside spaces are the same unity. It seems that it was something to do.
Windows are also used as visual metaphors in the Western tradition. In the same work, balconies were originally drawn on the windows, but it is suggestive that they were all painted in black in the end. Is this window closed or open? Would you have recognized this as a window if it hadn't been indicated in the title in the first place? The work, which is believed to have come to an end after much deliberation while remaining unfinished, is one of Matisse's creations, showing the extreme composition of "how many elements must be removed to make the image impossible to hold?'' It is a work that marks a critical point.
While working on French Windows at Collioure, Matisse also worked on portraits. During his stay in Collioure, he had a series of dialogues with the cubist painter Juan Gris (Juan Gris), after which he produced White and Rose Head (1914) modeled after his own daughter Marguerite. Among Matisse's works, it is considered to be one of the most influenced by Cubism.
Flat and simplified screen composition, geometric human body. It shows the results of a radical experiment similar to that of the French Window at Collioure, which explores how to remove details to the utmost limit while still preserving the essence of the model.
The works introduced so far convey Matisse's voracious quest for new forms of expression through repeated experimentation and contemplation. However, the content of the exhibition is still in the middle of the second chapter, and Matisse's career has not even passed halfway through. When I watched up to Chapter 8, I forgot that this was a retrospective show about a single painter because of the variety of styles. However, no matter how his painting style changes, I feel that his high awareness of colors and shapes, and his attitude of emphasizing emotion over what is visible, are consistent.
From the perspective of the breadth of his painting style, I was particularly interested in Dreams (1935) and Sitting Rose-Colored Nude (1935-36), which can be seen in Chapter 5, "Expansion and Experiments 1930-1937."
After moving his base to Nice in the south of France, Matisse traveled to America and Oceania in the 1930s, encountering new light and space, and his works became more open and expansive. It was also a time when the means of expression, which had returned to the traditional view of painting in the 1920s, began to be simplified again. "Dream" and "Rose Nude Seated", both of which were produced around that time, were started in the same year, depicting nudes of Lydia Delektorskaya, Matisse's favorite model until his death, his secretary. Although there are many things in common, such as the blue background, the impression received from the works is very different.
"Dream", in which the upper body of a woman lying down with her eyes closed is placed across the screen, is filled with a comfortable sense of openness and expresses psychological and sculptural fulfillment. Colored Nude reveals traces of repeated manipulations of erasure and simplification, transforming an elegantly posed woman into a ghostly schematic image. Please pay close attention to these two works, which clearly express the state of contemplation during this period in which I pursued the method of inserting the form of a person into the background, accompanied by countless variations.
Matisse's quest for harmony between color and line drawing, and the last oil painting in his life, "Large Red Room"
Chapter 6, "From Nice to Vence, 1938-1948," displays several masterpieces from his later years.
It is said that Matisse's numerous experiments, which turned the world upside down, were all carried out in his colorful atelier. For this reason, the atelier itself became an important motif throughout Matisse's life. In 1939, when World War II broke out, Matisse, who was nearly 70 years old, carefully arranged the items he had collected, such as vases, fabrics, and furniture, in his atelier. I will do the work of letting the "essence" permeate my body.
Still Life with Magnolia (1941), a representative work with a beautiful red color that is synonymous with Matisse, and which emphasizes flatness and decorativeness, was completed after dozens of preparatory drawings. works. By extracting only the essence from the motif, I have come to express that multiple things surround the star-shaped magnolia as if they were floating. This is one of the painter's favorite works, which Matisse said he did "all his might".
In 1943, Matisse moved from Nice to Vence in the suburbs to escape the threat of an air raid, and it was here that he produced his last series of oil paintings, the "Interiors of Vence" series. In the same exhibition, the first work in the series , Yellow and Blue Interior (1946), and the 13th and last canvas painting by the artist , Large Red Interior (1948) are on display. increase.
In particular, "Large Interior in Red" is positioned as a masterpiece that condenses Matisse's work on color, and in a flat space, the important themes of Matisse's paintings such as red, atelier, and painting in the painting are cleverly composed. is synthesized in The two paintings hanging on the wall are both quotes from existing works by Matisse. The brush-drawn black and white drawing on the left not only spreads out into the space like a window, but it is also displayed on an equal footing with the colorful oil painting on the right, continuing to challenge the challenge of the conflict between color and line drawing. I felt that I was showing the work of Matisse to those who saw it again.
Tomoko Yabumae, a curator at the Tokyo Metropolitan Art Museum, commented on the appeal of her work, saying, "For Matisse, the world is full of harmony. So, various elements that bind together different worlds exist in harmony in a single painting (I aimed for a work).
The black outline dances lightly against the lively red background. Lines and colors not only harmonize, but also open each other up, creating an endless sense of happiness. It is a work that symbolizes that Matisse did not stop until his last years at the age of 79.
A beautiful special video of Matisse's masterpiece "Vence Rosario Chapel" full of color and light will also be screened.
So far, we have picked up paintings from the exhibition and introduced them, but in Chapter 3, we have taken up the major sculptures, in Chapter 7, the paper-cutting works, and in Chapter 8, Vence's work on the Rosary Chapel. rice field.
In Chapter 3, "Parallel Investigation: Sculpture and Painting, 1913-1930," a series of <back> works , a motif that was explored over the course of 20 years, were lined up on the wall and were very impressive. Matisse is a painter who has a strong image of two-dimensional expression, but he says that the reason why he worked on sculpture is "to organize my thoughts as a supplementary excellent work''. However, its importance was not small, and it helped me to explore the relationship between two and three dimensions, and clay sculpture was my favorite medium as it gave shape to ideas that could not yet be expressed in painting.
Gradually complicating the expression of the portrait, he tried to prove that even if the structure of the body is depicted incorrectly, the essential truth hidden in the person is not hidden, but rather revealed . The Rillette series (1925-29) is full of Matisse-like works that did not emphasize the reproduction of the visible.
The <Back> series (1909-30), which consists of four life-size female figures, seems to express the process of gradually simplifying the rear view of women from I to IV, but in fact it was a series from the beginning. Instead, it was conceived as a single ever-changing clay sculpture. It has been pointed out that the production period for this series overlapped with the production period for monumental paintings such as Dance. This shows that Matisse tried to solve the formative problems of the time by linking painting and sculpture. Sculpture, for Matisse, was what gave rhythm to his entire artistic practice.
In Chapter 7, "Kirigami Paintings and His Late Works 1931-1954," Matisse began to concentrate on his work after the 1940s, when he was confined to a bed and a wheelchair due to illness. Drawing with scissors.
Between 1943 and 1946, Matisse produced 20 paper cutouts, based on which he published the groundbreaking art collection Jazz . The title emphasizes the improvisational nature of paper cutouts. The famous cutout work "Icarus" is also included in the same book. The paper-cutting pictures, vividly colored with gouache, give the impression of dancing on the black walls of the venue.
Kirigami-e, which has the advantage of being able to easily experiment with screen composition and focus on color without worrying about outlines, was also an inseparable expression from Matisse's series of paintings. Drawing, painting, and sculpture are integrated in the single action of cutting out, and it is used as a means of unifying the two formative elements of color and line drawing.
In the climactic chapter 8, "Vence's Rosary Chapel 1948-1951" , a wealth of materials related to Matisse's work at Vence's Rosary Chapel , which Matisse worked on as a culmination of his work from 1948 to 1951, is exhibited.
Matisse, who conceived the chapel as a single comprehensive work of art, used all the techniques he had explored, such as design, sculpture, and paper-cutting, to design buildings, murals, decorations, vestments, and liturgical items. I worked on everything up to that point. You will be surprised by the vitality that cannot be imagined from the image of the word "last years".
In this chapter, a special video of the Vence Rosary Chapel, which was filmed for the exhibition, was shown. A beautiful 4K video introduces the changing light inside the chapel on a sunny day from morning to night. At the end of the tour, please enjoy the space where colors, lines, and light come together, which perfectly embodies Matisse's belief that this chapel should be a space that "lightens the hearts of those who visit''. I want you to
The "Matisse Exhibition" will be held until August 20, 2023 (Sun).
Outline of "Matisse Exhibition"
exhibition period
Thursday, April 27, 2023 to Sunday, August 20, 2023
venue
Tokyo Metropolitan Art Museum special exhibition room
Opening hours
9:30-17:30, until 20:00 on Fridays
*Last admission 30 minutes before closing
Closed day
Monday, July 18 (Tue)
*However, the room will be open on July 17 (Monday/holiday) and August 14 (Monday).
Viewing fee (tax included)
Adults 2,200 yen, university/vocational school students 1,300 yen, over 65 years old 1,500 yen

*This exhibition requires a reservation for a specified date and time .
*Please check the official page for details on viewing fees and tickets.

organizer
Tokyo Metropolitan Foundation for History and Culture, Tokyo Metropolitan Art Museum, Center Pompidou, Asahi Shimbun, NHK, NHK Promotions
inquiry
050-5541-8600 (Hello Dial)
Official site
https://matisse2023.exhibit.jp/
*The content of the article is as of the interview date (April 26, 2023). Please check the official website for the latest information.
<Past coverage report>
[Tokyo University of the Arts University Art Museum] "Purchased Exhibition -Geidai Collection Exhibition 2023-" venue report. From the Meiji era to the Reiwa era, excellent works engraved in the history of the university are gathered together
[Interview report] The exhibition "Land of Admiration Brittany" is held at the National Museum of Western Art. What did Monet and Gauguin gain in France's inner "foreign country"?
Experience the essence of Zen culture. [Tokyo National Museum] Special exhibition "Tofukuji" (~ May 7) preview report
[Calligraphy Museum] A special exhibition is being held to compare and taste the masterpiece "Lantei Cho" by calligrapher Wang Xizhi (until April 23, 2023)