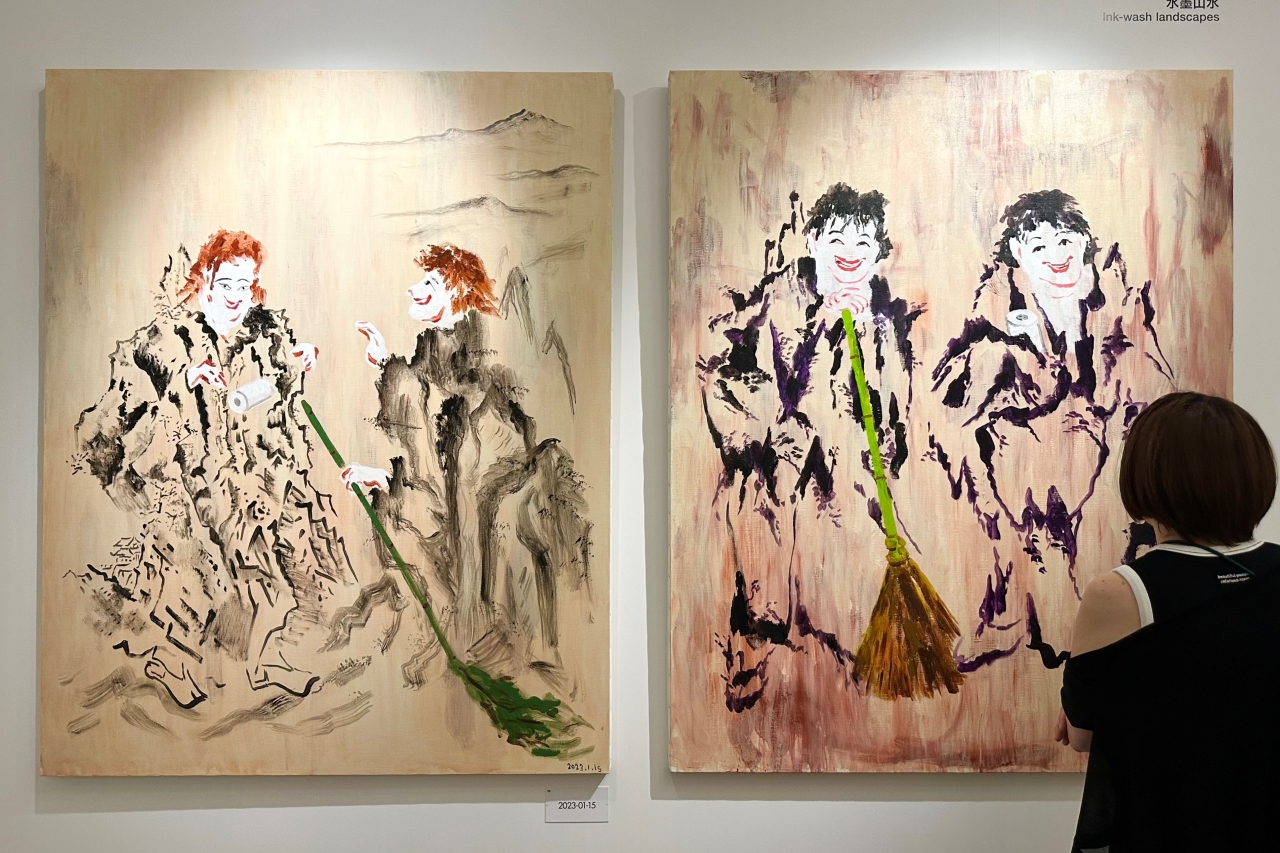 The "Yokoo Tadanori Kanzan Hyakutoku" exhibition is being held at the Tokyo National Museum Hyokeikan in Ueno, Tokyo from September 12, 2023. (Duration is until December 3rd)
We are exhibiting for the first time 102 new works from the "Kanzan Shutoku'' series, in which contemporary artist Tadanori Yokoo reconstructs the traditional painting theme of the wind-crazy monk in China with his own interpretation.
*About the images of the works… Unless otherwise specified, all works are by Tadanori Yokoo and are in the artist's collection.
Kanzan Jitoku, who became a target of admiration for his escapist behavior.
Kanzan and Jitoku are two legendary poet-monks who are said to have lived during the Tang Dynasty in China.
Despite being a highly educated man of literature, he is known to be a free and eccentric being, living in a cave, filling his stomach with leftover food, and making outrageous statements. In Chinese Zen Buddhism, their secular appearance and behavior were hailed as a state of enlightenment, and Kanzan came to be considered sacred as the incarnation of Manjusri Bodhisattva, and Chitoku as the incarnation of Fugen Bodhisattva.
In China and Japan since the Kamakura period, Kanzan Joutoku has been depicted as a traditional painting theme by many Zen monks and literary figures, and in modern times it has been featured with admiration in the novels of Mori Ogai and Natsume Soseki.
It was in 2019 that Tadanori Yokoo (1936-), one of Japan's leading contemporary artists, first exhibited a work based on the theme of Kanzan Jhotoku. It was inspired by the masterpiece "Kanzan Jitokuzu'' by Soga Shohaku, a fantastical painter of the Edo period.
Since then, he has been intensively creating the "Kanzan Joutoku" series, changing its shapes in a variety of ways. During the COVID-19 pandemic, he avoided contact with the outside world and devoted himself to creative activities in his atelier, isolated from the world, much like a Kanzan-Jitoku retreat.
---
---
The 102 works in the "Kanzan Jhotoku" series on display are all new, previously unpublished works created specifically for this exhibition.
The production period is approximately one year starting from September 2021. As Yokoo himself said at the press conference for this exhibition, "I decided to quit being an artist and become an athlete.'' With a powerful and challenging spirit that belies his age, he sometimes works three times a day. It was created at an astonishing speed, sometimes even drawing out the dots.
Beyond time and space, from image to image
Kanzan Joutoku is said to be a poet monk, and the traditional representation is that Kanzan is depicted holding a scroll with Chinese poems written on it, and Joutoku is shown holding a broom for sweeping the temple garden, but Mr. Yokoo used his own interpretation to use the scroll as toilet paper and the broom. It is humorous with modern updates such as having the user switch to a vacuum cleaner. Furthermore, the two are sitting on a toilet bowl reminiscent of Marcel Duchamp's Fountain, perhaps an association with toilet paper.
As I walked around the venue, I noticed that the titles of each work were unified only with the date of production, and there were no explanatory captions.
Masato Matsushima, head of the Research Division at the Tokyo National Museum's Curatorial Research Department, says that these exhibitions reflect Yokoo's wishes.
"Mr. Yokoo himself said that he had no intention of putting a message or trying to convey something in each of his works. I have placed on canvas what has arisen from my body.I would like people to view it while freely imagining and interpreting it.''
In many cases, a particular motif forms a series of phases, such as "red cloth.''
"2022-03-24'' depicts Kanzan Chitoku and a woman relaxing on a red mattress, which is clearly a parody of 19th century French painter Edouard Manet's famous painting "Luncheon on the Grass.'' There is a similar composition entitled "2022-05-01'', which looks exactly like "Noryo Screen'' by the Edo period painter Morikage Kusumi, which is a national treasure in the museum's collection.
In 2022-05-05, which was created a few days later, he is happily flying through the sky on a red magic carpet like in the Arabian Nights. And when I looked at 《2022-05-28》, it was like the world of Harry Potter. Perhaps each of them wanted to fly on their own, so they switched from the red carpet to the broom.
In this way, Mr. Yokoo's Kanzan Chitoku statues are associated with images one after another, transforming like a hundred faces.
He appears to be dressed up as Arsène Lupin or Don Quixote, but his body also transforms into a gigantic mountain-like body that looks like an ink landscape painting, or an inorganic, geometric form reminiscent of an AI or robot. Jitoku Kanzan does whatever he wants, such as dressing up as a woman, merging into one, and blending into the scenery so much that you can no longer tell where he is.
In addition, as in the traditional painting theme "Four Sleeping Pictures'', he is not only accompanied by Jitoroku Kanzan, but also his two masters, Bukan Zenji and Tora, as well as Einstein, Edgar Allan Poe, Shohei Otani shows his face. There are also glimpses of works that reflect social conditions such as the Tokyo Olympics and the Soccer World Cup…
There was a story of Kanzan Jitoku that was free to move around, regardless of time, place, size, reality or fiction.
The diversity of these works, as if the artist's multifaceted nature was brought out in the form of Jitoku Kanzan, is due to what Yokoo himself describes as his "physical brain.''
This work was born as a result of letting my body move freely, without being bound by style or commitment. The artist's physical manifestations from time to time, such as the change in menstruation between yesterday and today, or the things that came into view that day, felt somewhat like a diary.
Opening up new frontiers of freedom with the "sluggish body" acquired from physical inconvenience
Many of his drawings are drawn with a soft and gentle touch, and Mr. Yokoo calls this drawing style "Oborotai.''
Oborotai originally refers to a Japanese painting technique established during the Meiji period, but for Mr. Yokoo, Oborotai is a technique in which his vision and even the inside of his head become unclear due to the effects of hearing loss that he developed in 2015. , even the boundaries between things and the distinction between dreams and reality have become blurred. Tendonitis made it difficult to draw clear, strong lines. It was acquired through these physical changes.
The outlines that have become vague through repeated brushstrokes sometimes neutralize the walls of time and space, sometimes going beyond the artist's intentions and leaving the constraints of the past and technology, giving an impression of openness that melts the heart of the viewer. I'll give it to you.
Most of the works are painted on large canvases of size F100 or F150, making them impressive, and since there are no covers such as acrylic cases, it is possible to appreciate the brushstrokes and layering of colors up close.
The screen was bright, and many warm primary colors such as red and yellow were used, which gave me a sense of peace and energy, as if some weight had been lifted off my shoulders.
It is said that it is rare in the history of the museum to hold an exhibition by a living artist. Why not experience the free world of Tadanori Yokoo, who broke new ground in his 80s at this exhibition, which has a special place in the museum?
In addition, as a related project to this exhibition, the special room 1 of the main building of the Tokyo National Museum will feature a special feature titled "The Tokyo National Museum's Cold Mountains: A Longing for the Legendary Wind-Crazy Monk'' from September 12, 2023 (Tuesday) to November 5, 2023. Ongoing until Sunday .
*Can be viewed with a ticket to this exhibition. Please check the official website for details as there are exhibition changes between the first and second periods.
Including the National Treasure Indara's "Kanzan Joutoku-zu (Fragmented Zen Machine Drawing)'', the museum's collection of classic "Kanzan Joutoku-zu'' is collected and introduced in one place. It might be interesting to follow the evolution of Kanzan Jhotoku-zu and compare it with Yokoo's latest works.
Tadanori Yokoo
Born in 1936 in Hyogo Prefecture. In the 1960s, he came into the limelight as a graphic designer and illustrator representing the Japanese avant-garde scene and pop culture. He has created many stage posters for artists such as Kara Juro and Terayama Shuji, and has been active as an artist since his so-called "Painter Declaration'' in 1981. He continues to be at the forefront of creating paintings in a free style, unconstrained by subject matter or style, and has received high praise internationally.
In recent years, he has curated the "Tadanori Yokoo Ego Self-Loss Exhibition" (Yokoo Tadanori Museum of Contemporary Art, 2019), and the large-scale solo exhibition "GENKYO Tadanori Yokoo: From his hometown to fantasy and current situation", which brought together over 500 works. What?" (Museum of Contemporary Art Tokyo, 2021).
"Tadanori Yokoo Kanzan Hyakutoku" Exhibition
Period
September 12th (Tuesday) – December 3rd (Sunday), 2023
venue
Tokyo National Museum Hyokeikan
(13-9 Ueno Koen, Taito-ku, Tokyo)
Opening hours
9:30am to 5pm
*Admission is allowed until 30 minutes before closing.
Closed days
Monday, October 10th (Tuesday)
*However, it will be open on October 9th (Monday/Holiday)
Viewing fee (tax included)
General: 1,600 yen / University students: 1,400 yen / High school students: 1,000 yen / Junior high school students and under: Free
*For other details, please check the exhibition official website.
Sponsored by
Tokyo National Museum, Yomiuri Shimbun, Agency for Cultural Affairs
inquiry
050-5541-8600 (Hello Dial)
Official site
https://tsumugu.yomiuri.co.jp/kanzanhyakutoku
*The contents of the article are as of the time of reporting. Please check the official exhibition website for the latest information.
<Past coverage articles>
[Interview report] Ueno's "Beginning, Beginning" Tamana Araki exhibition will be held at the Tokyo Metropolitan Art Museum. Travel through an extraordinary world that is both cute and disturbing.
The movements and trajectories of young artists. [Tokyo University of the Arts University Art Museum] "Taito Ward Collection Exhibition – Artists who left Ueno, a capital of culture and art" Preview report
[Venue Report] A major retrospective exhibition "Matisse Exhibition" will be held at the Tokyo Metropolitan Art Museum. His early masterpiece "Luxury, Tranquility, and Fun'' is shown for the first time in Japan, tracing the journey of a explorer of color.
[Interview report] "Brittany, a land of admiration" exhibition is held at the National Museum of Western Art. What did Monet and Gauguin gain from the "foreign land" within France?
Experience the essence of Zen Buddhism culture. [Tokyo National Museum] Special exhibition "Tofukuji" (~5/7) Preview report