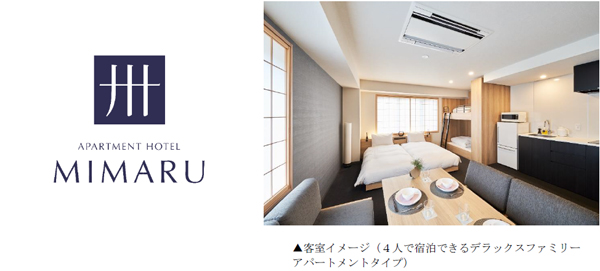 Mitsubishi Estate Co., Ltd. has recently started construction of a new building (tentative name) "Asakusa Kaminarimon 2-chome Hotel Project" a 1-minute walk from Tokyo Metro "Asakusa" Station.
After completion, Cosmos Initia will rent a building and open an urban apartment hotel in the spring of 2021.
This project site is located in a good location, a 1 to 3 minute walk from Asakusa Station on the Tokyo Metro Ginza Line, Toei Subway Asakusa Line and Tobu Isesaki Line, and 4 lines are available.
Many tourist resources such as Sensoji Temple, Kaminarimon and Tokyo Sky Tree, which are sightseeing spots in Asakusa, are nearby, and the location is highly visible from the Azumabashi intersection, which is located along Edo-dori and is also the largest intersection in Asakusa. Cosmos Initia, with the concept of "Stay like living", will launch the "MIMARU" urban apartment hotel that meets the needs of medium- and long-term stays for family groups, including foreign tourists visiting Japan in February 2018. Expand from。
Currently, it operates and operates 12 facilities in Ueno, Akasaka, Ginza, Kyoto, etc., and has been highly evaluated on travel word-of-mouth websites.
In addition, "(tentative name) Asakusa Kaminarimon 2-chome Hotel Plan" will be the first store in the Asakusa area as the "MIMARU" series.
In the future, Mitsubishi Estate will continue to respond to the vigorous accommodation needs and various accommodation styles associated with the increase in foreign tourists visiting Japan, including Royal Park Hotels and Resorts Co., Ltd. In cooperation with hotel operators, we will actively work on the development of a wide range of hotels according to the trends and location characteristics of the hotel market.
Cosmos Initia offers a new style of stay in Japan by providing a space and service that allows families to spend a relaxing time in a large room of about 40 m2.
In order to provide the best experience and joy to people around the world through accommodation in Japan, we value conversation with customers and carry out various initiatives at each hotel.
■ Characteristics of MIMARU, an urban apartment hotel
広 い Family and groups can stay in a large room of about 40m2
よ う All guest rooms are fully equipped with kitchen and cooking utensils and have a laundry function so that you can spend comfortably even in the medium to long term.
✔ The front staff also introduces Japanese / English and 13 languages interpreter app
* Supported languages: English, Chinese, Korean, Portuguese, Spanish, Vietnamese, Filipino, Thai, French, Nepali, Hindi, Russian, Indonesian

---
---
■ (tentative name) Outline of Asakusa Kaminarimon 2-chome Hotel Plan
Location: 2-8-5 Kaminarimon, Taito-ku, Tokyo, etc. (lot number)
Use: Hotel (51 rooms) / store
Site area: 386.74㎡
Total floor area: 2865.81㎡
Scale: Steel frame, 11 stories above ground
Start of construction: December 2019
Completion: March 2021 (planned)
Design and construction: Murakana Construction Co., Ltd.
Rooms: 51 rooms
Room size: 34.89-53.50㎡ (planned)
Opening season: Spring 2021 (planned)
Operating company: Cosmos Hotel Management Co., Ltd.