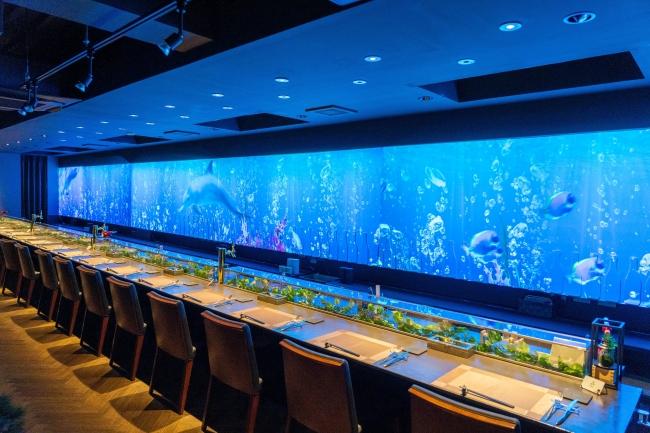 Molecu-L. Is an innovative fusion restaurant in Ueno that overturns the common sense of "Japanese food" with molecular cooking performance and projection mapping.
Matches the image of projection mapping projected on a large screen of over 10m with the serving of food.
A new style of " Japanese food '' that allows you to experience extraordinary life is popular as a " shop that you want to take on a special day '' such as dinner with important people, use on dates, and attendants of tourists from abroad .
At the end of last year, it was also featured in a special feature of the magazine "Tokyo Calendar" titled "Stores that were definitely in 2019."
This time, bar time business started on January 20, 2020.
We propose a new way to enjoy Morikyuru right before the big screen projection mapping.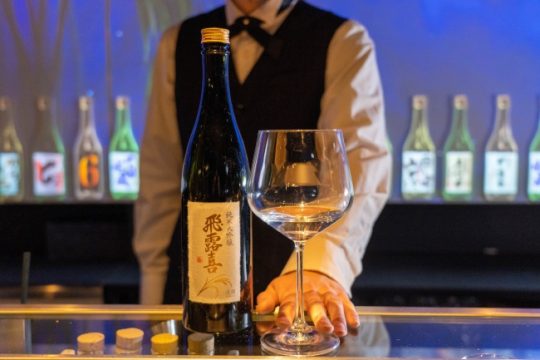 Ishihama at the store is talking with customers
"Is there a bar with a calm atmosphere where you can drink lightly after meals?"
While searching for a place to introduce,
"I hope you can spend a bar time at Mori liqueur after enjoying dinner"
So, I decided this bar time business.
---
---
Also, dinner time requires advance reservations and course meals only, but bar time is not required for reservation,
Not only those who came to Ueno to play, but also those who live and work nearby
"I wanted to come once"
"I was worried but couldn't make a reservation."
You can feel free to use it.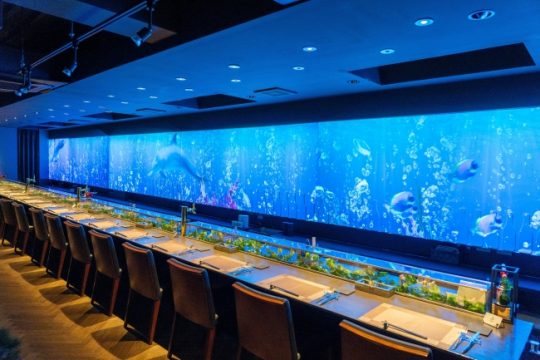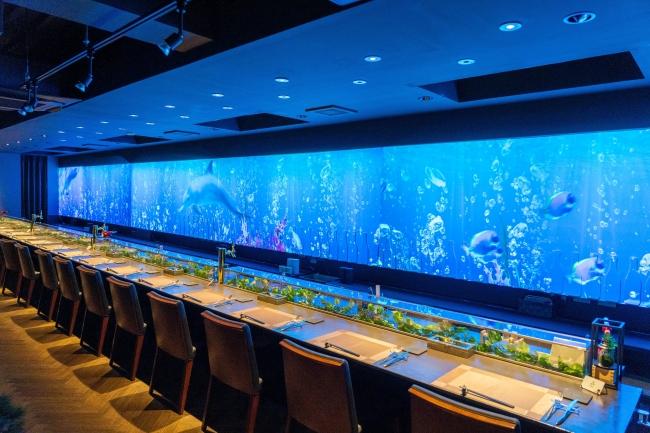 [Bar time business hours]
Mon-Fri, the day before holidays: 21: 00-24: 00 (Food LO23: 00 / Drink LO23: 30)
Holidays: 20: 00-24: 00 (Food LO23: 00 / Drink LO23: 30)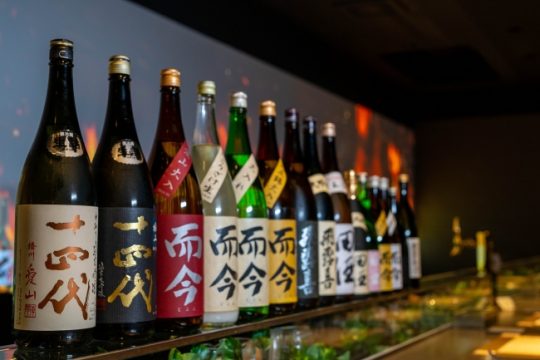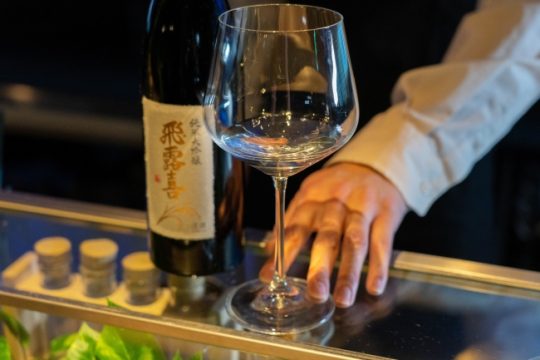 In addition to the standard alcoholic menu, drinks are available daily with original non-alcoholic cocktails and rare sake.
You can also enjoy a la carte food menu unique to Morikyu using Japanese and molecular cooking.
[Drink menu] * Some excerpts
◆ Sake ◆
Honshu Recommendations (⼗ Yondai / ⽽ Now / ⾶ Roki / Sake, etc.): Guided daily
⼤ Shinshu Super ⾟ ⼝ Jin ⽶ Ginjo ⽣: ¥ 1,200
⼀ ⽩ ⽔ 成 Sunday Back Nine: 1,300 yen
Shinsei No.6: ¥ 1,500
◆ Alcohol ◆
Asahi Premium draft beer jukusen: 1,100 yen
Whiskey Highball: From 1,500 yen
Cocktail: 1,200 yen ~
Local shochu: 1,000 yen ~
Bottled wine: from 7,000 yen
◆ Non Alcohol ◆
Molecuiar Mocktail (non-alcoholic cocktail incorporating molecular cooking technology): From 1,000 yen
Various kinds of tea: 800 yen ~
Other soft drinks: From 750 yen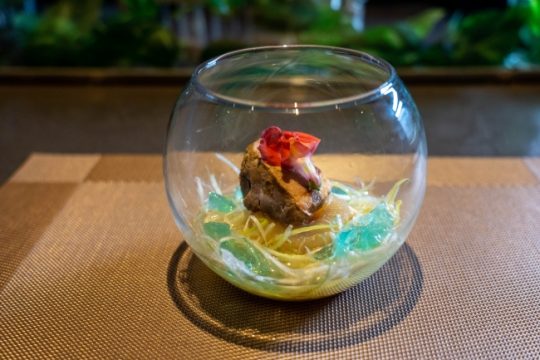 [Food menu] * Some excerpts
◆ Molecular Menu ◆
The Only bowl pork juice: 1,000 yen
Egg fried Redesign: 1,000 yen
Naked stewed pork: 1,200 yen
Cublic: 1,000 yen
Roasted egg and espuma yukke: 1,500 yen
Smoked tea duck: 1,400 yen
◆ Standard Menu ◆
Potato fries Side Winder: 800 yen
Homemade raisin butter: 800 yen
Mixed nuts: 650 yen
Edamame-Special Kunsei salt-: 500 yen
Assorted three cheeses: 1,800 yen
Miso pickled bean jam: 800 yen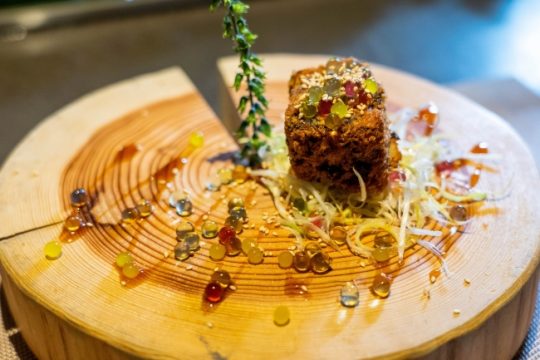 We are considering various events and plans, such as changing the menu for each season and holding gastronomic events.
This year, more foreign visitors are coming than usual.
We will welcome multilingual staff who have refined the spirit and performance of "hospitality" so that tourists can eat and drink with peace of mind.
Please enjoy a new style of Japanese cuisine.
* Our store is a cashless point return business (cashless / consumer return business) member store.
At the time of cashless settlement, 5% of points will be returned to points.
■ "Molecu-L." (Morikyuru)
Address: GAOH Kuromon Building 4F, 2-1-9 Ueno, Taito-ku, Tokyo
Access: 5 minutes on foot from Ueno Station
URL: https://molecu-l.tokyo/
Phone number 03-3836-0539
business hours:
[Monday to Friday, the day before public holidays]
Dinner time: 19: 00-21: 00 [Starting] 19:00 (Opening time 18: 45-) [Drink LO] 20:30
Bar time: 21: 00-24: 00 (Food LO23: 00 / Drink LO23: 30)
[⼟ ⽇ Holiday ⽇]
Dinner time: 18: 00-20: 00 [Starting] 18:00 (Opening time 17: 45-) [Drink LO] 19:30
Bar time 20: 00-24: 00 (Food LO23: 00 / Drink LO23: 30)
※ About visit at dinner time ※
Since our restaurant matches the timing of serving the video and the dishes, dinner time will be accepted only by reservation / course only, and will be opened 15 minutes before the start of the performance.
Please come to the store from the opening time to the start time for the simultaneous opening.
■ Operating company: Joint company
Godo is a company pursuing store management, focusing on restaurants in Tokyo, such as "Molecu-L." (Morikyuru), smoke & cheese bal "Ueno HAZE", and meat bal "Kitasenju NICNIC". Open 10 stores. It also conducts store management consulting business.
Company name: Godo Kaisha (Niwaka)
Representative: Kunihiro Kikutani, President
Established: December 1, 2011
Location: 3-14-6-301A, Ayase, Adachi-ku, Tokyo
TEL : 03-5856-1108
Business: Restaurant management / consultant
URL: http://niwaka-llc.com