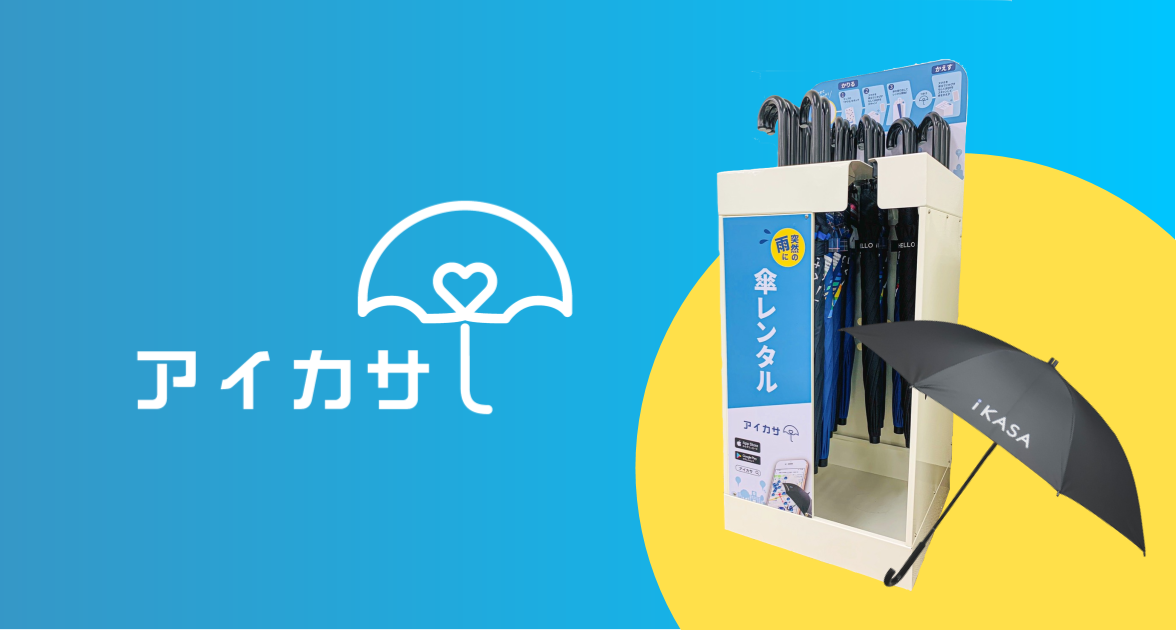 Aiming for a more environmentally friendly society by making it easier to travel on rainy days with our partner companies. Nature Innovation Group Co., Ltd. [Headquarters: Shibuya-ku, Tokyo, Representative Director: Teruji Marukawa, hereinafter Aikasa], which operates the umbrella sharing service "Aikasa", has three new features: an umbrella, an umbrella stand, and an app. We will announce the product.
After this update, we have completed the concept of "I no longer need to buy an umbrella," which I had envisioned from the beginning of the service. We will certainly change Japan, which is the number one consumer of umbrellas, along with the expansion spots that will continue to expand in the future.
Social issues and background of new products
Japan, where we live, is the world's largest consumer of vinyl umbrellas, and the amount is estimated to be about 80 million a year.
As many people have experienced, most of the 80 million bottles are consumed as single-use items, so they are forgotten somewhere or thrown away after being piled up at home. However, a sustainable society cannot be realized by continuing such large consumption.
For that reason, we, Aikasa, have been developing umbrella sharing services for a year and a half while being supported by various businesses, but this time we will make rainy days more comfortable and happy than ever before. We are pleased to announce a new product that delivers an experience you can spend and realizes a sustainable society through an umbrella. Please take the Aikasa that you can finally say, "You won't need to buy an umbrella anymore".
About new products
(In the introduction movie posted on the public crowdfunding site)
About new usage
---
---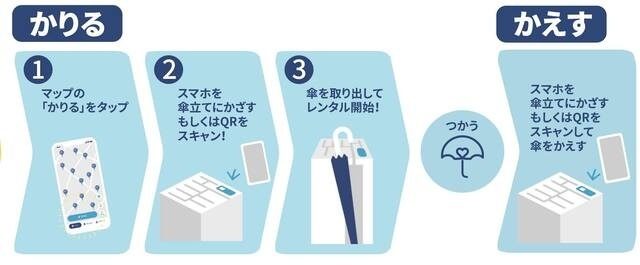 The three updates of the umbrella, umbrella stand, and app that we have made will be described later, but through these evolutions, the use of Aikasa has become more seamless than ever.
Heavy rain, "I need an umbrella as fast as 1 second!" In order to realize such a wish, I removed the dial lock that had been mounted on Aikasa. We changed the usage flow so that you can use the umbrella immediately after taking out Aikasa from the umbrella stand with the application.
Can be used for a lifetime! New umbrella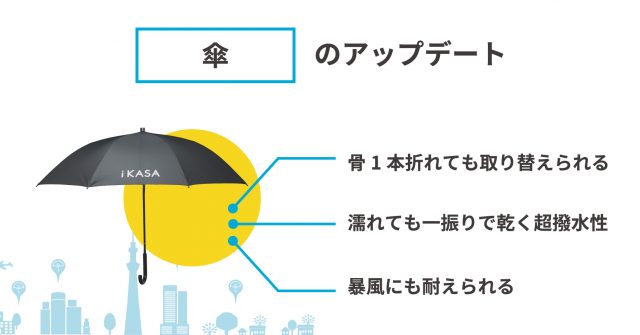 This Aikasa umbrella was born in collaboration with Saera Co., Ltd. ( https://www.caetlaltd.co.jp/ ).
There are many attractive points that I cannot talk about here, but the most important point is the "repairable" part.
With one of the conventional umbrellas, the umbrella couldn't be used immediately if one of the bones broke, but this time the Aikasa can be easily repaired from one bone. This made it possible to continue using the Aikasa umbrella semipermanently, and we were able to realize the ecosystem concept we were aiming for. Some of the other attractions are also listed below.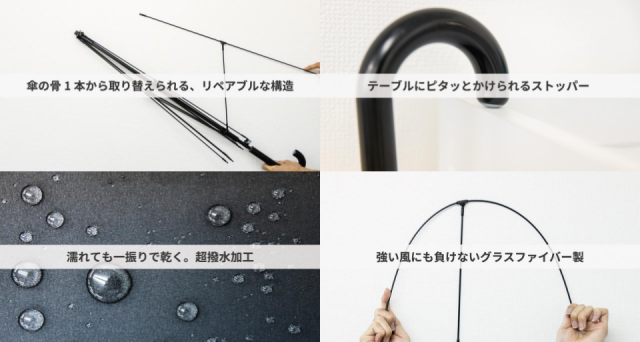 Rental starts with one touch! About new umbrella stand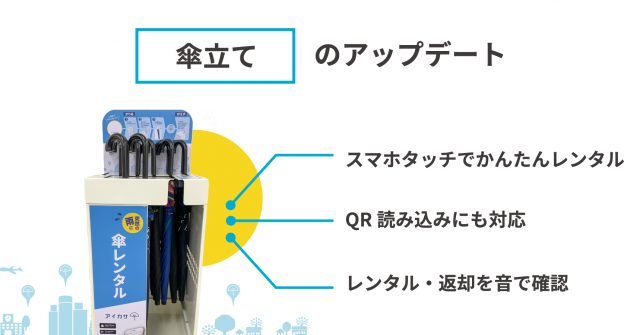 The dial lock that has been attached to the umbrella has disappeared, and instead the umbrella stand has a lock function.
The umbrella lock can be unlocked by holding the smartphone with the dedicated Aikasa app downloaded over it and linking with bluetooth or reading the QR code.
Once you download the application, you can rent an umbrella with one touch by holding your smartphone and you can easily open and close it at any time while using the umbrella, which is a mechanism that gives priority to user convenience. ..
This one is safe on rainy days! About new apps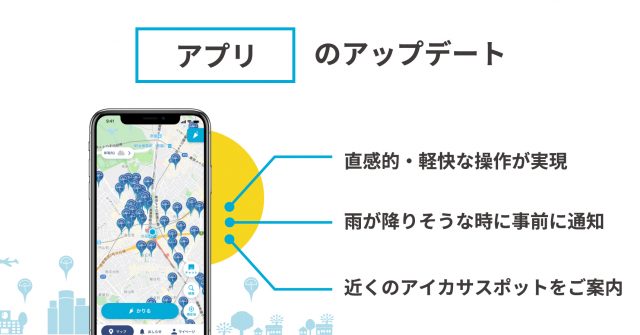 With the newly released Aikasa app, detailed services will be realized.
Rain notifications, route guidance, multiple types of payment methods, etc. that have been requested by many customers.
We will respond to a wider range of needs than before, including those who do not use LINE and multilingual support other than Japanese planned in the future.
Targeted service concept and three promises
At the milestone of this new product announcement, Aikasa makes three promises to society, the environment, and everyone who uses Aikasa.
(1) We will reduce the consumption of umbrellas together with our installation partners and work even harder on the environmental impact.
(2) In pursuit of usage experiences that go beyond Aikasa to date, we will change the way people live on rainy days.
(3) Achieve services that are truly environmentally friendly by reviewing Aikasa products such as umbrellas themselves. The spread of Aikasa creates a sustainable society.
With these three pillars as the main axis, Aikasa aims to make umbrella sharing the standard of how umbrellas should be, making your rainy day comfortable and at the same time 80 million vinyl umbrellas are consumed each year. We will also contribute to the reduction of disposable items.
Activities under the influence of the new Corona
And in the situation of the new corona facing the world now, Aikasa's activity policy is as follows.
① Do not promote going out. However, I would like to prepare a state that can be used by those who are out and out of necessity.
(2) We want to continue only environmental impact measures and socially meaningful activities.
③ I would like to challenge myself to be useful as an Aikasa other than an umbrella.
Finally
In order to have you experience this new Aikasa at a great price, and to deliver it to as many people as possible, we also offer special plans etc. with cloud funding "Makuake". I hope you will take a look.
Makuake URL : https://www.makuake.com/project/i-kasa/
In this difficult situation, Aikasa is not in a good sail, but we believe that our activities are still meaningful, and we will continue to push forward.
We hope that we will continue to step forward step by step, hoping that it will be a pleasant experience on a rainy day, and that it will help improve the environment and society at the end of the day, so we look forward to your continued support.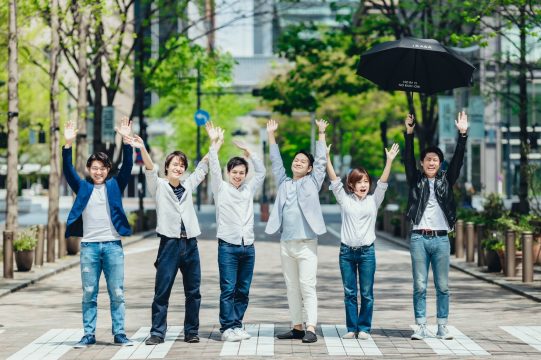 About Umbrella Sharing Service "Aikasa"
"Aikasa" is the first umbrella sharing service in Japan that started in December 2018.
The feature is that you can borrow an Aikasa and use it to return the umbrella to the nearest umbrella spot without having to purchase a vinyl umbrella even if it suddenly rains.
Currently, as of May 2020, there are approximately 850 spots in the city, including Shibuya and Ueno, as well as in Fukuoka.
The number of registered users has exceeded 90,000.
It is our mission to build an infrastructure as a "rainy day platform" and to realize a society where umbrellas are completely shared, without being unable to move or getting uncomfortable due to the lack of an umbrella.
Inquiries regarding this matter
Person in charge: Marukawa (Representative Director) / Kurosu (Director)
MAIL: info@i-kasa.com
TEL: 050-3188-7642
Company Profile
Nature Innovation Group Inc.
Representative: Teruji Marukawa, Representative Director
■ Company page: https://i-kasa.com/
■ Address: 5th floor, 5th Kano Building, 3-26-16 Shibuya, Shibuya-ku, Tokyo
■ Capital: Private
■ Main business: Operate "Aikasa", an umbrella sharing service that uses idle spaces