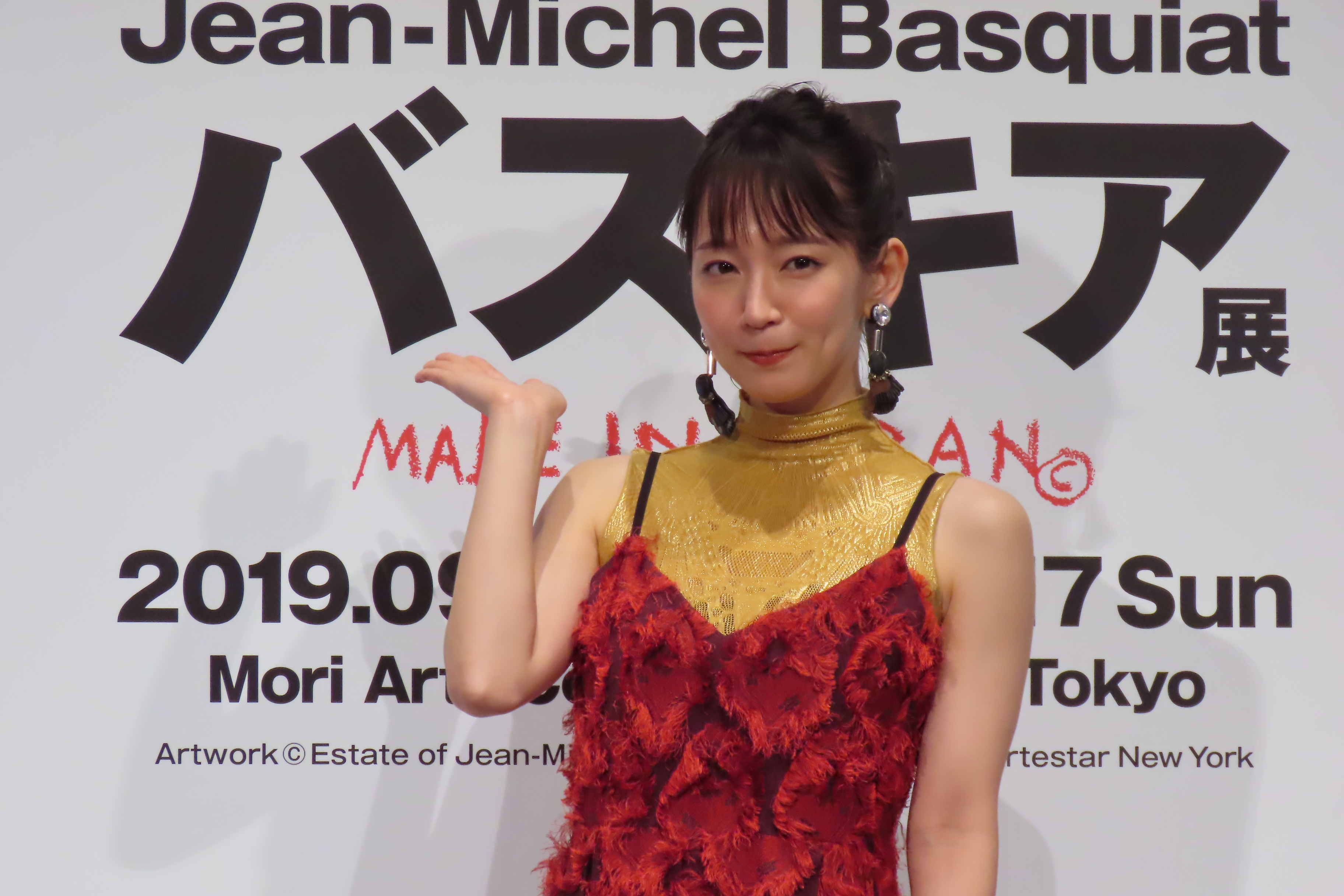 Jean-Michel Basquiat, who appeared as a comet in the art scene in the 1980s. "Basquia Exhibition Made in Japan" , which introduces works left behind in a short activity period of only 10 years, will be held from September 21 (Sat) to November 17 (Sun) , 2019 Mori Art Center Gallery (Roppongi) The Hills Mori Tower will be held on the 2nd floor of 52).
A press conference to introduce the contents of the exhibition was held at the Tokyo International Forum, so I will tell you how!
Jean-Michel Basquea who had a tragic death at the age of 27. However, the work is filled with extremely intense energy and message to tell his own short life, and is now one of the 20th century art giant's greatest masters.
Born in Brooklyn, New York, USA, Basquea is characterized by its unique theme of black painters, such as jazz, hip hop, African folk and racial issues, as it symbolizes its roots. In addition, he has a strong relationship with Japan, incorporating the motif of "YEN" that reflects the Japanese society at that time and Hiragana into his work, and frequently visited Japan to hold six solo exhibitions and ten group exhibitions.
In this exhibition, about 130 works will be introduced, revealing such unfamiliar effects that Basquiat and Japan's many diverse bonds, as well as Japan's rich history and culture, had on its creation.
Highlights of the exhibition
---
---
Japan Original Japan's First Large-scale Exhibition
To date, the arts, fashion, and culture have had a major impact, and in recent years a number of major European and American exhibitions, including London, Paris, etc., have been held, and finally the first large-scale exhibition in Japan will be held.
Display about 130 points collected from all over the world
This [Untitled] is a work that the ZOZO Co., Ltd. managing the fashion mail order website ZOZOTOWN made a successful bid for about 12.3 billion yen in 2017 by Mr. Yusaku Maezawa. About 130 points including these private collections gather in Roppongi. In addition to paintings and drawings, three-dimensional works and video works are all in one place.
"made in Japan"
Like the theme of this exhibition "MADE IN JAPAN" and "YEN" as a motif, from the work that was influenced by Japan, the point that you can feel the heat and atmosphere of Nippon at the time is also noteworthy.
---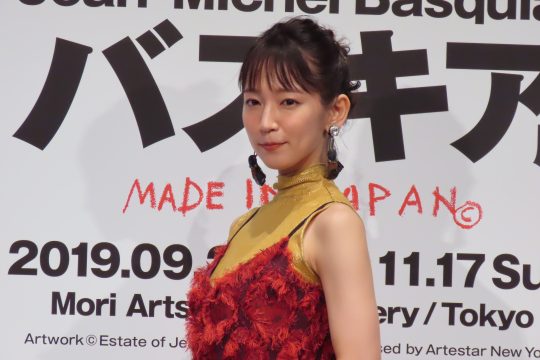 At the press conference, actress Riho Yoshioka, who acts as a voice guide navigator at this exhibition, will also be on stage! Mr. Yoshioka who is also a great art fan, talked a lot about the "art love" and "Basquia love"!
-Do you usually go to the art museum? In addition, what did you get into your start?
Yoshioka Museum of Art goes well. I love it. My parents like drawing, and I have also studied calligraphy since I was in the second grade of elementary school, so I think that I often used art works naturally.
-What is your favorite museum in Japan or abroad?
In Yoshioka area, it is Kyoto culture museum. The interior is wonderful with its history and it was really exciting when I first visited it. I was also very moved when I saw (Mark) Rothko at the DIC Kawamura Memorial Museum of Art. After that, when I saw the work of James Turrell in Tokamachi, Niigata Prefecture, I was overwhelmed as saying, "Oh, the work of the interlation is so great." Recently I am particularly interested in contemporary art!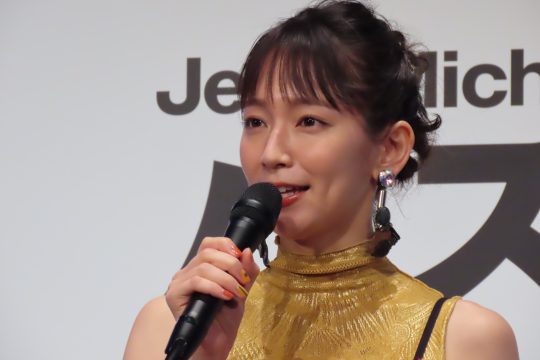 -This is the first time I've seen Basqueia's work, but what is Basqueia's impression among Yoshioka-san?
When I see works that are left in Yoshioka , I draw a world that can only be drawn only to Basquea, and I feel that energy, rather than being individualized with age, bulging. You will be amazed by the contrast and sensitivity of its unique color, and I am excited to see the real thing soon and close.
-Please let us know if you have something in common with Basquea or a part that you admire.
When I saw a picture of Yoshioka , it was overwhelming freedom … I really admire it there. I am such a human being, I feel that such an art is overflowing in my head is expressed in the work and I am moved. I used to draw pictures on the street such as doors and glass on the road when I had no money, but I think the feeling "I'm free" is transmitted and I think it's very cool.
Mr. Yoshioka, who can be the first audio guide navigator at the Basquia exhibition this time. He said that he wanted to infuse his voice carefully so that he could convey the energy of the interior and works of Basquiat.
"By touching his work, I feel excited and full of energy from all over my body. I think you will get such a feeling. By all means, I hope everyone will come to see this opportunity."
And sent me a message.
---
A notable exhibition of the genius that appeared in the art scene as a comet and the bond with Japan, "Basquia Exhibition Made in Japan".
The holding period is from September 21st (Sat) to November 17th (Sun), 2019.
Please see the miracle of the free soul at the venue.
【Overview of held】
■ Name of exhibition: 【Basquea Exhibition Made in Japan】
Venue: Mori Arts Center Gallery (Roppongi Hills Mori Tower 52F) or (Roppongi Hills)
■ Opening time: 10:00 to 20:00 ※ 30 minutes before closing
Closed on September 25 (Wed), September 26 (Thu), October 21 (Mon) on 17:00
■ Closed day: September 24 (Tuesday)
■ Viewing fee (tax included): General 2,100 yen on the day, high school / college student 1,600 yen, small / junior high student 1,100 yen
■ Inquiries: 03-5777-8600 (Hello dial) All day at 8-22
■ Exhibition official site: https://www.basquiat.tokyo/
■ Official Twitter: Fuji TV ART
Or For the latest information, visit Fuji TV ART @ fujitvart Twitter