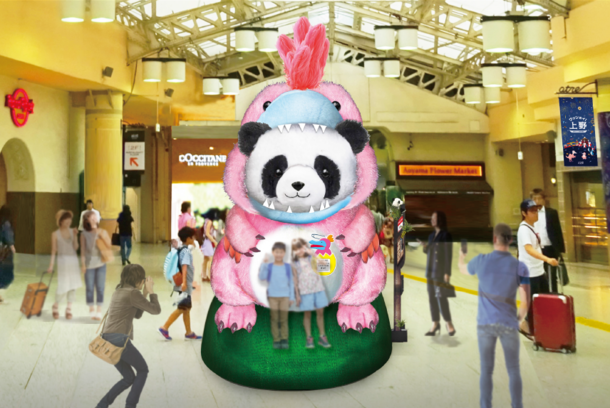 Atre Ueno (Location: Taito-ku, Tokyo) operated by Atre Co., Ltd. (head office: Shibuya-ku, Tokyo, President: Toshiro Ichinose) will be held at the National Museum of Science on July 13, 2019 (Sat) In commemoration of the opening of "Dinosaur Expo 2019", a variety of dinosaur-themed events will be held from August 1 (Thursday) to September 30 (Monday), 2019.
■ 5 meter high "Daino Cails Giant Costume Panda" is here! !
During this period, the "Deino Cails Giant Costume Panda", a miracle collaboration between dinosaurs and pandas, will appear at the Grand Concourse of Ueno Station.
The panda, the symbol of Ueno, wears the costume of "Deno Cails", one of the highlights of Dinosaur Expo, and becomes a 5 meter huge object, and welcomes you in front of the Ueno Station Central Gate with an overwhelming presence. This summer is a great opportunity to take a memorable photo with a huge costume panda that is sure to appear on Instagram.
---
---
[Dinosaur Expo 2019]
Dates: July 13 (Sat)-October 14 (Mon / holiday)
Hall time: From 9:00 am to 5:00 pm (until 8 pm on Friday and Saturday)
Venue: National Science Museum
Official website: https://dino2019.jp/
■ A total of 19 shops have dinosaur menus! !
"Do you hunt ?? Can you hunt !? Dinosaur 2019! Carnivorous VS Herbivore"
From July 13th (Sat) to August 31st (Sat), 2019, at the 19 restaurants and cafes in Atre Ueno, "Hurry !? Can you be hunted! Dinosaur 2019! Carnivorous VS Herbivore" It offers dinosaur-themed meat and vegetable dishes and sweets for a limited time. This summer, you can enjoy the dinosaur menu at Atre Ueno.
・ Mango Tree Cafe
"Chicken dinosaur plate with bone ¥ 1,580"
・ Andersen
"(1) Dinosaur fossil Danish ¥ 291"
"(2) Triceratops bread ¥ 303"
・ Valpinolo
"Powerful! Manga meat! Bone to meat ¥ 2,570"
・ Konaya
"Currysaurus nest ¥ 1,530"
■ PlayStation 4 and Monster Hunter hit !?
"Instagram campaign for #hunting or hunting" is also held!
An Instagram campaign will be held at the same time as the dinosaur menu. Follow Atre Ueno's official Instagram, add "# hunting or hunting" to the photos of the memories of summer vacation, and a lottery for those who posted "PS4 (R)" and "Monster Hunter: World Best Price" as a set We present to 3 people.
【Equipment outline】
■ "Atre Ueno" Facility Overview
Facility name: Atre Ueno
Location: 7-1-1 Ueno, Taito-ku, Tokyo
Hours: Shopping / 10: 00-21: 00 Restaurant / 11: 00-22: 30
* Some shops have different opening hours.
Number of floors: 2 floors above ground, partly underground 1st floor
Store area: Approximately 6,500m2
Number of stores: 59 (as of June 30, 2019)
■ SC operating company overview
Name: Atre Co., Ltd.
Location: Ebisu Neonate 6F, 4-18 Ebisu, Shibuya-ku, Tokyo
Company established: April 2, 1990
Capital: 1,630 million yen
Representative: Toshiro Ichinose
Business description: Station building management and operation, etc.
Management facilities: Atre Ebisu, Atre Kawasaki, Atre Kichijoji, Atre Ueno, etc.