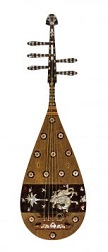 Raden Shion Gojo Tang Dynasty / 8th Century Shosoin Treasure [October 14-November 4]
Tokyo National Museum Heiseikan will hold a special exhibition "The World of Shosoin-Beauty that the Imperial Family has Preserved" from October 14th (Monday / Holiday) to November 24th (Sunday) 2019 To do.
This exhibition commemorates the emperor's imperiality and is a special exhibition focusing on the Asuka and Nara era's internationally artistic culture centered on Shosoin treasure, representing 7th century art in Japan. The Horyu-ji Temple treasure and Shosoin treasure representing 8th century art will be released simultaneously.
■ Highlights
A masterpiece of treasures from Shosoin, such as Gosho-no-Sango-gogo, which has the highest beauty that carries the sound of the Silk Road that originated in ancient India and is the only one in the world that exists only in Shosoin. In addition to exhibiting, the works of the era and materials can be displayed by displaying works produced for the same purpose, such as "Lacquered jar" (Treasure of Shokura-in) and "Ryushu Water Bottle" (Treasure of Horyuji Temple). You can get a close look at the characteristics of each different beauty.
---
---
This is an exhibition that conveys Japanese culture to the world.
You can see the irreplaceable Japanese beauty that the imperial family protected and passed down, as well as the eternal beauty that will continue to be passed down in the future.
In addition to the exhibited works that have already been announced, there are many treasures that have been carefully guarded and handed down at Shosoin. Etc., all 43 items have been decided.
■ Advance tickets are also on sale now!
・ First term + late ticket
This is a great value set ticket that can be entered once each in the first half (October 14th to November 4th) and the second half (November 6th to November 24th).
Price: General 2,800 yen (tax included) Sales period: July 19 (Friday)-September 19 (Thursday), 2019
・ "Imperial Commemoration 71st Shokurain Exhibition" + Special Commemorative Exhibition "The World of Shosoin" Set Ticket
"Imperial Commemorative 71st Shokurain Exhibition" (Nara National Museum): October 26th (Sat)-November 14th (Thursday), and each of the commemorative special exhibitions "The World of Shosoin" once each A set ticket that you can appreciate.
Price: Advance tickets 2,300 yen (tax included) Same day tickets 2,500 yen (tax included)
Sales period: Advance: July 19th (Friday)-October 13th (Sunday), 2019 / On the day: October 14th (Monday / holiday)-November 13th (Wednesday) 15:00
* The "Imperial Commemoration 71st Shokurain Exhibition" (Nara National Museum) is free to commemorate the throne on November 14 (Thursday).
・ Bibliography / voice guide set ticket
This is a great value ticket that includes the official catalog, audio guide, and admission ticket for this exhibition.
* Please exchange the official catalog at the special exhibition shop during the exhibition.
* Please exchange the audio guide at the venue audio guide reception during the exhibition.
* Narrator will be announced at a later date.
Price: General 4,500 yen (tax included) Sales period: July 19 (Friday) to October 13 (Sunday), 2019
* Each plan ticket is on sale at various play guides
[Exhibition Outline]
The Gothic Memorial Special Exhibition Shokurain's World-The Beauty of the Imperial Family-
Date: October 14 (Monday / holiday) to November 24 (Sun), 2019
・ October 14 (Mon / holiday) to November 4 (Mon / holiday)
・ Late November 6 (Wed)-November 24 (Sun))
Venue: Tokyo National Museum Heiseikan (Ueno Park)
Closed day: Monday, Tuesday, November 5
* Open on October 14 (Mon./holiday) and November 4 (Mon./holiday)