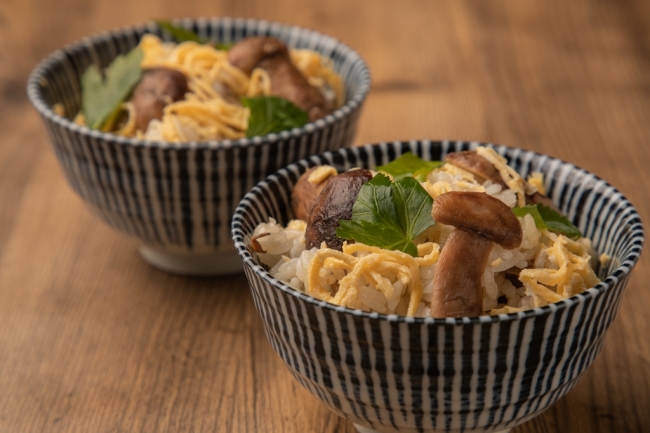 In Ueno's buffet restaurant "Gift of the Earth", "Autumn Taste of Mushrooms & Mushroom All-you-can-eat Fair" is a gourmet fair that incorporates plenty of autumn taste from September 2, 2019 (Monday) to November It will be held for a limited time until 4th (Monday / Holiday).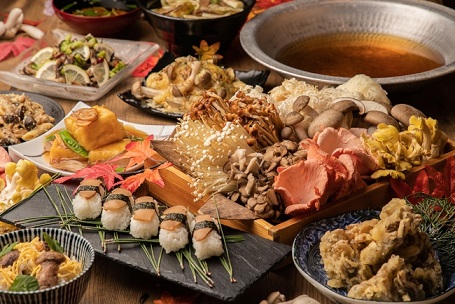 A gourmet fair for the buffet restaurant " Gift of the Earth " that is held for a limited time with the theme of ingredients that are seasonal in each season.
The autumn fair where you can feel the most natural blessings of the year will be held.
Its name is "« Autumn taste »matsutake mushroom & all-you-can-eat mushroom fair".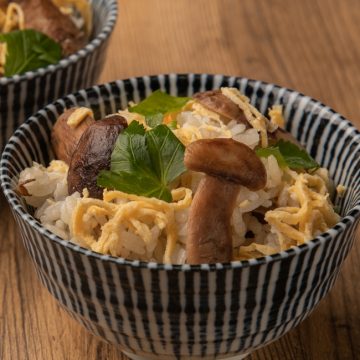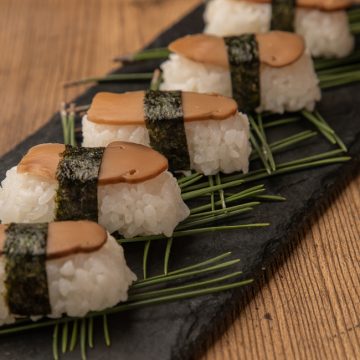 The buffet table is lined with various mushrooms that contain matsutake mushrooms, which have been prized by Japanese as a high-class ingredient due to their noble fragrance, and umami.
Because of the harsh days of the heat, please enjoy the fruitful autumn and harvesting fall early with the "Gift of the Earth".
■ Overview
<Menu details>
Lunch Dinner Menu dinner limited menu
・ Matsutake rice ・ Mushroom fried soup tofu
・ Nanban udon with matsutake mushrooms ・ Mushroom nigiri sushi
・ Mushroom soup ・ Maiko tempura
・ Shimeji and Enoki Cheese Pasta ・ Mountain Mushroom Cheese Gratin
・ Porcini cream croquette ・ Fried shiitake meat
・ Marinated mushrooms and broccoli
* Depending on the purchase status, it may be changed or terminated without notice even within the period.
---
---
<< Period >> September 2, 2019 (Monday) ~ November 4, 2019 (Monday / Holiday)
《Price》
■ Lunch (80 minutes)
Adult Weekday 1,750 yen / Sat / Sun / Holiday 1,850 yen / All-you-can-drink plan 2,580 yen
Elementary school student 950 yen 4 years old and over 600 yen 3 years old and under free
■ Dinner (120 minutes)
Adult 2,780 yen /
Plum wine + barrel raw sparkling wine all-you-can-drink plan 3,580 yen / beer & sour all-you-can-drink plan 3,780 yen / premium all-you-can-drink plan 3,980 yen
Elementary school student 1,400 yen 4 years old and over 650 yen 3 years old and under free
* All prices are exclusive of tax.
Pick up MENU
Shoto rice * Common for lunch and dinner *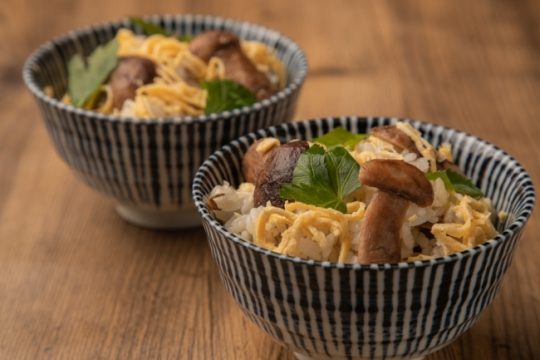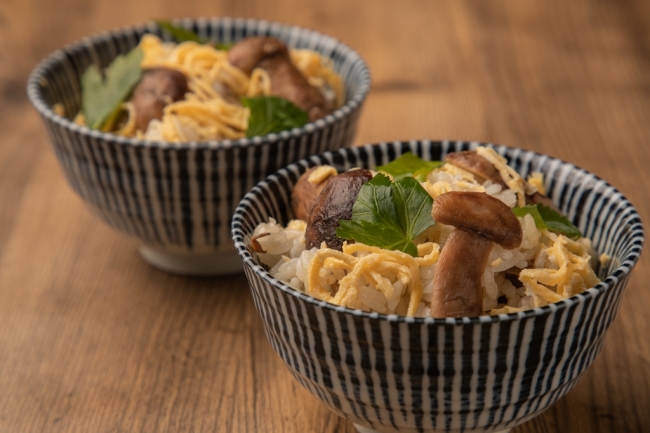 Symbol of fruit, rice and king of mushrooms, matsutake.
A representative of the Japanese autumn table that brings out the best of both flavors.
In addition to its good affinity with "matsutake mushroom soup", which has an elegant fragrance and appetizing, "eating comparison" with "matsutake nigiri sushi" combined with fresh vinegared rice is also recommended for dinner.
Matsutake mushroom soup tofu * Dinner only *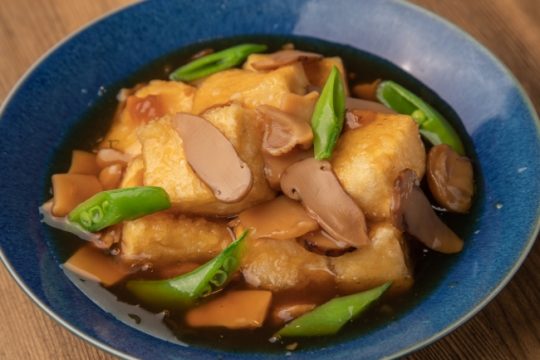 An absolutely confident work that is especially popular in the fall every year with the "Gift of the Earth" that continues to deliver Japanese side dishes.
Deep-fried soup tofu with the rich fragrance of matsutake mushrooms gently wraps the deep-fried tofu. It is not only a Japanese customer but also a foreign representative who conveys the appeal of Japanese food to Japan.
Maiko Tempura * Dinner only *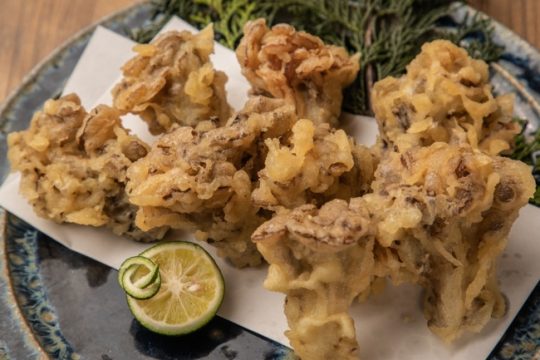 This is also a representative of Japanese food, Tempura.
The maiko, which is said to be "delicious enough for the tongue to dance," was skillfully confined in a thin fried garment to make use of its taste.
If you put your teeth on the crispy clothes, you can enjoy the taste of a delicious mountain food spread in your mouth.
Please enjoy a gem that seems to be a "gift of the earth" that simply draws out the goodness of the material.
Mushroom Cheese Gratin * Dinner only *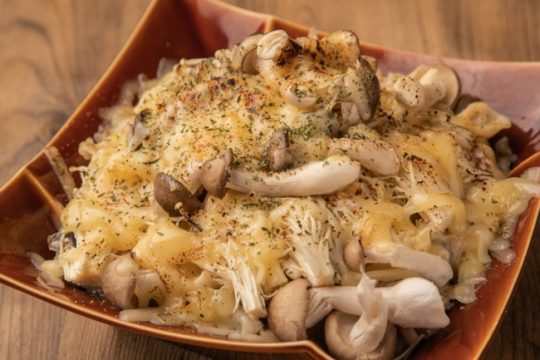 Macaroni Gratin with plenty of melted cheese sauce is a feast from autumn to winter that is loved by everyone from children to adults.
There was plenty of shimeji mushrooms and enoki mushrooms with a pleasant texture.
Along with cheese pasta, a common lunch menu, it is a Western food menu that is likely to attract cheese lovers.
Plus on MENU
The pan menu that appeared in "Gift of the Earth" last winter is steadily being prepared this winter.
As an option, a delicious hot pot lineup that can be added to the buffet menu for an additional 300 yen.
This season, we will debut a hot pot where you can fully enjoy the charm of "Mushrooms", which is the theme of this "« Autumn Taste »Matsutake & Mushroom All-you-can-eat Fair".
Colorful mushrooms pork shabu-nabe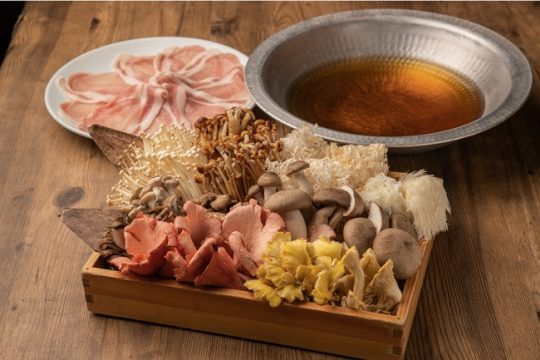 There are always 7 to 8 kinds of ingredients, such as Yamabushi-san, Sango-sanbushi-an, Tamogi-don, and vermilion-colored mushrooms. As prepared.
It is a pan that you can simply "shabu-shabu" pork with soup that has a complex mix of mushroom soup stock, but it is simple but its deliciousness can be called the true value of Japanese food.
For those who say "I don't have enough stimulation", we have prepared "Spicy Soup" using chili.
This is a hot pot that is especially recommended at the turn of the season when the climate is unstable.
* Mushroom types may change slightly depending on the stocking situation.
■ Store information
Buffet "Gift of the Earth" with a wide variety of menus of over 80 types
Many exhibitions were held at the entrance of the metropolitan city / Tokyo where many young people got off the train with ambitions, and at modern museums and art galleries nearby. Ueno is a place where people who love nature gather together.
A buffet restaurant in this area where you can fully experience the charm of Japanese food is the "Gift of the Earth".
After passing through the entrance that reminds you of a traditional farmhouse such as a well or a bowl, we enter the store and welcome you to the buffet table with about 80 different dishes using carefully selected ingredients, including a salad buffet with fresh vegetables. You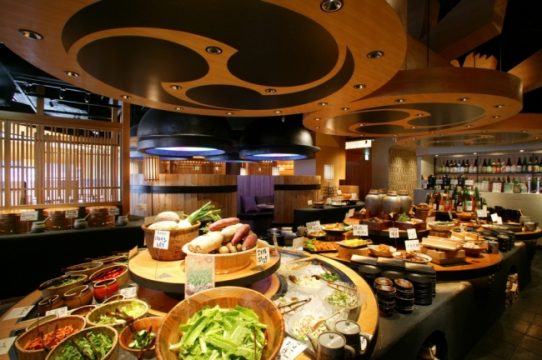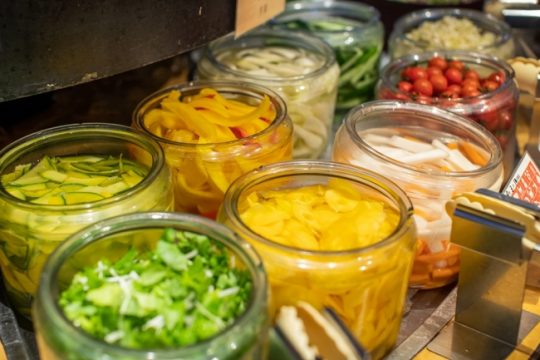 At the drink counter facing the buffet table, more than 100 kinds of plum wine from all over Japan is a "luxury competition".
It is a place where people who have no taste for alcohol and those who are sweet to alcohol are comfortable.
In the space where you can enjoy your favorite plates and drinks, we have seat types that can be used in various ways depending on the purpose.
Semi-private room imitating a photogenic bowl, table seats by the open window overlooking the city of Ueno,
Cute lighting with tea bowl and chopsticks as a motif …!
It is a buffet restaurant with excellent usability that can be used in various ways, whether it is daytime in work mode or private time where you want to relax.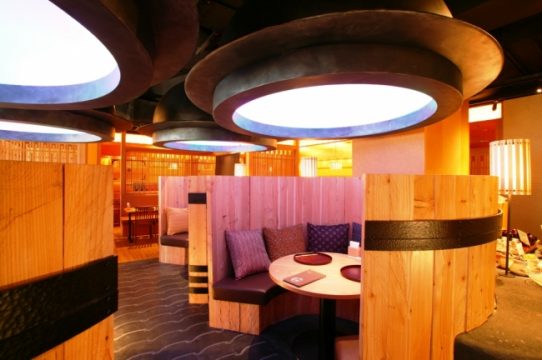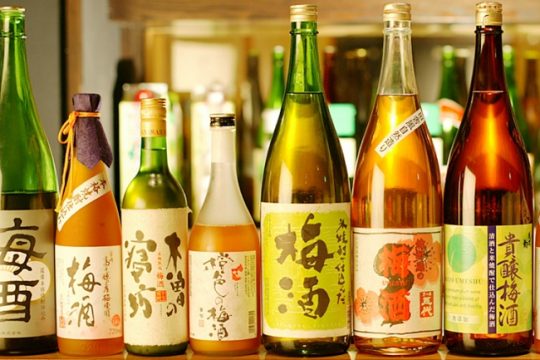 Earth gift (Daichino Okurimono)
■ Address Suzunoya Building 4F, 1-20-11 Ueno, Taito-ku, Tokyo 110-0005
■ Access 3-minute walk from JR Okachimachi Station North Exit, 1-minute walk from Subway Ginza Line Ueno Hirokoji Station Exit A4
■ No parking lot
■ TEL 03-3836-2640
■ Business hours Lunch 11: 00-16: 00
Dinner Monday-Saturday, the day before holidays 17: 00-23: 00 / Sundays and holidays 17: 00-22: 00
■ No regular holiday
■ 180 seats, private rooms available
■ URL http://r.gnavi.co.jp/g600129/