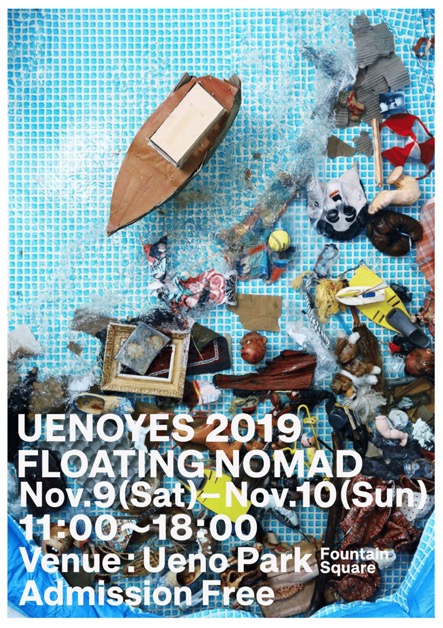 Ueno Incubation Committee and Public Interest Foundation Law Tokyo Metropolitan History Incubation Foundation Arts Council Tokyo is a theme of social inclusion in Ueno Park and its surrounding areas, which are the accumulation of Japan We have developed the "UENOYES" hatching arts business and are sending Ueno's charm to the world.
On November 9th (⽇) and 10th (⽇) in 2019, we will welcome a fashion designer Kazuhiko Sora as a director under the general producer of Katsuhiko Sugano, special on the stage at Ueno Onshi Park Kashiwadai Square The art event "UENOYES2019" FLOATINGNOMAD "" will be held. The theme of "FLOATING NOMAD" is the open space of Ueno Onshi Park, where people from various countries and regions gathered from various countries and regions to feel as if they were moving. The idea is to become an inclusive art event that expresses diversity through gathering, expression and action, and forms a place for interaction and learning.

At this event, the "cardboard object site", the landmark and workshop space of the venue, will be fashioned under the supervision and supervision of Satoshi Sugano and attended by the Tokyo Art School DOOR project. A mixed team of private school "coconogacco" will be produced and set up as a lieutenant.
In addition, Nara is the starting point for the Nobuyoshi Shinobu "Silk Road" photo exhibition, which traveled from Beijing to Urumqi, Persepolis, Palmyra to the Vatican (Rome), and the live streaming studio "DOMMUNE" was gathered as far as this space. We plan to develop content in line with themes, such as "DOMMUNE UENOYES", which distributes special programs from Germany, and a photo exhibition by French photographer Charles Freget. In particular, the latest collection of Samurai Labels, which will be presented in a fashion show format using the fountain pond at the venue, is a unique content of the event and is one of the highlights.
Yoshikazu Yamagata
1980, Tottori Prefecture. In 2005, graduated from Central Saint Martins Arts in England. During his time at school, he served as a design assistant for John Galliano. After returning to Japan, in 2007 he started the song "writtenafterwards". In 2015, he was nominated for LVMH Prize for the first time at Kei Enomoto. It presides over "coconogacco" as an essential and fashion education venue and produces many creators.
---
---
[UENOYES2019 "FLOATING NOMAD"]
◆ Main content artists
<< "writtenafterwards" fashion show "* November 9 (Sat) 17: 00-
-Main content that embodies the theme "FLOATING NOMAD"-
The label "writtenafterwards", which continues to announce the possibilities of fashion expression in various forms, holds the first fashion show in two years. The collection will be a collection of trilogy with the theme of "modern magic" that has been announced since last year. At the fountain in the foothills of Ueno Onshi Park, the venue, various costumes appear as if they were floating, and an inclusive fashion show embodies the theme.


《 Cardboard Object Site 》
―Katsuhiko Sugano supervised and supervised by the general producer.
Under the supervision and general supervision of Katsuhiko Kanno (UENOYES General Producer / Contemporary Artist), Tokyo Art School's DOOR project (*) attended by a fashion private school "coconogacco" The hybrid team will produce an art monument that will become the landmark of the venue using corrugated cardboard, symbolizing the theme of the event "FLOATING NOMAD". The completed site will be a workshop venue and a resting place (oasis) for visitors. * DOOR Project: Tokyo University of Arts Course Certification Program "Diversity on the Arts Project"
<< "coconogacco" outdoor workshop >>
-Last year's popular outdoor photo shoot-up version appeared-
Last year's well-received outdoor photo-shooting party, which was well received last year, will be upgraded in collaboration with "coconogacco". Models such as street performers (statues) dressed like outdoor sculptures can be sketched while receiving advice from "coconogacco" instructors and graduates of Tokyo Art School. Advance reservation is not required. Anyone can participate in the event.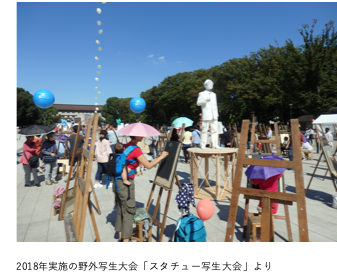 《 Kinobu Shinobu "Silk Road" Photo Exhibition 》
―Special exhibition where the theme "FLOATING NOMAD" overlaps with the images of people who trade on the trade route−
The "Silk Road" by photographer Nobuno Shinozaki, published in 1980, is a Eurasian shore along the "silk road" that starts from Nara and travels from Beijing to Urumqi to Persepolis to Palmyra to Vatican (Rome). A large-scale project that captures the scenery, customs, and face of each region. The photo book compiled in all eight publications was reorganized last year as a volume of Louis Vuitton's "Fashion Eye" collection. Carefully selected prints will be displayed at the "Gel" (pao / nomadic tent) set up for this event.
《 DOMMUNE UENOYES 》
-"DOMMUNE" will be distributing live special programs of this event alone-
The live streaming studio "DOMMUNE" presided by Naohiro Ukawa (contemporary artist and video artist), who evolves as "SUPERDOMMUNE" with the redevelopment of Shibuto Ward, will appear at this event following the Setouchi International Art Festival. These gatherings are gathered for as long as possible, and current progressive content is disseminated every moment. "DOMMUNE UENOYES" will also be distributed on its own special program.



* Details on content and talk shows will be announced on the website.
《 Purpleroom Preparatory School 》
"Purpleroom" is an artist community led by artist Umezu Kaoru. Demonstrations and talk events will be held by artists gathering at the "Purpleroom Preparatory School".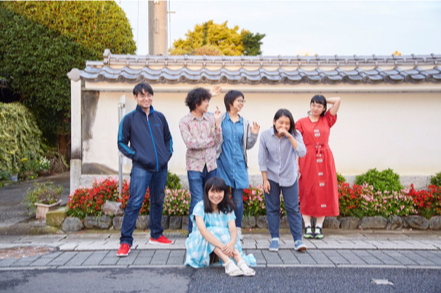 《 FLOATING NOMAD ANONYMOUS 》 ※ 11 ⽉ 10 ⽇ (⽇) around 16:30
Hiroshi Suzuhiro (Saxophone player / composer), a former leader of classical chin-don punk performance group Chanchikitorunedo, who is currently active in the special big band of Tomohide Tomoyo, It will produce an anonymous and chaotic parade with a mix of images such as Goze-san, Samurai, Circus, Chindon, Samulnori, Eastern European brass music, Vulcan brass, and Central Asian sounds.
" Charles Freje" Parade "Photo Exhibition "
Photographer Charles Freget, whose theme was the "YÔKAÏNOSHIMA" exhibition (2016 / Ginza Maison Hermès Forum), which clearly captured the sights of Tatsumoto's unique temporary gods and samurai. In this photo exhibition featuring elaborately decorated elephants, we will be exhibiting a new series unveiled in Japan, covering the Elephant Festival in Jaipur, North India.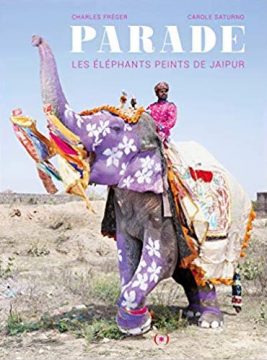 《 Tsuno Saga Arashi and Gel of Beer 》
After graduating from Nursing Science, after working at a psychiatric hospital, he studied at Ryoka's fashion private school "coconogacco", and was selected as the fashion designer ITS finalist in Europe 's best fashion competition ITS. I started working at "Beteru no Ie" (Urakawa-cho, Hokkaido), the research base. Display and report on the cutting edge of research on parties using cross-disciplinary thinking.
* Participant research: Research and practice focusing on assistance and acupuncture (acupuncture and acupuncture) based on the accumulated experience of the people involved in mental disorders such as schizophrenia.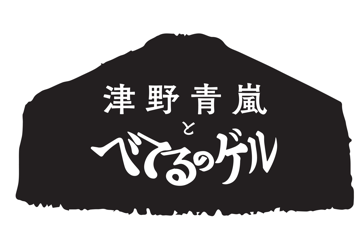 《 Silk Road Warehouse 》
This year, "Silk Road Warehouse" was founded in "PAO COMPOUND" (Higashi-Nakano), a transmission base of Yumika hatchery produced by Takumi Annaka. It is the creation of a place where domestic and foreign famous Silk Road researchers can prevent the collection of collections and materials, which are the foundation of their achievements, and at the same time gather people who are widely involved in the Silk Road. In addition to displaying the Silk Road artifacts and visual materials on a special "Gel" (Tempo of Yumaki Pass) at this event, Takumi Annaka (Representative of Silk Road Warehouse), in front of Asian hatchery researchers There will also be talks by Kosaku Kosaku (visiting professor of Tokyo arts), and historian and art historian Toru Matsueda (professor of the Faculty of Expression in Wako).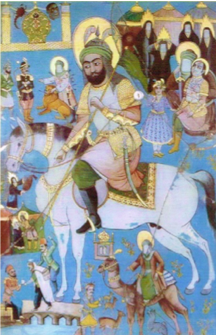 ◆ Talk show
* Details will be posted on the website later.
* Numbered tickets may be distributed at the venue.
● "FLOATING NOMAD-Diversity of hatching from the sea road"
Yosuke Kaibe (National Museum of Science, Department of Natural History, Department of Natural History) × Katsuhiko Kanno (UENOYES General Producer / Contemporary Artist) × Yoshikazu Kaji (UENOYES2019 "FLOATING NOMAD" Director / Fashion Designer)
◆ Message from Sugano Producer
We are all supposed to make the earth a family. "FLOATING NOMAD" is the one that allows each person to move forward without being restricted. Why don't you join "UENOYES" and become "FLOATING NOMAD"?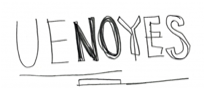 [About the project "UENOYES", a project for creating social inclusion and creation of artistic creation bases]
―Developing a hatching art project based on the theme of social inclusion in Ueno Park and surrounding areas, and disseminating information to the world―
《 Concept 》
It is UENOYES that allows you to make sure that you can make sure that you have one of the many unique features. It doesn't mean you won't know what your cocoon is. It 's not the same habits that people are alleged to be in the same habit, and that 's not the case. It is UENOYES that accepts the fact that your niece is still in that niece. ~ Katsuhiko Kanno ~
General Producer: Katsuhiko Ogino
In 1958, Gifu City was born. Completed Tokyo University of the Arts in 1984. Won the 1982 Kakimoto Graphic Exhibition Award. 1995 46th Venice Biennale. 2015 Art Selection Award for Science Award (Art Promotion Department). Develop art activities that take advantage of locality. Currently, he is a professor at the Department of Advanced Art Expression in Tokyo.
International Department Director: Aomi Okabe
Born in Taito-ku, Tokyo, raised in Sakai. Art critic and curator. Lecturer and visiting professor at the National School of National Arts, Paris, and visiting researcher at the New York School of Arts. After serving as chief curator for the Mercian Karuizawa Museum of Art for 5 years and as a professor of Musashino Art for 12 years, he is now an artistic director at the exhibition section of the Kakimoto Kaika Kaikan exhibition in Paris.
【Overview】
name
"UENOYES2019" FLOATING NOMAD ""
URL
https://uenoyes.ueno-bunka.jp/2019/
Drought
2019 11-9 (⽇), 10 ⽇ (⽇) 11: 00-18: 00 * Start time of the Isobe program varies.
Venue
Ueno Onshi Park Tomonodai Square

* Participation is free.
* No prior application required.
* The Isobe program may be distributed as a numbered ticket.
* In the case of rainy weather and stormy weather, the event may be changed or moderate.
In addition, the contents of the program are subject to change due to circumstances.

Sponsor
Ueno Incubation Plan Implementation Committee

Public Interest Foundation Hokuto Tokyo Metropolitan Incubation Foundation Arts Council Tokyo

Special cooperation
Louis Vuitton Japan K.K.
Cooperation
Rengo Corporation, Pioneer DJ Corporation
* This project is a project to form an international dispatch center for hatching arts.