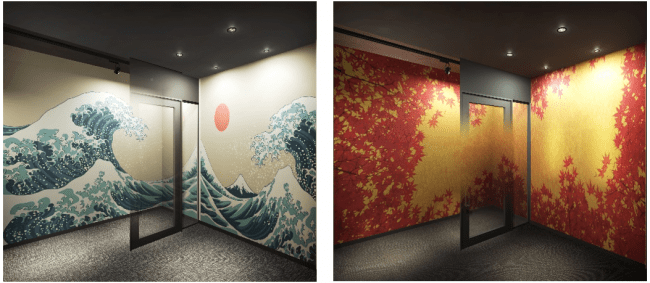 LS Co., Ltd. (Location: Chuo-ku, Tokyo / Representative Director: Yuki Liang) is the first hotel hotel business store in Ueno, Tokyo, "Q stay and lounge Ueno" "And cafe and bar" Q cafe "with various contents that will be the starting point for communication.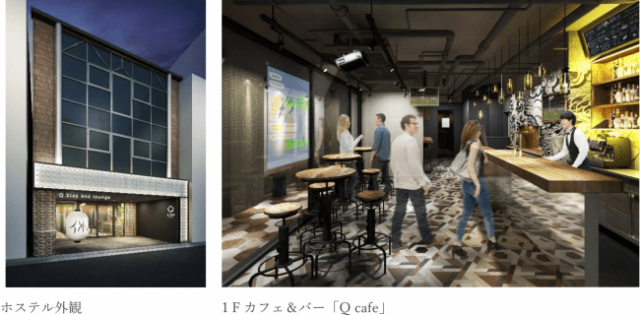 The concept is "A hub of cultures in the heart of Tokyo."
Q stay and lounge Ueno is a 46-bed hostel renovated from the 5th floor and 1st basement building, and is a main target for foreign tourists.
At Ueno, the gateway to Tokyo, we aim to create a space where various cultures and people gather, connect, mix and communicate beyond barriers.
It is a completely new social content hostel that combines reasonable facilities with sufficient facilities and functions as a hotel for travel, as well as the latest technologies such as art, culture, AI, and the local atmosphere and charm.
As a place where various encounters and discoveries are born, not just a place to stay and sleep, we provide an "unprecedented experience beyond the planned harmony".
Features of Q stay and lounge Ueno
——-
---
---
1. Introduced Japan's first multi-language simultaneous translation group chat "Kotozna Group Chat"
Introduced "Kotozna Group Chat" as the first Japanese hostel trial.
A message typed in your native language from your smartphone is converted by machine translation technology using AI and displayed on the screen in real time.
Everyone on the spot is in their native language and can chat with people from all over the world.
You can experience a new sense of communication that anyone can easily connect across languages and nationalities.

About Kotozna Group Chat
Multilingual group chat provided by Kotozna Inc.
International exchange between multiple languages and multiple people, and messages can be sent and received in your native language no matter what language your partner speaks.
It can be used as a communication tool when there are many people who speak various languages such as schools, companies, and events.
From the management side, simultaneous delivery to hundreds or thousands of users is possible, and interactive communication between the management side and any number of users within the group is also possible.
2. Exhibition of artworks in the hostel's shared space, open as a place for creators to express
At various places in the hostel, art works by young people who are interested in art, including students from the Tokyo University of the Arts, and creators who are active in the area around Ueno. Individual exhibitions, installations, workshops, etc. Events such as live painting are also held regularly.
Q stay and lounge will offer various opportunities as a place for visitors to feel free to touch art works and as a place for creators to express themselves.
3. Accommodation space with different themes on each floor
There are dormitory rooms (2-3F: mixed dormitory, 4F: female-only dormitory) and two types of private rooms (twin rooms and double rooms) that can be selected according to the travel style.
Spaces decorated with different Japanese designs, such as cherry blossoms, autumn leaves, and ukiyo-e, add to the guest experience.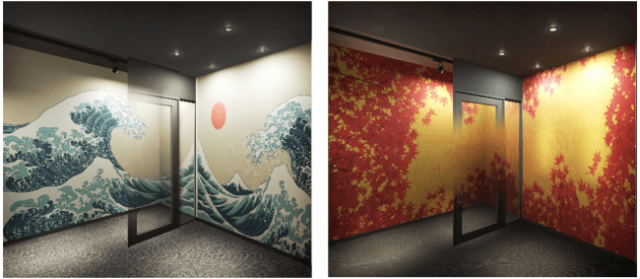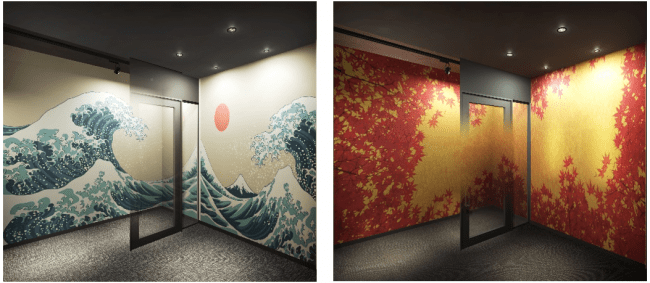 Cafe & Bar "Q cafe"
——-
A new generation social space that is the starting point for communication
Q stay and lounge "Q cafe", which can be said to be the face of Ueno, is not just a "cafe bar attached to the hostel".
We offer a variety of content that will be the seed of communication, such as the first multi-language simultaneous translation chat using AI, space decoration using a projector, and art exhibition.
There will also be various events where guests from all over the world and everyone who visits Q cafe can participate easily.
We are planning a lot of things that can deepen mutual interaction and touch the local and Japanese culture.
business hours
Cafe 10: 00-17: 00
Bar 17: 00-23: 00 (LO 22:30)
Morning 7: 00-10: 00
Lunch 11: 00-14: 00
In the morning and lunch, in addition to the Q cafe special menu, we also sell a special breakfast set and lunch box that is popular in various places in Tokyo based in Asakusa.
We offer "really delicious Japanese rice" to all guests and Q cafe visitors.
■ Menu example * There is a possibility of change.
COFFEE: Coffee ¥ 300, cappuccino ¥ 350, latte ¥ 350, espresso ¥ 350
ALCOHOL: draft beer ¥ 500, highball ¥ 400, lemon sour ¥ 400, pure rice sake ¥ 600
FOOD: Hot Sand ¥ 450, Cheese Burger ¥ 450, Hot Dog ¥ 450, Margherita ¥ 700
<Oedo bento special product>: Loin cutlet sandwich ¥ 800, secret karakage / menchikatsu lunch ¥ 800, vacuum low temperature cooking roast beef heavy ¥ 800
About Edo bento
Directly send side dishes from specialty stores every day.
For the rice, we used a silver shrimp exclusively for lunch boxes, selected by Mr. Haruo Yamashita, a "5-star rice meister".
A special blend using milky queen, Koshihikari, and "100% uncooked cooked rice" supervised by Mr. Yamashita will be delivered freshly.
Q stay and lounge Business Background
——-
In response to the recent growth of the inbound market, the growth of young tourists, and changes in accommodation needs such as emphasis on design, themes, topics, sociability, and personality, there is a need for new accommodation facilities that have never existed before. It has come to be able to.
On the other hand, there are still few facilities that meet such needs.
Against this backdrop, we will consider the following objectives and contribute to creating a highly satisfying environment that improves hospitality and makes it easier for foreign tourists to spend.
<Purpose>
・ Create a social space for Japanese and foreigners targeting young people
・ Building cross-cultural content and creating a new brand for the inbound business
・ Creation of spaces with various themes and designs that are smaller than conventional hotels
LS Co., Ltd. Representative Director
——-
LS Co., Ltd. proposes and implements a new style of hotel management by launching a unique inbound brand using Japanese content.
A valuable time to capture "Face to Face" according to "people", "things", and "feel" for young people in the new era, capturing the rapidly changing lifestyle, new needs and trends in the inbound era And the company goal is to create a place.
■ Facility Overview
Name: Q stay and lounge Ueno
Location: 2-13-2 Higashiueno, Taito-ku, Tokyo
Access: 3 minutes walk from Ueno Station on Tokyo Metro Hibiya Line and Ginza Line
4 minutes on foot from Tokyo Metro Hibiya Line Nakaokachimachi Station
8 minutes on foot from JR Ueno Station and Okachimachi Station
Keisei Main Line " Keisei Ueno '' station 8 minutes on foot
Scale: 5 floors above ground, 1 floor below ground
Site area: 108.46 m2
Total floor area: 438.77 m2
Design: VIDA Corporation
Capacity: 46 (dormitory: 42, private room: 4)
Scheduled opening: December 18, 2019 (Q cafe open), December 28 (hostel pre-open)
URL: https://www.q-stay.jp
 
■ Outline of LS Corporation
Ctrip Japan Co., Ltd. Established by former President and Representative Director Yuki Liang.
Propose and implement a new style of hotel management.
In addition, the CKC Group mainly focuses on inbound business, mainly consulting business by multinational specialists (support for inbound business for Japanese companies, support for foreign companies entering the Japanese market), mainly for travel business. Establish and operate three companies, Senyu Co., Ltd. and LS Co., Ltd.
Head Office: 7-18F, 1-18-2 Ginza, Chuo-ku, Tokyo
Company name: LS Corporation
Representative: Yuki Liang, Representative Director
Capital: 90 million yen
URL: https://www.ckc-ls.com/