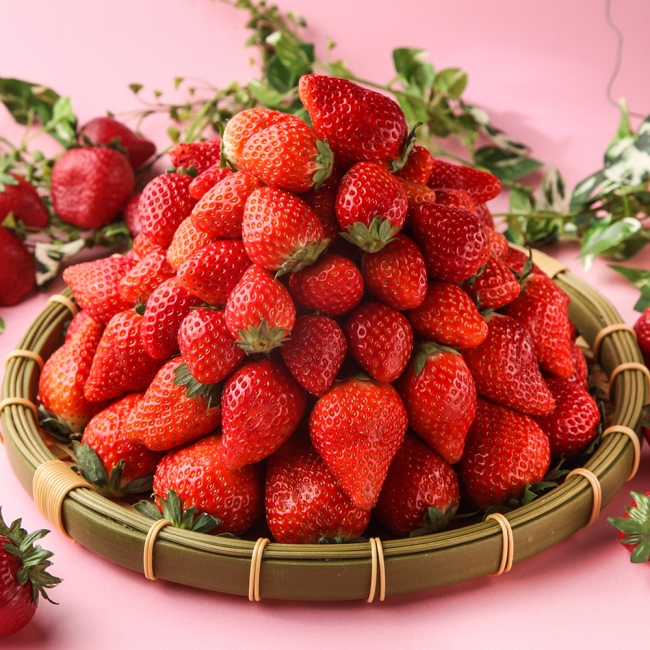 At Ueno's buffet restaurant "Gift of the Earth", the first annual "Strawberry Fair" will be held for a limited time from Tuesday, January 14, 2020 to Sunday, March 29, 2020. & Strawberry Sweets All-you-can-eat Fair "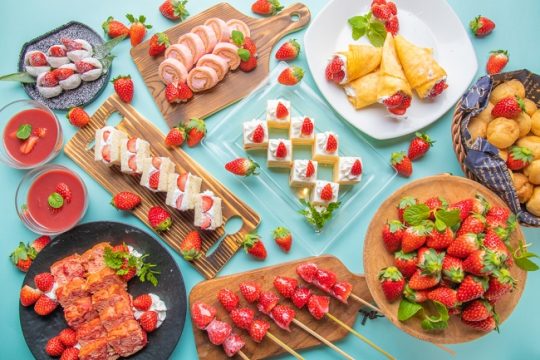 The "Strawberry Fair" held every year from New Year to Late Spring at the " Gift of the Earth " and is well received.
For the first two and a half months until the end of March, a lineup of 12 kinds of sweets using " Amaou", which is famous for its high-end varieties, and "Fresh Amaou" , a basket of fresh fruits, as well as fresh fruits. Did.
The bright red strawberry covered with a glossy candy "shines on SNS" and is now a secret topic "strawberry candy" and "short cake" with plenty of fresh cream that can be said to be the strongest partner of strawberry, even in color and taste. And gorgeous faces such as "crepe" and "fruit sandwich" color the buffet stand.
Although the words "New Year" are listed here and there, the cold days continue to be felt only by their names.
Fresh fruits and strawberries are just beginning to tell the coming of spring from " The Gift of the Earth " …!
■ Summary
《Details of menu》
Dinner limited menu
・ Amaou strawberry all-you-can-eat
・ ≪Limited time≫ "Strawberry Time"-Special handmade strawberry candy-
・ Make your own! Amaou strawberry crepe sandwich
・ Amaou strawberry cream sandwich
・ Amaou strawberry mini Daifuku
・ Panna cotta with Amao sauce
・ Amaou Shortcake
Menu for lunch and dinner
---
---
・ Strawberry Chocolate Fountain
・ Amaou sauce soft serve
・ Amaou's pound cake
・ Amaou Warabi Mochi
·Strawberry roll cake
・ Strawberry cream puff
* Depending on the stocking status, it may be changed or terminated without notice even during the period.
《Period》 January 14, 2020 (Tuesday)-March 29, 2020 (Sunday)
《Price》
■ Lunch (80 minutes)
Adult weekdays 1,750 yen / Saturdays, Sundays and holidays 1,850 yen / All-you-can-drink plan 2,580 yen
Primary schoolchild 950 yen 4 years old or older 600 yen 3 years old or younger Free
■ Dinner (120 minutes)
Adult 2,780 yen / Plum wine + barrel raw sparkling wine all-you-can-drink plan 3,580 yen
All-you-can-drink beer and sour plan ¥ 3,780 / Premium all-you-can-drink plan ¥ 3,980
Primary schoolchild 1,400 yen 4 years old or older 650 yen 3 years old or younger free
* All prices are exclusive of tax.
■ Red x round x big x delicious = "amaou" lineup
I feel like picking strawberries! All-you-can-eat fresh Amaou!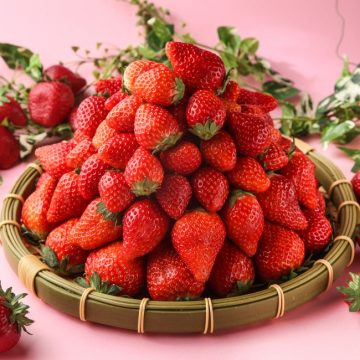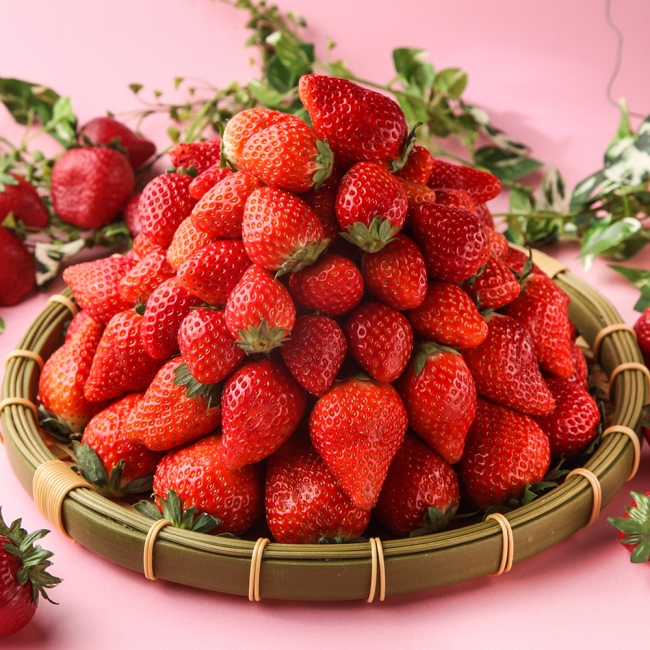 Amaou, which is produced exclusively in Fukuoka Prefecture
The name "Akaku", "Marukuru" and "Okii" strawberry fruit, which is the origin of the name, continues to be highly popular for its "Umasa".
At this fair, with the cooperation of the Fukuoka Prefecture Agriculture, Forestry and Fisheries Branding Promotion Council, fresh and high-quality "Amaou" will appear every day for dinner only!
First of all, just cheek and enjoy the juicy fruit feeling.
Arrange as you like! Amaou sweets that you can make yourself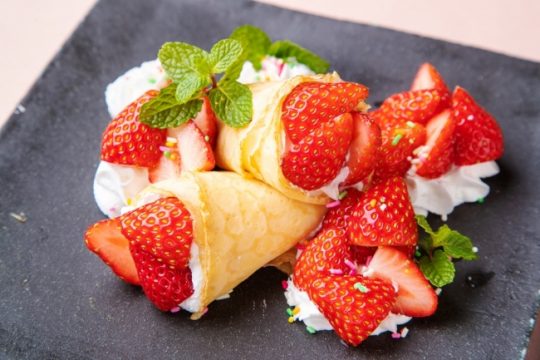 How to enjoy cooking unique to a buffet restaurant … It is possible to arrange the menu in your own way.
You can freely add "Amaou" or fresh cream to the crepe dough, or wrap the "soft ice cream" rolled by yourself with plenty of Amaou sauce to create a parfait style.
Make use of other fruits on the buffet table to create original sweets.
Daifuku and Warabimochi … Amao is also a big success in Japanese sweets!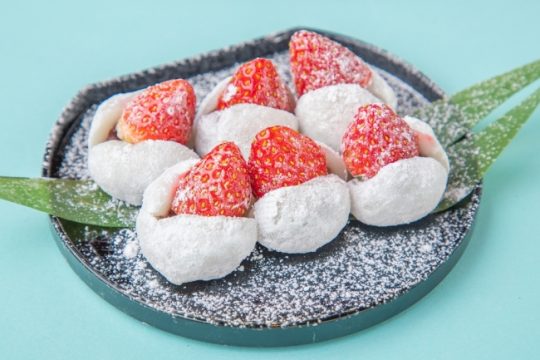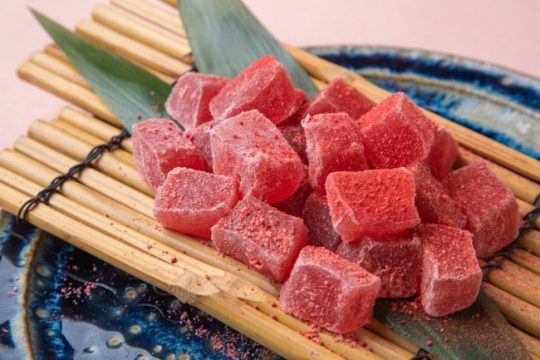 "Amaou" that demonstrates its presence as a material of Japanese sweets.
In addition to "warabimochi", which has been on the pitch since last year, "Mini Daifuku" has joined the ranks this year.
The combination of "Amaou," a sweet bean paste with modest sweetness wrapped in fluffy skin, shows the appearance of the queen of sweets, "Ichigo Daifuku".
After all dessert is another belly! "Another dish" that can stretch your hands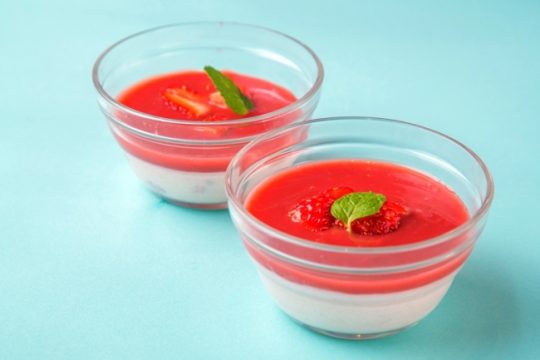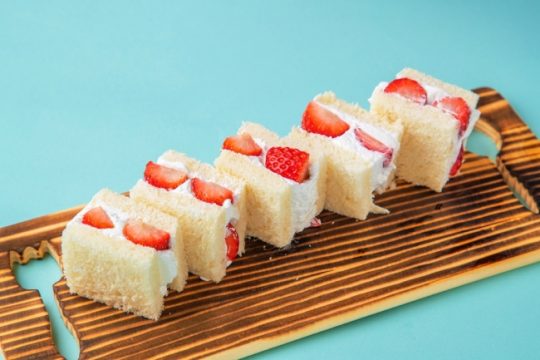 Panna Cotta, an Italian dessert that is characterized by the gentle sweetness of milk, is excellent as a sweet and sour "Amaou" sauce and is perfect as a dessert after a meal.
"Cream Sand" finished with fresh cream of low sweetness is also cut small, so it is a sinful dish that responds to the temptation of "only one more bite!"
■ SNS shine also comes true! Special strawberry menu
≪Limited time≫ "Strawberry Time"-Special handmade strawberry candy-
In nostalgia, while having the atmosphere of the Showa era, one item that is currently buzzing on Instagram etc. boldly appears in Reiwa's first "Strawberry Fair"!
The name is provided three times a day (18: 00/19: 00/20: 00) only for "Strawberry Time", and the number is limited, so be careful not to miss it.
Strawberry Chocolate Fountain ~ Strawberry Skewer Dango ~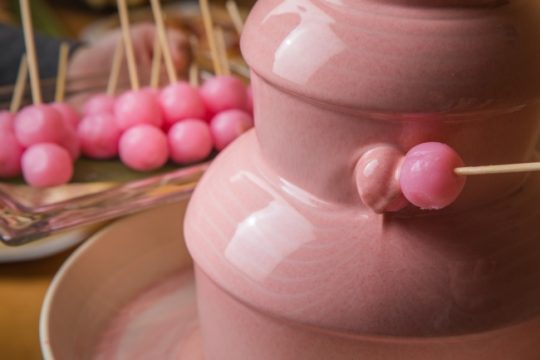 This menu, which has a slightly pink color and is very photogenic and moviegenic, has a lineup for three years in a row!
Gentle sweet strawberry chocolate can be combined with skewered dumplings, fruits, marshmallows, and cookies.
Dip and enjoy your favorite ingredients.
■ Store information
Buffet "Gift of the earth" with more than 80 variety menus
In the past, many young people got off the train with great ambition and got off the train. At the entrance to the metropolis and Tokyo, there are many exhibitions at museums and art galleries nearby. Ueno is a place where people who love to come together naturally
A buffet restaurant in this area where you can fully enjoy the appeal of Japanese food is "Gift of the Earth".
As you enter through the entrance, reminiscent of a traditional farmer's kitchen, such as a well and a kiln, you will be greeted by a buffet stand with a salad buffet lined with fresh vegetables and about 80 types of carefully selected ingredients. 。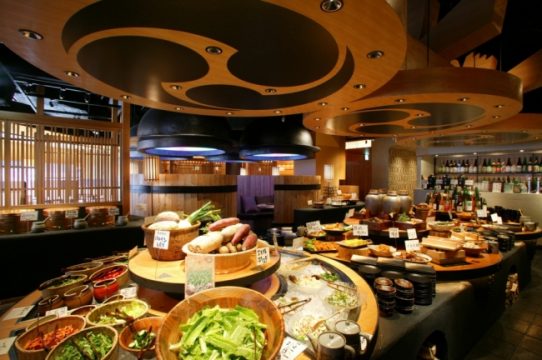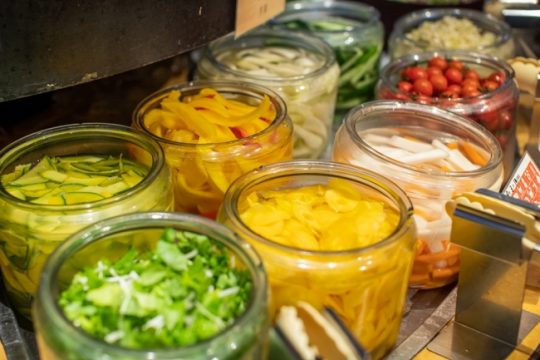 At the drink counter facing the buffet stand, more than 100 kinds of plum wine from all over Japan are "luxurious competitions"
This is a place where both hot and cold parties, who have no eyes on alcohol, can comfortably "get drunk".
The space where you can enjoy your favorite plate and drinks is available in various seat types depending on the application.
A semi-private room that imitates a photogenic chest, an open window table overlooking the city of Ueno,
Cute lighting with a bowl and chopsticks as motifs!
It is an easy-to-use buffet restaurant that can be used in various ways, whether it is work daytime or private time to relax.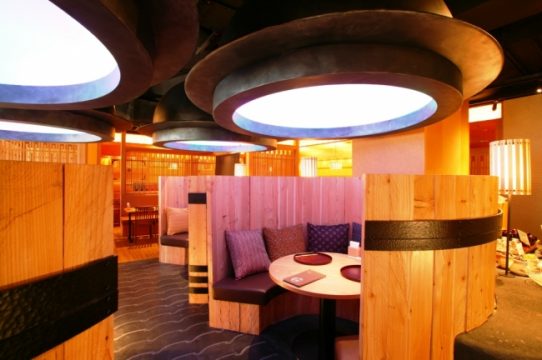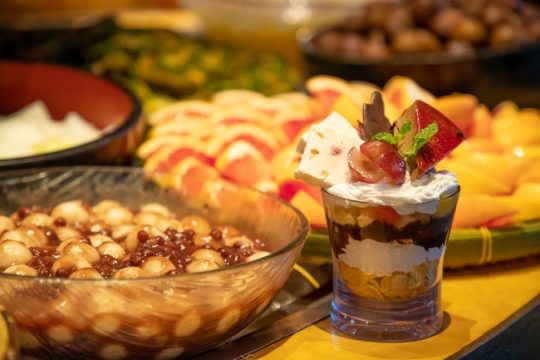 Earth gifts
■ Address -20110-0005 1-20-11 Ueno, Taito-ku, Tokyo Suzunoya Building 4F
■ Access 3 minutes on foot from JR Okachimachi Station North Exit, 1 minute on foot from Exit A4 of Ueno Hirokoji Station on the Ginza Subway Line
■ No parking
■ TEL 03-3836-2640
■ Business hours Lunch 11: 00-16: 00
Dinner Monday-Saturday and the day before public holidays 17:00-23:00 / Sunday and public holidays 17:00-22:00
■ No regular holiday
■ 180 seats, private room available
■ URL http://r.gnavi.co.jp/g600129/
.