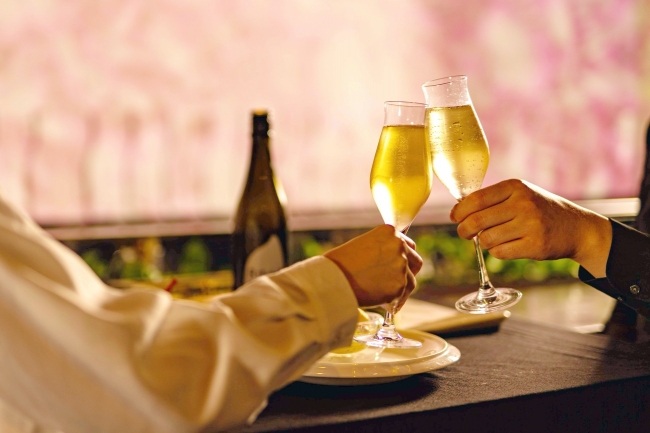 A new course that will make you feel spring from March 18 (Wednesday) at Ueno "Molecu-L." [2020 Spring Edit.] Has started.
Please enjoy the "everyday" by combining cooking performance and projection mapping developed over the counter.
In addition, the a la carte menu, which was only bar time, is now available throughout the day, and more customers can enjoy it.
■ New course [2020 Spring Edit.]
Renewed spring course from Molecu-L. To customers。
[2020 Spring Edit.] Then, not only 9 full courses but also 7 half courses and 5 trial courses and 3 patterns are available.
Sakura Flavor, a main dish that can be enjoyed on either course, is Kuroge Wagyu Beef Low Temperature Vacuum Sakura Flavor. It is a cherry chip that lets you feel the spring before serving, by confining Kuroge Wagyu beef under vacuum and low temperature while maximizing the taste. Smoked with a bottle, and finished in a special dish that is soft, tasteful and fragrant.
Savor salted cherry powder mixed with smoked salt, original seasoning spices and salted cherry blossoms.
Of course, the traditional style of offering a new style of Japanese food that combines molecular gastronomy, one by one, according to the projection mapping image, is still alive.
Numerous dishes incorporating seasonal ingredients will bring new excitement to customers.
---
---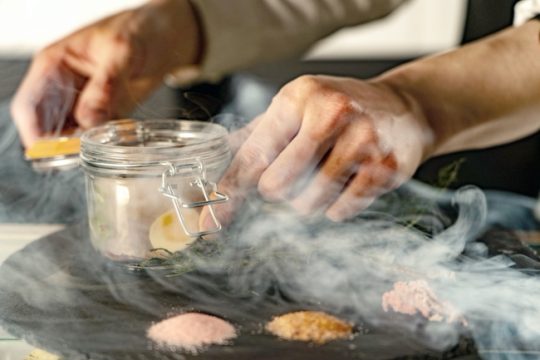 ■ à la carte
For an extraordinary night where you can't forget your usual night。
From the beginning, we have been striving to provide course menus that allow you to enjoy each and every dish production that integrates with projection mapping, but also flexibly respond to needs such as "I want to use it more casually without worrying about visiting time." An a la carte menu will be available from dinner time to meet your needs.
You can enjoy Molecu-L.'S molecular cuisine and molecular drink more easily.
Above all, I would like to show you a lot of sake using cherry yeast and drinks using cherry syrup.
"Raifuku Junmai Raw Sakura Sakura Yeast Light Nigori" is a sake that is perfect for this season, brewed with cherry blossom yeast, and not only enjoy it as it is, but also as an original cocktail.
Also, non-alcoholic cocktails are available so that those who can not drink alcohol can enjoy it.
We have prepared a drink that combines Sakura Syrup and the molecular cooking technique that is a feature of our restaurant.
With a special drink only for this spring, you can feel the changing seasons.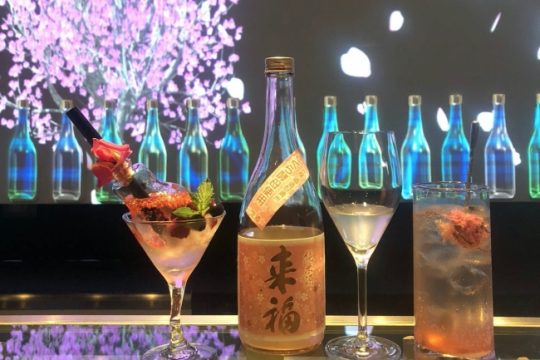 ■ Projection mapping
A little cherry blossom viewing with projection mapping
Molecu-L.'S other strength, "Projection Mapping," which you can enjoy together with unprecedented dishes and drinks.
Here I will tell you a little bit about the coming of spring.
It is difficult to see the flowers outdoors, and it's only for this spring, so we will project the cherry blossom image longer than usual among various images expressing the four seasons.
It's like "just a little" flower viewing because you can see other seasonal images, but I hope that you can deliver a little bit of spring to customers who come to the store.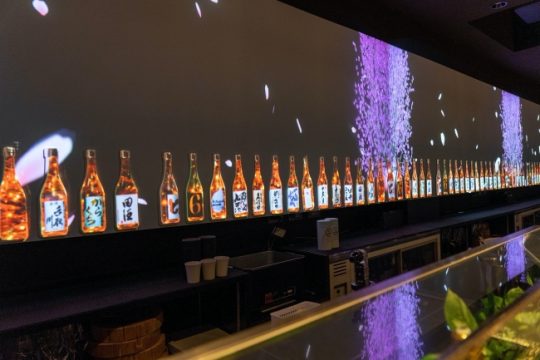 Molecu-L. Will continue to plan menu changes for each season and events that are conscious of the four seasons.
We will continue to strive to create a store that will please our customers without compromising on quality so that we can deliver world-class Japanese food on special occasions on special occasions.
<Response to the spread of the new coronavirus infection>
To prevent the spread of the new coronavirus infection, we operate our business with a minimum number of staff, taking into account the health and safety of our customers.
In addition, we thoroughly disinfect alcohol in all stores.
We also ask customers to disinfect their hands with alcohol when entering the store.
We apologize for any inconvenience, but we appreciate your understanding.
■ "Molecu-L." (Morikyuru)
Address: GAOH @ Building 4F, 2-1-9 Ueno, Taito-ku, Tokyo
Access: 5 minutes on foot from Ueno Station
Phone number 03-3836-0539
Website URL: https://molecu-l.tokyo/
Business hours: [Mon-Fri, the day before public holidays] 18: 00-24: 00 [Saturday, Sunday, public holidays] 17: 00-24: 00
※ About use in the course
The course will start all at once according to the following timing in order to match the timing of the video and the serving of food.
Advance reservations are required for courses.
We appreciate your understanding.
[Mon-Fri, day before public holiday] Part 1 19: 00- / Part 2 21: 30-
[Sat, Sun, Holidays] Part 1 18: 00 ~ / Part 2 20: 30 ~
* Our store is a member of the cashless point redemption business (cashless / consumer return business), and 5% of points are redeemed for cashless payments.
■ Operating company: About GK
Godo is a "company pursuing store management" with several restaurants around Tokyo, including "Molecu-L." (Morikyuru), smoked and cheese bal "Ueno HAZE" and "Akabane HAZE". We are developing
Company name: Godo Kaisha (Niwaka)
Representative: Kunihiro Kikusaki, representative employee company
Established: December 1, 2011
Location: 3-14-6-301A, Ayase, Tokyo
Phone number 03-5856-1108
Business: Restaurant management / consultant
Website URL: http://niwaka-llc.com