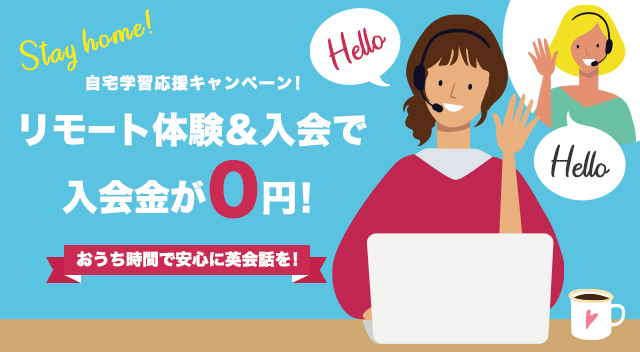 At One Coin English Conversation School "One Coin Glish," which costs 500 yen for 60 minutes, people who wanted to attend an English conversation school from April due to the spread of new coronavirus infection but who are unable to start out by refraining from going out, improve their English skills while at home We have enabled remote trial lessons and remote enrollment for those who want to improve.
A "Stay home! Home learning support campaign" will be held in which the trial lesson fee and enrollment fee of 30,000 yen will be free with the remote experience and remote enrollment.
・ Background of this campaign
"Onecoin English" is a face-to-face onecoin English conversation school that offers high-quality lessons at the lowest price in the industry at 500 yen for 60 minutes.
In addition to cheap, high-quality lessons taught by friendly teachers, monthly international exchange events and cheap study abroad services spread through word-of-mouth, and 11 schools were opened six years after its establishment.
The number of students has finally become a popular English conversation school with over 7,000 students.
Currently, with the new coronavirus infection affecting the world, it has had a great impact on Japanese English conversation schools, people who give up even if they want to start English conversation, or those who can not go out due to refraining from going out. There are many
Also, there are many foreign teachers in the English conversation industry who have lost their jobs and are unable to return home even if they want to.
In response to this situation, One Coin Glish switched to providing all English lessons remotely from April 1st.
It has been well received by students who have already taken remote lessons, and by utilizing the knowledge of remote lesson operation, we will hold a "Stay home! Home learning support campaign" for those who want to learn good English conversation at home. I decided.
Now you can feel free to experience highly satisfying One Coin Glish lessons remotely.
・ Campaign target
・ Target audience: Those who have taken a remote trial lesson and joined remotely
・ Campaign content
・ Period: Until Thursday, April 30, 2020 (* The period may be postponed depending on the situation)
・ Contents: Free entrance fee (usually 30,000 yen) Free trial lesson (usually 1,500 yen)
・ What is One Coin Glish remote lesson?
We provide all lessons (group lessons, private lessons, etc.) online on a computer or smartphone using "zoom", which can hold seminars and meetings online.
You can take high-quality lessons from a friendly, multinational instructor at home, just like face-to-face lessons.
* It is usually 60 minutes, but during the remote lesson period, all lessons will be 50 minutes.
・ Corresponding school building
<All 11 school buildings>
Shibuya school, Shinjuku school, Ikebukuro school, Ueno school , Ginza school, Roppongi school, Gotanda school, Kichijoji school, Iidabashi school, Sangenjaya school,
Yokohama school
・ About switching to face-to-face lessons
After the end of the remote support period, the face-to-face lesson will be switched to the normal face-to-face lesson at the school building you registered when you enrolled.
* Please choose a school building that is easy to visit when applying.
・ How to apply
Please contact us from the official website (trial lesson inquiry form).
・ Trial lesson application
https://onecoinenglish.com/form2019/
・ Official website
https://onecoinenglish.com/
·Company Profile
・ Company name: One Coin Glish Co., Ltd.
・ Location: Suzuwa Building 2F, 7-9-12 Nishi-Shinjuku, Shinjuku-ku, Tokyo 160-0023
・ Establishment: August 8, 2014
・ Business content: English conversation school management, international exchange management, study abroad business
・ Store location: Shinjuku school, Shibuya school, Yokohama school, Gotanda school, Ikebukuro school, Kichijoji school, Iidabashi school, Ginza school, Ueno school ,
Sangenjaya School / Roppongi School (Opened in April)