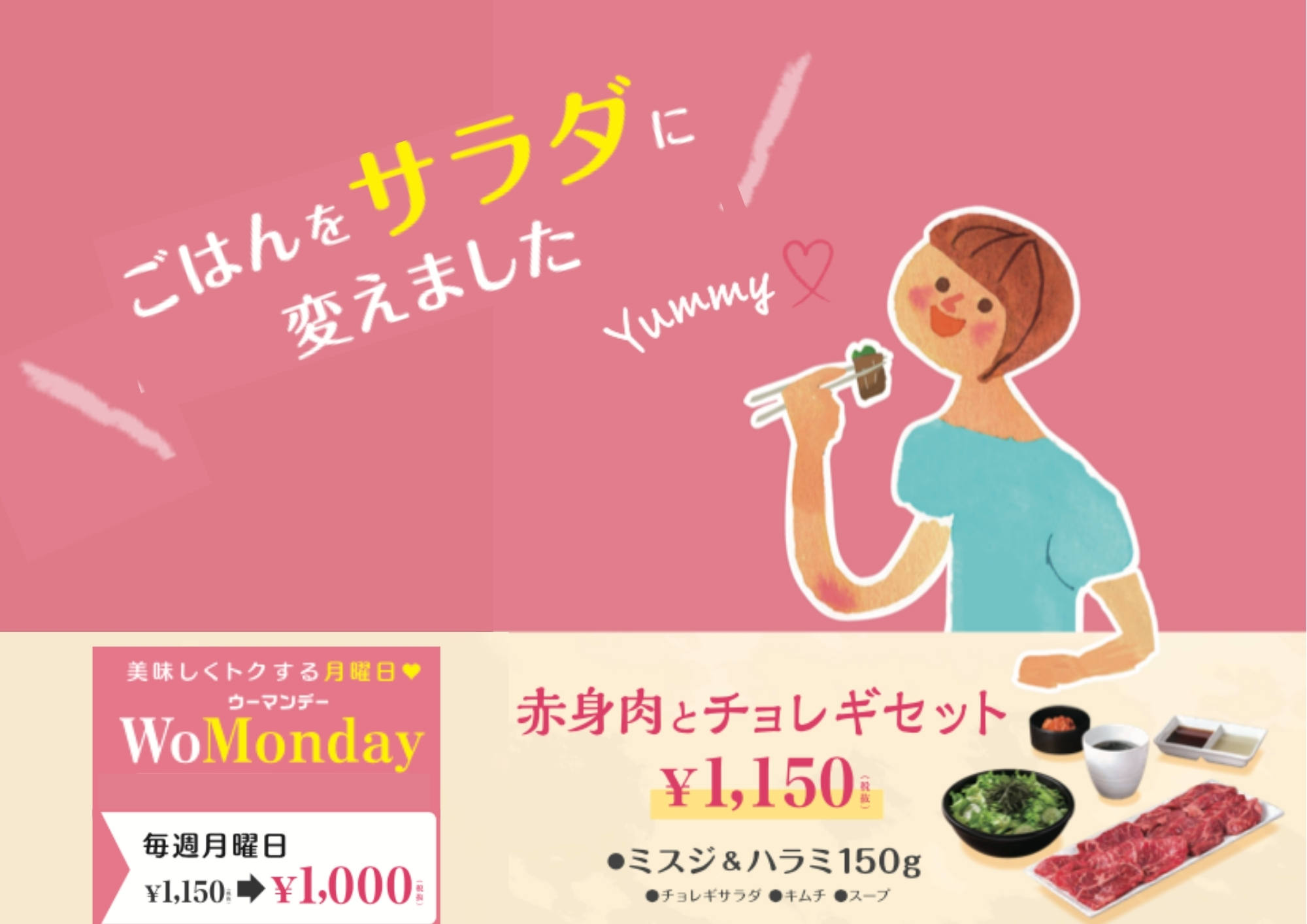 Yakiniku Like Co., Ltd. (Location: Shibuya-ku, Tokyo, Representative: Soo Arimura), which develops the Yakiniku fast food restaurant "Yakiniku Like", is a "red meat and choregi" with plenty of choregi salad and miso and harami. Set 150g (with kimchi and soup) 1,150 yen (excluding tax) will be sold from August 10 (Monday).
As a support menu for those who are concerned about "thickness of corona" due to lack of exercise due to restraint of going out and telework, we decided to provide a healthy menu that was not available in the set until now.
In addition, every Monday, we will offer this product for 1,000 yen (excluding tax), which is called WoMonday (Women's Day), with the idea that "I want women to enjoy yakiniku alone".
In Yakiniku-like, last August, we held a women-only event, "Women's One-person Yakiniku Support Event," at the Shimbashi Main Store, which was well received by many women.
We received the opinion that "this kind of opportunity makes it easier to go", and we want to hold an event that makes it easier for women to go to yakiniku this year as well, and every Monday is called "WoMonday". We set a day for profit.
For women who like Yakiniku but feel that it is still hard to go by themselves, we hope that it will be an opportunity to easily eat Yakiniku on a daily basis.
---
---
Product Summary
Product: "Red meat and choregi set 150g" (Misuji & Harami 150g, choregi salad, kimchi, soup) Price: 1,150 yen (excluding tax)
Expansion stores: All stores
Sale start date: Monday, August 10
WoMonday overview
Name: WoMonday
Expansion stores: All stores
Start date: Monday, August 10th, every Monday
Contents: "Red meat and choregi set 150g" (Misuji & Harami 150g, choregi salad, kimchi, soup)
Regular price of 1,150 yen (excluding tax) is offered for 1,000 yen (excluding tax)
*Anyone can use it.
*Event contents are subject to change.
Deployment stores (42 stores in Japan)
[Tokyo] Shimbashi Main Store / Akasaka Mitsuke Store / Tamachi Shibaura Store / Shibuya Udagawacho Store / Shinjuku West Store / Shinjuku South Store / Gotanda West Store /
Meguro East Store / Ueno Store / Ikebukuro East Store / Akihabara Electric Town Store / Jimbocho Store / Ochanomizu Store / Iidabashi Store / Tachikawa South Exit Store
Machida North Exit Store/Higashi Kurume Store/Tachikawa Street Store/Hachioji Narahara Store
[Chiba] Matsudo Minami Hanajima Store/Funabashi LaLaport Mae Store
[Kanagawa] Yokohama Tsuruya-cho store / Ebina Sagamino store / Yokohama Eda store / Kawasaki store / Mizonokuchi store / Hiratsuka Shinomiya store / Sagamihara Wakamatsu store
[Saitama] Omiya West Store
[Gunma] Maebashi Tenkawa
[Ibaraki Prefecture] Moriya Service Area Outbound Store
[Osaka Prefecture] Tenmabashi Store/Tenman Seki Tele Front Store/Osaka Fukushima Station Store/Kintetsu Tsuruhashi Station Store/Sakai East Store
[Hyogo Prefecture] Kobe Sannomiya
[Shizuoka Prefecture] Shizuoka Gofukucho Store
[Niigata Prefecture] Niigata Station Store
[Okayama Prefecture] Sansute Okayama store
[Kumamoto Prefecture] Kumamoto Shimodori Store
[Fukuoka Prefecture] Tenjin Nishidori Store
Initiatives to prevent the spread of infection

○ Acrylic board partition is installed in the seat to prevent splashing
○ Employee temperature measurement, thorough hand washing, and mandatory mask wear
○ Thorough in-store ventilation and disinfection
○ Disinfection/sterilization of touch panel menus and equipment such as sauces
○ Use disposable closed chopsticks
○ Thorough use of cash trays for accounting
○ Installation of alcohol disinfectant in the store

[For Yakiniku, the air in the entire seat will be replaced in 2 minutes and 30 seconds! ]
Yakiniku-like has a smokeless roaster for each person. It not only smokes and smells, but strongly inhales the air inside the store.
As a result, the air in the entire seat is replaced (*) in about 2 minutes and 30 seconds, which helps avoid a closed environment.
* Calculation conditions: Floor area of 23 tsubo, ceiling height of 2.6 m, and 25 smokeless roasters in operation. It may change depending on store location conditions.
Yakiniku-like (URL: https://yakiniku-like.com )
"Yakiniku Like" is a yakiniku fast food restaurant where you can enjoy "free smoker roasters for each person" and enjoy your favorite parts as much as you want. A completely new type of yakiniku that overturns the common sense of yakiniku, such as "one person can order various parts", "one woman can easily enter the shop", "you can go even if you do not have enough time because it is within 3 minutes of serving" We provide a way to have fun. 42 stores in Japan and 9 stores overseas (as of August 5, 2020)
Company Profile
Yakiniku-like Co., Ltd.
Headquarters: 1-11-2 Ebisu Minami, Shibuya-ku, Tokyo
Representative: Soo Arimura
Business Activities: Management of restaurants, recruitment of franchise chain member stores and management instruction of member stores