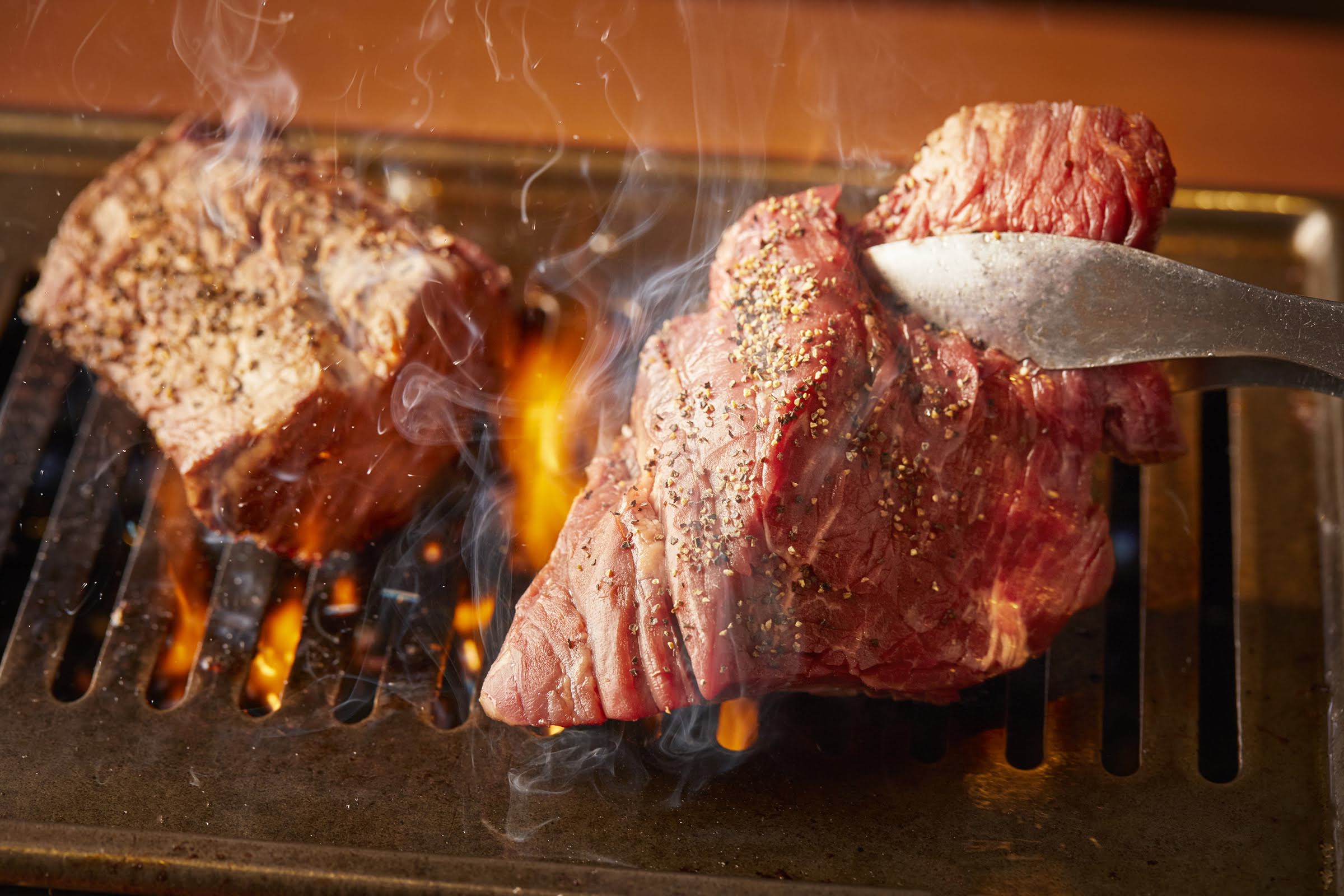 "Quality" and "Price" that are second to none! A super-large special price campaign will be held at stores targeted for "Kitaya's Kitchen"!
The kitchen of Takaya Co., Ltd. will hold an all-you-can-eat Japanese black beef campaign (90 items in total) of A4 and A5 ranks on October 29th (Sunday). "Meat shop kitchen Wagyu course (all-you-can-drink soft drink) 90 minutes" Usually 4,480 yen (excluding tax) → 2,929 yen (excluding tax) will be offered (first 29 people)

The kitchen of the kid: https://nikuyanodaidokoro.com/
At other stores, you can enjoy high-class rare parts that cost several thousand yen per person, such as " Assorted 3 Wagyu Beef " including special Wagyu beef ribs with melty fat taste and rich taste, and " Thick sliced skirt steak " full of deliciousness. It is a luxurious plan.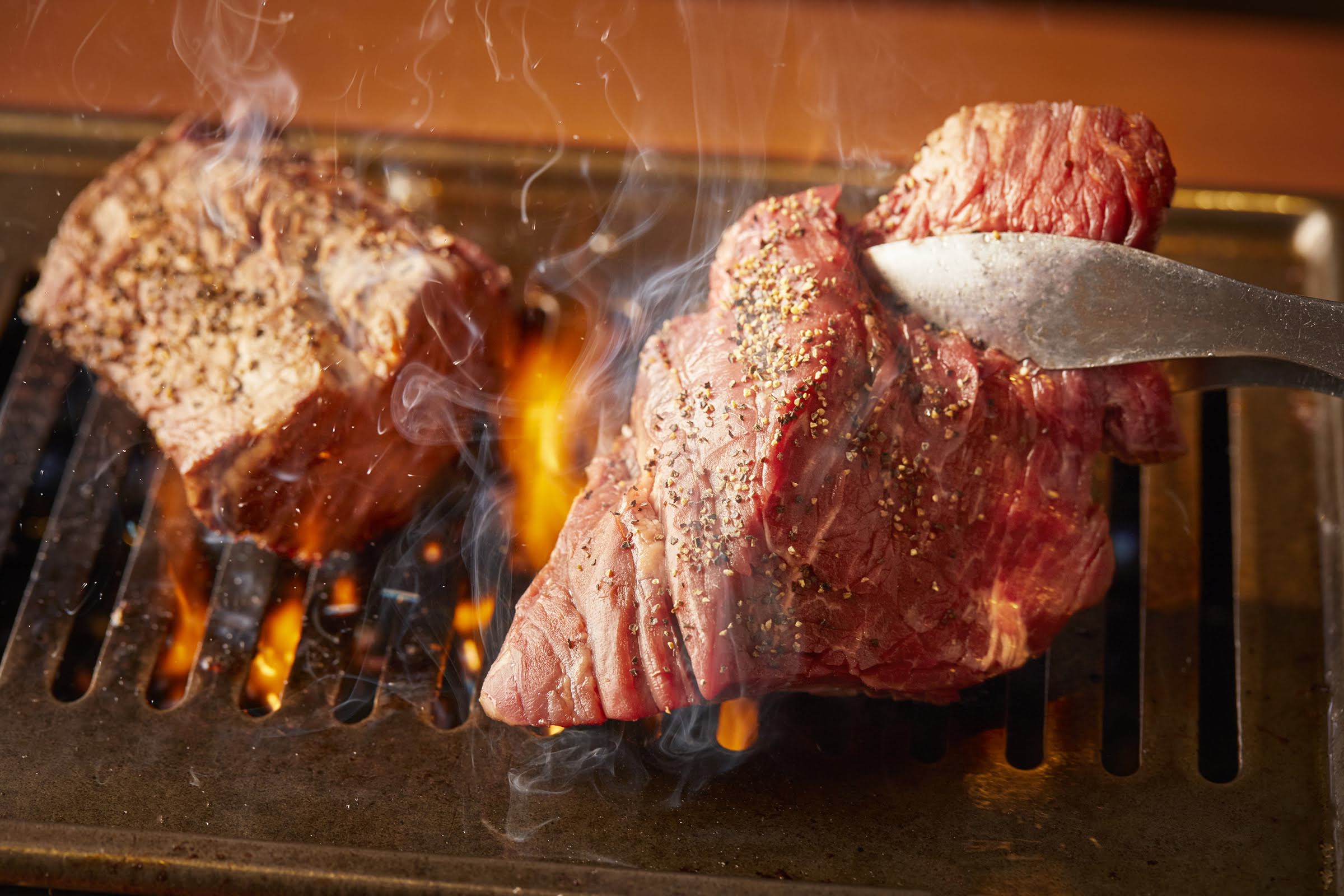 "Meat shop kitchen course" is the most popular course in the butcher's kitchen. All-you-can-eat Japanese black beef of A5 / A4 rank (all-you-can-drink soft drinks) Usually 4,480 yen (excluding tax), but a chance to get 2,929 yen (excluding tax) only on meat days! It's definitely the strongest course in COSPA, so reservations are required on Meat Day! Please enjoy the carefully selected Wagyu beef.
* You can enjoy all-you-can-drink soft drinks and alcohol for only meat day +500 yen !
* Draft beer has been changed from Clear Asahi to Super Dry.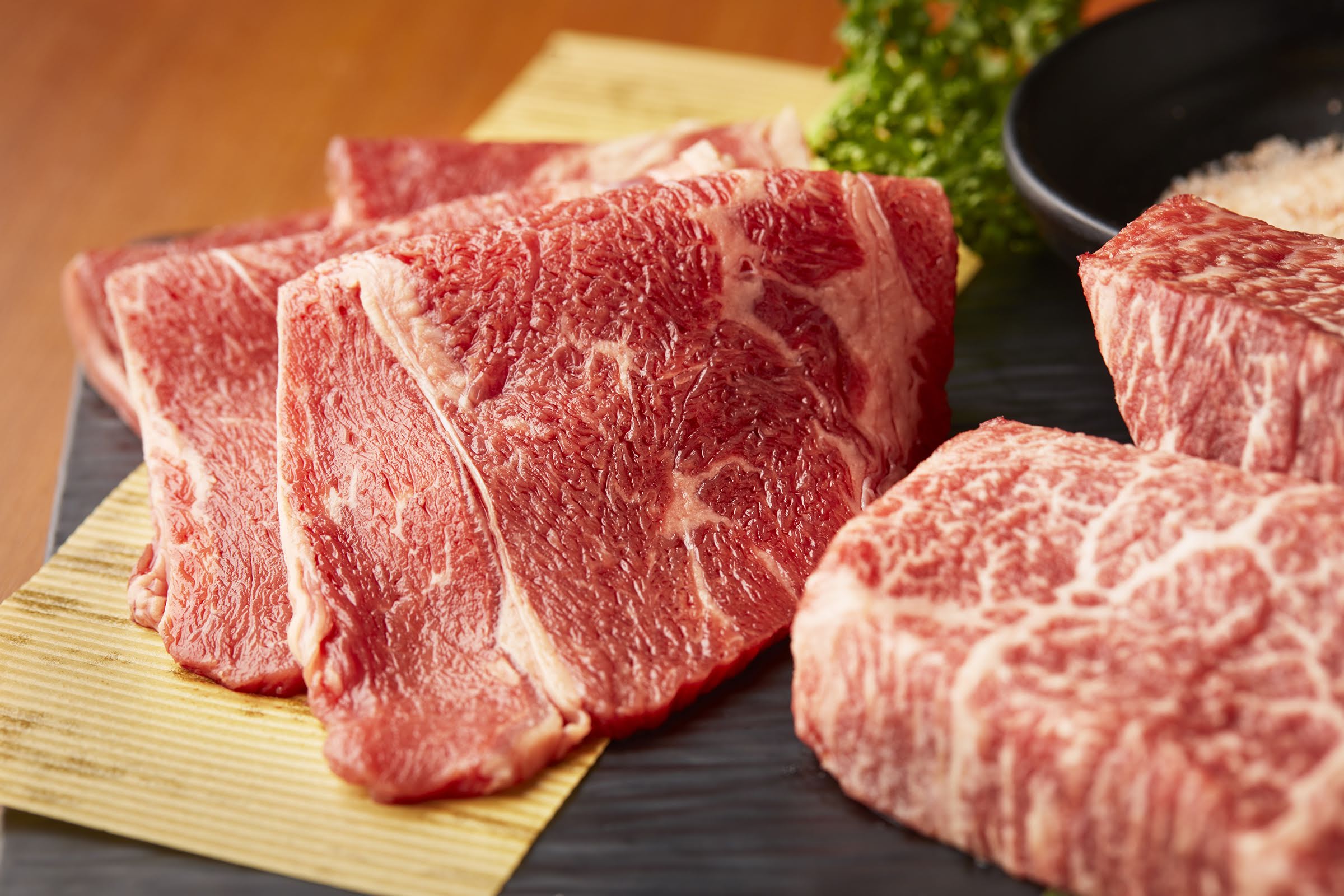 All-you-can-eat course content (90 items / 90 minutes)
---
---
It is very popular every month, so it is recommended to make an early reservation. ( Reservations are only accepted by phone. )
The butcher's kitchen is particular about the freshness and quality of the meat, and we cut it every day and serve it. All-you-can-eat high-quality meat that melts in your mouth! It is also recommended for girls-only gatherings.
https://nikuyanodaidokoro.com/nikunohi/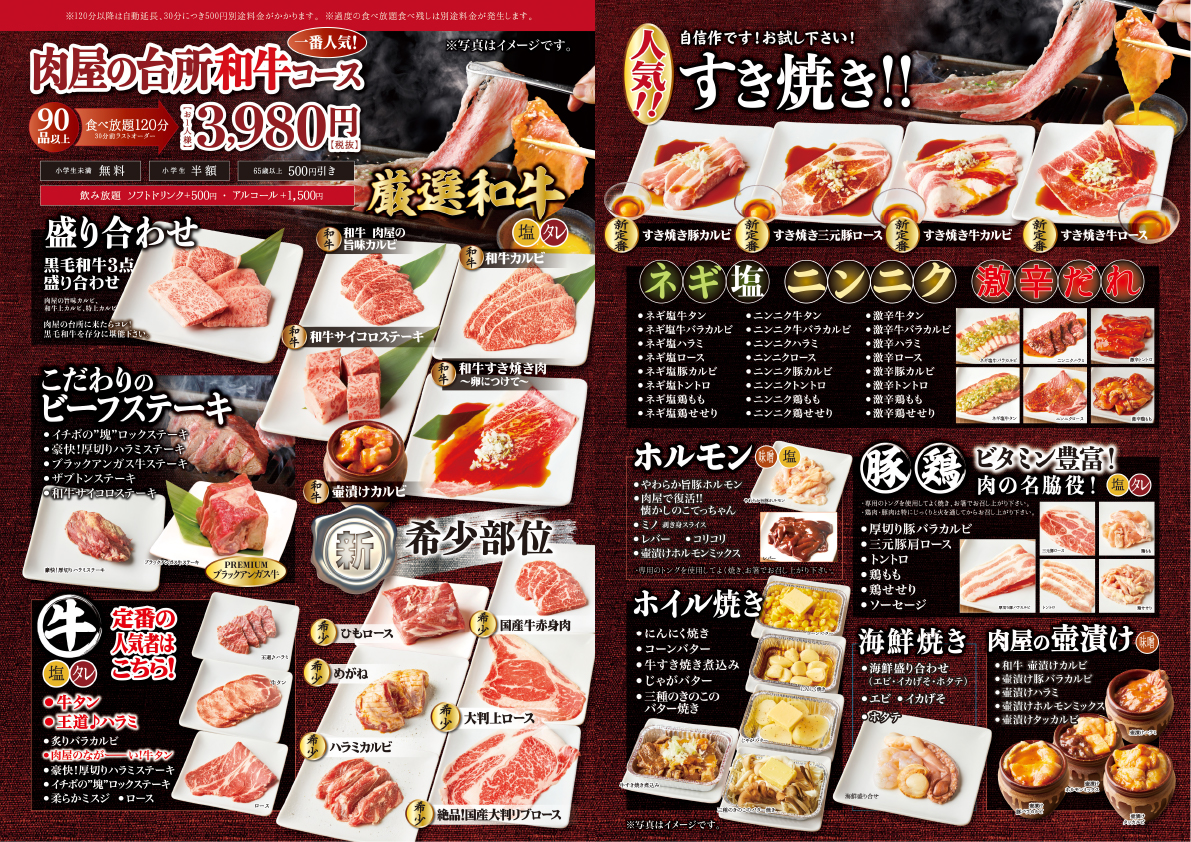 In using
* Since the ordering system uses your smartphone terminal, use is limited to those who have a smartphone.
* Credit card accounting is not possible . (Electronic money payment is possible)
* Reservation only information (telephone reception only)
* Reservations can be made from the campaign announcement (finished as soon as the frame is filled. If there is space, the day is also possible)
* Campaign can be accepted from 2 adults .
* Other coupons and campaigns cannot be used together.
* Campaign reception hours vary depending on the store. Please be careful.
* Each store will be open for 29 people on a first-come, first-served basis from 16:00 OPEN .
* As with adults, preschoolers are free of charge for the campaign price.
* Customers who come to our store are kindly requested to post reviews or give us their impressions of the food. Thank you for your cooperation.
All courses have been renewed! New "Easy Course" 2,480 yen
The all-you-can-eat course has been fully renewed from October 19th at all butcher's kitchens. With the addition of a new "Easy Course" of 2,480 yen , you can now enjoy delicious yakiniku at a more reasonable price than before.
<Easy course>
Recommended for young people who want to try it first! Introducing an easy course! You can fully enjoy authentic yakiniku at this price.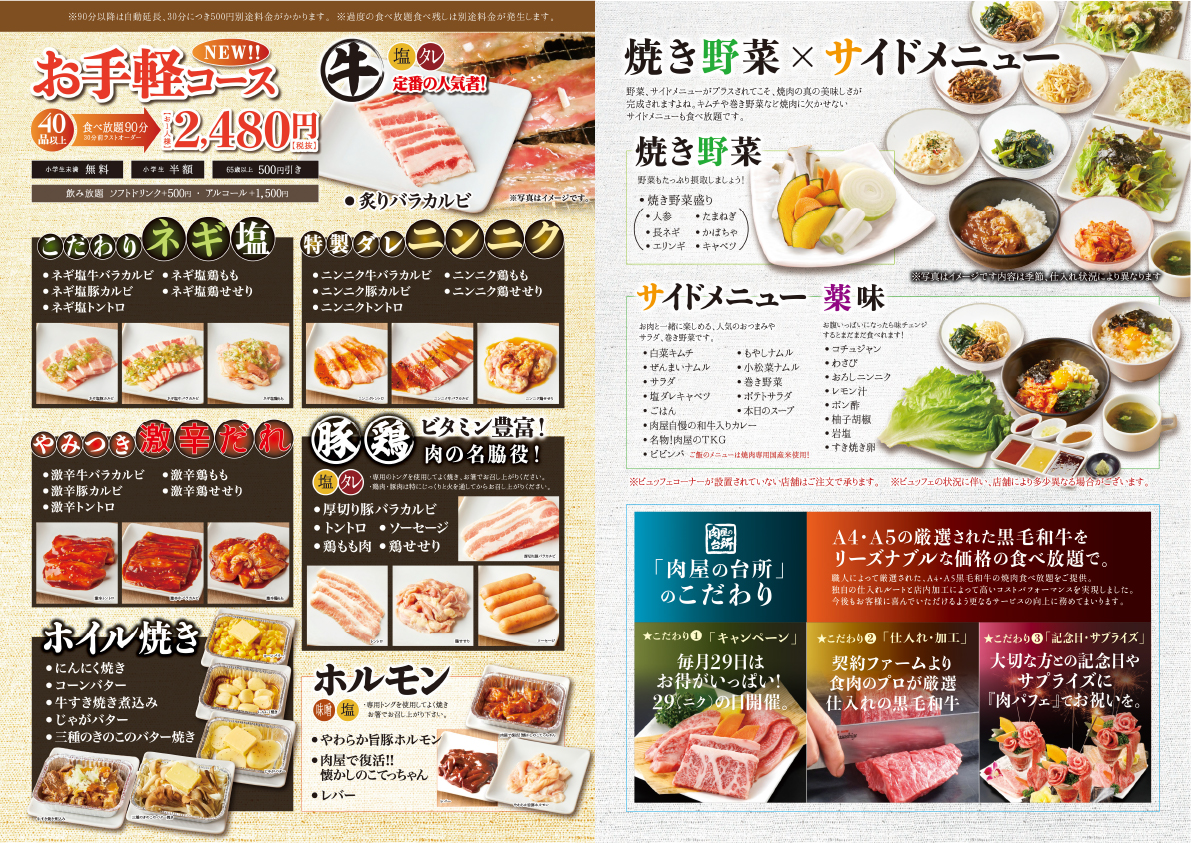 <Standard course>
Renewal that is even cheaper than before! Please enjoy plenty of popular tongue and skirt steak.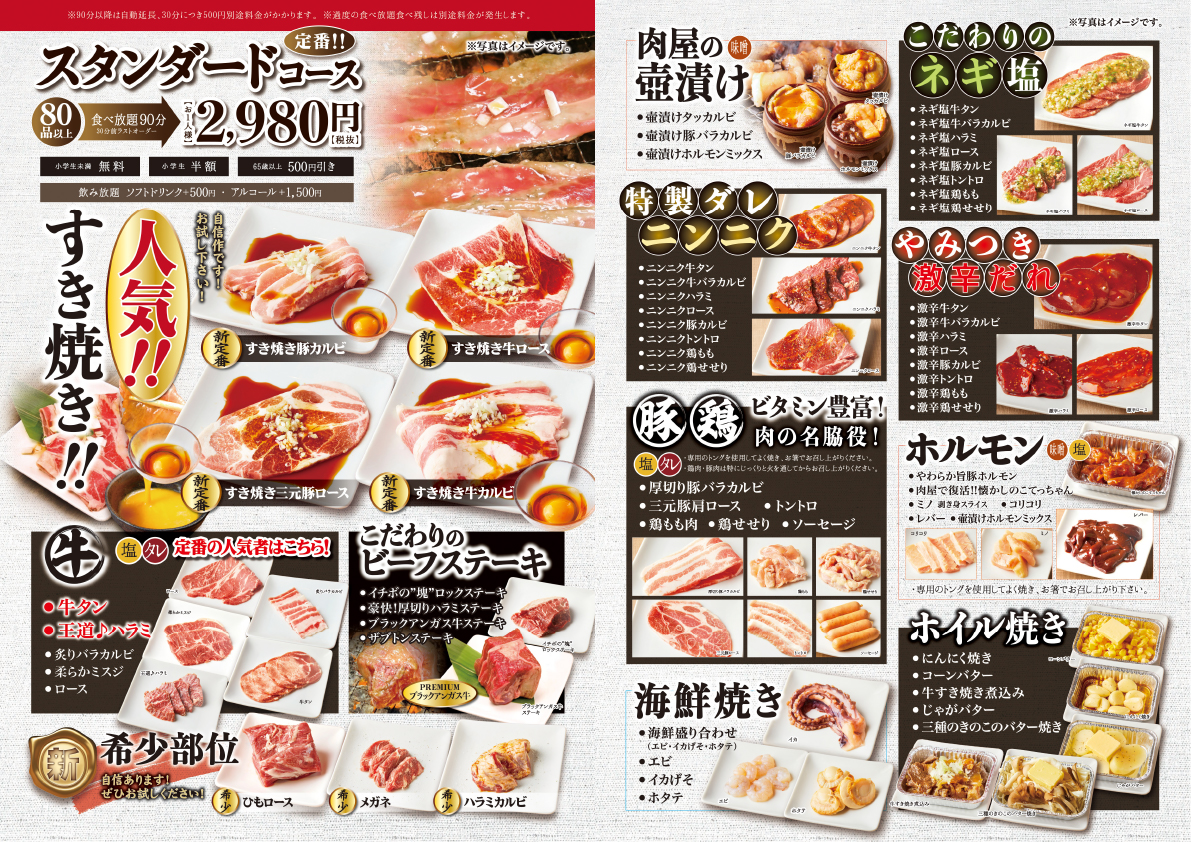 <Premium Wagyu course>
Click here for those who feel luxurious! "Wagyu Ichibo", etc. and "cushion", further plenty enjoy the special quality up a notch.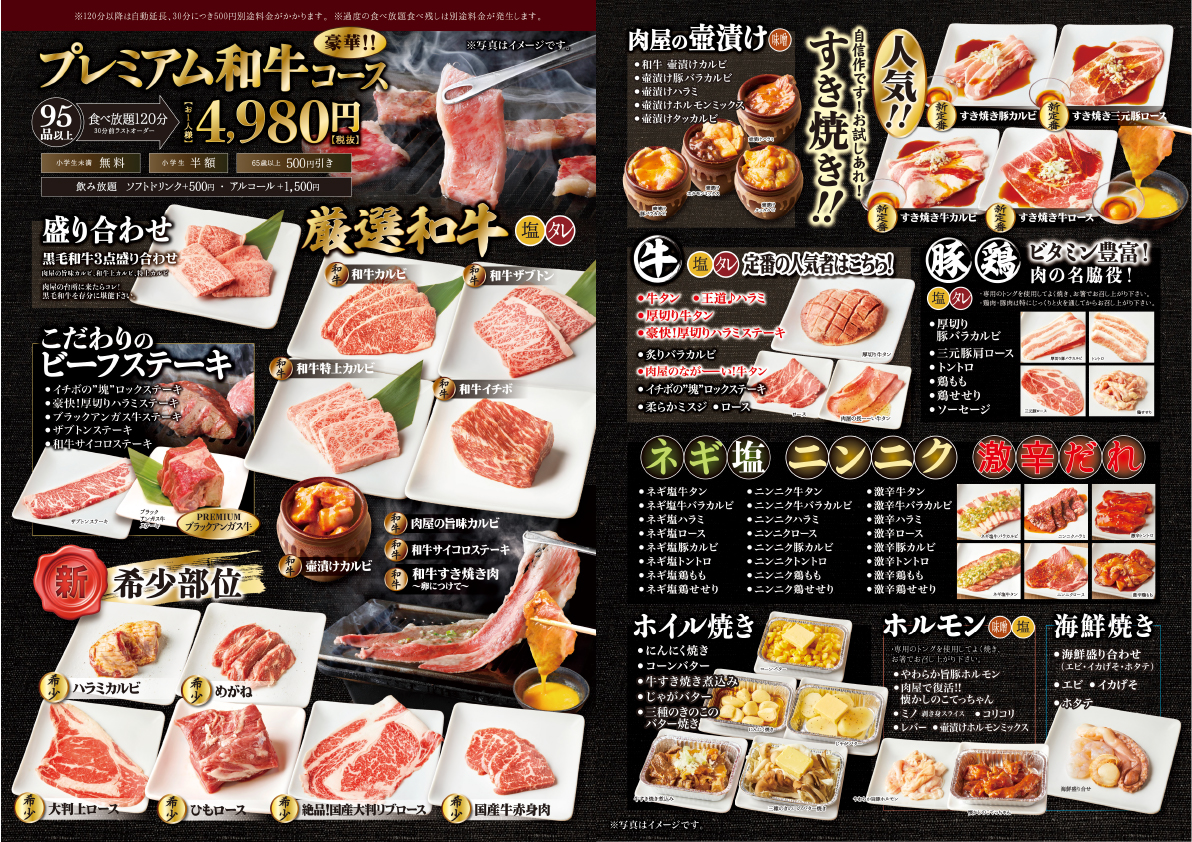 "Meat parfait" and "meat cake" recommended for anniversaries and surprises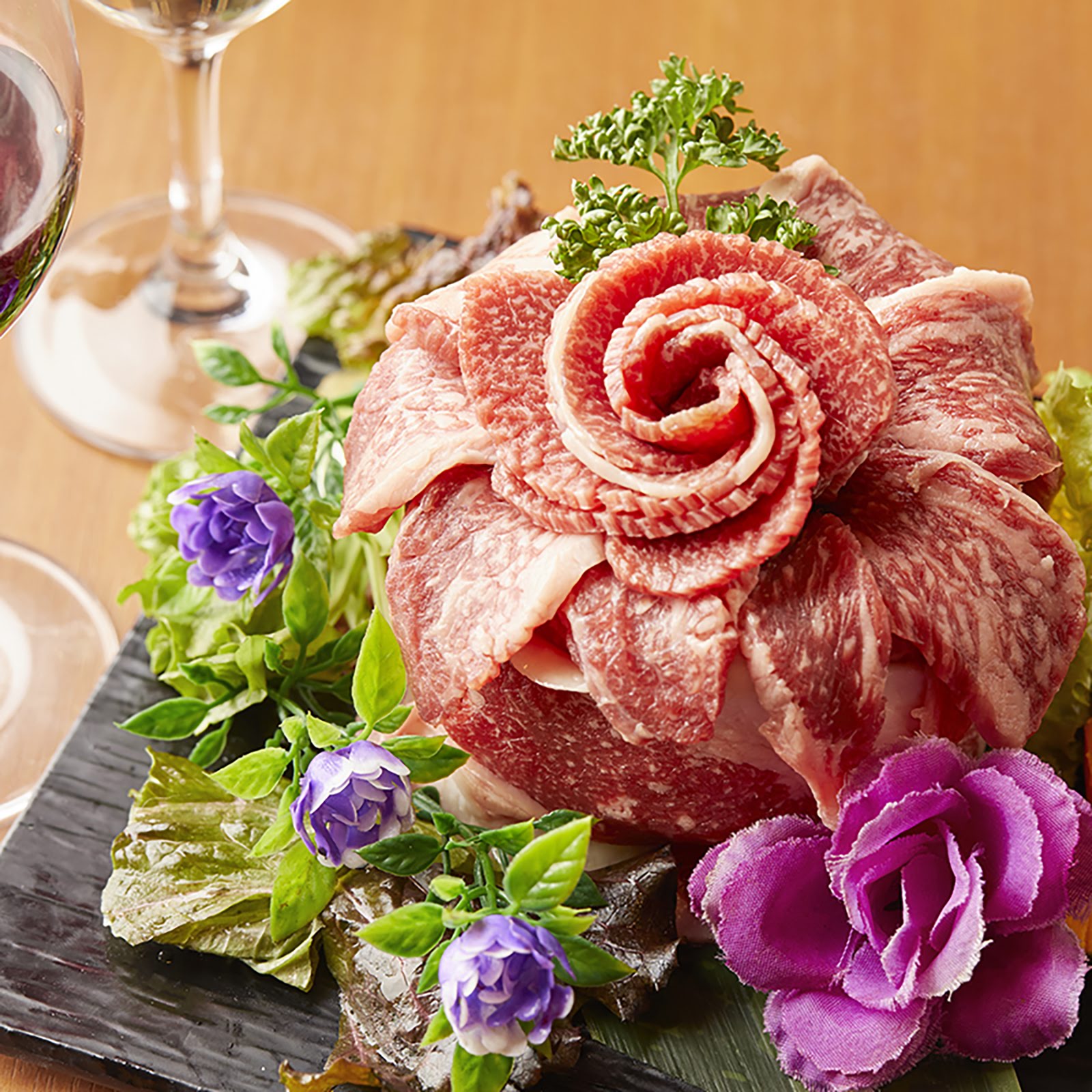 Overtime banquets are also accepted for more than 10 people in the butcher's kitchen.
It is a specialty dish that you can enjoy the appearance and taste of the special Wagyu beef, which is arranged as petals.
It is also recommended for anniversaries with loved ones and for surprises and celebrations on the birthdays of friends and colleagues. You can also put various messages. If you wish, please feel free to write a message in the remarks column at the time of booking.
Efforts to prevent infection with the new coronavirus
In the kitchen of the butcher, we ask our customers to do the following in order to consider the health and safety of our customers and employees and prevent the spread of the new coronavirus.
・ Please wear a mask when you leave your seat in the store.
・ Please cooperate with hand sanitizer at the store entrance.
In addition, we are taking the following measures when operating the store.
・ Always wear employee masks
・ Employees' frequent hand washing, gargling, and disinfection of fingers
・ Check the temperature of employees before work (cannot work if they have a cold such as fever) and check their physical condition.
・ Frequent cleaning of the store using disinfectant
・ Securing a certain distance from customers when serving customers (social distance)
store information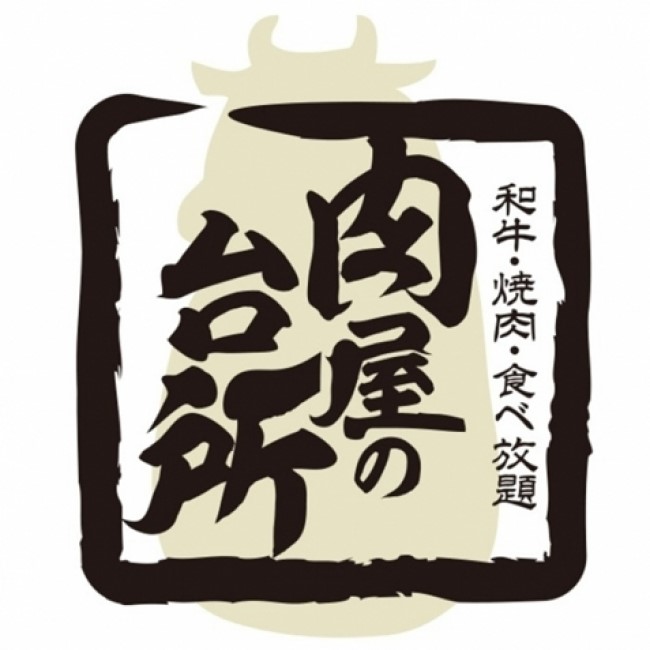 [The butcher's kitchen is currently open in 9 stores, mainly in the Tokyo metropolitan area!]
We will continue to offer "All-you-can-eat A4 / A5 Japanese-style grilled meat" by purchasing meat carefully selected by the workers in order to receive "It was delicious, I will come again" from our customers. We have achieved high cost performance through our own production route and in-store addition.
【Tokyo】
・ Takaya's Kitchen Ueno Koenmae Store (16: 00-held store) https://ueno-koen.nikuyanodaidokoro.com
・ Tsuya's Kitchen Shinjuku Kabukicho Store (16: 00-held store) https://nikuyanodaidokoro-shinjyuku.com
・ Shibuya Miyamasuzaka store (16: 00-held store) https://nikuyano-daidokoro-miyamasuzaka.com
・ Nikuya's Kitchen Shibuyodo Osaka Store (16: 00-held store) https://nikuyanodaidokoro-dougenzaka.com
・ Mizuya's Kitchen Iidabashi Store (16: 00-held store) https://nikuyano-daidokoro-iidabashi.com
・ Nikuya no Daikoku Ueno store (16: 00-held store) https://nikuyanodaidokoro-ueno.com
・ Chiya's Kitchen Gotanda store (16: 00-held store) https://nikuyanodaidokoro-gotanda.com
・ Tamachi's Kitchen Tamachi Store (16: 00-held store) https://nikuyanodaidokoro-tamachi.com
・ Mizuya's Kitchen Machida Store (16: 00-held store) https://nikuyanodaidokoro-machida.com
【Kanagawa Prefecture】
Shiya's Kitchen Kawasaki Store
https://nikuyanodaidokoro-kawasaki.com (Not eligible for the campaign)
【Kyoto】
Shiya's Kitchen Kyoto Hiyamachi Store
https://nikuyanodaidokoro-kyouto.com (Not eligible for campaign)