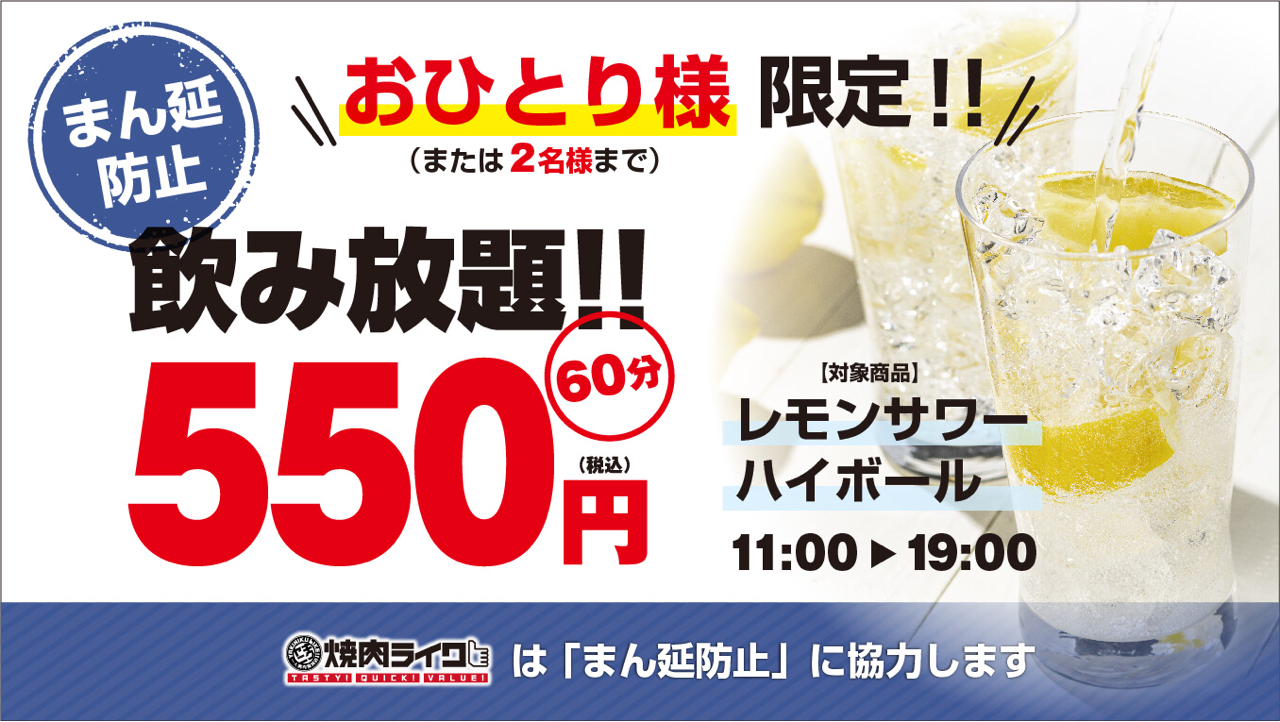 "Yakiniku-like", which is operated by Yakiniku-like Co., Ltd. and is based on the concept of fast food of yakiniku, follows the policy of priority measures such as prevention of the spread of new coronavirus infection announced by the Tokyo Metropolitan Government on June 18, 2021. Alternatively, "All-you-can-drink for 60 minutes and 550 yen for prevention of spread" will be held at some stores from June 21st (Monday) for customers who come to the store with two people.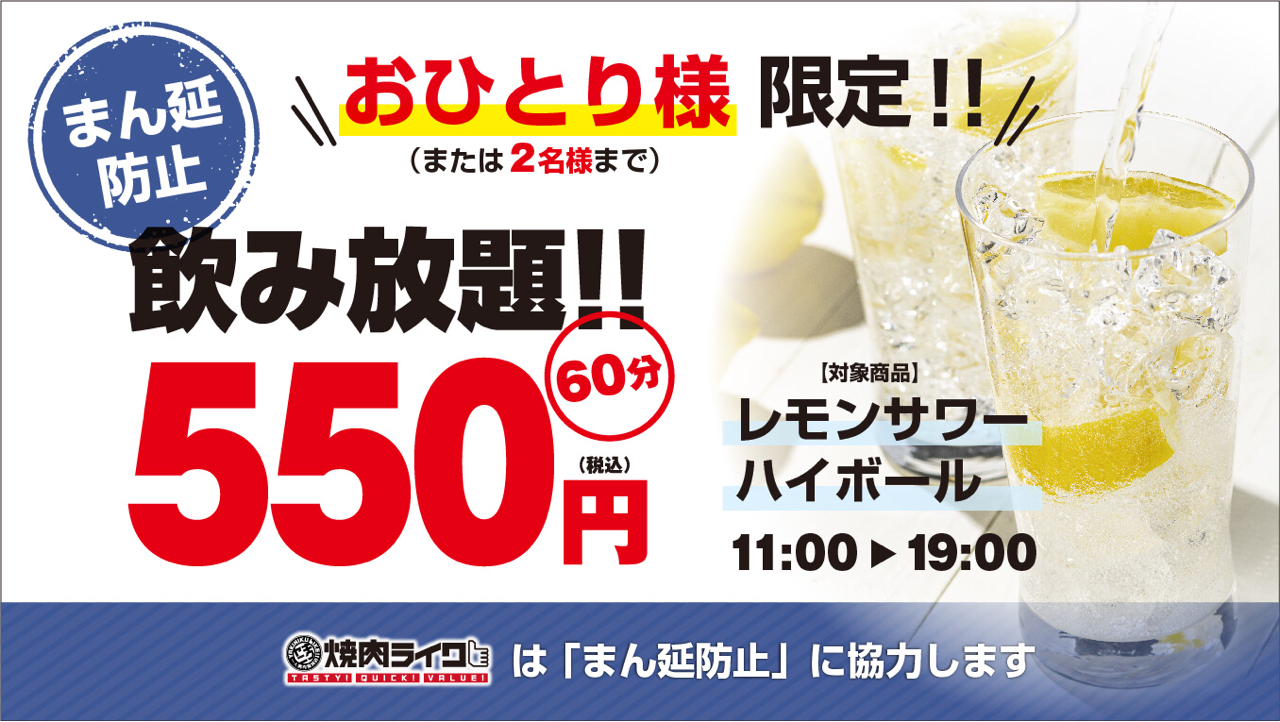 If it is "Yakiniku-like" that recommends yakiniku alone, you will naturally eat and drink silently.
We will hold an all-you-can-drink campaign so that our customers can enjoy yakiniku and sake as much as possible while the situation continues to be alert.
Since the touch panel is used for ordering, there is no need to call a clerk each time.
We will thoroughly manage hygiene so that our customers can enjoy their meals with peace of mind. And we will fill your stomach and heart with hot grilled meat.
Overview
---
---
[Implementation period] June 21 (Mon) -July 11 (Sun) (planned)
* It may end early.
[Execution stores] Shinbashi main store, Shinjuku west exit store, Shibuya Udagawacho store, Ueno store, Akasaka Mitsuke store
[Details] Only for customers who come to the store by one or two people
Highball Lemon Sour 60 minutes all-you-can-drink
60 minutes between 11:00 and 19:00 (last order 18:00)
[Price] 550 yen (tax included) (550 yen x 2 for 2 people)
* Glass replacement is required for refills.
* Please order at least one hood per person. (Set or meat separately)
* All-you-can-drink cannot be extended.
Seats and menu structure suitable for one person
"Yakiniku-like" is a yakiniku specialty store that you can go to anytime, easily, or by yourself.
Since it is open throughout the day, it is perfect for those who missed yakiniku from the morning, lunch time, and those who want to eat yakiniku quickly after work.
The main seats are single-seat counters. There is a partition, and we are devising so that the line of sight does not match. All orders are on the touch panel, cold, chopsticks and hand towels are installed in the seats.
Except for payment, you can complete it at your seat.
The cheapest set menu is "Bara Calvi Set 100g" from 580 yen.
There is also a single item from 50g, and you can customize it to your favorite menu.
In addition, because it is a smokeless roaster, it has high ventilation capacity and can be used without worrying about odors.

Efforts to prevent new coronavirus infection
・ Acrylic board partitions are installed at the seats to prevent splashing.
・ Thorough temperature measurement and hand washing of employees, mandatory wearing of masks
・ Thorough ventilation and disinfection in the store ・ Disinfect and sterilize equipment such as touch panel menus and sauces
・ Use disposable shutout chopsticks ・ Thorough use of cash tray when making payment
・ Installation of alcohol disinfectant in the store
[Yakiniku-like air changes in the entire audience in 2 minutes and 30 seconds! ]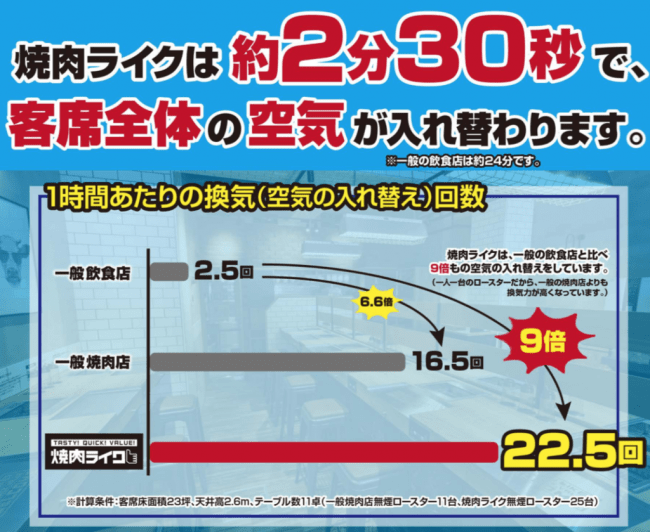 Yakiniku-like has one smokeless roaster for each person. Not only smoke and odor, but also the air inside the store is strongly sucked. As a result, the air in the entire audience seats is replaced in about 2 minutes and 30 seconds (*), leading to the avoidance of a closed environment.
* Calculation conditions: Audience seat floor area 23 tsubo, ceiling height 2.6 m, when 25 smokeless roasters are in operation. It may change depending on the store location conditions.
Roasted meat-like
"Yakiniku-like" is a yakiniku fast food restaurant where you can freely enjoy your favorite parts at your own pace by introducing "one smokeless roaster for each person".
A completely new yakiniku that overturns the common sense of yakiniku, such as "you can enjoy various parts by yourself", "even one woman can enter the yakiniku restaurant", and "you can go even if you don't have time to serve it within 3 minutes". We provide a way to enjoy.
Company Profile

Yakiniku Like Co., Ltd.
Headquarters: 1-11-2 Ebisu Minami, Shibuya-ku, Tokyo
Established: April 2019
Representative: Soo Arimura, President and CEO
Business: Management of restaurants, recruitment of franchise chain member stores and management guidance of member stores
Number of stores: 63 stores in Japan (as of June 21)
27 stores in Tokyo, 3 stores in Saitama prefecture, 3 stores in Chiba prefecture, 10 stores in Kanagawa prefecture,
1 store in Hokkaido, 1 store in Niigata prefecture, 1 store in Shizuoka prefecture, 1 store in Aichi prefecture, 1 store in Gunma prefecture, 1 store in Ibaraki prefecture
8 stores in Osaka prefecture, 1 store in Kyoto prefecture, 2 stores in Hyogo prefecture, 1 store in Okayama prefecture, 1 store in Fukuoka prefecture, 1 store in Kumamoto prefecture
Store HP: https://yakiniku-like.com
Twitter: https://twitter.com/like_yakiniku