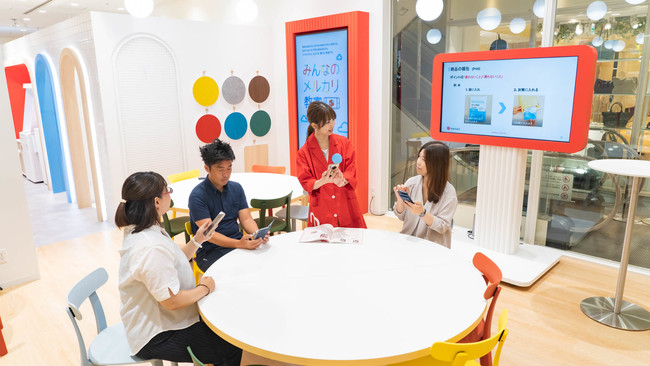 Marui Co., Ltd. will open the experience store "Mercari Station" of the flea market app "Mercari" operated by Mercari Co., Ltd. for a limited time from September 1st (Wednesday) at the Ueno Marui Sendai PARCO Main Building.

■ What is "Mercari Station"?
Based on the concept of "more to everyone's flea market apps," you can learn how to use "Mercari" in the "Mercari classroom," where you can take pictures of the products you want to sell, "shooting / packing booths," and just post the products sold at "Mercari." It is a store where you can "learn while experiencing" "Mercari" such as "Easy shipping booth" with "Mercari post" that can be shipped. The permanent stations in Shinjuku and Musashi Kosugi, which opened last year, have been very well received, and in response to many people saying "I want them near my home," we are opening a limited-time store from March this year. .. The store is operated by Marui Group employees who have the know-how of customer service and have received training in "Mercari".
---
---
■ Overview of "Mercari Station"
Store name: Mercari station
Home page: https://pj.mercari.com/station/
Store opening period:
Ueno Marui 2F: September 1st (Wednesday) -December 15th (Wednesday), 2021
Sendai PARCO Main Building 4F: September 1st (Wednesday) -October 29th (Friday), 2021
* Business hours are based on each facility
≪Mercari classroom≫
A classroom where you can learn how to use "Mercari" with no participation fee. You can experience how to enjoy "Mercari" with the instructor, such as how to find and buy products, and how to sell unnecessary items.
≪Shooting / packing booth≫
We have solved the problems related to photography such as "There is no space to shoot the exhibit at home" and "The image of the exhibit is dark due to poor sunlight in the room", so that you can experience from packing to shipping in one stop. We will set up a photography / packing booth equipped with small items, packing materials, and packing space.
≪Mercari Post≫
An unmanned mailing box that can be shipped simply by posting the sold products. You can experience "easy and convenient" shipping from automatic slip issuance to shipping.
・ About prevention of spread of new coronavirus infection
In consideration of the health and safety of our customers and employees, we are taking various measures to prevent the spread of the new coronavirus infection. We appreciate your understanding and cooperation.
* Please do not overdo it and come to the store with the health and safety of yourself and your surroundings first.
* Please check the "Mercari Station" website for details on how to use each facility.
https://pj.mercari.com/station/
In the future, Marui will continue to promote initiatives that combine the resources and know-how of both parties, including Mercari and "Mercari Station," and connect primary and secondary distribution from both the real and online to expand the customer experience. We will aim for.
▼ Mercari Co., Ltd.
https://www.mercari.com/jp/
▼ Marui
https://www.0101.co.jp/