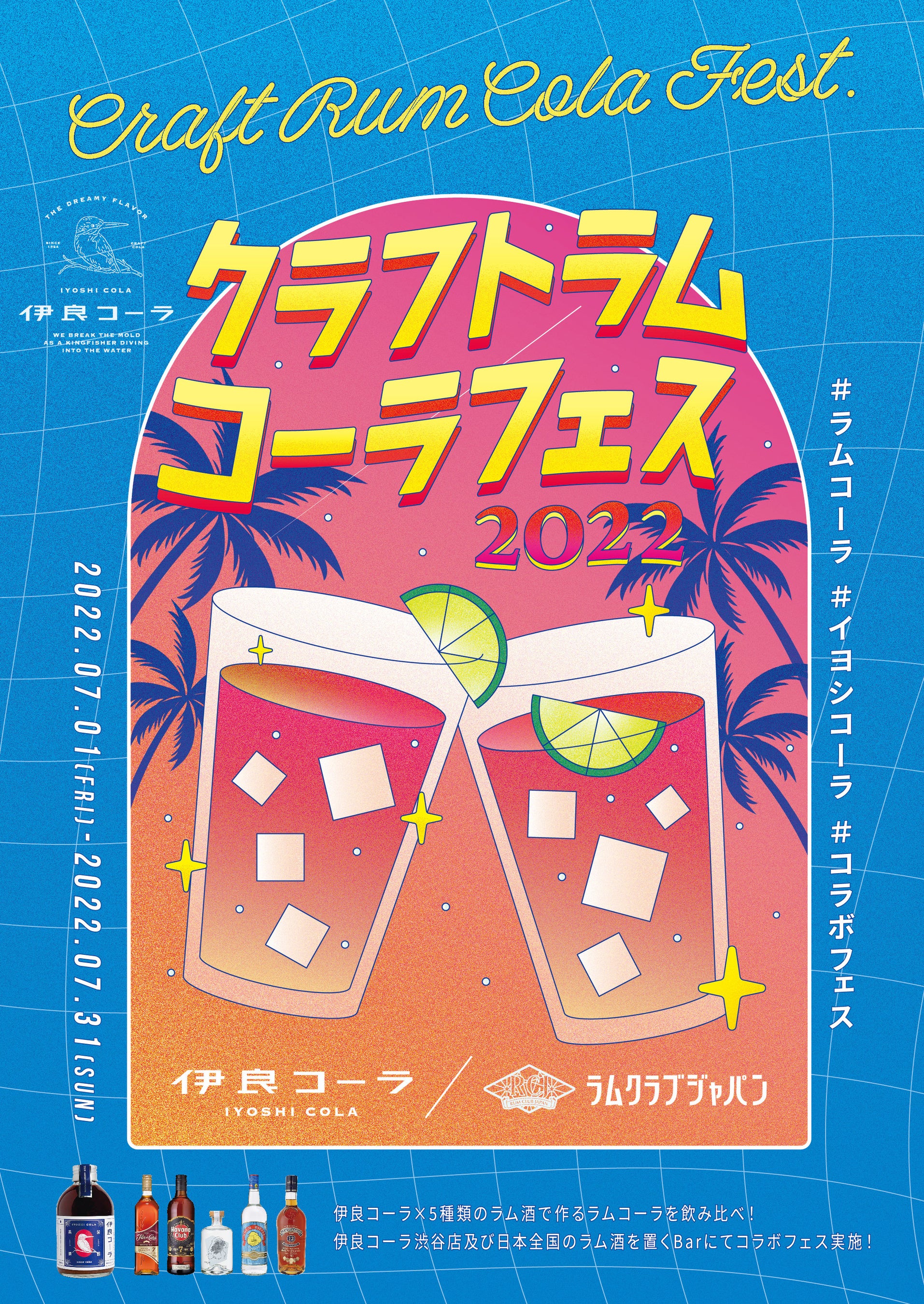 "Rum Club Japan (RCJ)", which aims to create a society where you can enjoy rum more closely, and "Iyoshi Cola", the world's first craft cola specialist manufacturer / specialty store, will be launched in 2022. "Craft Rum Cola Festival" will be held nationwide from 1st (Friday) of March.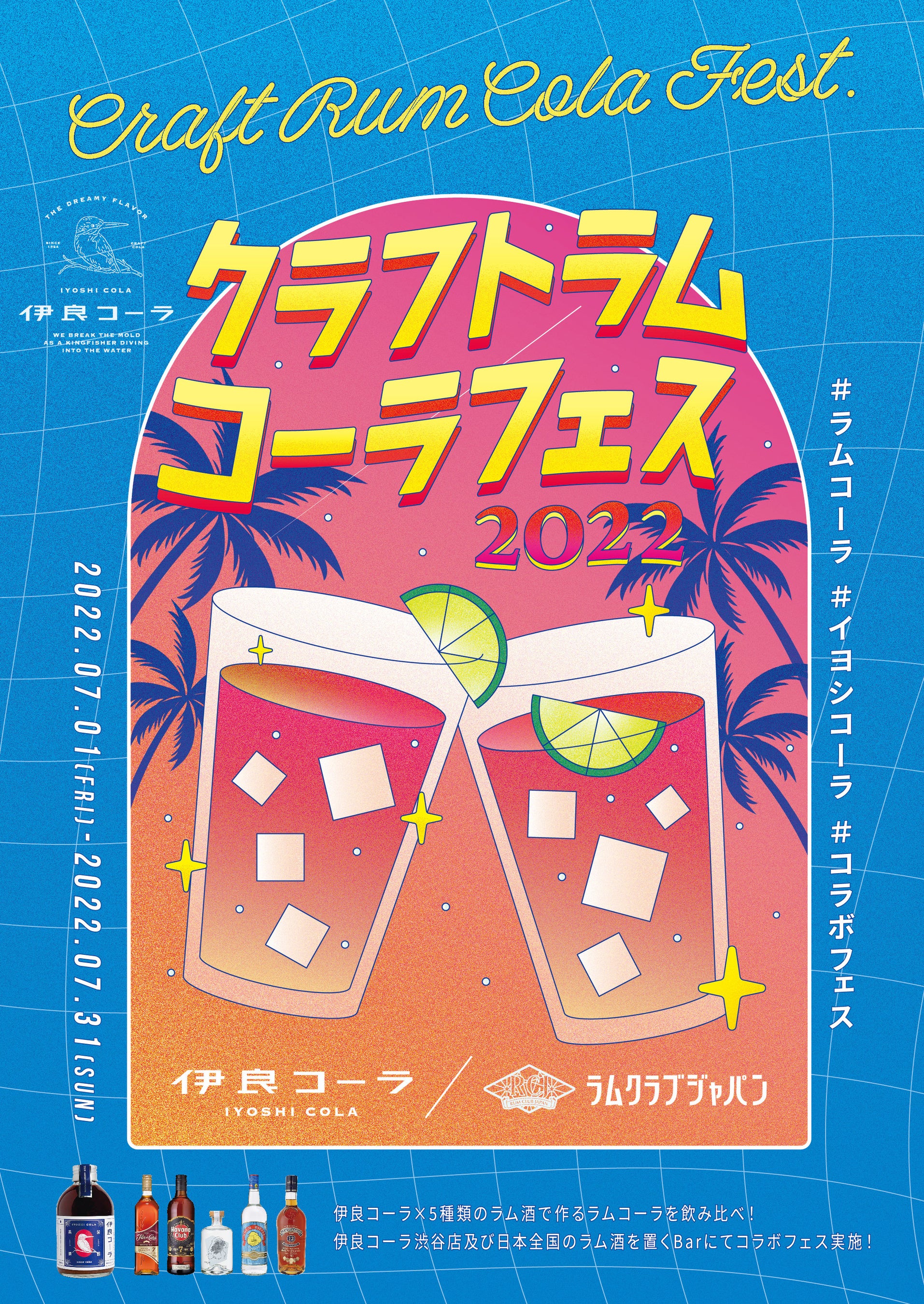 ■ You can enjoy "Craft Lamb Cola", which is particular to bartenders, at rum bars nationwide!
Taking advantage of the connections with bars nationwide that RCJ members have built up so far to make rum more accessible, we have created a menu of original craft rum cola at more than 80 bars nationwide. The bartenders at each store use 5 types of rum and Ira cola to provide a special cup. If you tell your taste on the spot, you may be able to enjoy an original recipe tailored to each person. !! Please see the bottom of this release for details on participating stores.
■ Iyoshi Cola Shibuya store offers a limited edition "Craft Rum Cola Drinking Comparison Set"!
At the Iyoshi Cola Shibuya store, we offer a "drinking comparison set" of "craft rum cola" using 5 types of rum carefully selected by RCJ members every Friday and Saturday in July from 15:00 to 20:00. schedule.
It is a menu where you can enjoy the difference in taste depending on the lamb little by little, so please try it.
Rum used: "Akouram", "Flor de Cagna 7 years", "Royal Centenario 12 years", "Biel Blanc", "Havana Club 7 years"
■ Comment from RCJ representative Yuzo Mikami
I am very pleased to be able to hold such an event with Mr. Ira Cola, a man in the Japanese craft cola industry. By collaborating with people of different genres to raise awareness and popularization of rum in Japan, we will create an opportunity for people who have never drank rum to try it, so that as many people as possible can try rum. I would like to cherish this opportunity to convey the charm of Japan. We believe that the influence of the new coronavirus will be an opportunity for restaurants, liquor dealers, producers, and liquor Lover who are having a great deal of trouble to regain hope and vitality. , I would like to do my best to liven up this festival. Please visit the Iyoshi Cola Shibuya store and bars nationwide.
■ Ira Coke Representative Coke Kobayashi Comment
Was it around this spring?
Mr. Hasegawa of RCJ came to the Iyoshi Cola Shibuya store and was served several kinds of rum in a small bottle from the bag.
There were a wide variety of rums, including aglycol rum with a strong sugar cane sensation, purely domestic rum, and barrel-ripened rum.
I drank some of the suggested lamb and Ira cola together.
I thought, "I have opened the forbidden door." This is a little tasty.
Please give it a try to see if only I think so or if you all feel that way.
■ What is Rum Club Japan?
An organization that aims to recognize and popularize rum made from sugar cane.
In Japan, in order to popularize minor rum, we are taking on challenges every day to raise awareness and popularize it by multiplying it with genres and different types other than rum.
In addition, through the operation of a group called "Rum Sake Friends Association" on Facebook from 2015, in which more than 3,000 members participate, mainly in Japan, rum producers, liquor stores, rum bars, and rum bars all over Japan, and Our mission is to convey the appeal of rum to as many people as possible while maintaining connections with rum lovers.
<Related account>
Facebook Rum Friends Association: https://www.facebook.com/groups/813874962018963
Rum Sake Friends YouTube: https://www.youtube.com/channel/UCt-D-jLUfTn1pbAiv_TURRw
Rum Club Japan Mikami note account: https://note.com/yuzorum
■ What is Ira Cola?
The world's first craft cola specialty manufacturer and specialty store.
The one and only craft cola in the world created by Ira Coke representative "Coke Kobayashi" based on the Chinese method and craftsmanship inherited from his grandfather who was a Japanese and Chinese craftsman.
It is carefully made by craftsmen in a small in-house workshop in Shimoochiai, Tokyo.
<Iyoshi Cola Shibuya store>
5-29-12 Jingumae, Shibuya-ku, Tokyo
Business days: Open all year round * Excluding the year-end and New Year holidays
Hours: 11: 00-19: 00 (Open until 20:00 on Fridays and Saturdays during the period)
* Cashless payment only. Please note that cash cannot be used.
<Official account>
Instagram account: https://www.instagram.com/iyoshicola/
Twitter account: https://twitter.com/iyoshicola
Facebook account: https://www.facebook.com/iyoshicola1
Coke Kobayashi Instagram account: https://www.instagram.com/cola_kobayashi/?hl=ja
Coke Kobayashi note account: https://note.iyoshicola.com/
<Online store>
Ira Coke Online Store: https://iyoshicola.shop/
■ List of participating bars nationwide
Satellite Bars nationwide (86 stores) * Participating stores are still recruiting
Event period: July 1st (Friday) -July 31st (Sunday), 2022
* Please contact each bar for regular holidays and business hours.
<Hokkaido / Tohoku>
Hokkaido Sapporo Hayanagi
5-10 Minami 5 West, Chuo-ku, Sapporo
Yamagata Ritz Garden Dining Lounge
1-17-12 Kasumicho, Yamagata City Sakai Building 1F
Yamagata Ritz (suite) -lounge & bar-
Kajo Central Building 24th Floor, 1-1-1 Jonanmachi, Yamagata City
---
---
<Kanto (other than Tokyo)>
Chiba Kashiwa Bar Moonlight
65-7 Imayakamicho, Kashiwa City
Chiba Minamiboso Chidori Annex
2894 Kitaasai, Chikura-cho, Minamiboso-shi
Saitama Omiya BAR Feliz
1-72-3 Daimon-cho, Omiya-ku, Saitama-shi
Saitama Fujimino BAR REVIVE Я
1-6-20 Kamifukuoka, Fujimino City Kenshu Building 201
Gunma Oizumi Town Bar Snow Style
3-15-1 Asahi, Oizumi-cho, Ora-gun CLV Building 2D
Tochigi Utsunomiya Dining Lab π Utsunomiya
9-1 Enomachi, Utsunomiya City NINE STARS Building 1F
Tochigi Oyama Dining Lab π Oyama
3-3-18 Chuocho, Oyama City 2F
Tochigi Utsunomiya Juice
5-2-3 Central, Utsunomiya City
Kanagawa Yokohama One Many
Noge Building 2F, 1-46-3 Noge-cho, Naka-ku, Yokohama
Kanagawa Yokohama Mojo
1-5-8 Isezakicho, Naka-ku, Yokohama Kiniya Building 2F
Kanagawa Ofuna Rae Town
1-23-16 Ofuna, Kamakura City Sunward Ofuna B1F
<Tokyo>
Ginza Bar Lamp
6-6-19 Ginza, Chuo-ku Wakamatsu Building 4F
Ginza Ginza Bar Maruhachi
8-2-13 Ginza, Chuo-ku J Bld B1F
Ginza Margo
5-4-15 Ginza, Chuo-ku Ginza Eflore Building 3F
Ginza Ginza Bar Maruichi
1-11-1 Shinbashi, Minato-ku Shimbashi JOY Building 1F
Ikebukuro Bar LIBRE
3-25-8 Nishiikebukuro, Toshima-ku Somaya Building B1F
Tabata Bar hanakura
2-6-25 Tabata, Kita-ku Kondo Building 101
Ueno Anito Bar dannalc
2-4-3 Ueno, Taito-ku Ikenohata Sukiya Building 3rd Floor No. 302
Ueno Dining Bar SARU
2-9-2 Ueno, Taito-ku, Tokyo
Kinshicho ENGLISH HARBOUR
3-5-11 Kinshi, Sumida-ku
Shinjuku Mambo Bar
3-10-11 Shinjuku, Shinjuku-ku Kunihisa Building 3F
Shinjuku SPIRITS BAR Sunface SHINJUKU
1-13-7 Nishi-Shinjuku, Shinjuku-ku Yamatoya Building 10F
Meguro Bar Romani
2-18-20 Kamiosaki, Shinagawa-ku B1F
Nakameguro Nico Bar
3-5-33-101 Nakameguro, Meguro-ku
Nishiogikubo BAR RUMHEAD
3-11-10 Nishiogiminami, Suginami-ku Nishiogiminami South Building 2F
Machida Bar Rumbullion
6-20-10 Haramachida, Machida City Nakanoya Building B1F
Machida BAR syrup
4-5-13 Haramachida, Machida-shi
Tachikawa Bar Nocturne
2-23-6 Akebonocho, Tachikawa-shi, Tokyo Arita Building 3F
Higashimurayama Cigar Bar Bacchus
2-20-11 Sakaecho, Higashimurayama City Iwasaki Building 2nd floor
<Tokai>
Shizuoka Mishima HAPPY END
13-21 Ichibancho, Mishima City Yamada Building 2F
Shizuoka Numazu BAR the PINE
7-2 Takashima-cho, Numazu-shi
Aichi Kariya Bar Finch Kariya
2-38 Sakuramachi, Kariya City B Building
Aichi Nagoya Barbagas
3-13-1 Sakae, Naka-ku, Nagoya City Minami Kuremonocho Building 1st floor
Aichi Nagoya Waiter Waiter
5-19-15 Chiyoda, Naka-ku, Nagoya Ceres Tsurumai 1F
Aichi Nagoya Bar Finch Nishiki
3-9-14 Nishiki, Naka-ku, Nagoya City Nitto Nishiki Building 6F
Aichi Nagoya Bar Coeur
3-2-31 Sakae, Naka-ku, Nagoya NOA Building 7F
Aichi Nagoya Burstair
2-28-12 Izumi, Higashi-ku, Nagoya Access Izumi 2F
Aichi Nagoya YOSHINO BAR
2-10-26 Nishiki, Naka-ku, Nagoya City Mizuno Building 2F
Aichi Nagoya Bar Thistle
2-15-20 Nishiki, Naka-ku, Nagoya City Sanaga Fushimi Building B1
Aichi Nagoya Bar Nave
1-23-2 Nagono, Nishi-ku, Nagoya City Shigendo Itoshige 2nd floor
Aichi Nagoya BAR chord
2-29-19 Meieki, Nakamura-ku, Nagoya 2F
Aichi Nagoya BAR YLANG YLANG
1-14-23 Nishiki, Naka-ku, Nagoya HP Nishikibashi Building 2F
Aichi Nagoya BAR PARTAGE
3-16-8 Nishiki, Naka-ku, Nagoya Moriman Building 2F
Aichi Nagoya SCUM
3-17-3 Nishiki, Naka-ku, Nagoya Sun Plaza Building B1F
Aichi Nagoya Enoteca Il Matto
2-55 Ikeshita, Chikusa-ku, Nagoya
Aichi Hekinan Cafe and Bar Figaro
110 Daiichi Mutsumi-so, 4-1 Sakaemachi, Hekinan-shi
Aichi Anjo Magic Bar CURTAIN CALL
1-27-30 Mikawaanjo Higashimachi, Anjo City
Mie Ise nousagiya
2-11-2 Kawasaki, Ise City
<Hokuriku>
Niigata Nagaoka BAR PORTE
3-1-9 Sakanouemachi, Nagaoka City Excoat Imai 5F
Toyama Toyama City Rum Bar SUN-SHOT
1-3-9 Shintomicho, Toyama City 2F
Niigata Niigata Bar Take Five
2F, Isaka Building, 1525, 8 Bancho, Nishiborimaedori, Chuo-ku, Niigata
Ishikawa Kanazawa Starlit KITCHEN & BAR
2-21-18 Katamachi, Kanazawa City The ARCHIPELAGO katamachi 1F
Nagano Matsumoto Cantina Wan
2-9-11 Central, Matsumoto City 2F
Nagano Ueda cafe & dining bar up moat
2-9-19 Central, Ueda City
<Kinki>
Kyoto Kyoto bar mousse
375 Kiyomoto-cho, Higashiyama-ku, Kyoto-shi Hanami Sueyoshi Nishiiri Sueyoshi Ichiban Alley East side 2nd floor
Kyoto Kyoto THE RISE BAR
Kiyamachi Building 2F, 176-4 Zaimokucho, Kiyamachi-dori, Nakagyo-ku, Kyoto
Kyoto Kameoka Sake Hajime (Bashushi)
25-33 Tanisuji, Oiwake-cho, Kameoka-shi
Osaka Takatsuki OneMany Oeste
2-13-23 Johokucho, Takatsuki City 2F
Osaka Esaka ALFIES BAR
2-3-4 Esaka-cho, Suita-shi Kenyo Building 1F
Osaka Tenjinbashisuji 6-chome kaya
12-15 Kurosaki-cho, Kita-ku, Osaka
Osaka Ogimachi C-covo
3-8-9 Tenjinbashi, Kita-ku, Osaka Ogimachi Seto Building 1F
Osaka Nakatsu Sake Salon Chimasa
1-1-36 Nakatsu, Kita-ku, Osaka
Hyogo Kobe San Cristobal
2-2-9 Shimoyamatedori, Chuo-ku, Kobe Lighthouse 5F
Hyogo Kobe Bar Covo
1-24-4 Nakayamatedori, Chuo-ku, Kobe Dragons Building B1F
Hyogo Kobe Kitano Scandal
2-12-19 Yamamotodori, Chuo-ku, Kobe Pearl Life B1F
<Chugoku / Shikoku>
Okayama Okayama City Bar Maeda
1-6-7 Nodaya-cho, Kita-ku, Okayama-shi Yoshii Building 2nd floor
Shimane Matsue Bar Negras
503-10 Isemiyacho, Matsue City Teramoto Tenant B Building 2F
Hiroshima Hiroshima City Bartre
2-17 Nagarekawa-cho, Naka-ku, Hiroshima-shi
Hiroshima Hiroshima City Little Happiness
5-14 Nagarekawa-cho, Naka-ku, Hiroshima-shi
Hiroshima Onomichi Soko Sweets To Alcohol
2-26-5 Kubo, Onomichi-shi
Kochi Kochi City Bitter Fruit
3-1-3 Harimayacho, Kochi City Shiwa Building 7F
Kochi Kochi City BAR SLOW
2-3-7 Harimayacho, Kochi City Ooi Building 2F
Kochi Kochi City K's BAR
1-2-16 Obiyamachi, Kochi City Kuzume Building 2F
Ehime Seiyo BAR & GUESTHOUSE entohouse
9-180 Nomura, Nomura-cho, Seiyo-shi
Ehime Matsuyama Bar Grace
2-2-8 Okaido, Matsuyama City Moslin Building 3F
<Kyushu>
Fukuoka Fukuoka City Bar Rummy
1-3-1, Imaizumi, Chuo-ku, Fukuoka 2F
Fukuoka Fukuoka City HAPPY HILL
1-7-21 Imaizumi, Chuo-ku, Fukuoka 1F
Fukuoka Fukuoka City Bar Yorozuya
9-11-101 Narayamachi, Hakata-ku, Fukuoka
Fukuoka Fukuoka City Ginza Sake Bar Marudai Daimyo
1-2-5 Daimyo, Chuo-ku, Fukuoka City Ilcassette Building 3F
Fukuoka Kurume Believe
1-10 Hotarugawamachi, Kurume-shi Ishizaki Building 1F
Kagoshima Kagoshima City Penguin Hotel
2-76-8 Arata, Kagoshima City Sakura Saki Building 1F
Kagoshima Kagoshima City Shothouse High Bridge
Hatada Building 2F, 6-8 Yamanokuchi-cho, Kagoshima-shi
Kagoshima Kagoshima City Bar Devil's Nest
5-17 Higashisengokucho, Kagoshima City T Building 3F
* Scheduled to be added sequentially during the period (details will be updated on the event site below)
For inquiries regarding this release, please contact us.
Please contact the event secretariat ( yuzomikami0103@gmail.com ).