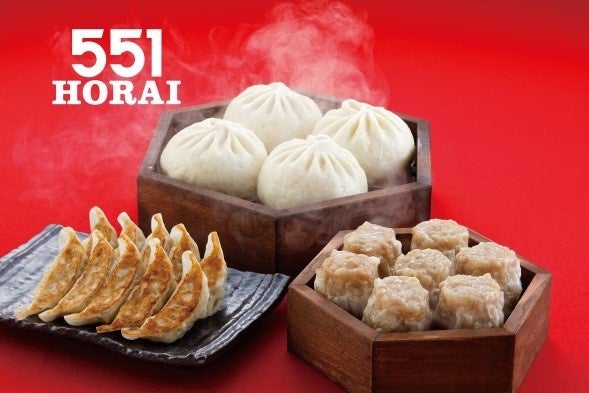 September 14th (Wednesday) to September 20th (Tuesday), 2022 *Closed at 17:00 on the last day Matsuzakaya Ueno store 6th floor exhibition space
Autumn season has arrived. At the Matsuzakaya Ueno store, we will hold the "Autumn Delicious Products Exhibition", which collects delicious foods from all over Japan for 7 days from September 14th (Wednesday) to 20th (Tuesday). The food event "Autumn Delicious Products Exhibition" started in 2019 (cancelled in 2020). This time, the 3rd time, all 46 brands of various "delicious things" gathered from Hokkaido in the north to Okinawa in the south. Not to mention "551 HORAI'', "& EARL GRAY'', and "Tamade Kimuraya'', which had long queues last time, the famous soy sauce ramen shop "Chuka Soba Shibata'' and the new sensational raw canelé that is booming again at "Francy''. Jeffers> and other new brands are also available! By gathering a large amount of "delicious food" from all over Japan, centered on Osaka, the city of food, in Ueno, the starting point of your trip, you can enjoy delicious food at home and enjoy the feeling of traveling.
Must see! This brand was in the top 3 most popular last time! !
Osaka <551 HORAI> Demonstration
551 pork buns, a specialty of Osaka that represents the capital of food. Last time, it was so popular that more than 1,000 people flocked every day!
<551 HORAI> Pork bun (6 pieces) 1,260 yen, Shumai (10 pieces) 750 yen, Grilled dumplings (15 pieces) 540 yen
*Please line up at the north exit on the 1st floor before the store opens. After the store opens, numbered tickets will be distributed at the "551 HORAI" numbered ticket distribution office in the 6th floor exhibition hall. If you are waiting, up to 2 people per group.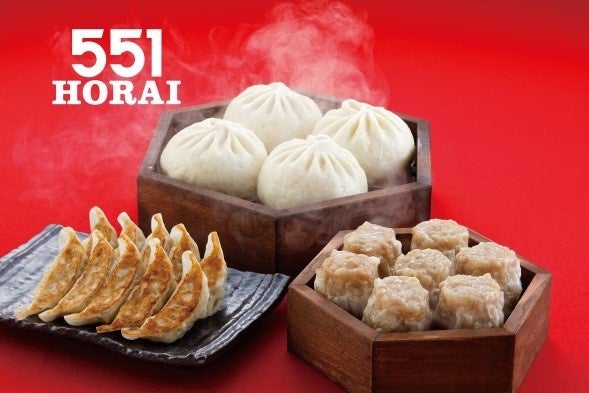 Hyogo <& EARL GRAY> Demonstration
Earl Gray specialty store's rich soft and new sensation scones are here for the first time!
<& EARL GRAY> (Top) Earl Gray Rich Milk (1) 550 yen, (Bottom) Hawaiian Scone (1) 420 yen
Osaka <Tamade Kimuraya>
A bakery in Osaka founded in 1904. The most popular products and new products from shops where you can't stand the queue!
<Tamade Kimuraya> (Top) Veneziana (1/2 size) 572 yen *Scheduled to arrive after the store opens (around 10-11), (Bottom) ① Raw donut chestnuts and bean paste (1 piece) 259 yen, raw donut Italian Custard (1 piece) 280 yen, ② Chinese melon bread (1 piece) 259 yen
[Eat-in] Taste at the venue! First appearance of the famous restaurant <Chuka Soba Shibata> , which is called "the male of soy sauce ramen"
Tokyo <Chinese noodles Shibata>
Selected as one of the top 100 restaurants in Tabelog for 5 consecutive years! The famous restaurant <Chuka Soba Shibata>, which boasts soy sauce ramen, appears for the first time along a quiet road in Chofu, Tokyo. This is a very popular ramen shop that has always had lines of people waiting since it opened. The soy sauce ramen, which is made with duck and free-range chicken soup combined with 8 types of soy sauce, is definitely worth trying!
<Chinese Soba Shibata> (Left) Chinese Soba (1 cup) 1,080 yen, (Right) Special Chinese Soba (1 cup) 1,480 yen
There are a lot of sweets that are opening for the first time! A collection of popular sweets from all over Japan
Introducing a new sensation raw canelé filled with plenty of cream! Chilled and moist, warm and chewy texture♪
Osaka <Francy Jeffers> Raw canelé (set of 3 / Belgian chocolate, custard, pistachio) 1,200 yen
Kyoto <Kyoto dumpling Fujinami> Assortment of three colors of bracken rice cake (1 box, 500g / soybean flour, matcha, brown sugar) 1,250 yen
A new sense of Montblanc specialty store is here for the first time! Luxurious Montblanc with Japanese chestnut paste evenly sprinkled on chewy daifuku. Aichi
<Kuririn> Kurisenbon (350g) 2,100 yen
Kyoto <Ajari Mochi Honpo Full Moon> Ajari Mochi (1 bag, 5 pieces) 594 yen

* Limited to 200 bags each day, up to 2 bags per person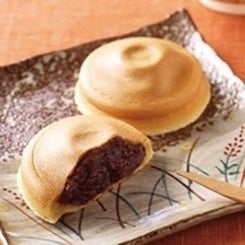 Osaka <Sakai Specialty Haniwa Pudding> Haniwa Pudding Custard (1 piece) 700 yen
Tokyo <Bari Ogawaken Shimbashi/Meguro> Original Raisin Witch (10 pieces) 1,296 yen

* Sales period: 9/14 (Wed) → 17 (Sat)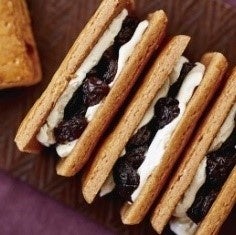 Speaking of product exhibition, "luxury lunch box" ! Both seafood and meat! Take home a popular bento box from all over the world and feel like you're traveling at home♪
Hokkaido <Seimiya> Tokachi's bounty lunch box (1 serving) 2,376 yen
Yamagata <Yonezawa Kohakudo> Yonezawa beef steak MIX lunch box (1 serving) 2,916 yen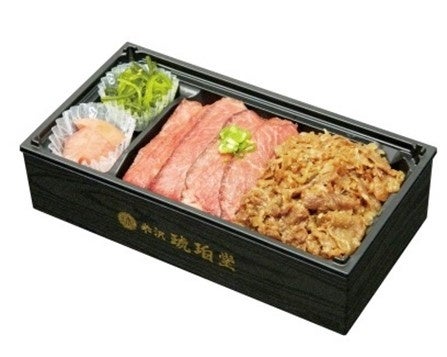 Hokkaido <Sapporo Hizen> Hizen Bento (for 1 person) 2,160 yen
Hokkaido <Sakanaya Shin> Goryokaku bowl (1 serving) 1,950 yen
In addition, there are plenty of famous gourmet restaurants in various places, mainly in Osaka, the city of food! !
Since its founding in 1946, Imai udon continues to be loved in Osaka. You can enjoy the soft and fluffy "age" cooked slowly, chewy Osaka udon, and elegant light-flavored soup stock at home. This time, the Oyako Donburi, which has won the Gold Prize in the Oyakodon category of the National Donburi Grand Prix for seven consecutive years, will also be demonstrated!
Osaka <Dotonbori Imai> (Left) Simple kitsune udon (1 serving) 810 yen, (Right) Oyako Donburi (1 serving) 864 yen

*Demonstration only for parent and child donburi
"Kasumi crab" is red snow crab that is only landed at Kasumi fishing port in Hyogo. It is full-bodied and characterized by its juicy and elegant sweetness.
Hyogo <Maruya Suisan> Kasumi crab shell assortment (1 cup / frozen) 2,980 yen
Hyogo <Home Pizza Picco Rosso> Kobe Pizza 3 Pieces (Diameter about 21 cm x 3 pieces / Frozen) From 3,276 yen
Softly stewed pork kakuni is sandwiched between fluffy dough.
Nagasaki <Iwasaki Honpo> Nagasaki Kakuni Manju (5 pieces / frozen) 2,250 yen
*All prices include tax.
Special page https://www.matsuzakaya.co.jp/ueno/topics/005220914.html