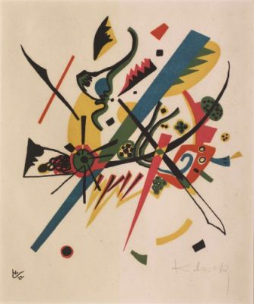 Wassily Kandinsky "Small World I" 1922 Lithograph / The National Museum of Western Art, Tokyo
At the National Museum of Western Art, Permanent Exhibition in Printmaking Drawings Exhibition Room will be held "Saturday, February 24, 2018," Margue Gallery and 20th Century Painters – Focusing on Art Magazine "Deliere Le Miloire" .
This exhibition
· One of the leading galleries in France
MARGE GALLERY in Paris was established in 1945 by Eme · Magu and his wife Marguerite, right after the end of the Second World War. By interacting with artists representing the 20th century and providing young artists with opportunities for presentation positively, Marug Gallery will become one of the leading galleries leading the contemporary art in the postwar France Growth is achieved.
· First issue of art magazine "Delière · Le · Miloire"
Originally a lithographer and a small printmaker before the war, Eme · Marg poured passionate passion in the publishing and printing business, and in 1946 he published the art magazine "Delière · Le Miloire". This magazine, meaning "the back of the mirror", is also an exhibition catalog edited according to the exhibition to be held at Margu Gallery, and all 253 was published by the end of 1982. A combination of high-quality printmaking duplicates and poetry and criticism by the famous writers of the same era, and many original lithographs newly made for the magazine by artists were recorded.
· Introducing the world of 20th century art
In this exhibition, from among the Margu Gallery and the deeply related painters who appear in "Deliere · Le · Miloire", Pierre · Bonnard, Henri · Matisse, Georges · Black, Marc · Chagall, Joan · Miro · Wassily · Kandinsky Six people will be picked up. Gallery While focusing on the relationship between the main mag and each painter, the world of 20th century art aiming for new art expression through about 50 works including lithographs recorded in "Deliere Le Mirloir" It will be introduced.
Summary
Exhibition name

---

---

Margu Gallery and 20th Century Painters – Focusing on Art Magazine "Deliere Le Miloire"
A session
Saturday, February 24, 2018 – May 27, 2018 (Sun)
Opening hours
9: 30 am – 5: 30 pm every week Friday – Saturday: 9: 30 am – 8 pm * Admission until 30 minutes before closing
closing day
Monday (however, opening on March 26 (Monday) and April 30 (Monday))
Venue
The National Museum of Western Art, Tokyo Permanent Exhibition New Building Prints Drawings Exhibition Room
Viewing Fee
That day:
General 500 yen (400 yen)
College student 250 yen (200 yen)

※ This exhibition can be viewed with a permanent exhibition viewing ticket, or a viewing ticket "Prada Museum of Art Velázquez and glory of painting".
* In parentheses, group fee of 20 or more ※ Free for high school students or under, under 18 years old, free for 65 years and over (Please show student card or age verifiable at entry)
※ Persons with physical disabilities and one attendant are free (Please present disabled persons notebook at the time of entry)
---