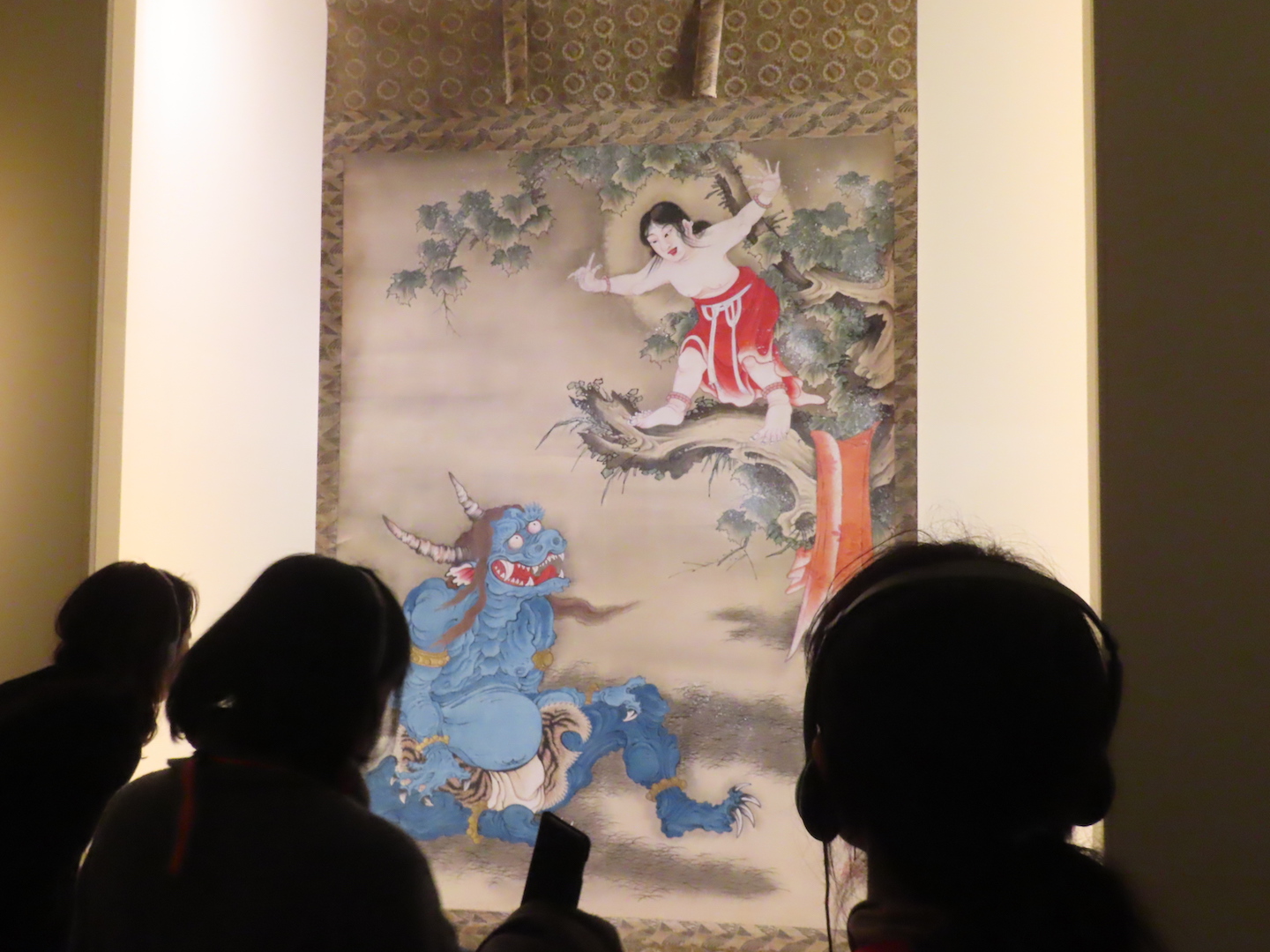 Soga Ji Haki "Yukiyama Dadoko Figure" The First Year of Meiwa (1764) Mie, Yongseongsa
"Fantasy genealogy exhibition Edo painting Miracle world" will be held at the Tokyo Metropolitan Art Museum from February 9 (Sat) to April 7 (Sun) in 2019. Prior to the opening of the press, the press exhibition was held on February 8, so I will tell you the pattern.
Do you know the word "fantasy" in Japanese art?
1970 was published in the year, in the works "The Genealogy of Capriccio" of Japanese art historical treatise by Mr. Tsuji Nobuo, of the Edo era painter, Matabei Iwasa, Kano mountain snow, Jakuchu Ito, Soga蕭白, Nagasawa Rosetsu, Kuniyoshi Utagawa of works and biography Through the keyword "fantasy" I discussed. Mr. Tsuji brought new perspectives such as eccentricity, grotesque, and fantasy to the world of Japanese art that was often talked about in schools and genres until then.
In this exhibition, in addition to the painters picked up in "The Illustrated Genealogy", he covered Shirakami Hyozuru and SUZUKI Souichi , a masterpiece of eight superstars of Japanese art world such as Wakaku ITOKE who is explosively popular recently Gathered. Through the eyes of modern people, we will introduce the fantastic outlook of Edo Painting, its new attraction.
Exhibition landscape
This exhibition is composed of eight chapters.
Fantasy Museum magazine Itako Joko
Waked grotesque Soga Ji Hak
Kyo's entertainer Nagasawa Ashigaru
Drama of obsession Iwasa Kaori
Kano Katori's intellectualist Kano Kano snow
Ideal explosive Hakuhaku 鶴 鶴
Ridiculous Edo Rimpa Nobuyuki Suzuki
Ukiyo Uchiyoe seventh change Edo Utagawa Kuniyoshi
At the beginning the composition of arranging "superstar" Itaku Jakuchu of the Japanese art world is also bold, but Professor Yuji Yamashita, a professor of Meiji Gakuin University who supervised this exhibition,
"There is not only Jakuchu as a fantasy painter, I wanted to know about that."
I will talk.
A lot of the exhibition works expanded to weft as "Weird" theme is exactly "Avant-garde of Edo". It is impossible to see such "fantasy" paintings at the exhibition of vertical divisions such as Rimpa, Kano school and Ukiyo-e.
Also this time, works that will be "first public" in this exhibition also appeared fully. The "fantasy" fans so far, as well as the general public who touches "fantasy" newly are satisfying contents.
Exhibition work introduction
Itaka

Jakucho

"Chicken rooster rogue" Personal collection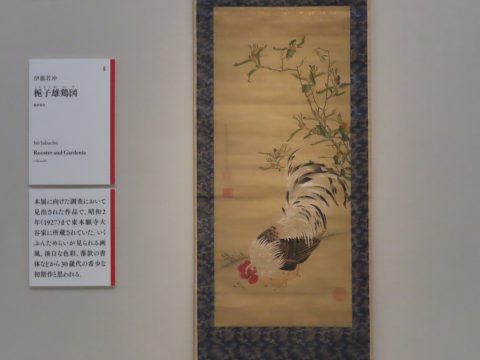 Works discovered during the research process of this exhibition. It is a valuable first public release work.
Anyway, Jakuchu is "chicken". Jokaku was reportedly keeping chickens in the garden and staring at its ecology, frequently picking up chickens on the subject. There seems to be no other similar case in the combination of chicken soup (Chopsticks), but surely these young leaves were planted in the Jakuchu garden.
Compared to the majestic style and the detailed drawing of the mastery in the "Asahi rooster chart" here, "Chicken rooster figure" is modestly somewhere, I get a pale white impression. From the typeface of the inscriptions, "Chiko rooster picture" seems to be regarded as a rare initial work of 30s.
Soga Ji Haki "Yukiyama Dadoko Figure" Meiwa Yuan (1764) Circa Circa Mie, Yongseongsa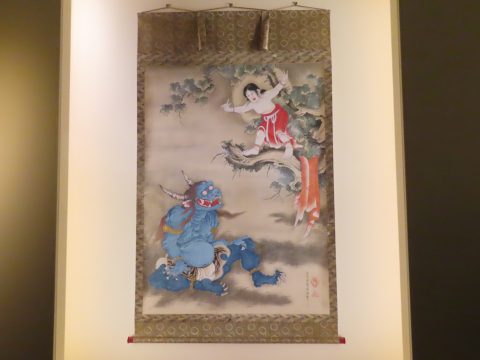 It is a painting of a scene of "book life" that tells episodes of Buddha's life before.
From Buddha who turned Bodhisattva into the form of evil spirits, he tried to tell me "I will teach you the bottom two phrases of the scriptures if you eat yourself to me" and is about to throw himself from the tree .
The intense contrast of the blue, red and orange on the screen, and the contrast of the sacredness of Buddha and the vulgarity of demons is also interesting. Although Xiao Hui learned from the imagery and drew a lot of traditional events such as Chinese saints and hermits, it was known for its intriguing expressions filled with creativity and insanity.
Utagawa Kunihiro "Mikake Hakoha is a lone person" Hirokazu 4 (1847) Age Crop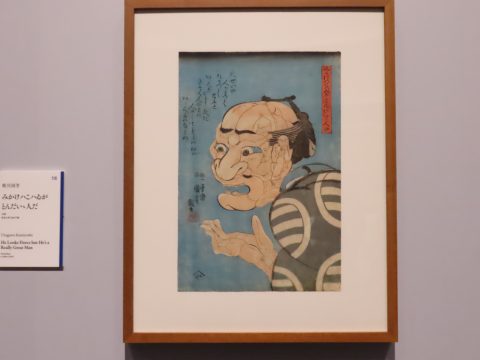 At first glance it is a portrait depicting the upper body of a man, but when you look closely and see it … a fantastic painting called "Eh?"
This figure depicts Asamina Saburo Yoshihide, a samurai in the Kamakura period, visiting various foreign islands, whose face is made up of gathers of naked men. It may be said that it is just "Oriental Arcimboldo".
Although it is said that there were some "islander" in the islands that Asahina went through, is it that the men who are making him are the dwarfs? In the picture is added a word that he taught that "a lot of people got a precious person who knows who to talk about, but people can not be good people" , and as you can see the mystery It is a piece deepening.
---
Innovation, originality that also surpasses modern people. However, it is surprising that the "fantasy painters" introduced in this exhibition were not listed in the textbook as one person in 1970, but were only "other majority" painters.
The way to a new Japanese painting that "Hentai" and "Heterogeneous" painters have opened up.
Leave the textbooks and go out on a journey to meet them.
At that time you may like Japanese painting more than now.
Summary
A session
February 9 (Sat) – April 7 (Sun) of 2019
Venue
Tokyo Metropolitan Art Museum Planning Exhibition Room
Opening hours
9: 30 ~ 17: 30 (entrance is until 30 minutes before closing)
Closed day
Monday, February 12 (Tuesday)


* However, opening on February 11 (Monday · congratulation), April 1 (Monday)

inquiry
○ Official website
https://kisou2019.jp
○ Hello dial
03-5777-8600
Admission fee
General 1,600 yen / college student / vocational college student 1,300 yen / high school student 800 yen / 65 years old and over 1,000 yen

※ Free for junior high school students and below
※ Person with handicapped person's notebook, love notebook, medical care notebook, mentally handicapped health welfare notebook, bomb survivor health notebook and those accompanying people (up to 1 person) are free
※ Please bring anything that can be proved