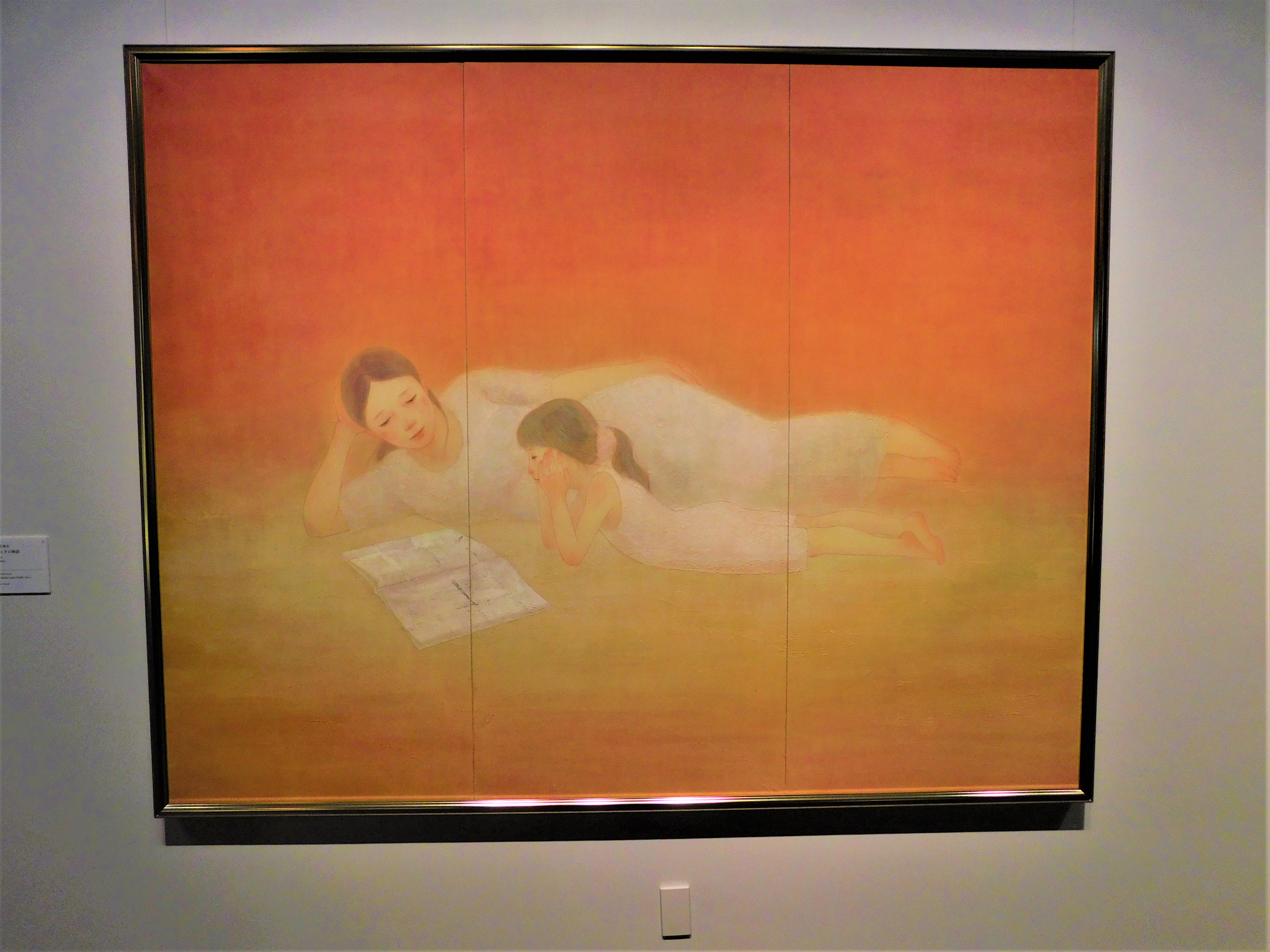 A Mother and Child's Story 2013
From November 16, 2019 (Sat) to January 5, 2020 (Sun), at the Tokyo Metropolitan Art Museum in Ueno , the Ueno Artist Project 2019 "A Look to the Children" and Riki Matsumoto "Remember Memories" It is held.
The other day there was a joint press preview of these exhibitions, so I will report on the situation.
The highlights, composition, and featured works of each exhibition are featured.
---
What is "a look toward children"?
The Tokyo Metropolitan Art Museum is popular as a place for the presentation of works by many publicly-recruited organizations, and is called the "Hometown of Public-Exhibited Exhibitions".
From 2017, the "Ueno Artist Project" series, which introduces contemporary artists who are active in open recruitment groups, has decided the theme every year.
This year, the third edition, will be held under the theme of "A look toward children".
Introducing a multi-layered image that is temporarily entrusted to children drawn through the works of six artists from young to veterans who are currently affiliated with art recruitment organizations.
Composition and featured works
The "Gaze to the Child" is roughly divided into 3 chapters.
Chapter 1 Being Beloved
Chapter 1 introduces the works of Shinsei Kana (Japan Art Academy) and Ayako Okubo (Ichiyokai) on the theme of beloved beings.
・ SHINJO Kana
Shina Kana draws a delicate human figure with a soft touch using warm colors and a female motif.
The work exhibited this time is a pure girl image that does not know the world's dirt, and a warm mother and child image that touches an important part of the heart.
Through the existence of children and mothers and children, the rebirth that wants to draw the preciousness, beauty, and love of life is re-recognizing the kindness that I received from my surroundings when I was a child. Says.
(Comments from Mr. Shinsei)
" I want to express the inside of a girl spreading like a universe, and I'm drawing a work".
・ Ayako Okubo OKUBO Ayako
Ayako Okubo, an artist who consistently draws mother-child images.
The work exhibited this time is a mother-child image that gives a sense of the dynamics of moving children and a sense of unity between mother and child.
A large and generous mother gently wraps the babies and energetic children that are to be protected like the earth.
(Comment by Okubo)
With the theme of "spin life", I have been making works for the last 10 years.
I hope I can express the energy of life through the children who fly around. "
Chapter 2 Growth and Conflict
Chapter 2 introduces the works of Tsubasa Shida (Independent Art Association) and Megumi Toyozawa (New Production Association) on the theme of growth and conflict.
・ Shida Tsubasa
While teaching at high school, Tsubasa Shida keeps drawing on the motif of modern junior and senior high school students.
The works on display this time are self-portraits that depict the inner faces of pure children who are looking at the inside of the aggression while struggling with the society created by adults, and the inner faces of society.
Unleash the real situation faced by today's adolescent children.
(Comment by Shida)
"I want to express my child's various psychology with my own paintings and connect with various people."
・ Toyosawa Megumi TOYOSAWA Megumi
Megumi Toyosawa keeps drawing high school girls who have projected themselves in the work.
Toyosawa draws about the feelings that she had in her adolescence that she wanted to deny herself, and that she continued to shake because of the influence of her surroundings.
It expresses the aching pains of the youth's heart and evokes the emotions of the past that would have been felt when you were young.
(Comment by Toyosawa)
"There was a time when I made my work into a mold, but I reset it once to break that manner, and I drew the work with new feelings. I'm making ingenuity, so please enjoy it too. "
Chapter 3 Life Connection
Chapter 3 introduces the works of Akihisa Yamamoto (Main Art Association) and Masanori Kihara (Nikikai) on the theme of life's connection.
・ Yamamoto Yasuhisa
We are the modern people who are covered with materials and information and want to destroy nature, but humans cannot live without symbiosis with nature.
Akihisa Yamamoto who continues to draw works as an antithesis to such a modern age.
The work exhibited this time is a human symposium centered on children and families who spend a calm time in abundant nature.
By touching the work, you should sympathize with the fundamental memory of human life.
(Comment from Mr. Yamamoto)
"I have consistently drawn works on the theme of abundance. This time, I received the theme of an eye for children and made a new work based on that theme.
・ KIHARA Masanori
Masanori Kihara continues to draw a world in which the changing nature and the original nature of human beings with a rich sense of mass are intertwined.
The work on display this time is a world where nature and humans coexist without any boundaries and life circulates.
Using a unique color sensation and a sense of rhythm, we create a screen that is glossy and transparent, and asks viewers about the true richness.
(Comment by Kihara)
"I don't draw the children directly, but through the richness of the colors, I'm making a work that I want to entrust with my life. Is an ugly work of my father who died two years ago.
My father passed away and my son and his wife had children, but through this work, it is a work that symbolically shows that life returns to the earth and a new life is born. "
Held at the same time Tsutomu Matsumoto "Remembering the Record"-Focusing on the Tokyo Metropolitan Museum of Photography
As a joint project with the "Look for Children", Riki Matsumoto "Remember Me" is held at the same time.
・ Matsumoto Riki (from Matsumoto Chi)
Matsumoto Riki (1967 ~) is an artist who is active both in Japan and abroad as a painter / animation artist.
Draw drawings one frame at a time, without tracing, and produce video works with transmitted light.
As video installations, three-dimensional works, live performances using audio, and original workshops using hand-made video equipment are held in schools, museums, and areas where you stay.
This exhibition will show you the works held at the Tokyo Metropolitan Museum of Photography along with a new installation.
Composition and exhibits
Introducing the composition of the exhibition and the exhibits.
■ Six installation animation works
At the venue, six installation animations will be projected on the screen.
Six independent films will be screened one by one.
The 6 titles are as follows.
① A day on Mount Owari
② Electric Snow
③Follow Me / Meeting Beauty / Gaze
④ Calm warm
⑤ Singing voice across the mountain
⑥To the mountain
(About the work)
The story of Oiwari from one day to the mountain is being developed with connections.
In the middle of the venue is a pyramid lookout.
Climbing to this vantage point, watching the video of the day of Mt. Owari over the mountain, it is made to be aware that the viewpoint will change and the view will change.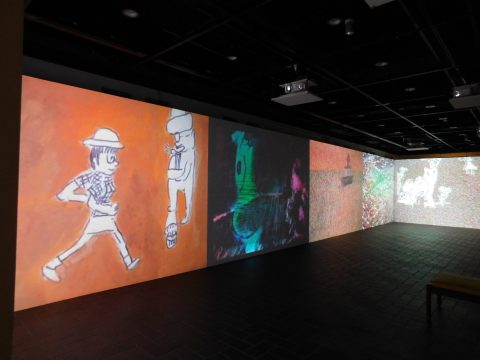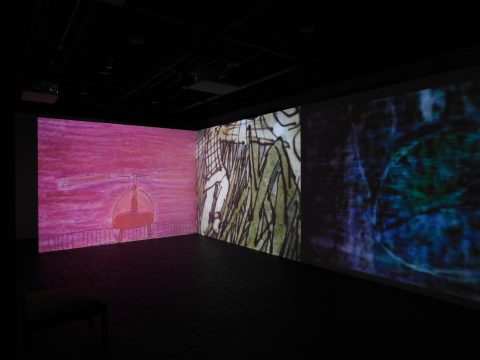 There are also 6 original installation works and multiple totem pole videos.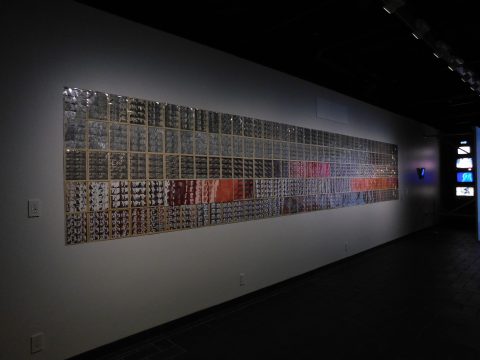 The video work SA YONA RA is also being screened.
This work is based on a picture of a continuation of an unfinished picture book written by Matsumoto-san's dead father, with only one page left unwritten.
The character depicted in the work has a motif of an inexperienced person who doesn't know anything about ghosts.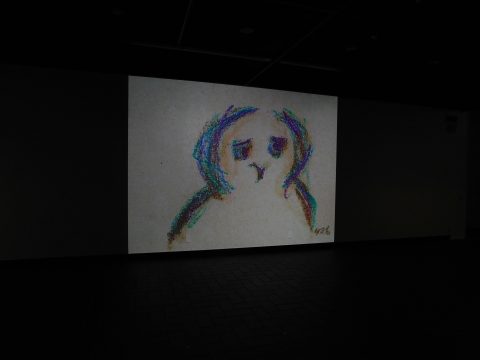 A cinema-type device has also been installed so that you can watch videos with different versions of SAYONARA's music on headphones.
Please enjoy it freely.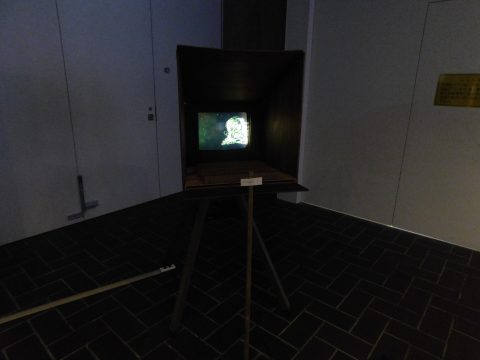 Summary
I have reported the report preview report of "A look to the children" + Tsutomu Matsumoto "Remembering".
In "A look at children", I was able to touch on the memories of childhood that apply to me, the days when I was shining in adolescence, and the fundamental questions of life.
In Tsutomu Matsumoto's "Remember Memories", I was able to confirm myself in a nostalgic day when I was a child, feeling a little sad and sad.
Why do not you come to look for your past memories and hope for the future through these two exhibitions?
We are waiting for you at the Tokyo Metropolitan Art Museum.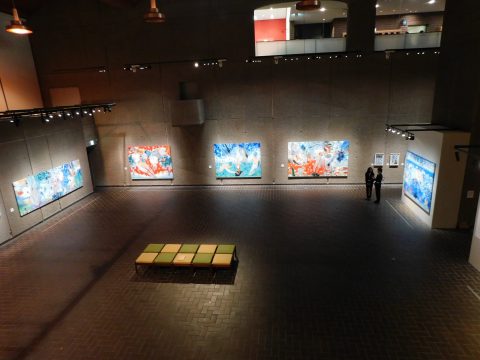 Outline
Ueno Artist Project 2019 " Gaze to the Children ''
■ Date: November 16, 2019 (Sat)-January 5, 2020 (Sun)
■ Venue: Tokyo Metropolitan Art Museum Gallery A ・ C
■ Opening hours: 9: 30-17: 30 (Last entry 30 minutes before closing)
■ Opening at night:
Friday, November 30 (Saturday),
December 7 (Sat) 9: 30-20: 00
(Last entry 30 minutes before closing)
■ Closed days: November 18 (Monday), December 2 (Monday),
16th (Mon), 26th (Thurs)-3rd 2020 (Fri)
■ Admission fee: Same-day tickets: General 500 yen / 65 years old and over 300 yen Group ticket: General 400 yen
* Group discounts for 20 people or more
* Free for students and younger
* Free for those who have a physical disability certificate, a love certificate, a nursing certificate, a mental health care welfare certificate, and an A-bomb survivor health certificate and one accompanying them (up to 1 person)
* Please bring something that you can prove.
* "Coultrede Museum Exhibition fascinating impressionist" held at the same time
Admission is free by presenting a ticket (stub)
■ Organizer: Tokyo Metropolitan Foundation for History and Culture, Tokyo Metropolitan Art Museum
■ Contact: Tokyo Metropolitan Art Museum
TEL: 03-3823-6921 (representative)
■ Event information: Please check the Tokyo Metropolitan Art Museum website "Gaze to the Children" page.
https://www.tobikan.jp/exhibition/2019_uenoartistproject.html
Tsutomu Matsumoto "Remembering the Record"-Focusing on the Tokyo Metropolitan Museum of Photography
■ Date: November 16, 2019 (Sat)-January 5, 2020 (Sun)
■ Venue: Tokyo Metropolitan Art Museum Gallery B
■ Opening hours: 9: 30-17: 30 (Last entry 30 minutes before closing)
■ Opening at night: Friday, November 30th (Saturday),
December 7 (Sat) 9: 30-20: 00
(Last entry 30 minutes before closing)
■ Closed days: November 18 (Monday), December 2 (Monday),
16th (Mon), 26th (Thurs)-3rd January 2020 (Fri)
■ Admission fee: Free
■ Organizer: Tokyo Metropolitan Government, Tokyo Metropolitan Foundation for History and Culture, Tokyo Metropolitan Art Museum
■ Contact: Tokyo Metropolitan Art Museum, Exchange TEL: 03-3823-6921 (Representative)
■ Event Information: Tokyo Metropolitan Art Museum HP Riki Matsumoto
Please check the page.
https://www.tobikan.jp/exhibition/2019_collection.html