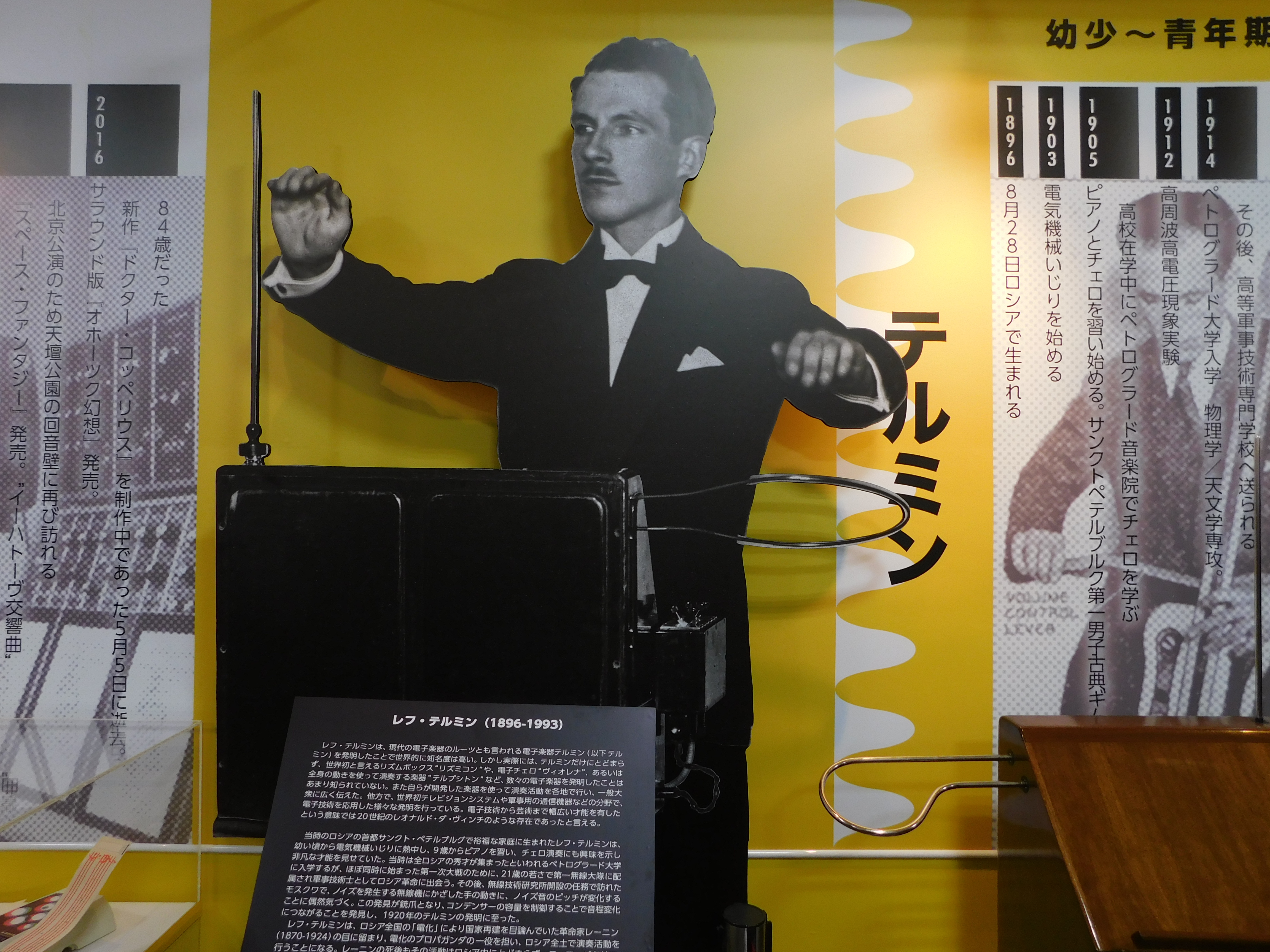 "Thermin" was invented in 1920 by Dr. Lef Theremin of Russia.
Theremin, which appeared as the world's first electronic musical instrument, was born and will celebrate 100 years next year in 2020.
Prior to this, a special exhibition "100 Years of Electronic Musical Instruments" was held at the National Science Museum from 12/3 (Tue).
The other day, there was a press conference for this exhibition.
Please see the editorial department's notable plans for the 100th electronic musical instrument exhibition with photos.
---
What is an electronic musical instrument 100-year exhibition?
As mentioned earlier, the electronic instrument 100-year exhibition is a special exhibition that commemorates 100 years since the invention of the world's first electronic instrument theremin.
By experiencing the history of the development of electronic musical instruments through precious exhibits, concerts, the latest sounds, video, and talk shows, you can enjoy electronic music from various perspectives from a scientific and artistic perspective.
Electronic instrument 100 years exhibition
Introducing the notable plans of the 100th year electronic musical instrument exhibition.
① Electronic musical instrument theme exhibition "Senestecia" (National Museum of Science, Japan Hall, 1st floor, Central Hall)
* December 3 (Tue)-December 8 (Sun)
Central hall to be themed exhibition.
In the atrium space surrounded by marble, you can experience the creativity of electronic musical instruments using sound, video and light (= Senestecia).
Experience the masterpieces of Isao Hamada's numerous synthesizers in three dimensions with sound and video.
Furthermore, you can enjoy vocaloids and the latest unique electronic musical instruments in a special demonstration space.
---
You can enjoy the masterpiece of Isao Isada in a colonnade surrounded by marble.
Along with the music, the image and fluorescent panel will change. If you stand in the center, you can experience the power of sound from all sides.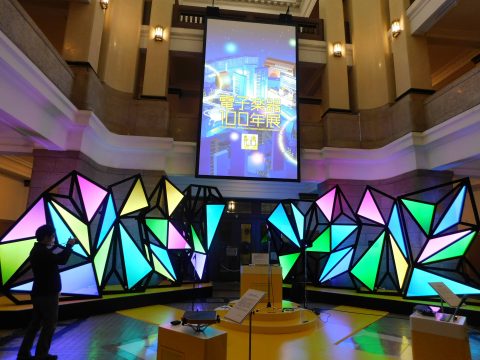 Vocaloid, an electronic musical instrument that utilizes speech synthesis technology.
When you play the keyboard, the singing voice comes out.
Converts sounds made by speech synthesis as if humans were singing.
With this technology, Crimpton Future Media's Hatsune Miku was a big hit and became a hot topic.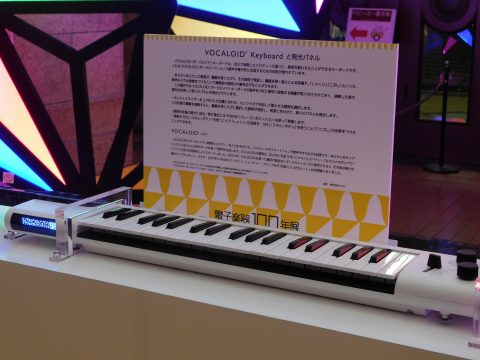 ---
---
At the venue, the vocaloid was actually played.
If you make a mistake in the place where you play it, you will end up with a sloppy song.
Children can also play, so please enjoy the live feeling of electronic musical instruments.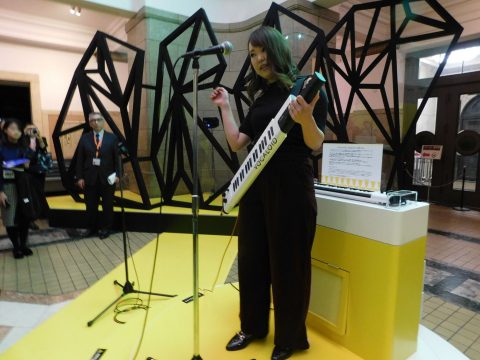 In the central hall, you can enjoy many other unique electronic musical instruments.
Electronic percussion aFrame (Electro Organic Percussion)
This is an electronic musical instrument that Mr. Taro Kakehashi has been focusing on at the end of his life.
Hit or scratch.
Although it is digital, it can be struck in an analog sense.
Since the sound changes depending on where you strike, please enjoy the change in sound.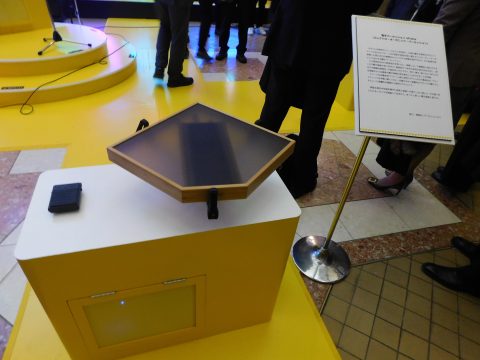 Voice Transformer VT-4
A sound processing device that adds various changes to your voice.
By turning the knob, you can enjoy the voice of a different character, such as a female voice changing to a thick male voice.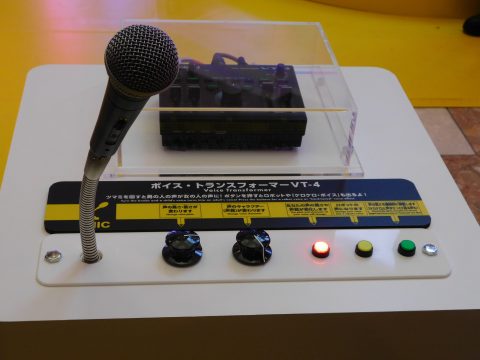 MIDI music box (Primotone crystal model)
This is an electronic music box that plays live performances by playing comb teeth using technology that converts electronic musical instrument MIDI data into motion.
It is possible to play up to 1000 songs.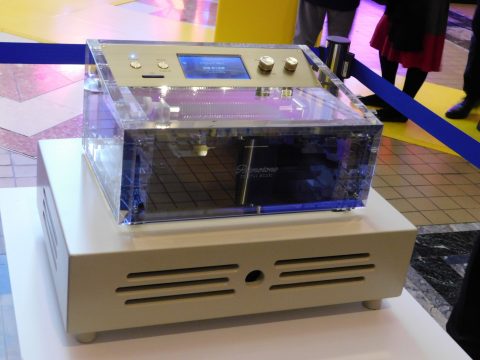 (2) Special exhibition "Greats of Electronic Musical Instruments" (National Museum of Science, Japan Building B1F Multipurpose Room)
* December 3 (Tue)-December 15 (Sun)
Dr. Lef Theremin is said to have invented the world's first electronic musical instrument.
Isao Hirota who actively incorporated electronic musical instruments into his work and opened up new grounds in music.
Ryotaro Bandai, who is called "INNOVATOR" overseas and devoted his life to the development of electronic musical instruments.
You can check the history and achievements of the three great electronic musical instruments in many exhibits.
Exhibits by Mr. Ryotaro Bandai
Canary Model S-3 (ACE Electronics) 1962
Electronic keyboard with 6 octave range of 5 octaves + 1 octave.
Product introduced overseas prior to domestic.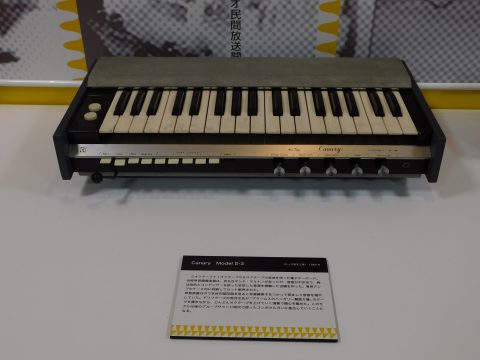 (Front) Tuner Gun Ace Electronic Industry Mid 1960s
Tuner type pistol tuning fork.
(The back of the photo) DATARAME38 Privately made by Taro Kakehashi Near 1974
When Ladder went to Scandinavia on a business trip abroad, he bought a computer system part for the S-100 bus and combined it with handmade junk parts from a Japanese office computer to complete it by hand.

MC-8 (Roland) 1977
5,400 sounds, at that time, large storage capacity, 8 CV / GATE outputs, performance of up to 8 independent parts, backup with data recorder, and groundbreaking spec product. In Japan, Isao Tomita and YMO Associate member of (Yellow Magic Orchestra)-used by artists such as Hideki Matsutake.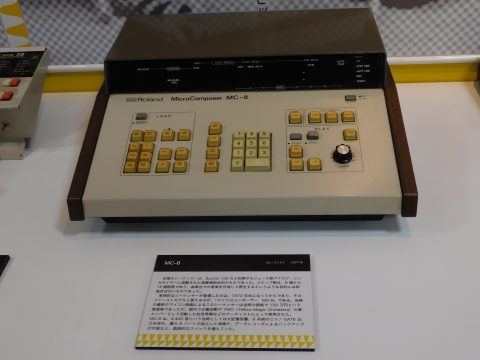 TR-808 (Roland) 1980
32 types of rhythm creation and editing are possible.
It is a revolutionary rhythm machine that can create a rhythm pattern for one song by freely combining the created patterns.
In September 2019, it was registered as a future technology heritage.
(TR-808 Future Technology Heritage Registration Related Articles)
https://home.ueno.kokosil.net/en/archives/36599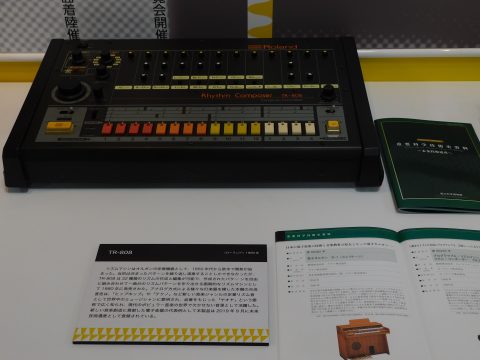 Exhibition of Isao Hamada
Numerous trophies won by Isao Hamada are on display.
Trophy selected as the best classical record album for the second consecutive year by the NARM National Record Seller Association album.
(Left) 1974 album "Snowflakes Are Dancing" (Japanese title: Tsuki no Hikari)
(Right) Awarded for the 1975 album "Picture of the Exhibition".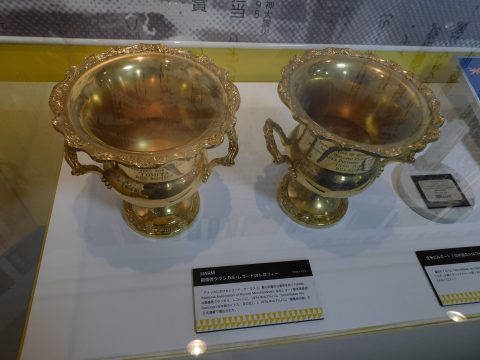 A handwritten score by Isao Hamada is also on display.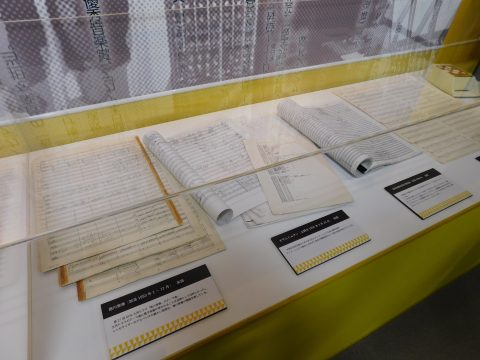 Lef Theremin exhibits
In front of the photo of Leftermin is a theremin box invented in 1920.
It is the first model of Theremin.
The theremin box means "the voice of theremin" in Russian.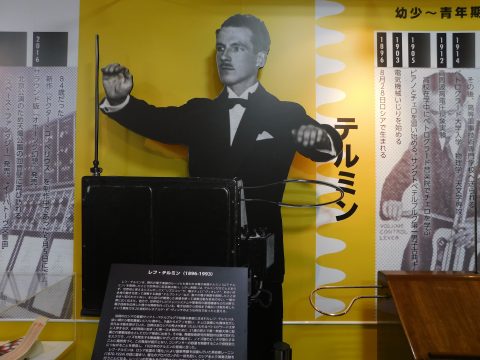 Later, the improved model became a box-type Theremin box.
Inside the box is a vacuum tube.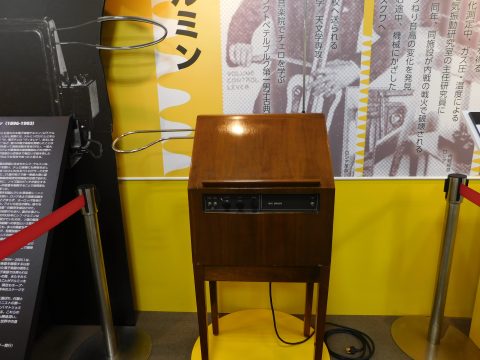 It is a modern theremin.
(Left) Matryomin
It is a type in which theremin is contained in matryoshka.
(Center of photo)
Etherwave (Moog Music) Theremin Standard
(Left) Gakken "Science for Adults" No. 17 "Thermin mini"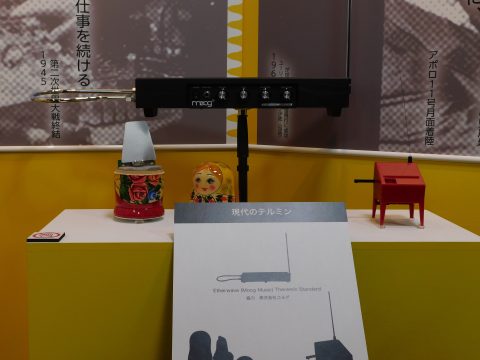 ③ Electronic musical instrument precious concert (Tokyo University of the Arts, Ueno Campus, Hall 6)
* December 6 (Friday) Open 17:45 Start 18: 30-20: 30
Electronic music by performers from Tokyo University of the Arts and an ensemble of world-class thereminists.
"Ond Martono" is a precious instrument that is said to be the original synthesizer.
You can listen to a precious electronic musical instrument concert in a special woody acoustic space inside Tokyo University of the Arts.
A number of modular synthesizers that are rare in the world will be exhibited.
It is a nice project for electronic musical instrument fans.
Appearance:
[Part 1] Tokyo University of the Arts Hideshi Goto (Associate Professor, Department of Music Environment Creation), Kiyoshi Mitsuru (PhD Music Music Creation), Admiral Yuan (Master of Music Sound Creation), Toshiya Suzuki (Recorder)
[Part 2] Masami Takeuchi (Thermin), Mable and Da (Matryomin Ensemble), Motoko Oya (Ondo Martono), Yuko Yasuda (Piano)
④ "Osam and Musashi" screening (National Museum of Science, Japan Pavilion, 2nd floor auditorium)
* December 14 (Sat)
1st Open at 10:00 Screening at 10:30
2nd Open at 12:00 Screening at 12:30
3rd 14:00 Opening 14:30 Screening
4th screening at 16:00 and screening at 16:30
A one-day screening of the masterpiece animation "Osam and Musashi" by collaboration between Tezuka Productions and the musician Isao.
Please enjoy the video that can only be seen at the Tezuka Osamu Memorial Museum in Takarazuka City at the National Science Museum.
⑤ "Osam and Musashi" Special Talk Session (National Museum of Science, Japan Pavilion, 2nd floor auditorium)
* December 14 (Sat)
Open 17:30 Start 18:00 (Approximately 90 minutes including animation screening)
Tezuka Productions and musician Isao Hamada collaborates with a special program of three "Osam and Musashi" specialists to discuss their work.
Performers: Akira Senju (musician), Satoshi Tezuka (visualist), Shinichi Fukuoka (biologist)
There are many other events, so please check the official website.
Equipment outline
■ Venue: National Museum of Science (Ueno Park, Tokyo), etc.
■ Period: December 3, 2019 (Tuesday) to December 15, 2019 (Sunday)
■ Opening hours:
9am-5pm (until 8pm on Friday and Saturday)
* Admission until 30 minutes before each closing time
■ Closed: Monday, December 9
* Opening hours and closed days are subject to change.
Please check the official website ( https://www.kahaku.go.jp/ )
■ Price:
You can see it only with the permanent exhibition entrance fee of the museum.
General / University students: 630 yen (Group: 510 yen) High school students and younger and 65 years old and over: Free