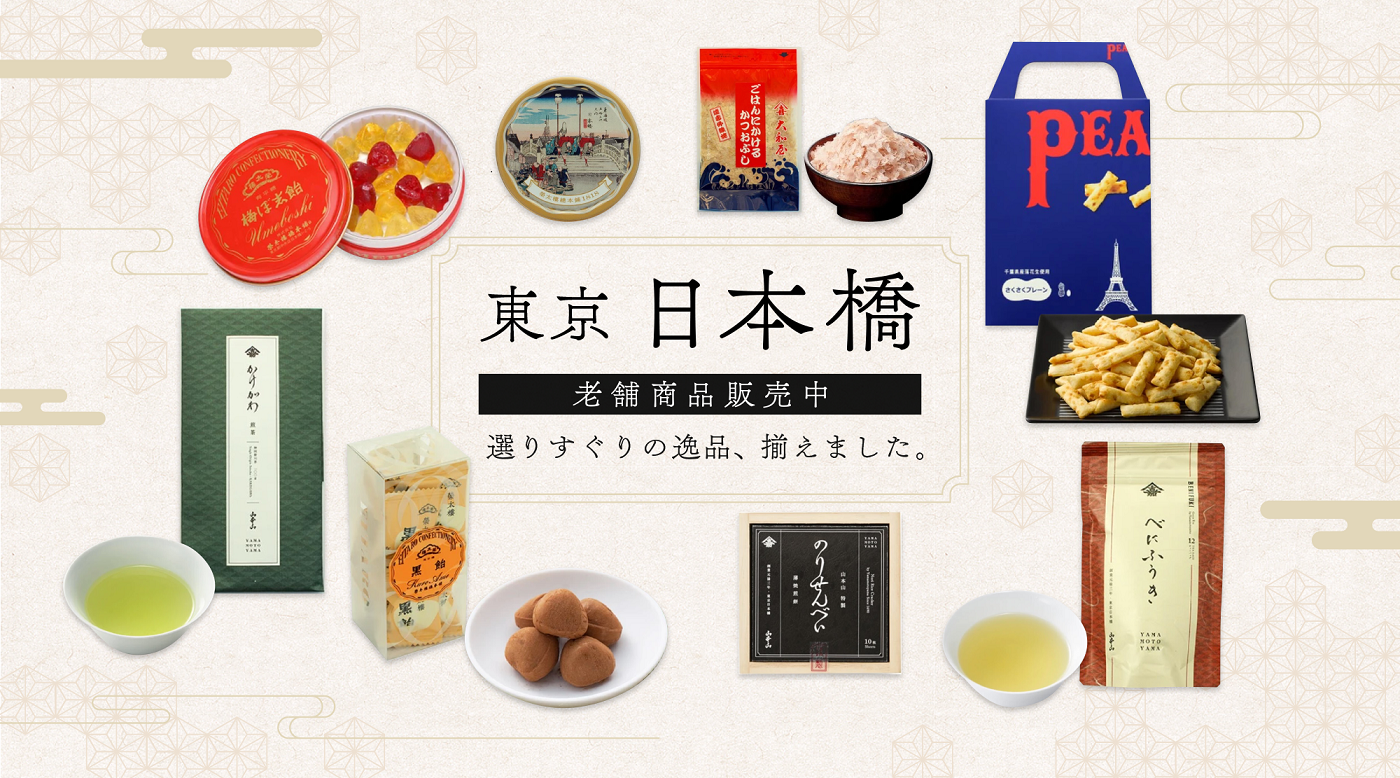 The long-established Nihonbashi Store, which has been a flagship for recovery since the Edo era, has been energizing Japan from Nihonbashi even after Reiwa.
Online store "Edo Tokyo one"
---
---
This is a magnificent online store with a long-established history of 5,054 years.
We hope you will feel Japan through the attractive products of Nihonbashi and feel your feelings on the day of the coming reconstruction.
Spart Co., Ltd. also introduces and sells long-established products at the Nihonbashi Information Center and the Nihonbashi Tourist Information Center.
In addition to each information center, many Nihonbashi long-established stores are refraining from business by declaring an emergency situation.In order to restore Japan's vitality from Nihonbashi, with the cooperation of Nihonbashi long-established stores, introduction of Nihonbashi long-established products on the online store We have started to sell.
In the future, we plan to further enhance the product lineup and introduce items from producers all over Japan that have been carefully selected by Nihonbashi Long-established Store.
< Main products >
< List of long-established stores in Edo Tokyo >   * Including schedule
Ibasen <Founding 1590 (Tensho 18 years) / Fan> (430 years)
Ozu Washi <Founding 1653 (2 years since acceptance) / Washi> (367)
Kuroeya <Founding 1689 (Genroku 2) / Lacquerware> (331)
Yamamotoyama <Founding 1690 (Genroku 3rd year) / Tea and seaweed> (330th year)
Sariya <Founding 1704 (Hoei 1st year) / Toothpick> (316)
Kokubun Group Headquarters <Founding 1712 (2nd year of Shotoku) / Liquor / Food> (308)
Yagicho Main Store <Founded 1737 (2nd year of original) Founded / dry matter> (283)
Nihonbashi Kiya <Founding 1792 (Kansei 4th year) / Cutlery> (228 years)
Haibara <Founding 1806 (3 years of culture) / Japanese paper> (214)
Eitaro Somoto <Founding 1818 (first year of Bunsei) / Confectionery> (202)
Senbikiya Sohonten <Founding 1834 (Tenpo 5th year) / Fruits> (186th year)
Sausen <founding 1842 (tempo 13 years) / kimono> (178)
Yamamoto Nori Store <Founding 1849 (Kaei 2) / Nori> (171)
Yamatoya <Founding 1867 (Keio 3rd year) / Katsuobushi> (153th year)
Liyuan Someday Todaya Store <Founded 1872 (Meiji 5) / Yukata / Tegu> (148)
Ningyocho Shinota Sushi Sohonten <Founding 1877 (Meiji 10) / Sushi> (143)
Nihonbashi Kaishin <Founding 1878 (Meiji 11) / Tsukudani> (142)
Tokyo Karakusaya <Founding 1901 (Meiji 34) / Furoshiki> (119)
Yuridou <Founding 1912 (Taisho 1st year) / Document supplies> (108 years)
Morinoen <Founding 1914 (Taisho 3rd year) / Hojicha> (106 years)
MUCCO <Founding 1914 (3rd year of Taisho) / Japanese miscellaneous goods and stationery> (106th year)
The Tale of Genji Horii <Founding 1922 (Taisho 11th year) / Yukata> (1998)
Toppan Forms <Founding 1955 (Showa 30) / Picture scrolls> (75)
Hama Ren Takatora <Founding 1948 (Showa 23) / Dyeing> (1972)
Mikado Coffee <Founded 1948 (Showa 23) / Coffee> (1972)
Furujuken <Founded 1953 (Showa 28) / Chinese food ingredients> (67)
Cohana <Founding 1953 (Showa 28) / Handicraft tools> (67)
Minatoya Esashi shop <Founding 1986 (Showa 61) / Yumeji Takehisa Goods> (34 years)
(Founding years 2020, title omitted)
< Spurt Inc.   Management tourist office>
Nihonbashi Tourist Information Center (1-1-1 Nihonbashi, Chuo-ku, Tokyo)
Nihonbashi Information Center (2-2-1 Nihonbashi Muromachi, Chuo-ku, Tokyo Coredo Muromachi B1)
Ueno Information Center (Matsuzakaya Ueno Store, B1F, 3-29-5 Ueno, Taito-ku, Tokyo)