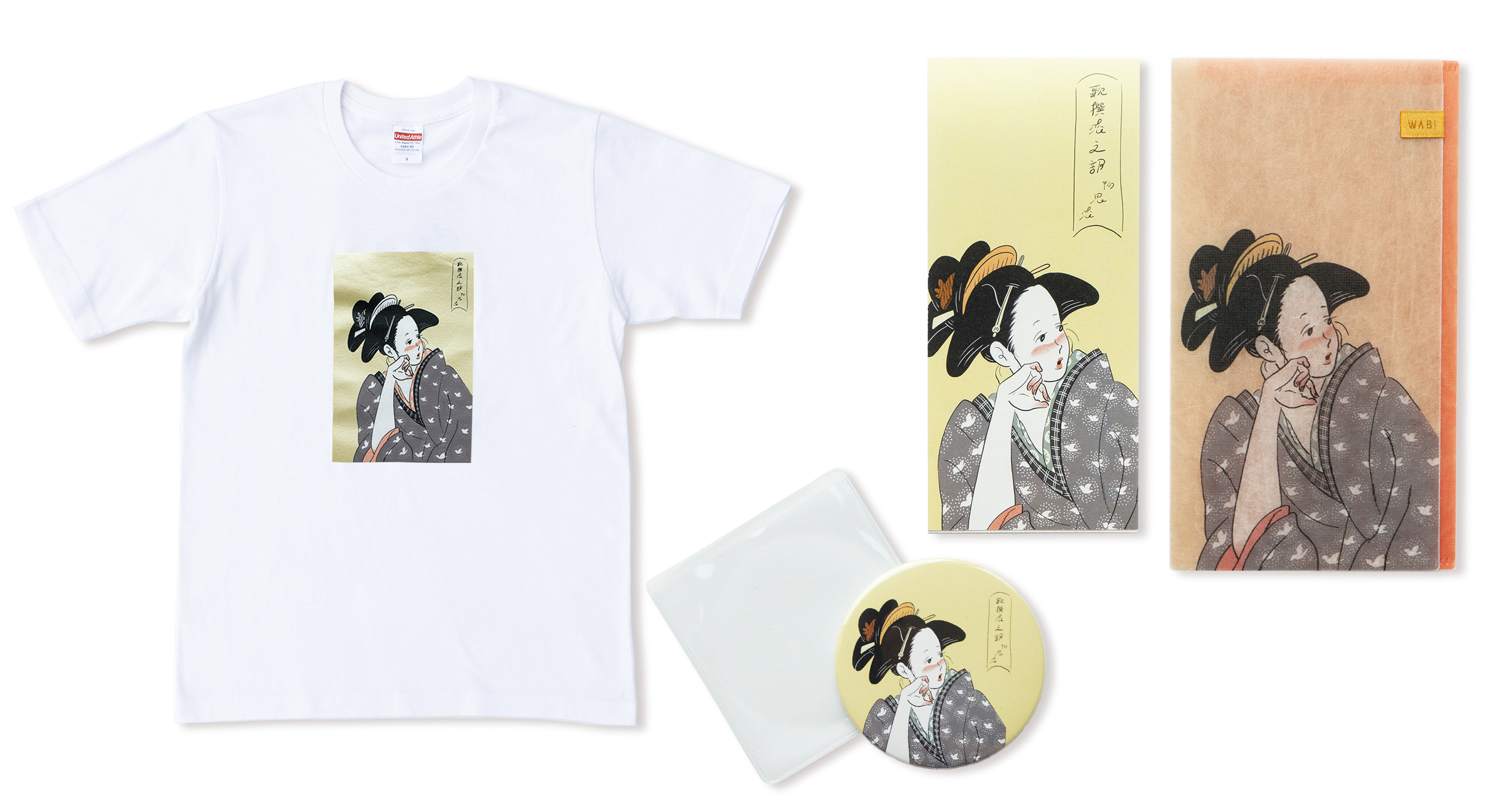 Parco Co., Ltd. is a popular illustrator with more than 300,000 Instagram followers, Saki Tanaka in Utamaro Kitagawa, in commemoration of the exhibition "The UKIYO-E 2020-Japan's Three Ukiyo-e Collection" held at Tokyo Metropolitan Art Museum. We are developing and selling illustrations with the motif of "Monster love" at the exhibition site.
We will develop and sell illustrations drawn by popular illustrator Saki Tanaka, who has more than 300,000 Instagram followers, with the motif of "Momokoi" by Utamaro Kitagawa.​
In order to fully introduce the charm of Ukiyo-e, which Japan is proud of to the world, this exhibition is a collection of the Ota Memorial Museum of Art, Japan Ukiyo-e Museum, and the Hiraki Ukiyo-e Foundation's masterpieces, which are not exaggeration to say that they are Japan's three major Ukiyo-e collections. We will exhibit about 450 carefully selected ukiyo-e prints. (*This exhibition is open to the public on a designated date and time *Exhibitions may change during the exhibition period.)
This time, Saki Tanaka, who learned her own printmaking and was influenced by Ukiyo-e, drew an illustration from Kitagawa Utamaro/Utase Koinobu with the motif of the beautiful picture "Moshikoi", and to the item using that illustration I dropped it.​
It is a product that you can feel the sexy expression of Saki Tanaka's depressing female expression.​
---
---
Products can also be purchased at the exhibition special goods shop and online. For online purchase, please see the goods page on the official website of the exhibition ( https://ukiyoe2020.exhn.jp/goods/ ). (You will need to enter the exhibition special exhibition goods shop. Please purchase the designated date and time ticket from the official website before visiting.)
<Plan overview>
Planning name: The UKIYO-E 2020 × PARCO​
Release date: July 23, 2020 (Thurs./holiday)~
Sale place: "The UKIYO-E 2020" special goods shop (Tokyo Metropolitan Museum of Art)
Sale item: T-shirt/can mirror/one-stroke paper/mask case/clear file
Feature page URL:
https://meetscal.parco.jp/special/ukiyoe2020
■ Sale product
T-shirt ¥3,800 + tax (S/M)​
The illustration was printed on the front by silk screen. ​The background part has a glossy finish in the image of the technique of "mica-suri" used in the original picture.​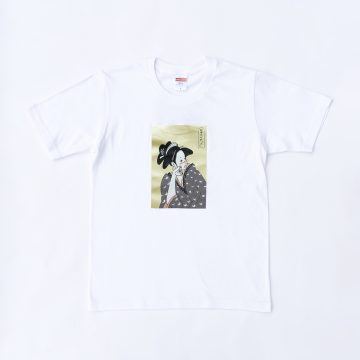 Can mirror ¥850 + tax (1 size, 78 mm)
We created a portable mirror with the image that women in love will see the mirror more often. Convenient with a transparent case.​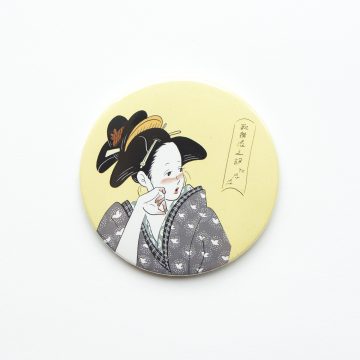 One-stroke note ¥ 600 + tax
For lovers, friends, thank-you notes.​
It is a piece of writing paper to convey your feelings. The zodiac of the kimono pattern was treated on the notepaper.​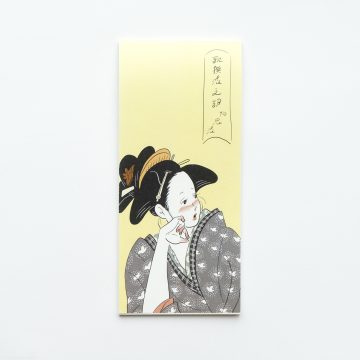 Mask case ¥630 + tax
A mask that has become a must-have item for etiquette. It is a collaboration product with the popular "Wabi-Sabi File" as an antibacterial mask case. You can also use it as a ticket holder.​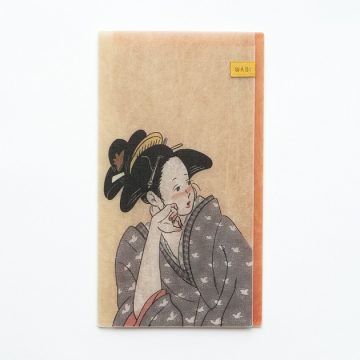 Clear file ¥450+tax
It is a convenient clear file regardless of how many copies you have.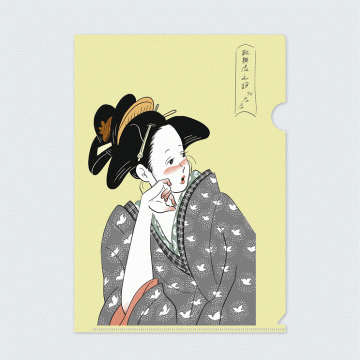 Tanaka Misaki
Rare in 1992, from Saitama Prefecture. I love liquor, songs and sorrow. After graduating from the Nihon University College of Art, Department of Art, Printmaking course, worked as a freelance illustrator. Instagram has more than 300,000 followers, and is proud of the great support from young women. The solo exhibition "Saki Tanaka Nakaseki Solo Exhibition An-Sukebesukebesukebe!!" (Shibuya PARCO GALLERY X and others) was also a great success in commemoration of the publication of his second book "Annsukebesukebesukebe".​
■About the original picture "Thinking love"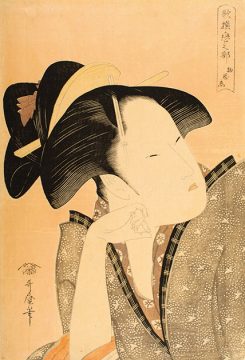 Utamaro Kitagawa "Utase Koi nobu Monosou Koi" Important art piece (Large size Nishiki-e)​
1793 (Kansei 5th year) Hiraki Ukiyo-e Foundation ​
*First-half exhibition (July 23-August 23)
A representative work by Utamaro Kitagawa, who was active as a master of beauty painting.​
One of the most popular works overseas.​
■ Exhibition basic information
The UKIYO-E 2020-Japan's Three Great Ukiyo-e Collection​
Dates: July 23 (Thu/holiday) to September 22 (Tue/holiday) 2020
*July 23 (Thurs./holiday) to August 23 (Sun.), late August 25 (Tue) to September 22 (Tue/holiday)
Venue: Tokyo Metropolitan Museum of Art Special Exhibition Room (8-36 Ueno Park, Taito-ku, Tokyo)
Opening hours: 9:30 to 17:30 Closed days (Monday, August 17th, Monday, August 24th, Monday, September 7th, Monday, September 14th)
Supervision: Mitsunobu Sato (President, Hiraki Ukiyo-e Foundation)
Academic cooperation: Yuriko Iwakiri (Ukiyo-e researcher)
Organizer: Tokyo Metropolitan Foundation for History and Culture Tokyo Metropolitan Museum of Art, Ota Memorial Museum, Ukiyo-e Museum of Japan, Hiraki Ukiyo-e Foundation, Nihon Keizai Shimbun, BS TV Tokyo, TV Tokyo​
Sponsor: Kao, Sompo Japan, Daikin Industries, Dai Nippon Printing, Mitsubishi Corporation
Cooperation: Shogakukan, Tokai Passenger Railway
​