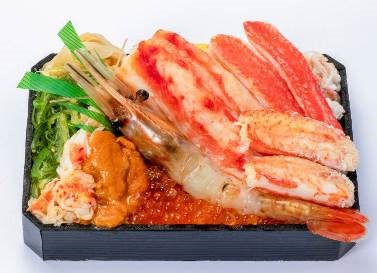 April 21st (Wednesday) -May 5th (Wednesday), 2021 / Matsuzakaya Ueno Store Main Building 6th Floor Exhibition Hall
At the Matsuzakaya Ueno store, a "Hokkaido Bussan Exhibition" will be held at the time of Golden Week, where all 57 stores will gather. 15 days to fully enjoy Hokkaido while in Tokyo. It will be held for the first time in 1 year and 4 months from December 2019. From the procession store <Rishiri Ramen Miraku> on Rishiri Island, "Curry Ramen", which will be the first appearance in a department store, is now available. At the eat-in <Sushi Ryugi>, you can enjoy Hokkaido scallops and a gorgeous seafood bowl where you can enjoy the four major crabs. In addition, while refraining from eating out and going out, we have a lineup of gorgeous bento boxes unique to the Hokkaido exhibition in response to the needs of "I want to be luxurious at home!" In addition, special offers of ingredients that are overstocked due to the corona virus will appear, and live shopping will also be held! Buyer Honda will introduce and sell products from the product exhibition venue via live streaming on the Internet.
Daimaru Matsuzakaya Department Store Hokkaido Bussan Exhibition Buyer Daisuke Honda
A full-time buyer who is in charge of all Hokkaido product exhibitions at Daimaru and Matsuzakaya. It has been 17 years since I moved to Sapporo for a product exhibition. In order to deliver delicious food to our customers, we are searching for delicious food every day and eating around Hokkaido. Known as "Northern Gourmet Hunter". Since I arrived, I have gained more than 20 kg! The Hokkaido Bussan Exhibition, which has shops that Honda has confidently collected, boasts an overwhelming ability to attract customers every time.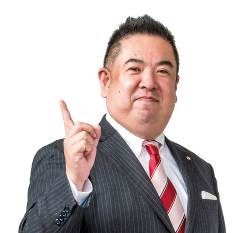 A special menu only for now, which you can enjoy at eat-in!
The most difficult ramen shop from Tokyo, which takes hours to transfer between planes and ferries? !! A popular shop where you can line up even though it is said. The soup that uses plenty of Rishiri kelp from Rishiri is attractive. This special menu is curry ramen supervised by Soup Curry dining UNBALLON, a sister store of Miraku. The golden ratio, which was reached after repeated trial and error, and more than 15 kinds of selected spices are used to match the soup of Ajiraku. It is a dish that combines the scent of spices and the umami of Rishiri kelp soup stock.
Eat-in <Rishiri Ramen Miraku / Rishiri> * Until 4/27 (Tue)
Miraku Special dashi curry ramen 1,280 yen * 100 cups limited to each day
"Department store first appearance menu!"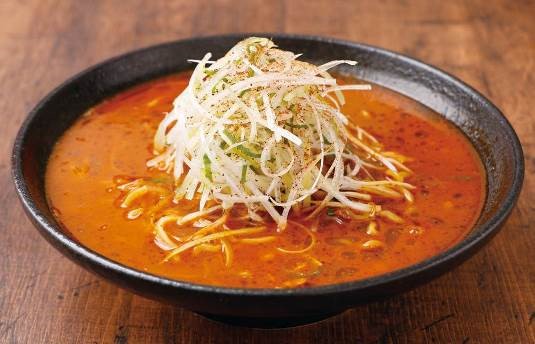 Grilled soy sauce ramen 950 yen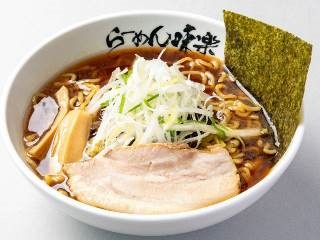 ---
---
The real thrill of the Hokkaido Bussan Exhibition! A dish where you can fully enjoy the overflowing gorgeous seafood! Boil a large scallop from Hokkaido, and eat and compare king crab, snow crab, horsehair crab, Hanasaki crab and botan shrimp! In addition, a total of 12 types of seafood such as sea urchin and salmon roe were served.
Eat-in <Sushi Ryugi / Sapporo> Premium bowl of Hokkaido-grown scallops, four major crabs and botan shrimp ¥ 2,980 * 50 meals limited each day
"12 kinds of seafood!"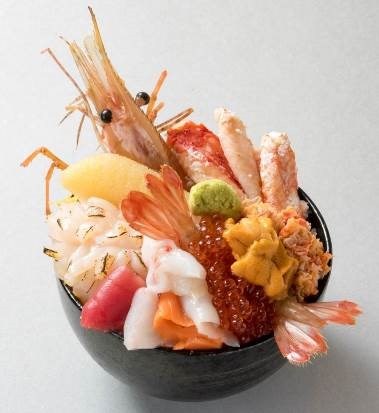 Comparison of eating Hokkaido-grown scallops and four major crabs Premium lunch 2,484 yen
* Limited to 50 points each day
* Take-out limited menu
<Ramen Takema> has become popular despite being in a residential area. The owner has a stronger love for ramen than anyone else. The soup made by self-taught chicken and water has no unpleasant taste and has a light yet deep taste.
Eat-in <Ramen Takema / Sapporo> * 4/28 (Wednesday) -5/5 (Wednesday / holiday) Special Hokkai Luxury Shenghaku Soy Sauce 1,280 * 200 cups limited each day
"First store opening!"
The average customer price of bento is 1.5 times higher due to self-consumption. A luxurious lunch box for "house luxury"!
At the "Tohoku Bussan Exhibition" held in March 2021, the purchase amount per customer of bento was about 1.5 times that of the previous event held in 2019. From 1,550 yen in 2019 to 2,296 yen in 2021! While refraining from eating out and going out, I want to buy a luxurious lunch box at the product exhibition and go to luxury at home! It seems that there are many people who say. This time, we will have a lineup of gorgeous bento boxes unique to the Hokkaido Bussan Exhibition!
This is a competition between aged beef produced in Tokachi and aged pigs produced in Tokachi. A meat-filled bento that has been aged for 4 weeks and has increased umami and sweetness! <Kiyomiya / Obihiro> Tokachi-produced aged beef and pork DX lunch box 2,980 yen

"Tokachi!"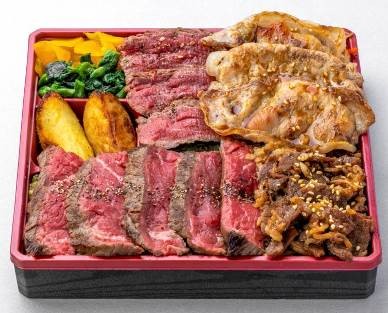 It is a lunch box with popular ingredients such as king crab, horsehair crab, snow crab leg meat, Hanasaki crab loosened meat, and botan shrimp.
<Shione / Sapporo> Luxury lunch box of three major crabs, Hanasaki flakes and botan shrimp ¥ 3,780 * 50 meals limited to each day
"Crabs!"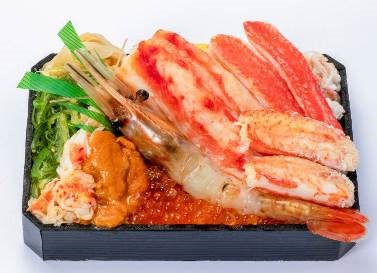 "Akatama Scallop", which is said to be one in 1,000 grains, is a delicacy of Iwanai, "Tachikama", which is made from Alaska pollack milt and is only available in winter. A rare bowl with oversized abalone on top.
<Shinsaiya Shin / Hakodate> Tachikama Red Scallop Hana-zukuri-Oversized Ezo with Abalone- ¥ 2,900

"Rare! Akatama scallops!"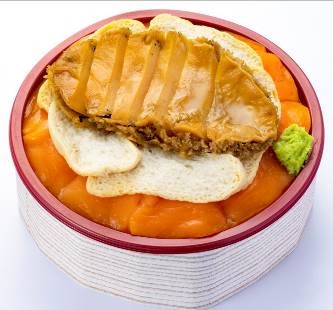 Hokkaido support project. Special offers too!

Support planning products and special offerings using ingredients that are overstocked in markets and farmers due to the influence of corona will be released!
[Special offer]
Above: Special set (frozen) [How much salmon roe pickled in soy sauce (500 g), scallops (1 kg), true squid noodles with chopped ginger (100 g x 5 bags)] 10,800 yen * Limited to 70 sets
Bottom: <Agricultural Research Institute Hyakusho Juku / Tomakomai> Value-for-money limited set (frozen) [Cut pumpkin (300g x 2 bags), unsalted bacorn slice (300g x 1 bag), char siu slice (300g x 1 bag), onion Wiener (160g x 1 bag), Gyosha garlic wiener (160g x 1 bag), Jumbo Frank (300g x 1 bag)] 3,950 yen * Limited to 70 sets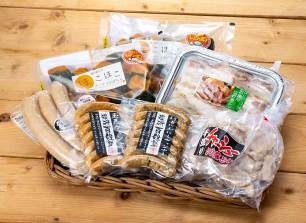 Seafood bento using overstocked oysters, scallops, salmon, botan shrimp, and surf clams!
<Shione / Sapporo> Five Star Bento 1,998 yen * 50 meals limited to each day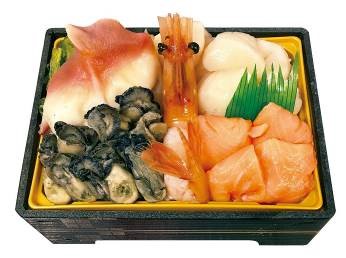 Uses overstocked pumpkin.
<Agricultural Research Institute Hyakusho Juku / Tomakomai> One gratin with vegetables from Hokkaido 880 yen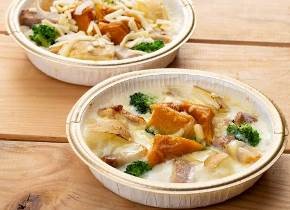 A fashionable ice parfait in a jar pot using the overstocked Atsuma-cho Haskap.
★ First appearance ★ <BlissBliss / Sapporo> Blissful jar parfait 190g 890 yen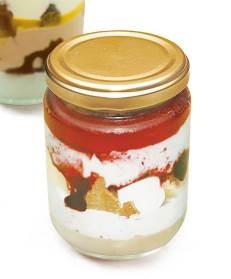 Besides this, I'm thrilled!
The fragrance of thorny crab shells and pistachios are a marriage! The winner of the Gelato International Tournament.
<Rimo / Abashiri> Ibara (double) 590 yen

"First appearance in Japan! No way … Crab shell gelato!"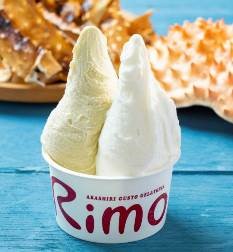 A yogurt specialty store made from fresh raw milk sent directly from Chitose Hakone Ranch in Hokkaido.
★ First appearance ★ <CHACO / Sapporo> Directly from the ranch CHACO's milk (from left, strawberry milk, fruit milk, coffee milk) 330 ml each 500 yen each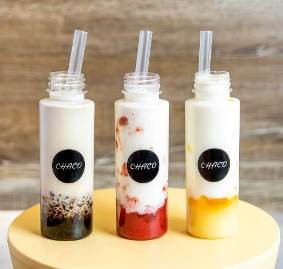 Hokkaido exhibition first live commerce!
Live streaming of the deliciousness of Hokkaido! Buyer Honda recommends products from the product exhibition venue! You can purchase the introduced products from the EC site. "Ueno loves TV" ● April 21 (Wednesday) 19: 45 ~
https://www.matsuzakaya.co.jp/ueno/topics/210421_ueno_tvlive.html
* Scheduled to be released on 4/19 (Monday)
★ Hokkaido gourmet special feature in Daimaru Matsuzakaya online shopping!
* 4/20 (Tuesday) 10:00 am to 5/10 (Monday) 10:00 am
https://www.daimaru-matsuzakaya.jp/special/13229/
* Menu contents may change depending on the weather and other circumstances.
* Some products use materials other than those produced in Hokkaido.