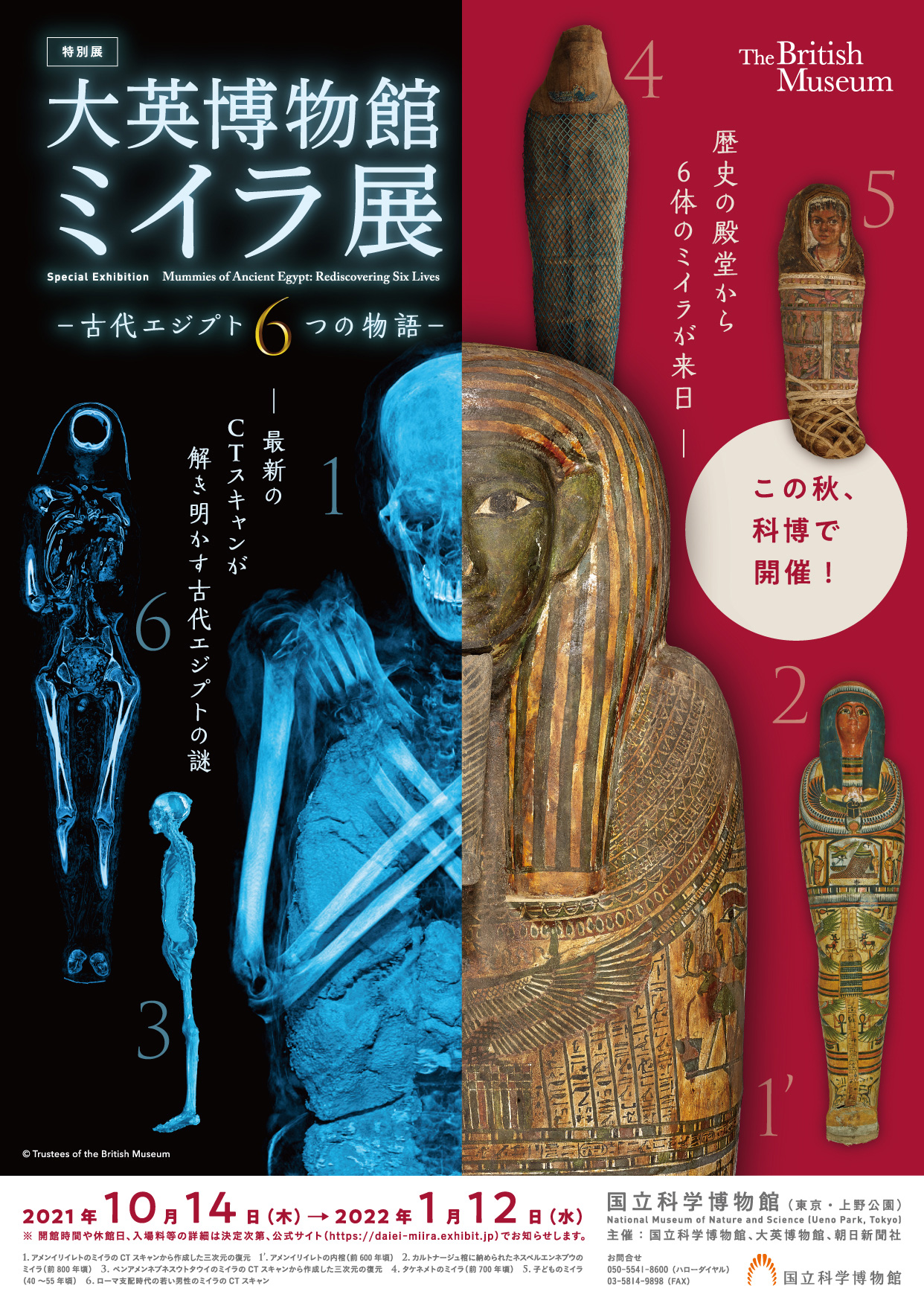 The National Museum of Nature and Science is a special exhibition "British Museum Mummy Exhibition 6 Stories of Ancient Egypt" that introduces about 250 artifacts including 6 mummies from the world's largest collection of ancient Egypt, which the British Museum is proud of. Will be held at the National Museum of Nature and Science (Ueno Park, Tokyo) from October 14, 2021 (Thursday).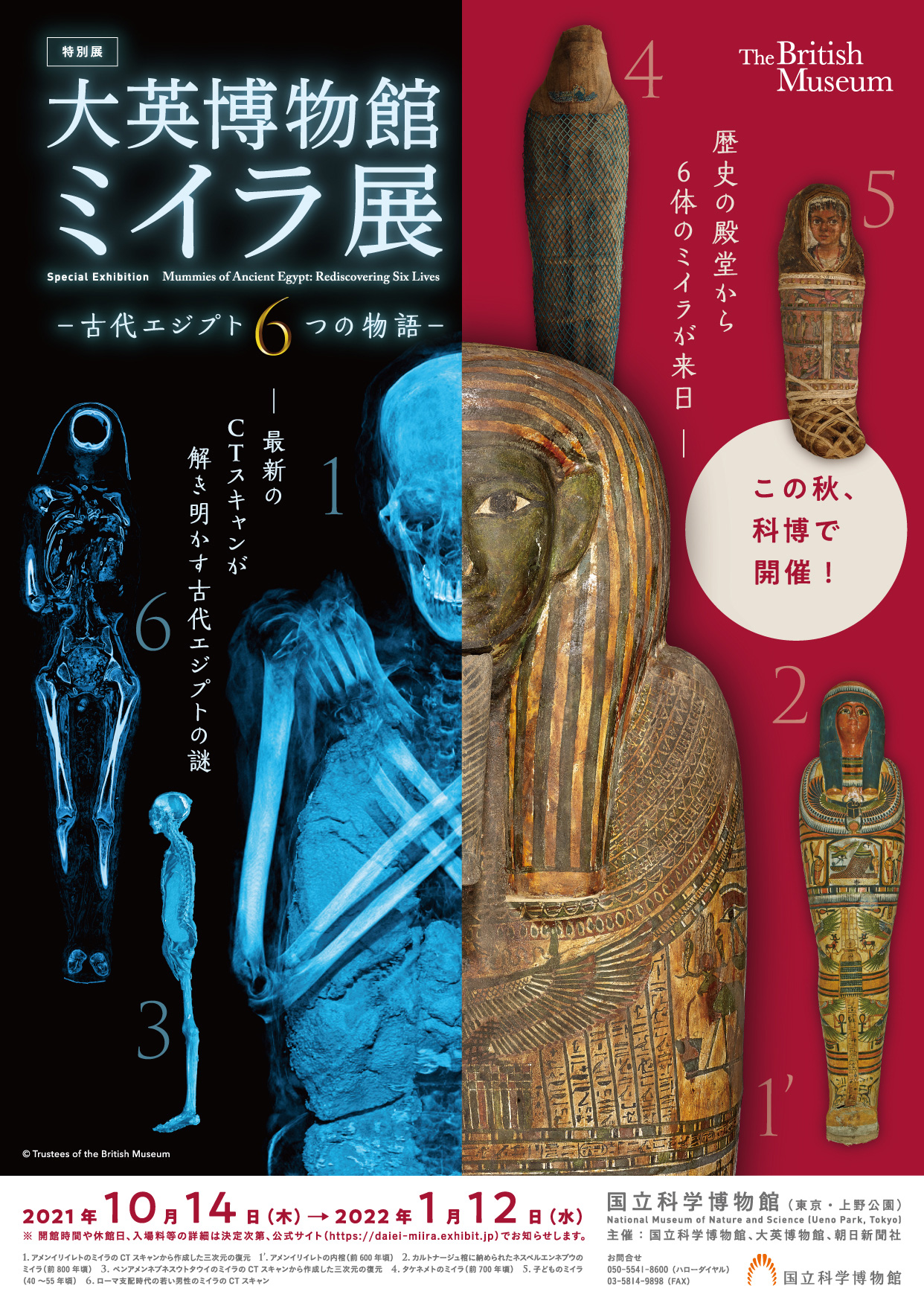 ---
---
Known as the Hall of Fame for Human Cultural Heritage, the British Museum has been a world leader in the study of ancient Egyptian civilization. This exhibition, which introduces the research results, selects six mummies, solves the mystery of mummies that cannot be seen from the outside by image analysis using CT scan, and introduces the life and culture of ancient Egyptians. To do.
Officials responsible for royal funeral ceremonies, priests of famous families, married women, young children, etc. The six mummies on display vary in age, gender, social position, and age. What kind of life did they live after and remained as mummies? Six stories will be developed with commentary videos based on CT data and exhibits related to each mummy. While the statues of the gods and the tools for making mummies give a glimpse of the beliefs and views of life and death in ancient Egypt, they still convey their way of life, such as women's ornaments and children's toys.
Through mummy research that makes full use of the latest technology, this exhibition makes people more than 2000 years old feel closer to us than ever before.
In addition, this exhibition will also introduce the forefront of the excavation site by the Japan-Egypt Joint Survey Team, which is underway at the Saqqara archaeological site in Egypt.
■ What is the British Museum?
The British Museum in London, England is one of the most famous and popular museums in the world. The collection, which began with 80,000 collections in 1753, now stands for about 7 million, more than 250 years later. It has eight departments such as Egypt, Greece / Rome, Asia, and Europe, and is known as a cultural heritage hall of fame from prehistoric times to the present. Among them, the Egypt department occupies an important position that can be said to be the "face" of the museum. I am.
■ Outline of the event
Exhibition name Special exhibition "British Museum Mummy Exhibition Six Stories of Ancient Egypt"
Date: October 14, 2021 (Thursday) -January 12, 2022 (Wednesday)
* The session is subject to change.
Meeting place National Science Museum (Ueno Park, Tokyo)
7-20 Ueno Park, Taito-ku, Tokyo 110-8718
Hosted by National Science Museum, British Museum, Asahi Shimbun
Co-sponsored Kajima Construction, DNP Dai Nippon Printing, Panasonic Mitsubishi, Mitsubishi Corporation
Supervised by Kenichi Shinoda, Director of the National Science Museum
Kazuhiro Sakagami, Head of Human History Research Group, Human Research Department, National Science Museum
Professor Nozomi Kawai, Kanazawa University
Inquiries 050-5541-8600 (Hello Dial), 03-5814-9898 (FAX)
Official site https://daiei-miira.exhibit.jp
* Details such as opening hours, closed days, and admission fees will be announced on the official website as soon as they are decided.
■ Patrol information
Date: February 5th (Sat) -May 8th (Sun), 2022
Meeting place Kobe City Museum
Hosted by Kobe City Museum, British Museum, Asahi Shimbun, Kansai Telecasting Corporation