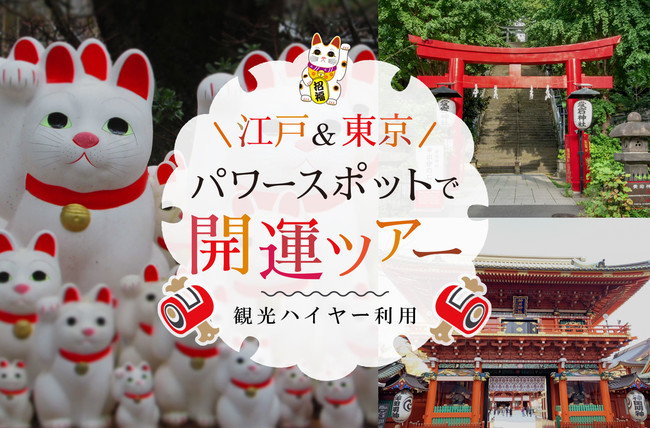 Special tour to visit popular power spots in Tokyo with a planner (driver) guided sightseeing hire
Autec Co., Ltd., which arranges, operates, and provides sightseeing services for hire cars in and around Tokyo, uses the "Sightseeing Hire" that allows you to travel from your home door to door and enjoy sightseeing. Either one will be on sale in Tokyo) from September 21, 2021 (Tuesday) on the Autec website. All of Autech's cars are protected against the new coronavirus infection, so friends, family and couples can use it with peace of mind.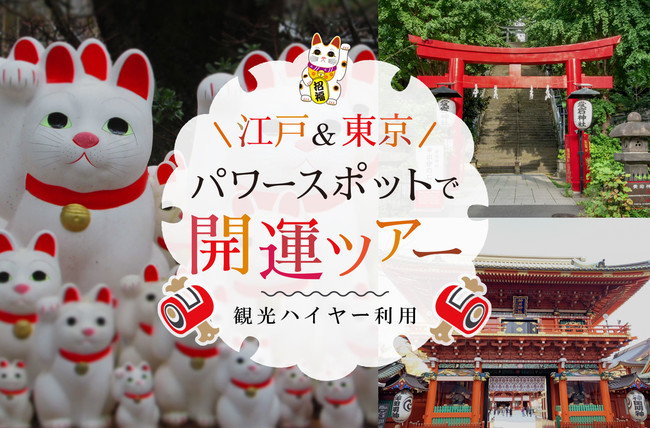 The good luck tour that was held in response to a request from a guest who used Autech, "I want to visit the power spots on the way from my home to the airport!" Was very popular. The Tokugawa family who protected Edo in 265, borrowing the power of Tokugawa, have upgraded "Power spot tours that bring good luck" and "Tour of power spots that invite good luck" for those who want to change their mood or meet good luck due to the corona disaster. We have newly planned two courses of "The Strongest Buddha Tour", and if you go around both of them, you will be able to absorb all luck and sell a course that allows you to take an examination, advance, promote, and have a good relationship.
Autech will continue to plan and sell a large number of "micro tourism" (Tokyo and its suburbs) courses that allow a small number of people to go to nearby areas using a hire while overseas travel and outings are restricted due to the corona sickness. We will try to expand.
[Travel benefits]
To everyone who boarded
・ Providing the congratulatory Seven Lucky Gods of Kugenuma Shimizu and Maneki Neko Monaka
・ In the moving car, the planner (crew member) will guide you through the train window in Tokyo. Enjoy the historic town of Edo
(* Please note that the service content varies depending on the planner who accompanies you.)
[ Tour name ]
Good luck tour at Edo & Tokyo Power Spot
https://www.outech.co.jp/good-fortune-plan/
---
---
[Tour sales]
September 21, 2021 (Tuesday)-(End date undecided)
[ Time & Course ]
◆ Good luck course 1 "Tour to invite good fortune"
Hours: 3-4 hours
Course: From Tokyo's 23 wards-Gotokuji (Beckoning cat) or Tokyo Daijingu (matchmaking) -Kanda Myojin (victory) -Atago Shrine (promotion) -Nishi Ginza Chance Center-Arrive at Tokyo's 23 wards
* The above process is a model course.
* We may not be able to guide you depending on the opening situation on the day of operation.
◆ Tour highlights that invite good fortune
1. Gotokuji is full of beckoning cats. There is no doubt that it will look good on Instagram
2. The innocent white wedding ceremony began here, at Tokyo Daijingu, where the wedding ceremony of Emperor Taisho was held.
3. Kanda Myojin, who Ieyasu Tokugawa prayed for and won before the Battle of Sekigahara. Taira no Masakado, the foundation of the samurai, is enshrined. Also famous as a sacred place for love live
4. The stairway of success at the time of success, which is said to have run up on a horse at the behest of Iemitsu. The plum tree that Heikuro Kagaki broke is still alive.
5. Try your luck today at the No. 1 window of the Nishi Ginza Chance Center, where you can win the best in Japan.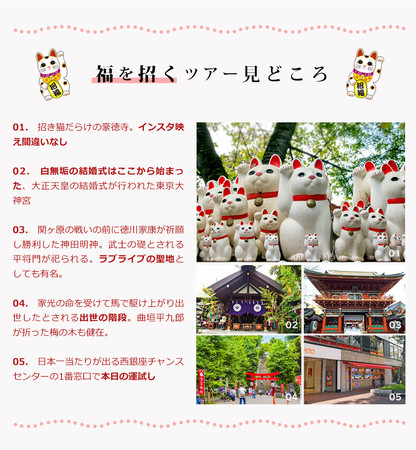 ◆ Good luck course 2 "The strongest Buddhist temple tour of the Tokugawa family who protected Edo in 265"
Hours: 3-4 hours
Course: From the 23rd ward of Tokyo-Imperial Palace-Kaneiji / Ueno Toshogu (amulet) -Zojoji (amulet) -Yushima Shrine & Yushima Tenjin (academic) -Arrive in the 23rd ward of Tokyo
* The above process is a model course.
* We may not be able to guide you depending on the opening situation on the day of operation.
◆ The highlight of the Tokugawa family's strongest Buddhist temple tour that protected Edo in 265
1. Go around the Imperial Palace on the site of Edo Castle. While looking at the ruins and ruins, you will read the castle, which is said to be the strongest.
2. Visit Kaneiji Temple and Ueno Toshogu Shrine, which are the family temples of the Tokugawa family. I pray to the two temples that protected the Tokugawa family from the direction of the Onimon, which is said to cause disaster.
3. The bright red Zojoji Temple, which has the meaning of warding off evil, is the family temple of Tokugawa that protects the back demon gate in the direction of disaster. Take a walk with Tokyo Tower. (Currently under renovation)
4. Guide to Yushima Seido (later to Shoheizaka Gakusho, University of Tokyo), which is the achievement of Tsunayoshi. If you have time, we will guide you to Kanda Myojin and Yushima Tenjin.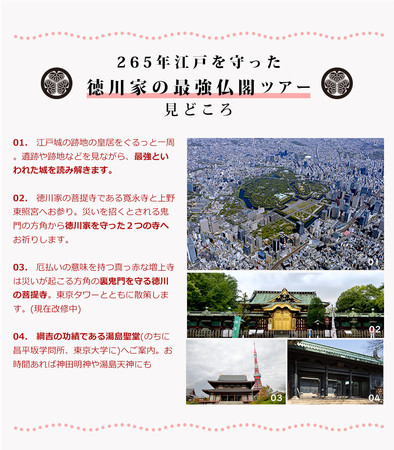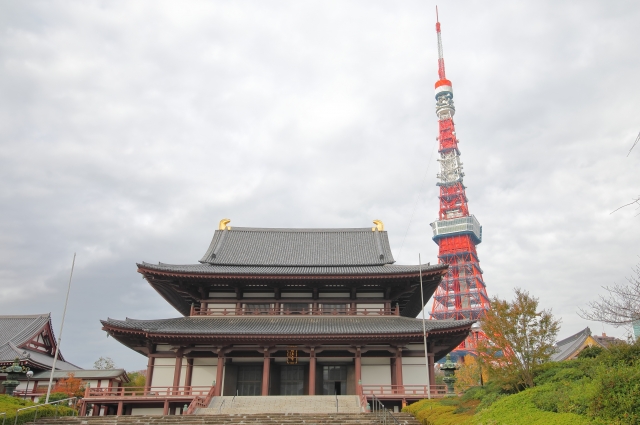 [Price] Each course
3-4 hours 22,000 yen / unit
For 4 people, 5,500 yen per person
For 8 people, it's 2,750 yen per person!
Taxes, highway charges, parking fees, etc. are all included
[Vehicles used]
Sedan, minivan, Hiace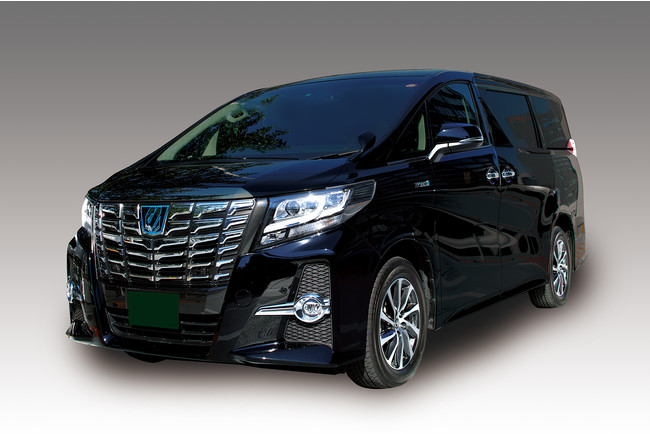 [Caution]
1. Applicable only when one of the boarding / alighting locations is in the 23 wards of Tokyo, Mitaka City, or Musashino City.
2. The maximum number of passengers is 8
3. Advance reservation is required up to the day before
4. Gotokuji is currently temporarily closed due to the influence of the new coronavirus.
[Goodness of hire]
Since all limousine cars are reserved in advance, we take thorough measures against the new coronavirus infection before guests board the car. Although the fare is more expensive than a taxi, we promise high quality service that does not disappoint the driver's (called a planner at Autech) guest service, etiquette, in-car service, and guide. (In Google review, we got the highest score of 5 stars)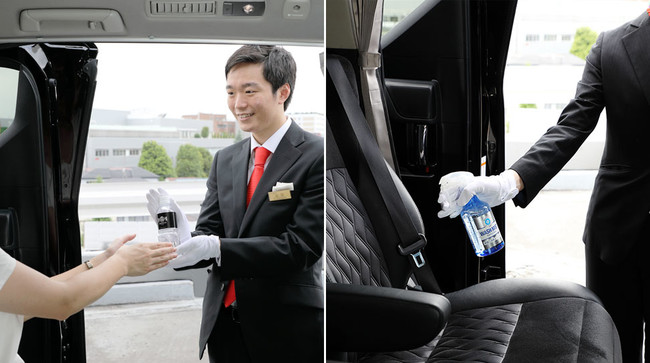 [Outec's new coronavirus infection prevention measures]
・ Thorough health management of crew members, implementation of temperature measurement ・ Enforcement of gargling and hand washing
・ Mandatory crew wear masks
・ Thorough ventilation inside the car
・ Installation of splash prevention film
・ Preparation of disinfectant for customers
Please see below for details on Autec's countermeasures against the new coronavirus infection.
https://www.outech.co.jp/good-fortune-plan/
【reservation】
Autec Co., Ltd.
"Good luck tour at Edo & Tokyo Power Spot"
https://www.outech.co.jp/good-fortune-plan/
Phone: 03-6880-1290
[About Autec Co., Ltd.]
Autec Co., Ltd. is a Tokyo-based hire limousine company founded in 2002. We have provided high-quality hire services centered on airport transfers, business inspections, company visits, tourism services, ceremonial occasions, etc. for individuals, corporations, corporate officers, VIPs, and government officials in Japan and overseas. In addition, at Corona Sorrow, we also provide hire transfers from Narita Airport and Haneda Airport for returnees, and we have received the support and evaluation of our services and planners (crew members) from many customers. Under the slogan of "turning monotonous movements into fun movements," all employees will strive to improve customer satisfaction and provide hire vehicles that allow safe, comfortable movements and sightseeing while avoiding crowds.
[Autec Co., Ltd. Company Profile]
Company name: Autec Co., Ltd.
Location: 7-22-17 Nishigotanda, Shinagawa-ku, Tokyo TOC Building 3F
Representative: Takanobu Kusunoki
Established: December 2002
URL: https://www.outech.co.jp
Twitter: https://twitter.com/outech_limo
[Contact for inquiries from customers]
Autec Co., Ltd.
TEL: 03-6880-1290 (24 hours reception)
Inquiries: https://www.outech.co.jp/contact_us/
Email: info@outech.jp