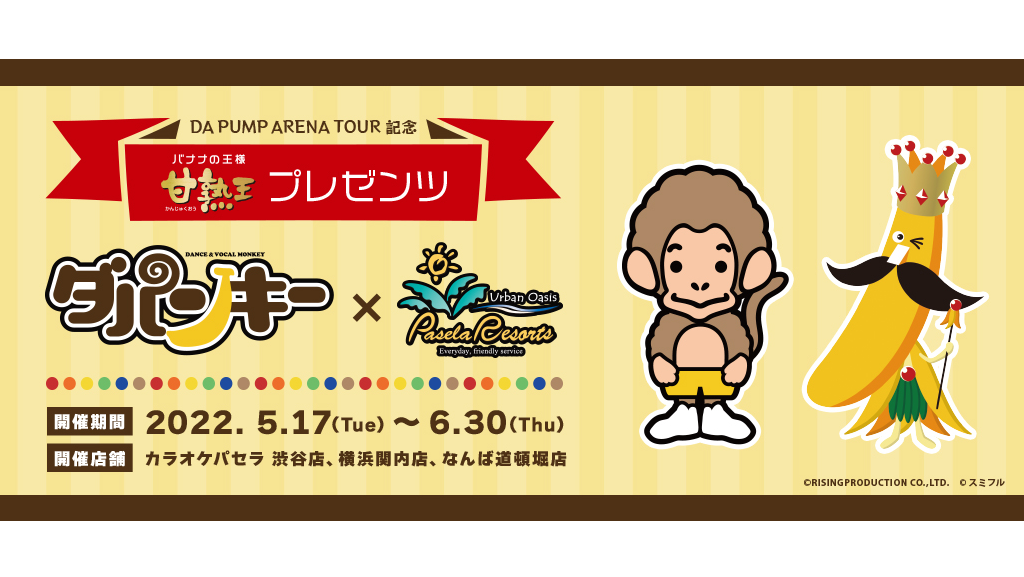 GEEK WONDERS, a unit that conducts the content creative business of the new era of Geek Pictures Co., Ltd., is the sweet and delicious "banana" of DA PUMP official character, Dance & Vocal Monkey DA PUMKEY and Sumifru Japan Co., Ltd., which are jointly operated with Rising Production Co., Ltd. "DA PUMP ARENA TOUR Memorial Amajuou Presents DA PUMKEY ✕ Karaoke Pasera Sing, Eat and Enjoy! Collaboration Menu Dakki ~" will be held.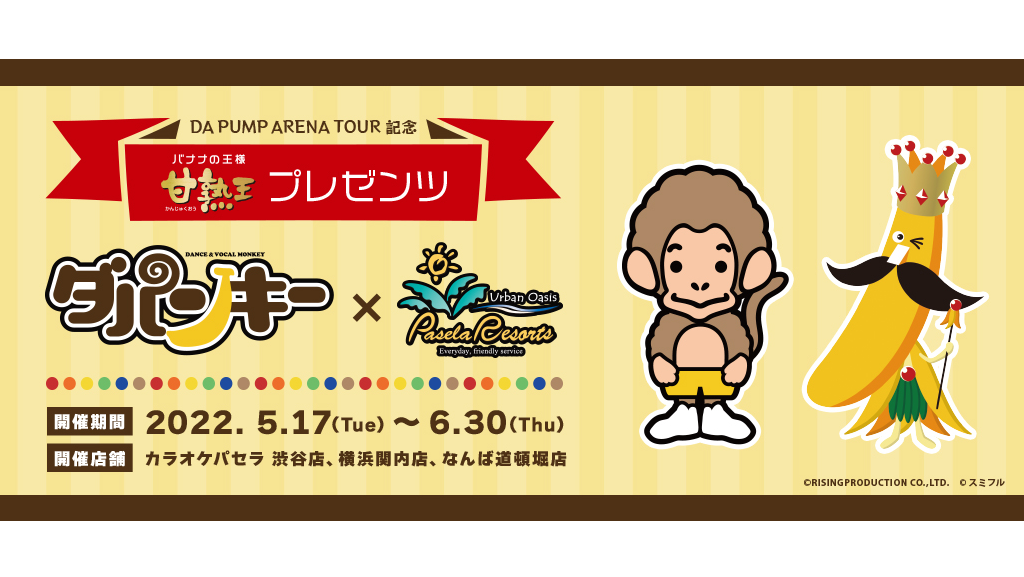 The dance & vocal group DA PUMP's national tour "LIVE DA PUMP 2022 TOUR DA POP COLORS", which celebrated its 25th anniversary of debut, will start on Saturday, April 16th, and "LIVE DA PUMP 2022 ARENA TOUR DA POP COLORS" will start in May. It will start on the 26th (Thursday)! Various projects are planned in conjunction with the tour, and this collaboration project will also be held by DA PUMP official character DA PUMKEY to liven up the tour.
A collaboration menu will be offered at some karaoke PASELA stores operated by Newton Co., Ltd., and a coaster will be presented for each order of the collaboration menu. You cannot choose the type of coaster. As soon as there are no coasters, the gift plan will end.
■ Collaboration overview
Stores: Karaoke PASELA (Shibuya store, Yokohama Kannai store, Namba Dotombori store)
Offer period: May 17th (Tuesday) -June 30th (Thursday), 2022
Menu contents: Refer to the event information page
Event information: https://paselabo.tv/colabo.php?id=496
---
---
store information
Karaoke Pasela Shibuya
Address: 1-22-9 Jinnan, Shibuya-ku, Tokyo PASELA Resorts Shibuya 1F
Business hours: 12:00 to 5:00 the next morning
Karaoke Pasera Yokohama Kannai store
Address: 3-95 Suehiro-cho, Naka-ku, Yokohama-shi, Kanagawa Pasera Resorts Yokohama Kannai Store 1F
Business hours: Weekdays / the day before public holidays 12: 00-5: 00 the next morning Saturdays, Sundays, and holidays 11: 00-5: 00 the next morning
Karaoke Pasera Namba Dotonbori
Address: 1-4-27 Dotonbori, Chuo-ku, Osaka-shi, Osaka Pasera Resorts Namba Dotonbori 3F
Business hours: Weekdays 12:00 to midnight 1:00 Saturdays 11:00 to next morning 5:00 Sundays and holidays 11:00 to midnight 1:00
12:00 the day before the holiday to 5:00 the next morning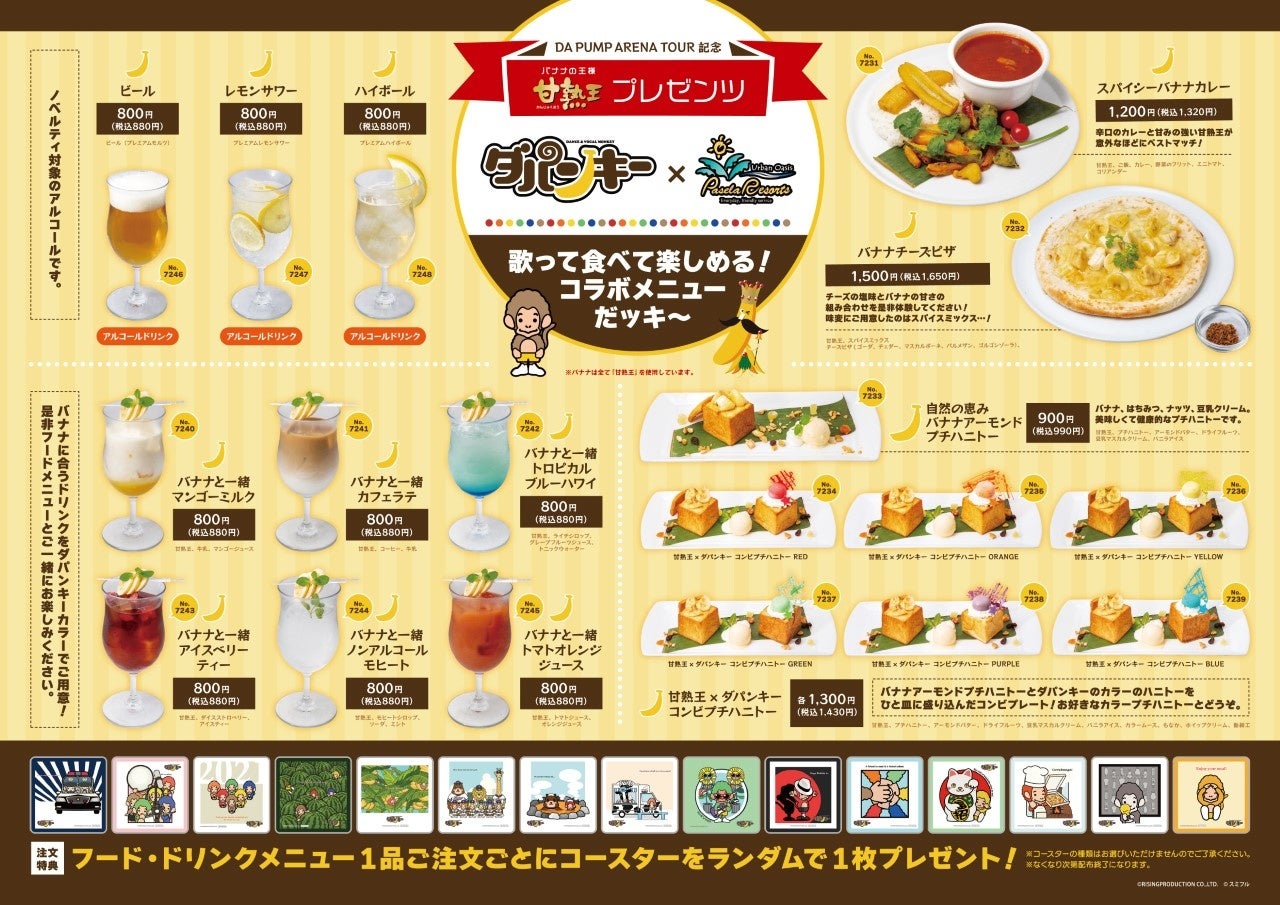 ■ What is "DA PUMKEY"?

DA PUMP Official Character
Dance & Vocal Monkey that can sing and dance
DA PUMP member U-YEAH, draft
I want you to feel DA PUMP closer because it is "now" that you can hardly meet. I want the world to know more about DA PUMP entertainment.
A new type of entertainment character born with such thoughts!
Twitter: https://twitter.com/DA_PUMKEY
■ About GEEK WONDERS

Focusing on the content creative business of the new era such as character IP, NFT, and WEB COMIC, we support and manage artists and creators, and support corporate promotion activities that utilize our knowledge from content planning and development to operation.
HP: https://geekwonders.jp/
■ What is Amajuou?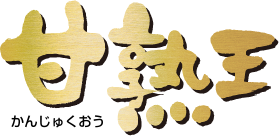 Sumifru's "Kanjukuou Banana" is the 50th year of the original highland cultivated banana.
In 1972, in search of "delicious bananas" earlier than anywhere else, we started cultivating high sugar content bananas at "highland farms" with different temperatures. We are particular about making soil, and the sweetness, texture, and rich "deliciousness" that cannot be imitated anywhere else are exactly the "king of bananas".
■ What is Karaoke PASELA?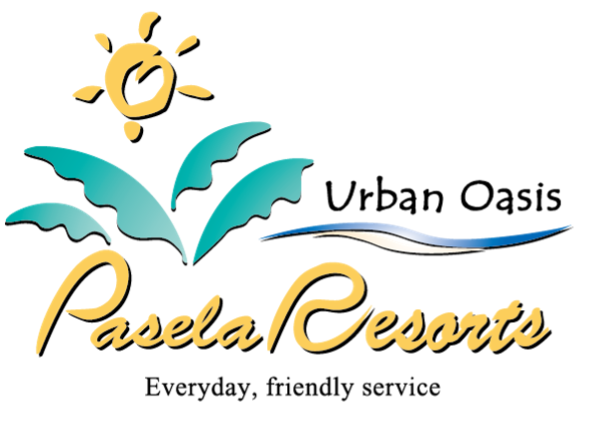 Karaoke PASELA creates an "urban oasis" with the interior of a modern Asian resort using materials imported directly from Bali under the theme of "healing" and "relaxation". Stores are open in Tokyo (Ginza, Akasaka, Roppongi, Shibuya, Shinjuku, Ikebukuro, Ueno, Akihabara), Yokohama Kannai, Yokohama West Exit, and Osaka.
The original karaoke system "MUE Kara System" is the world's strongest karaoke that combines the DAM series, JOY series, UGA NEXT, and PASELA original songs!
You can enjoy simple dishes such as PASELA's specialty "Honey toast ©" and "Pasechiki", and we also have multiple course menus that can be used for corporate banquets and private gatherings.
————————————————– ————————————————– ———————————
[ Company Profile ]

■ Geek Pictures Co., Ltd.
Location: 2-27-5 Jingumae, Shibuya-ku, Tokyo
Representative: Yasushi Kosano
Established: February 5, 2007
Capital: 60 million yen
Business: In multimedia such as TV commercials, movies, music videos, etc.
Planning and production of video content
Development and operation of character IP contents, NFT, WEBCOMIC and
Copyright management, corporate support, creator management
Planning and production of event sales promotion
Planning and production of graphics, animation, CGI contents, etc.
Planning and operation of digital media
Development of music copyright management and use and publication of sheet music
Homepage: https://geekpictures.co.jp/
[Contact for inquiries regarding this release]
Geek Pictures Co., Ltd. Public Relations pr@geekpictures.co.jp