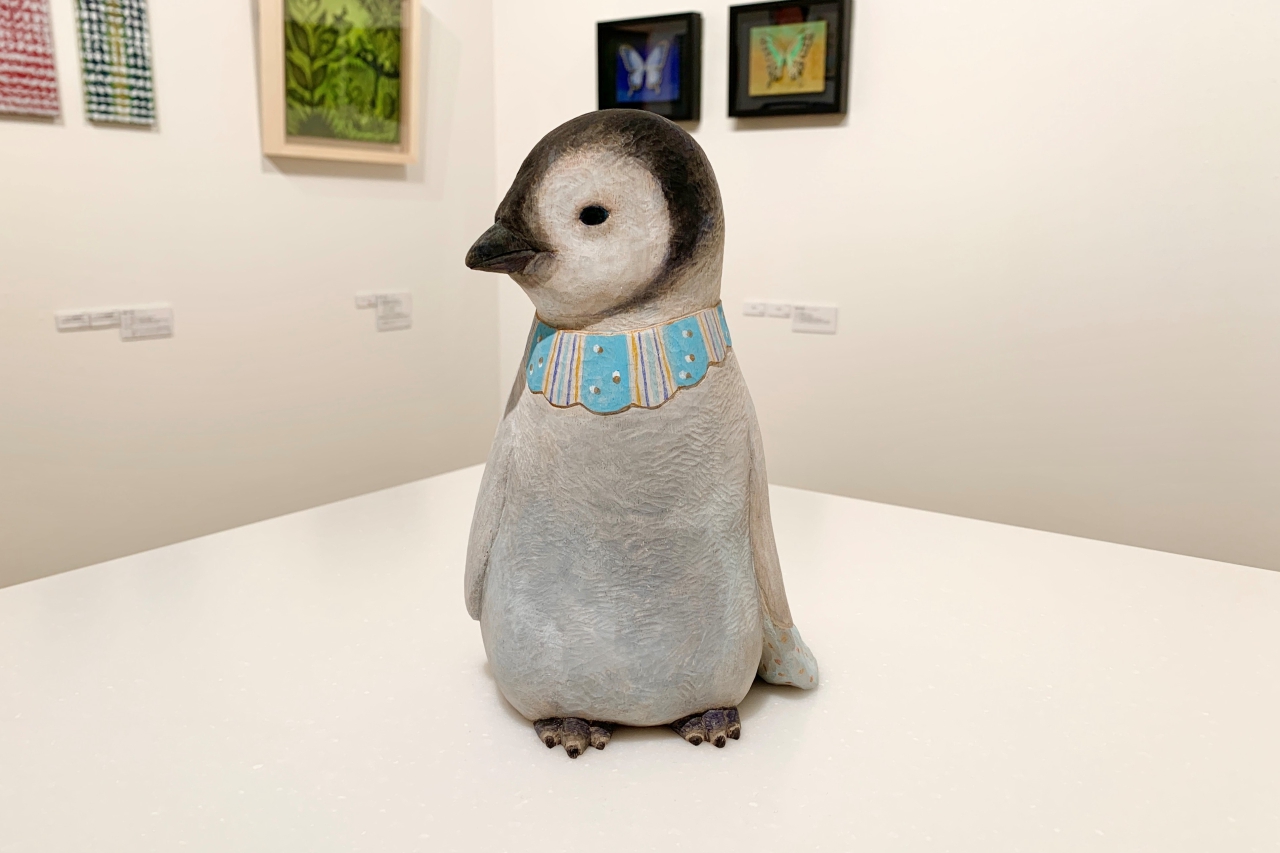 At the gallery shop "Geidai Art Plaza" on the Ueno Campus of Tokyo University of the Arts, a special exhibition "Art Jungle ~ Geidai Zoo ~" by more than 50 artists related to Geidai is being held. Admission is free, and the session is from April 23 (Sat) to June 26 (Sun), 2022.
This exhibition where you can meet creatures with various charms, such as adorable and a little creepy. Since I have actually watched it, I would like to introduce some of the exhibited works.
An art zoo appears in Ueno! "Art Jungle ~ Tokyo University of the Arts ~"
Geidai Art Plaza is a 10-minute walk from JR Ueno Station. Here, works of various genres by artists related to Tokyo University of the Arts, such as students, graduates, and faculty members of Tokyo University of the Arts, are exhibited and sold.
There are many paintings and three-dimensional works that are easy to decorate at home, and the price range is mainly tens of thousands to hundreds of thousands, but there are also accessories and containers that can be used daily for thousands of yen. It is a spot where anyone can feel free to experience "buying art".
The special exhibition "Art Jungle ~ Geidai Zoo ~", which started on April 23, has 57 artists with Japanese paintings, oil paintings, sculptures, crafts, etc. under the slogan "Making Geidai Art Plaza an art jungle!" Exhibits the flora and fauna that you created in your own way. Right next to Ueno Zoo, "another zoo made of art = Tokyo University of the Arts" is appearing.
I want to take it home! Cute creatures
---
---
In this exhibition, you can meet many cute creatures.
Oh OH DEAR……! A work called "Waiting for Spring" by Akiko Tojo, who suddenly smiled at her loveliness. This is my recommendation.
I expected it to be cloth or clay from a distance, but I was surprised at the wood carving. The fluffy feeling of the fur is beautifully expressed by the carved marks. I feel the warmth unique to wood carving. The toes are irresistible when you peek out from the loose shape of the lower abdomen.
It's cute from any angle, but I'm really happy to notice that I have a blanket and a doll (?) In my left hand. It's too cute …
It wraps around your body like a gentle spring breeze. Solitude is always there. The child who keeps waiting is dignified and dear. (Akiko Tojo)
Many of the works in this exhibition have the above artist comments, so you can know the intention of the production and the feelings put into the work. Is this penguin waiting for his parents? Perhaps it was intended, because this child was exhibited in a rather poppy place at the venue, I wanted to hug him tightly.
Many fictitious creatures such as Sawako Kobayashi's "Hane Usagi" have appeared. The eyebrows that point upwards and the tsundere mouth are cheeky and really cute. It's nice that the body shape balance that becomes slender as you go to your feet emphasizes the fluffy feeling of the chest hair.
"Hane Usagi" and "Hane Hitsuji" are fictitious animals that want to live together. Although it is a mammal, it wears feathers and cannot fly, but it jumps. It stores red heart feathers on its chest and gives people a nostalgic, sweet scent. Body temperature is higher than humans and is useful on cold days. The feathers are spread and warmed in winter, so they are round and slim in summer (Sawako Kobayashi).
When I read the comments that made me feel the artist's love, the reality suddenly increased and I wanted to try it. If this child actually exists, everyone will welcome him to his family.
Wataru Uchida's "Sleeping Bird" and "Eat" are attractive with their loose form and weak expression. These are the animals that you definitely want to decorate at your bedside, where you can relax your shoulders. I especially liked the "sweet potato feeling" in the shape of "sleeping bird".
Kaoru Sugiyama boldly extracts the characteristics of Asian black bears and owls with crayons and simply deforms them. It seems that mineral pigments are used for the painted part. Perhaps it is a fairly thick coat, the rough matte texture with a fluffy presence gives the simple design a personality. It was a nice style that seemed to match both Western and Japanese rooms.
Seika Mori's "Dara Dara Natural Glaze Fugu Piggy Bank" looks like a piggy bank. You will be healed by your plump and glossy stomach. The irregular pattern unique to natural glaze was delicious, and there was an atmosphere that made me want to pick it up and look at it at the moment.
Ken Matsuda's "Sirigro Frog" is a palm-sized work, and I can't say anything about the legs that stretch out from a flat body and the eyes that seem to be observing prey but not actually looking at anything. The glossy gray color creates an amphibian-like appearance. There is no agility, and it seems to move slimy.
Keep an eye on Kumiko Negami's unique view of the world
What stood out in this exhibition was the work of Kumiko Negami. Especially, "Supercar" had a great impact. A pervert suddenly appeared while I was crazy about the cute animals in the zoo. When I read the artist's comment while being confused, "What do you mean !?"
I made it based on the concept that if you can move the whole thing, you will be invincible. It is said that the time spent in the bathroom in a lifetime is three years. This solves a big problem in life. The classic potty chair is a duck, but I want to ride a tapirus with a slightly sloppy face. (Kumiko Negami)
is what they said. I see, i see?)
By taking off the upper body of a person who is totally refreshed, it makes us feel even more open.
The potty chair isn't sloppy, it feels like it's crazy. It seems that humans are also smiling in shape, but they have a little emotion, a mysterious expression that I do not know which emotion they are. When I watched it together with Negami-san's other works, I realized that he was good at creating exquisite facial expressions that could be received by the viewer.
"Leather-style dog" is so lively that it seems to start talking at any moment. It looks like a stupid expression, but I also felt that I couldn't trust it if I wasn't careful.
I wonder if the "Kudu Buran" and "Deer Buran" exhibited on the wall were made from the deer's head, which is often found in rich houses, with a version with its front legs out. I imagined it, but when I read the artist's comment, it looks like a two-legged animal from the beginning. As soon as you know it, you will find the feeling of encounter with the unknown and the eerieness in your smile. It's a mass of sense … I've become a fan of Negami-san.
Beautiful works that forget time and are drawn in
Mei Suzawa's "Brilliance" and "Glimmer" drawn in pale pastel colors are exceptionally beautiful and gorgeous in this exhibition.
Ms. Mei Suzawa, who has studied the technique of making peacock drawings by Maruyama Okyo, a painter from the Edo period. Feel the graceful appearance of peacocks and birds while reliveing the attitude of responding to try to express the beauty of peacocks, which is the ultimate in the decorative beauty of the natural world, using traditional materials of Japanese painting. It seems to have been expressed. The unrealistic colors further enhance the fantasy of the peacock.
Generally, Japanese paintings are dignified or unfamiliar, but this one has a warmth that comforts the viewer and overturns the image of Japanese paintings. The appearance of burying her beak in her feathers is lovely, and I feel a love-filled look for parakeets.
Hirohiro Iwasaki's novel and fashionable work of printing a landscape photograph of the land where the insects were on the body of the insect is also eye-catching. First of all, I was surprised at the fact that it can be printed on insect specimens!
The individual was taken in Indonesia. The slightly blurred landscape has the effect of making you feel as if you are looking at the landscape seen by this butterfly through its wings. If you see such a wonderful work while traveling, you will probably buy it reflexively. I forgot the time and looked at it.
Only a few are introduced. There are many other fascinating creatures at the venue! Shooting is possible and admission is free, so when you visit Ueno Zoo, why not visit another zoo at Geidai Art Plaza?
Outline of the special exhibition "Art Jungle ~ Tokyo University of the Arts ~"
Legislative session
April 23, 2022 (Sat) -June 26, 2022 (Sun)
venue
Geidai Art Plaza
12-8 Ueno Park, Taito-ku, Tokyo, Tokyo University of the Arts, Faculty of Fine Arts
Opening hours
11: 00-18: 00
closing day
Monday (Open on public holidays, closed on the following Tuesday)
Admission fee
free
Official website etc.
Official website: https://artplaza.geidai.ac.jp
Official Twitter: https://twitter.com/artplaza_geidai
inquiry
https://form.id.shogakukan.co.jp/forms/artplaza-geidai
Notes
* Business dates and times may change depending on the status of the new coronavirus. Please check the official website and SNS for the latest information.
* The content of the article is as of the date of the interview (May 15, 2022). Please check the official website for the latest information.
<Past coverage articles>
[Venue Report] "Scottish National Gallery THE GREATS Beauty Masters" Grant to Rayburn, rare English paintings also visit Japan (until July 3 at the Tokyo Metropolitan Art Museum)
[Interview Report] The National Museum of Western Art is reopened! Introducing highlights such as the front yard designed by Le Corbusier and the 19th Century Hall, which is open to the public for free.
[Tokyo National Museum] Kuya's superior revives in an omnidirectional exhibition space. Special Exhibition "Kuya Kamito to Rokuharamitsuji" (~ 5/8) Press Preview Report
Click here for a list