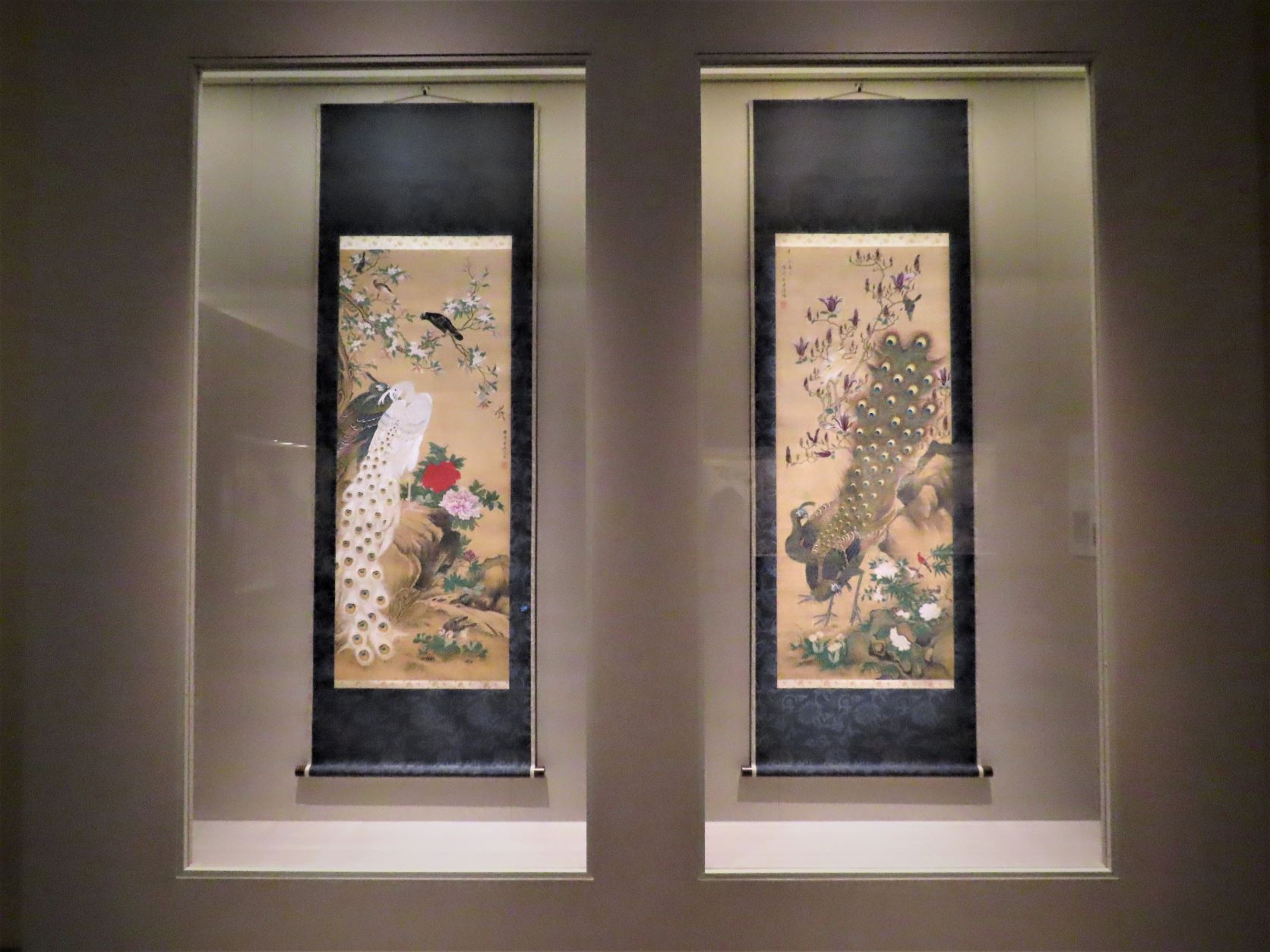 Sessai Masuyama, Peacock, Edo period, 1801, Collection of the Museum of Fine Arts, Boston
This exhibition was planned for 2020, the 150th anniversary of the establishment of the Museum of Fine Arts, Boston, but was forced to be postponed due to the spread of the new coronavirus.
The "Boston Museum of Fine Arts Exhibition: Art x Power" opened on July 23rd.
From Saturday, July 23, 2022 to Sunday, October 2, 2022, the "Boston Museum of Fine Arts Exhibition Art x Power" is being held at the Tokyo Metropolitan Art Museum.
Egypt, Europe, India, Japan… The warp thread running through the approximately 60 artworks collected from various regions in this exhibition is "authority" and "power".
Many people today have an image that art is "anti-authority" and "anti-authority". But historically, the two are closely related.
Powerful people in all ages and countries have used the power of art to maintain their power, decorate their courts, and demonstrate their legitimacy.
As a result, the excellent works of art created by the top painters and craftsmen of the times by those in power continue to fascinate us even today.
Focusing on the relationship between "art and power," this exhibition presents carefully selected works from the encyclopedic collection of the Museum of Fine Arts, Boston. Focus on the social role that works of art have played since ancient times.
A majestic collection of beauty loved by those in power
Throughout history, works of art have played a variety of roles, not just for viewing.
For example, the portrait of Princess Mary painted by Van Dyck is splendid, expressing the texture of the fabric of the dress, the elegance of the hand, and the sparkle of the innocent eyes. Or there was an important "role" to advance.
Natsuko Ohashi, curator in charge
"An exhibition that highlights the power of the powerful in each era through art and follows how each work has been used to demonstrate that power. I want you
and the significance of holding this exhibition.
This exhibition consists of five chapters. Each chapter focuses on the relationship between power and art from various angles, but it is also interesting to pay attention to the differences depending on the era and regional characteristics.
For example , in the Portrait of Napoleon I in Coronation Dress, which is displayed at the entrance of the exhibition hall, Napoleon is depicted in a simple and dignified manner with a golden laurel wreath and a scepter tipped with an eagle. ing.
However, in the Heiji Monogatari Emaki Sanjoden Night Raid Scroll , the existence of the emperor is hidden behind the bamboo blinds, and is not shown overtly in accordance with the tradition of Japanese art. Just as regalia such as Kusanagi no Tsurugi and Yata no Kagami are never seen by the public, "authority" is a hidden existence in Japan.
Since ancient times, it has been supernatural and religious concepts such as 'God' and 'Heaven' that give 'approval' to authority and power. A chapter titled "Sacred Worlds" presents religious artworks produced by those in power who have become "God's Agents."
In addition to statues of the Madonna and Child and the Tathagata, many images of monks, saints, and earthly figures with strong ties to the spiritual world were created, and El Greco's "St. Dominic Praying" is one of them. A very private moment of devotion by St. Dominic, who founded the Order of the Preachers, known as the Dominican Order, is depicted in powerful strokes.
The palace is one of the direct and symbolic representations of authority and power. It can be said that many of the works of art displayed in this exhibition are deeply connected to the formal ceremonies and social customs of these palaces and courts.
In particular, costumes and accessories are decisive in conveying the power and status of the individual who wears them.
"Marjorie Meriweather Post Brooch" was purchased by Marjorie Meriweather Post from Manhattan's Marcus Company when she had an audience with King George V and Queen Mary of England. Adorned with platinum and diamonds, the 60-carat emerald set in the center sparkles.
Although this brooch was never used for the audience, it is said that it continued to be treasured as a treasure in Post's jewelry collection.
A national treasure in Japan? ! Famous Treasures Returned Home
The Boston Museum of Fine Arts in the United States is called the "Eastern Art Hall of Fame" and has collected more than 100,000 works of Japanese art for over 100 years, beginning with Ernest Fenollosa and Tenshin Okakura. Among the vast collection, Kibi Daijin iri Tang Emaki , which stands out, is a valuable work that is said to be a national treasure if it exists in Japan, along with the previously introduced Heiji Monogatari Emaki: Sanjoden Night Attack Scroll .
The two major picture scrolls are exhibited together, giving off a presence that can be called the highlight of this exhibition.
"Kibi Daijin Nyuu Emaki" is a story about Kibi Makibi, who has crossed the sea as an envoy to Tang Dynasty, and solves many difficult problems with the help of Nakamaro Abe, who has turned into a demon. Due to its large size, the room is displayed in a U-shape. It has been protected and handed down from generation to generation by temples and shrines and powerful families, but due to social changes from the end of the Edo period to the Meiji period, it was leaked to the market. For a long time there was no buyer, but eventually it was purchased by the Museum of Fine Arts, Boston in 1932.
This work has become a "phantom national treasure". It would be interesting to think about the strange fate that this emakimono followed when viewing it.
The final piece of this exhibition is Peacock, which depicts a charming peacock on the left and right sides.
The painter Sessai Masuyama, whose name was Masataka, was a feudal lord who ruled the Ise-Nagashima domain (present-day Nagashima-cho, Kuwana City, Mie Prefecture) in the mid-Edo period. He protected many painters and intellectuals, and even produced many paintings and calligraphy himself.
"Peacock", which was restored for this exhibition and returned home for the first time, is a theme Sessai worked on many times, and boasts a high quality that can be said to be a representative work.
Balance and gradient woven by power and art in different places and different times.
Those in power have used the power of art to showcase themselves and lend mythic legitimacy to the stories they depend on. However, what is shown in this exhibition is not just the appearance of art that is subordinate to authority.
Art hides within it a "power" that surpasses the "power" of the world, and moves not only people's hearts, but sometimes even the world. When I look at the many treasures that have been collected, such a thought sprouts in my heart.
After being postponed for a while, the long-awaited opening of this exhibition is finally here. We hope that you will be able to see it directly at the venue.
Overview of the event
exhibition period
Saturday, July 23, 2022 to Sunday, October 2, 2022
venue
Tokyo Metropolitan Art Museum
Opening hours
9:30-17:30, until 20:00 on Fridays (last admission 30 minutes before closing)
Closed day
Monday, September 20 (Tuesday)
*Open on August 22 (Mon), August 29 (Mon), September 12 (Mon), September 19 (Mon/holiday), and September 26 (Mon)
viewing fee
General 2,000 yen College student 1,300 yen Over 65 years old 1,400 yen
*In order to avoid congestion in the exhibition room, this exhibition requires a reservation system for a specified date and time. → Exhibition website
organizer
Tokyo Metropolitan Foundation for History and Culture, Tokyo Metropolitan Art Museum, Museum of Fine Arts, Boston, Nippon Television Network, BS Nippon Television, Yomiuri Shimbun
Contact information
050-5541-8600 (Hello Dial)
Exhibition website
https://www.ntv.co.jp/boston2022/