"Hotel Kinugawa Gyoen" (Nikko City, Tochigi Prefecture), operated by Ooedo-Onsen Monogatari Hotels & Resorts Co., Ltd., which operates hot spring inns and hot bath facilities nationwide from Tohoku to Kyushu, offers an all-you-can-eat crab [Autumn Hokkaido Fair] will start on September 1st, and the long-awaited round-trip direct bus service will resume.

Check out the Autumn Manzoku Buffet & Round-Trip Direct Bus Service Resumption Announcement Video!
1. Autumn Hokkaido Fair [All-you-can-eat crab and Hokkaido gourmet buffet]
---
---
The 6th "Hokkaido Fair" at Hotel Kinugawa Gyoen will be held this fall.
You can't miss the all-you-can-eat crab, which is a favorite of both adults and children, but you can also enjoy the delicious seafood and mountain bounty that you can only find at an inn that prides itself on its cuisine for dinner and the breakfast buffet.
Don't miss the colorful salad corner that uses not only various vegetables, but also meat and seafood!
■ Period: September 1st (Thursday) to November 30th (Wednesday), 2022

Click here for details https://kinugawa-gyoen.ooedoonsen.jp/news/15553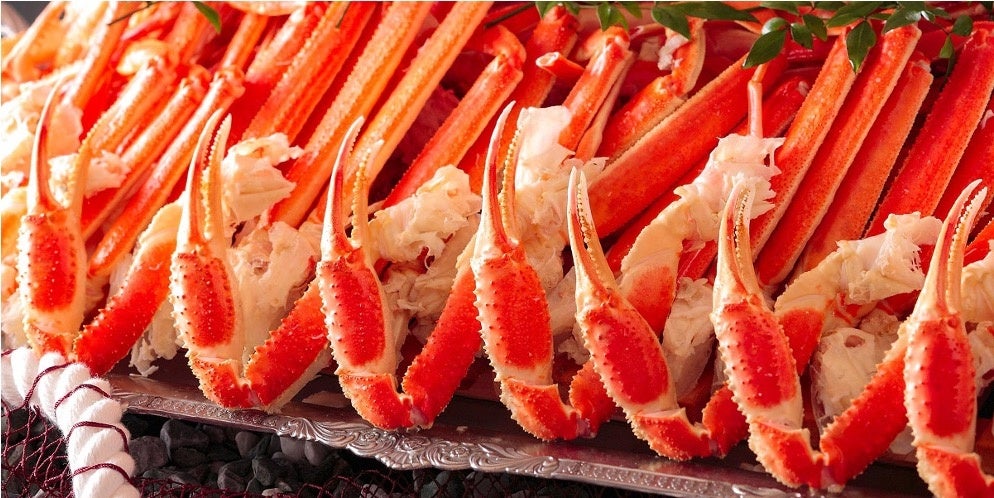 All-you-can-eat juicy meat! Everyone is quietly enjoying themselves.
* Only red snow crab or spiny crab legs and claws are provided.

Left: The sashimi is served on a large plate. Enjoy melting tuna and salmon to your heart's content.
Right: "Salmon Oyako-meshi" served carefully in the live kitchen. It's a mini size and it's so delicious that you'll want to eat many bowls.
Left: "Salmon chanchanyaki" is said to have originated in a fishing town in the Ishikari region. Sweet and spicy miso and rich butter bring together the salmon and plenty of vegetables, creating a feast with a fragrant aroma.
Right: Don't miss the dessert corner at Hotel Kinugawa Gyoen's dinner buffet. Please enjoy the abundant menu such as cute desserts and cakes served in small glasses to your heart's content.
[Breakfast buffet is full of Hokkaido colors! ]
The breakfast buffet at Oedo Onsen Monogatari is full of specialties. Of course, Hotel Kinugawa Gyoen, which hosts the Hokkaido Fair, is no exception.
Enjoy a trip to the hot springs, soak in the morning bath and come to the restaurant venue with an empty stomach.

Left: "Morning ra" has become a staple. We have prepared 3 types of soy sauce, miso, and salt. Of course you can enjoy your favorite cup, but how about eating 3 kinds and comparing them?
Right: We have freshly grilled Jingisukan in the live kitchen. The meat and crunchy vegetables mixed with the sweet and spicy sauce can be eaten as they are, but we also recommend putting them on top of rice and eating them in a bowl.
2. Thank you for waiting! [Round-trip direct bus] Operation resumes!
We will finally resume the operation of the [round-trip direct bus], which has been suspended for a long time and has received requests from many customers.
■ Operation restart date: October 3, 2022 (Monday)

■ Price: 3,300 yen (tax included) for round trip per person *Same price for one-way trips.

■ Operation route
◆ [Outbound] JR Ueno Station ⇒ Tobu Shin-Koshigaya Station ⇒ Hotel Kinugawa Gyoen ⇒ Kinugawa Kanko Hotel
◆ [Return] Kinugawa Kanko Hotel ⇒ Hotel Kinugawa Gyoen ⇒ Tobu Shinkoshigaya Station ⇒ JR Ueno Station
Click here for details such as boarding locations, times, and holidays
https://kinugawa-gyoen.ooedoonsen.jp/news/15670
These days, many people are worried about gasoline costs due to soaring crude oil prices.
In order to ensure that everyone can use the reasonably priced direct bus with peace of mind, we will ask for your cooperation in taking your temperature, disinfecting your hands with alcohol, and wearing a mask when boarding.
Would you like to casually go on an autumn hot spring trip while following the new travel etiquette of the With Corona era?
[Check SNS for the latest information]

■ Packed with great deals! Under recruitment of official LINE account friends!

https://page.line.me/?accountId=054bvfbh

■ Check out the attractions of hot spring inns and bathing facilities! Would you like to follow our official Twitter?

https://twitter.com/ooedoonsen_hr
【Company Profile】
■ Company name Ooedo-Onsen Monogatari Hotels & Resorts Co., Ltd.
■ Location 〒104-0061
Ginza Kobiki Building 5F, 7-16-21 Ginza, Chuo-ku, Tokyo
■ Date of establishment December 5, 2017 (founded in November 2001)
■ Capital 11,100 million yen (as of February 28, 2022)
■ Representative Director Mitsumasa Morita
■ Business description Hotel inn hot bath facility operation
■ URL https://corporate.ooedoonsen.jp/