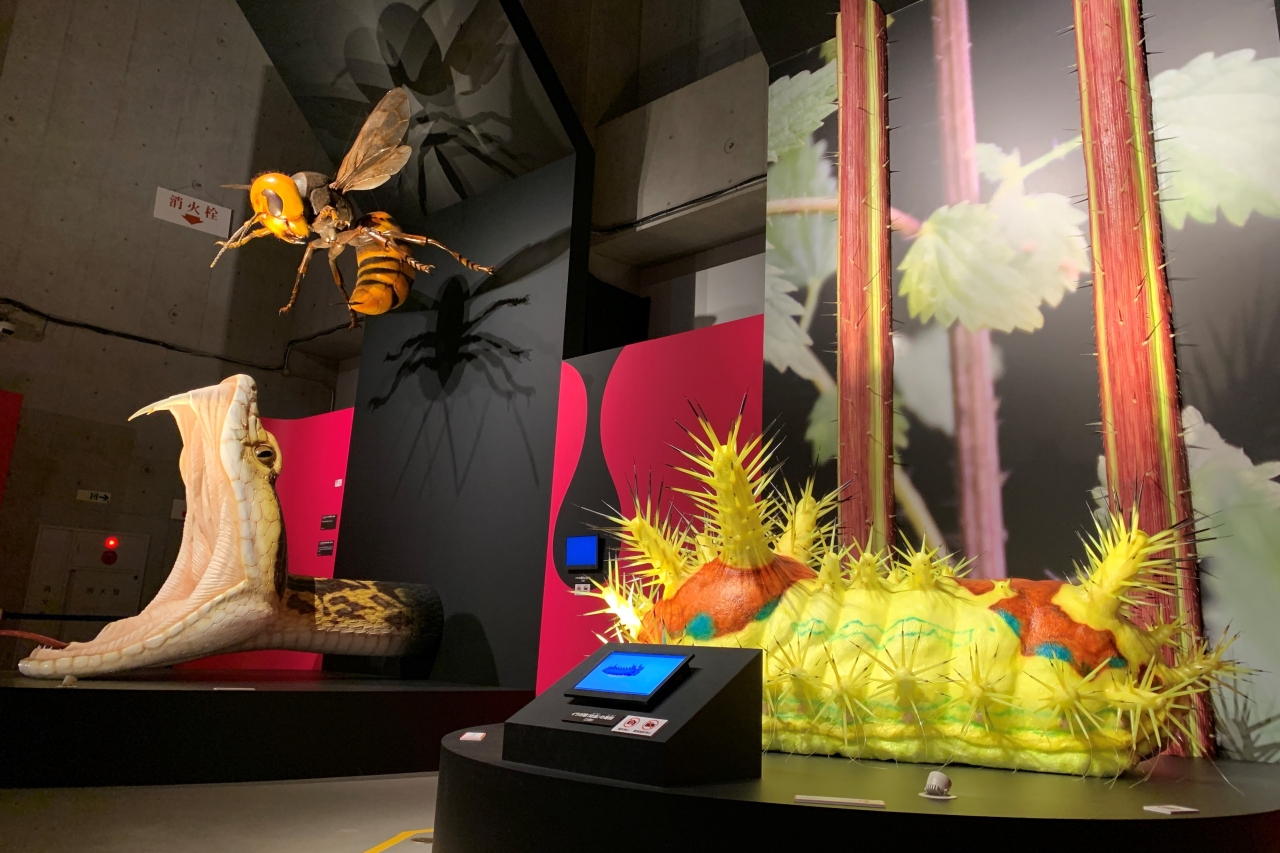 The National Museum of Nature and Science in Ueno, Tokyo will hold a special exhibition "Poison" from November 1, 2022 (Tuesday) to February 19, 2023 (Sunday).
In this exhibition, specialists in zoology, botany, earth science, anthropology, and science and engineering thoroughly delve into the various "poisons" that exist on earth.
I participated in the press preview held prior to the opening, so I will report on the contents of the exhibition and the state of the venue, along with my impressions.
Poison, poison, poison… A special exhibition that explains all kinds of poisons
Various "poisons" that exist in the natural world and human society, such as animals, plants, fungi, minerals, and even artificial poisons, are roughly understood as "substances that harm living things, including humans."
The special exhibition "Poison" collects such poisonous organisms and toxic substances, and not only introduces the diversity of poisons, but also the history of organisms that have evolved with poisons, and the history of poisons since ancient times, sometimes weapons, sometimes poisons. A multi-faceted commentary on "What is poison?", such as the relationship between poison and humans who have used it as medicine.
This special exhibition on the theme of poison will be the first attempt at the National Museum of Nature and Science.
The total number of poisons that appear is over 250!
Nine specialists from different research departments, such as zoology, botany, earth science, anthropology, and science and engineering, provide comprehensive commentary unique to the National Museum of Nature and Science, as well as valuable specimen materials.
In the venue, you can deepen your knowledge of poison while solving the "poison quiz" by QuizKnock led by Mr. Takuji Izawa, the quiz king . While searching for poisons that can be used for conquest, they appear here and there in the venue and leave interesting comments about the world of poisons.
In addition, you can enjoy the audio guide by voice actor Yuichi Nakamura, who will be the first museum audio guide, and the illustrations drawn by Toko Shino, who is the illustrator of the popular poison-themed novel "Yakuya no Hitorigoto". Creators are making this exhibition exciting.
---
---
At the opening talk held before the press preview, we received messages from Mr. Tsuyoshi Hosoya, director of the Botanical Research Department of the National Museum of Nature and Science, who supervised this exhibition, and Mr. Takuji Izawa, who became an official supporter of this exhibition.
Mr. Hosoya said, "This exhibition was planned with the hope that people will understand the diversity and multifaceted nature of poison. Poison is a substance, but it is also an opportunity to understand the workings and workings of nature." I think we can think of it as an idea or concept that was created for the purpose.The attitude of confronting poison is science itself."
There were too many stories to show because it was a project that crossed each research department of the science museum, and it was difficult to carefully select information and give a story to the exhibition.
Mr. Izawa says that he had an image of poison as something that "feels fear since childhood, but at the same time is attractive and attractive." After viewing this exhibition, he said, "The exhibition is solid! There are gimmicks that can be enjoyed by children and adults alike. It's worth seeing, so I'd like you to take two hours (to appreciate it). I go around the exhibition. It might take 3 or 4 hours to do it," he said, showing off the richness of the content.
"Poisons have a scary image, so parents may not want to let their children see them, but the important thing is to know correctly and fear correctly. We can't escape from the poison inside, so I would be happy if you could feel (the importance of) getting along well while gaining knowledge."
Visitors are welcomed by a large scale model of a hub and a hornet!
This exhibition consists of five chapters, Chapters 1 to 4 and the final chapter.
In "Chapter 1: Welcome to the World of Poisons," which includes videos and panels to help you grasp the concept of what poison is, you can also learn about poisons that we might encounter indoors or outdoors. The "Poisons in the Inside" panel was gaining popularity.
Looking at the panel, "moldy bread" and "carbon monoxide" feel like hum hum, but I'm surprised to see that foods that I usually eat casually such as "grapes" and "peanuts" are also listed as examples. (What kind of poison this will be is revealed at the end of the exhibition)
I had a vaguely unusual image of poison, such as poisons used in suspense cases, poisonous snakes, and poisonous spiders. As you can see in the explanation, it is the introduction part that immediately makes it clear that there is no such thing at all.
Next, we will enter the "Chapter 2 Poison Museum" area, which can be said to be the main part of this exhibition, where we introduce various poisons and poisonous creatures around us.
Here, a spectacular enlarged model created to explain "poison for attack" used to capture and disable prey and "poison for defense" used to protect yourself from external enemies appears!
There were four larvae, about 30 times the size of the real thing, a giant hornet about 40 times the size, a nettle about 70 times the size, and a larva about 100 times the size of the real thing .
The details of the model of the habu and giant hornet, which are about to attack with bare tusks and stingers, are eye-catching. The dynamism is amazing…!
"Japan's three major poisonous plants", the world's poisonous plants that far surpass its toxicity, the rare poisonous bird "Shrike", poisonous mushrooms that are easily mistaken for edible mushrooms, once believed to be the medicine of immortality A wide variety of poisons, such as the highly toxic mercury, appear one after another, stimulating your thirst for knowledge.
What was interesting was the column about the "Schmidt index" in one section of the exhibition about bees with venom, which is a blend of various chemical substances described as a "poisonous cocktail."
The Schmidt Index is an American researcher, Dr. Justin Schmidt (1947-), in response to the question, "Which bee sting hurts the most?" digitized to . (He was awarded the Ig Nobel Prize for this research.)
The figurative expressions attached to the Schmidt index are strangely clever, such as "A sharp pain that feels like a hot flash. I thought it was mild Havarti cheese, but it turned out to be extremely spicy jalapeño cheese." invite
Are humans evolved from poison? Human history has been with poison
The exhibition will continue even after you pass Chapter 2, which is sure to give you a lot of poison knowledge.
So far, the atmosphere has been like exploring the world of living creatures and minerals, but from "Chapter 3: Evolution of Poison" , the atmosphere changes to that of a clean laboratory.
Here, we introduce examples of poison-triggered evolution, such as mimicking poisonous organisms, stealing poison from poisonous organisms, acquiring poison-resistant properties, and a seed dispersal strategy using poison. .
For example, oxygen, which is essential to many organisms, is actually toxic. We, humans, were creatures that evolved to adapt to poison.
In addition, yellow-headed poison dart frogs and red-bellied newts have evolved to have "warning colors" that tell others that they are poisonous animals and avoid unnecessary conflicts.
The yellow-black warning color of yellow-billed poison dart frogs is often seen in other creatures such as giant hornets, but red-bellied newts are red and black. I was wondering if there was some reason for this difference, but the point is that "contrast between bright and dark colors" is important.
As an example of the acquisition of the property to withstand poison, there was an exhibition of "Eucalyptus vs. Koala".
Eucalyptus leaves are hard, rich in fiber and low in nutrients, and contain many toxic chemical substances. The koalas that have successfully bred in the eucalyptus forests are anti-eucalyptus specialists who have developed a variety of traits that are resistant to eucalyptus leaf toxins. Even though he has a cute face, he's strong inside…!
"Chapter 4 Poison and Humans" looks back on what kind of existence poison was for us humans, such as using it for hunting and warfare, and creating medicine by researching "poison". This area also introduces the research of "poison", such as the elucidation of poison through progress and its use.
A replica of a "notched wooden stick'' about 24,000 years ago found in Border Cave in South Africa is exhibited as the oldest evidence that humans used poison, and the long history between humans and poison I feel
The Edo period's "Oshiroi culture," in which white powder containing toxic ingredients such as lead and mercury was used, and the poison that plants synthesize to protect themselves from predators, invented in Japan in 1890. It was also interesting to see the relationship between Japanese culture and poison, such as mosquito repellent incense using .
There is also an introduction to the technique of "poisonous organism cuisine," which uses organisms that are normally inedible as ingredients by removing poison and detoxifying them.
I knew about puffer fish and eels, but I didn't know that cassava, the raw material for tapioca, which caused a big move in Japan a while ago, was also a crop that needed to be detoxified. You can see that the insatiable quest for human food was the driving force to overcome toxicity.
From the exhibits so far, you can clearly understand that the world around us is full of poison. Even now, new poisons are being born and discovered… As long as humans live, we have no choice but to live with poisons . .
The exhibition concludes with a symbolic display of poison that invites us to look back at the entire venue and reconsider what kind of existence poison is, and how we, who cannot escape from poison, should face it.
At the second venue on the way to the exhibition special shop, you can read (or watch) an interview with the nine researchers who supervised this exhibition and what "poison" means to the "Hawk's Talon". I made it.
In particular, the answers to the question, "Is there anything you should be careful not to get poisoned by?"
Many original goods for this exhibition such as T-shirts, encyclopedia-style underlays, and pouches with pop designs are on sale at the special exhibition shop. The large stuffed fly agaric and tsukiyotake mushrooms are also cute, but the "Special Exhibition 'Poison' Branded Manju" is a surprising item. The red bean paste inside is also made with purple sweet potatoes, making it even more poisonous.
The special exhibition "Poison" explores the past and future of the relationship between humans and poisons while touching upon the mysteries and surprises of poisons. Some of the exhibitions include centipedes, poisonous insects, etc., so if you are not good at it, please be careful, but please try to step into the deep world of poison.
Overview of the special exhibition "Poison"
exhibition period
November 1, 2022 (Tuesday) to February 19, 2023 (Sunday)
*Exhibition dates are subject to change.
venue
National Museum of Nature and Science (Ueno Park, Tokyo)
Opening hours
9:00-17:00 (entrance until 16:30)
closing day
Monday, December 28 (Wednesday) – January 1 (Sunday/holiday), January 10 (Tuesday)
*Open on January 2nd (Mon/holiday), 9th (Mon/holiday), and February 13th (Mon).
Admission fee (tax included)
[General/university students] 2,000 yen [Elementary/middle/high school students] 600 yen

*Admission must be made online for a specified date and time.
*Admission is free for preschool children, persons with a disability certificate, and one caregiver. Please note that a reservation for a specific date and time is required.

inquiry
050-5541-8600 (Hello Dial)
Exhibition official website
https://www.dokuten.jp/
organizer
National Museum of Nature and Science / Yomiuri Shimbun / Fuji Television Network
supervision
・Tsuyoshi Hosoya (Director, Botanical Research Department, National Museum of Nature and Science)
・Masanori Nakae (Research Director, Vertebrate Research Group, Department of Zoology, National Museum of Nature and Science)
・Natsuhiko Yoshikawa (Researcher, Vertebrate Research Group, Department of Zoology, National Museum of Nature and Science)
・Tatsuya Ide (Researcher, Terrestrial Invertebrate Research Group, Department of Zoology, National Museum of Nature and Science)
・Nobuyuki Tanaka (Director of the Terrestrial Plant Research Group, Plant Research Department, National Museum of Nature and Science)
・ Kentaro Hosaka (Chief Researcher, Fungi and Algae Research Group, Botanical Research Department, National Museum of Nature and Science)
・ Yukiyasu Tsutsumi (Chief Researcher, Mineral Science Research Group, Geology Research Department, National Museum of Nature and Science)
・Kazuhiro Sakaue (Director, Human History Research Group, Department of Anthropology, National Museum of Nature and Science)
・Shun Hayashi (Researcher, Science and Engineering Research Department, National Museum of Nature and Science)
*The content of the article is as of the date of coverage (October 31, 2022). Please check the official website for the latest information.
<Past Exhibition Reports>
[Venue report] The special exhibition "National Treasure Tokyo National Museum" finally opens! 89 national treasures are open to the public, and there is also a "National Treasure Sword Room" where 19 swords such as Mikazuki Munechika are available
The essence of 20th century art is now here. [National Museum of Western Art] "Picasso and His Era Berlin State Berggruen Museum Exhibition" Preview Report (-2023/1/22)
Love in the slums. A bouquet for humanity. [Ueno Royal Museum] "Shingo Nagasaka Exhibition Still A 'BLACK' STAR Supported by Nanboya" (~11/6) Preview report
Click here for the list of reports