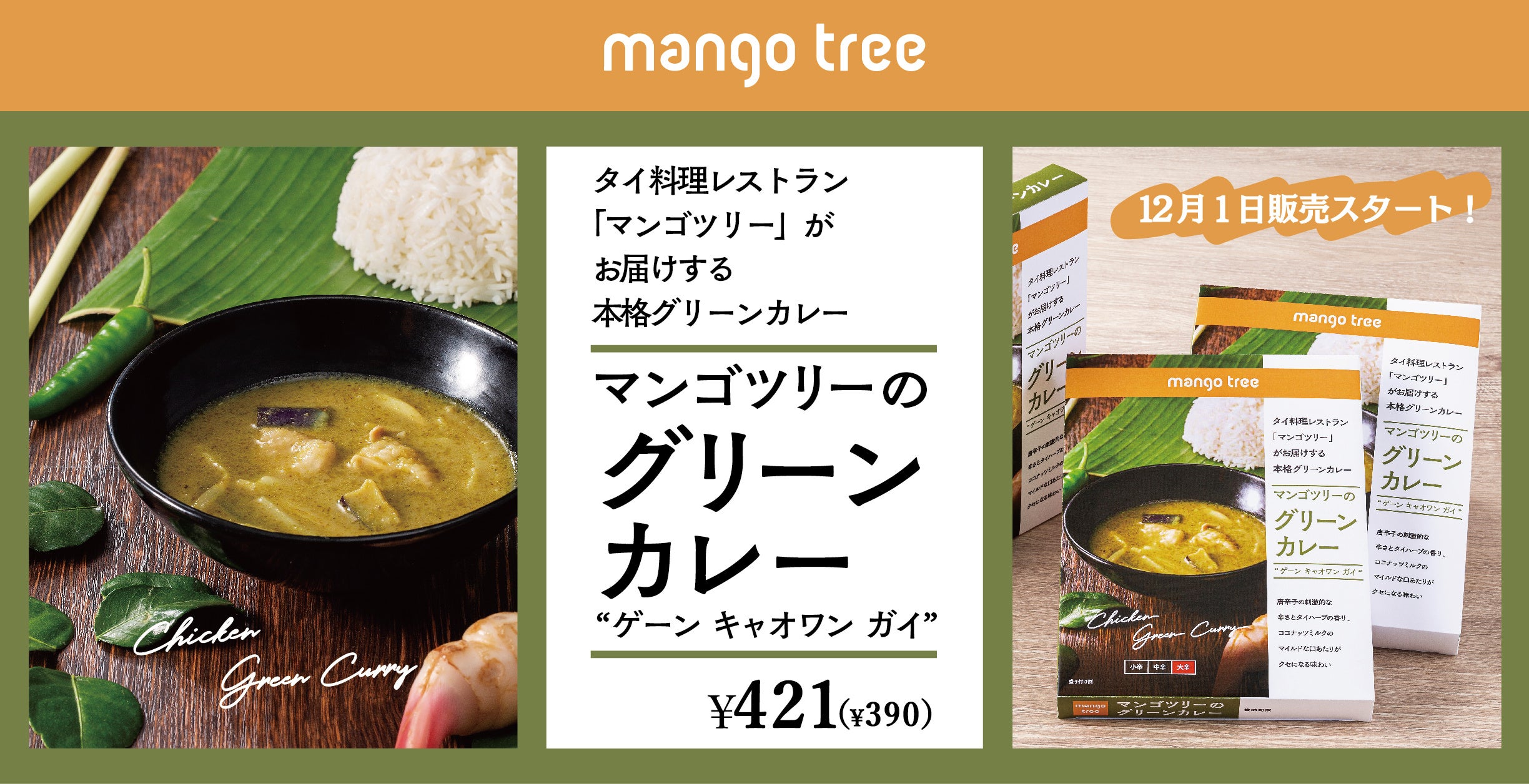 -You can enjoy the taste of Thai cuisine unique to "Mango Tree" anytime at home-
A subsidiary of Arkland Service Holdings Co., Ltd., Mealworks Co., Ltd., which develops authentic overseas tastes in Japan, has its head office in Bangkok, Thailand, and has retort pouches of the Thai restaurant "Mango Tree", which has spread to London, Tokyo, Hong Kong and the world. Curry "Mango Tree Green Curry "Gaeng Kyawwan Gai"" (421 yen including tax) will be sold at "Mango Tree" stores from December 1st (Thursday).

You can easily enjoy the taste of authentic Thai cuisine unique to "Mango Tree" at home.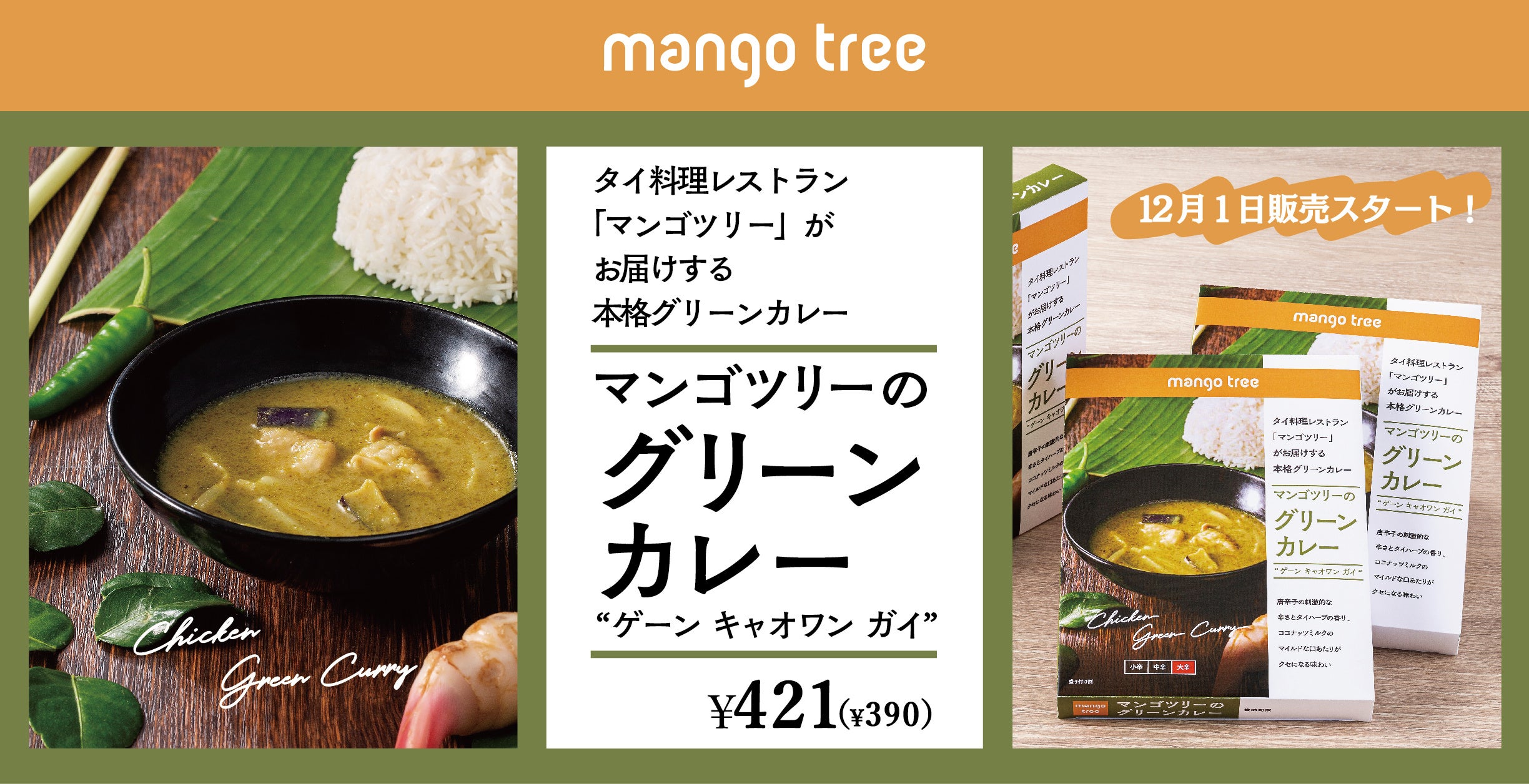 Product Details
---
---
Mango Tree Green Curry "Gaeng Kyaowang Gai"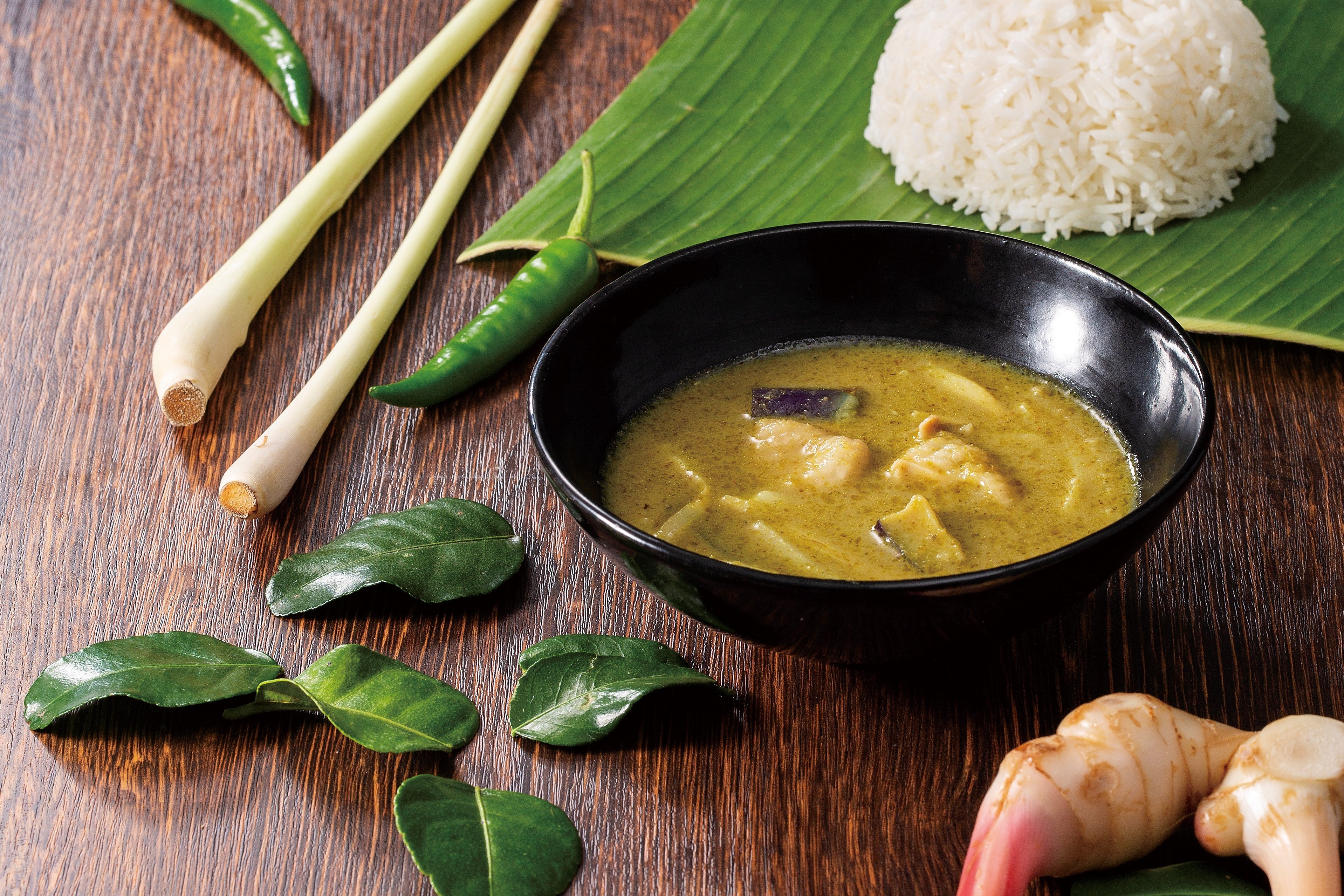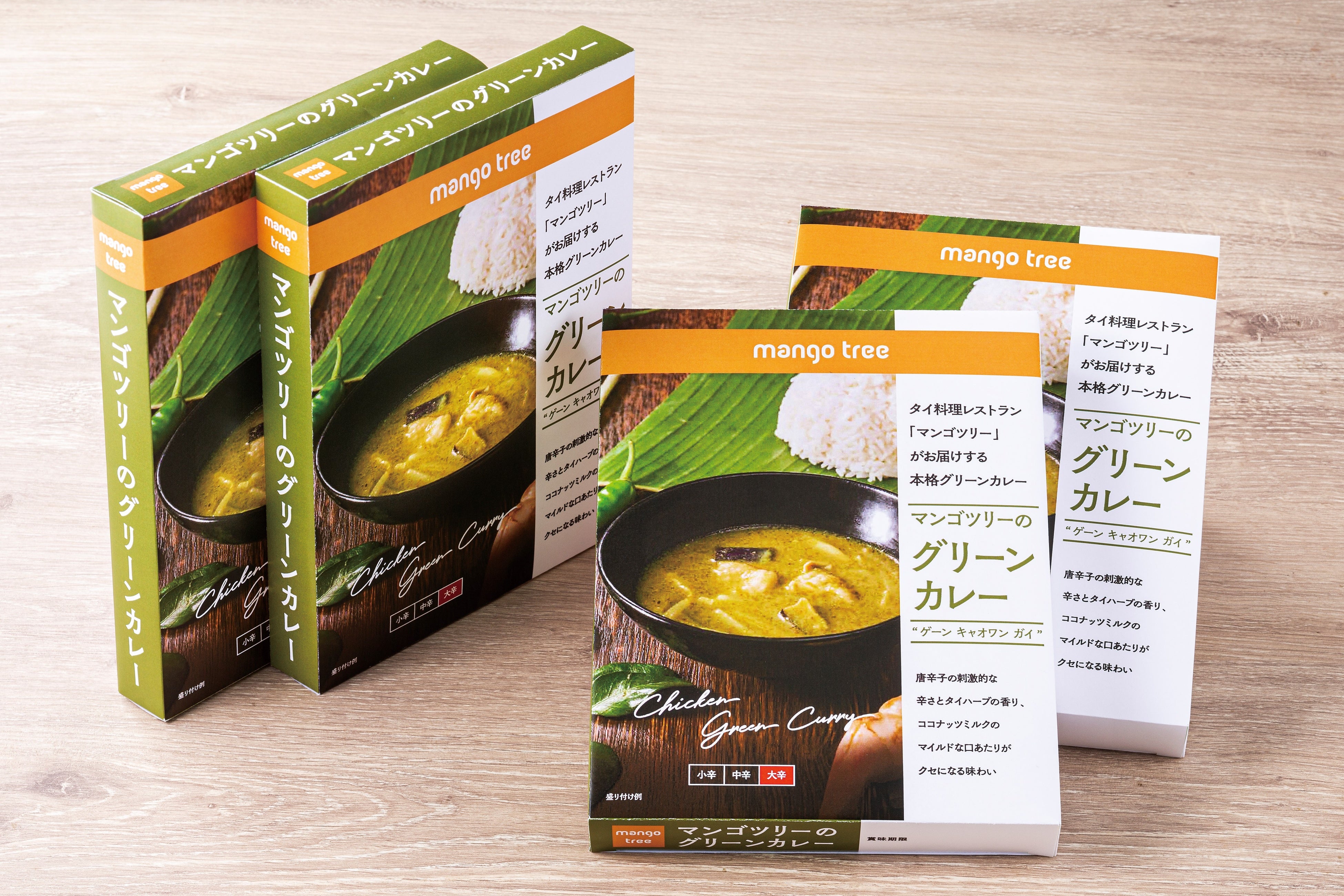 <Contents> 160g *Rice not included
<Sales price> Body price 390 yen (421 yen including tax)
-Release date-December 1, 2022 (Thursday)
<Contents> The stimulating spiciness of chili peppers, the scent of Thai herbs such as lemongrass, kah (Thai ginger), bimakkle (Kaffir lime leaves), and horrapa, and the mild taste of coconut milk are addictive. But it's a popular green curry with chicken and bamboo shoots.
<Expiration date> 1 year at room temperature from production
<Handling stores> "Mango Tree" stores (excluding some stores), Isetan Mitsukoshi Online Store (when ready)
<How to make>
Microwave: Transfer the curry to a deep container, cover with plastic wrap and heat (approximately 500W approx. 2 minutes, 600W approx. 1 minute 30 seconds)
In the case of hot water bath: Put it in the netto without unsealing the bag and boil it for 4-5 minutes to warm it
<Recommended arrangement>
1. Warm the mango tree green curry
2. Boil the somen noodles, rinse with cold water, and place in a bowl
3. Prepare your favorite toppings (boiled egg, takana pickles, shredded cabbage, fish sauce, sweet basil, lime/lemon).
4. Pour curry over somen noodles and add toppings
[What is mango tree]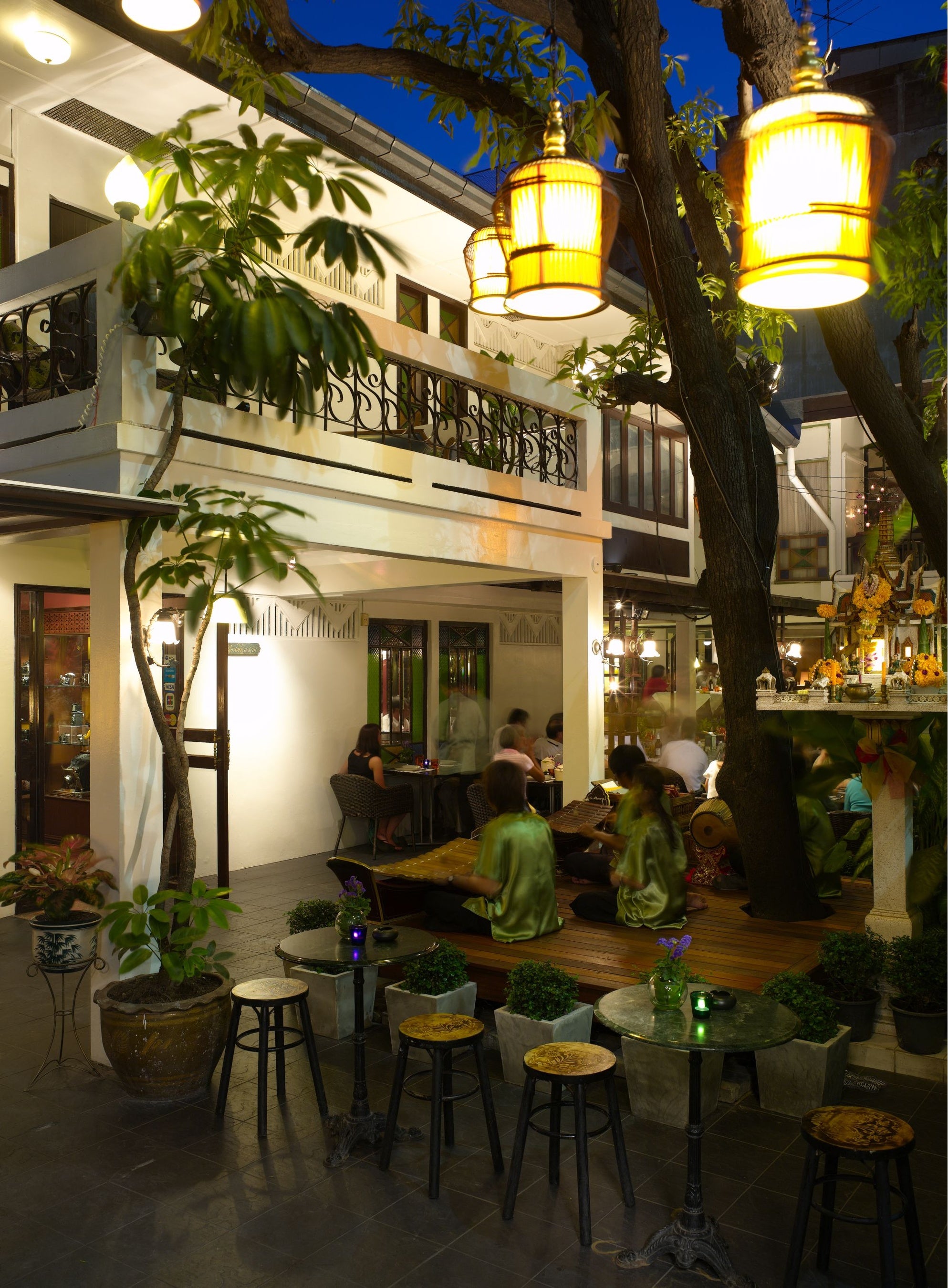 Founded in Bangkok, Thailand in 1994, Thai restaurant "mango tree" has expanded to London, Japan, Dubai, Hong Kong and other countries around the world. "mango tree" is a Thai restaurant that was built in 1994 by renovating a mansion that was built more than 100 years ago on the back of Surawong Road in Bangkok, Thailand. Under the theme of "Authentic Thai Cuisine", we offer dishes that combine carefully selected Japanese ingredients with Thai herbs and spices and traditional cooking methods in a sophisticated space and service. "Mango Tree Tokyo" has acquired the "THAI SELECT Signature", which is given to restaurants that have been evaluated as five stars by the Thai Ministry of Commerce.
As a sister store, the cafe restaurant "Mango Tree Cafe" that offers traditional Thai taste casually (Shinjuku, Ebisu, Ueno, Tokyo Dome City LaQua, Toyosu, Kitasenju, Yokohama, Kawasaki, Omiya, Saitama Nishiomiya, Urawa Shibahara・Matsudo Kogasaki, Osaka, EXPOCITY), "Mango Tree Deli" (Isetan Shinjuku Main Store), a takeout specialty store where you can enjoy traditional Thai cuisine at home, and "Mango Tree Kitchen" (Tokyo), which has an eat-in space for takeout. Station Gransta, Gransta Marunouchi, Toyoko Norengai, Yokohama Joinus, Ecute Omiya (Kao Mangai Kitchen), Grand Front Osaka, Daimaru Shinsaibashi), food court "Mango Tree Kitchen LaLaport Yokohama", the world of "mango tree" continues to expand. increase.
Store information for each store http://tiny.cc/mangotree_shoplist
Official website https://www.arclandservice.co.jp/mangotree/
Instagram https://www.instagram.com/mangotree_jp/
Twitter https://twitter.com/mangotree_jp
Company Profile
Company name: Mealworks Co., Ltd.
Representative: Issey Kojima, President and Representative Director
Head office location: 4-3 Kanda Surugadai, Chiyoda-ku, Tokyo Shin-Ochanomizu Building 14F
Date of establishment: April 30, 1992 *former Coca Restaurant Japan established
Business description: Operating Mango Tree, Khao Man Gai Kitchen, Dancing Club, Uoshin, etc. in Japan
Official website https://www.arclandservice.co.jp/company/group/#group3