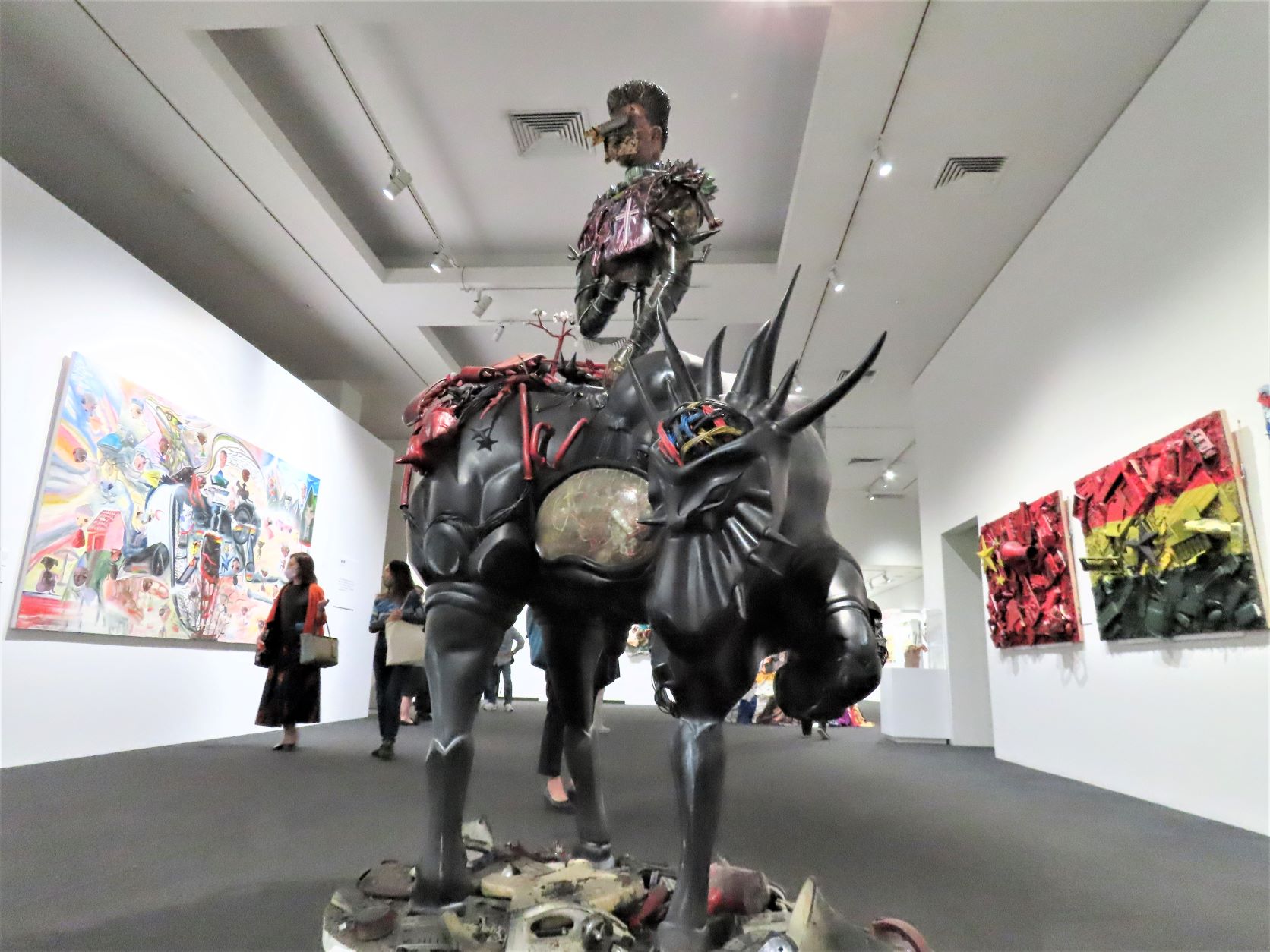 Numerous art works using waste materials born from the slums of Ghana, Agbogblothy.
The world's attention is now focused on the activities of Shingo Nagasaka, an artist aiming for sustainable capitalism.
Nagasaka's first solo exhibition at a museum is currently being held at the Ueno Royal Museum.
Game consoles, computer keyboards… Covered on the canvas are electronic devices and their parts that we are all too familiar with.
Shingo Nagasaka is an artist who creates original works with broken electronic devices discarded by developed countries.
In addition to his work, the philosophy symbolized by the word "sustainable capitalism" and the method of investing profits in slums have attracted attention from all over the world. Still A Black Star was also produced.
"Shingo Nagasaka Exhibition Still A "BLACK" STAR Supported by Nanboya" is his first solo exhibition at an art museum. About 200 works are exhibited.
The truth of the world that I met in the slums of Ghana
---
---
"We in developed countries can't be the only ones to be happy."
Mr. Nagasaka appealed to the assembled press with a sincere look. He then speaks forcefully about his vision of raising 10 billion yen to build a recycling plant in the slums of Ghana.
In June 2017, Mr. Nagasaka, who was a street painter, visited Ghana's slum area Agbogbloshie, which is called the " graveyard of the world's electronic equipment ''. There, he was shocked to meet young people who live on a meager 500 yen a day by burning electronic devices discarded by developed countries.
Since then, Mr. Nagasaka has continued to use the power of art to convey the reality that "our rich lives are made possible by the sacrifices of the people of this slum.''
If the world is not beautiful, we cannot live a beautiful life either.
As can be seen in the monstrous form of "Law of Conservation of Mass," in which the smoke of cinders, a young man, and a cow are integrated, Mr. Nagasaka severely criticized the consumer society that ignored the local natural environment. there is
However, at the same time, to borrow Mr. Nagasaka's words, we are born "capitalist draggers," and we cannot immediately realize a social form that completely ignores capitalism.
Therefore, he proposes "sustainable capitalism ," a form in which the three wheels of "culture," "economy," and "social contribution" rotate continuously.
For example, the more Ghanaian works he owns, the less garbage there will be, the more it will contribute to the economy, and the more cultural it will become. And at the same time, the message of this problem spreads all over the world. It is an attempt to create a sustainable virtuous circle while making good use of the form of capitalism.
One of his sustainable capitalism activities is his first NFT * project "MAGO Mint".
In the first project, "Waste St. in NYC," he created a unique collection of 300 limited photographic works, using home appliances that are thrown away on the streets of New York every day as canvases. did.
Things that will disappear in a few days will continue to live as digital archives with the artist's energy. It can be said that this is an attempt unique to NFT.
The daily trading volume of this "Waste St. in NYC" has reached a scale second only to Mr. Takashi Murakami's, and the sales are said to be invested in the establishment of a recycling factory in the slums.
The form of love shown in the theory of relativity
There are about 200 works on display at this exhibition, but one of the works that left a personal impression on me was Theory of Relativity, which was displayed at the end of the exhibition.
This diagrammatically expresses the ideal society and the way love should be based on the advanced/backward axis and the rich-poor axis.
"If you put your hand on a hot stove for a minute, it feels like an hour. If you sit with a pretty girl for an hour, it feels like a minute."
A work inspired by the famous theory of relativity.
In other words, when there is love, the sense of time disappears. Conversely, when we talk about "advanced countries" and "underdeveloped countries," there is no love there.
What is shown in the center of the canvas is exactly the state where time has disappeared. Eternal peace and full of love.
In order to achieve this, we need the participation of the viewers. A coin slot is provided on the side of the canvas, and the inserted coin reaches the "underdeveloped country" along the pipe.
It can be said that this is a work that embodies Mr. Nagasaka's method of sustainable capitalism.
In addition, at the venue, there was an animated video of "Millie-chan" inspired by Anpanman, an art work made of dumped waste from the Seto Inland Sea that was visited for olive cultivation, and a work drawn before the corona disaster. Despite this, various works such as "Let's Go Diversity", a future forecast that seems to imply the "new normal" due to the spread of infectious diseases after 2020, are exhibited.
Building factories in slums, and world peace.
Shingo Nagasaka's attempt to change the world through art continues at this very moment.
Why don't you visit the venue and participate in the "MAGO Project" yourself?
* NFT – "Non-Fungible Token" = Non-fungible token. Non-fungibility means irreplaceable. Tokens are crypto assets that use blockchain technology. Art, music, and other works circulating on the Internet, which until now were easy to copy due to the abuse of copyrights, can now be marked with a unique data identification signature, making the ownership clear. system.
Overview of the event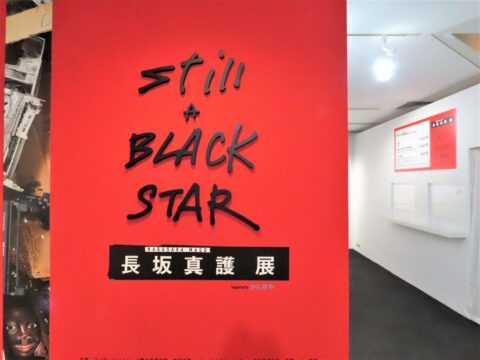 exhibition period
September 10th (Sat) – November 6th (Sun)
venue
Ueno Royal Museum
Opening hours
Opening hours: 10:00-17:00
*Last entry is 30 minutes before closing
*No closed days during the exhibition period
viewing fee
General 1,400 yen, high school/university/vocational school students 1,000 yen, middle/elementary school students 600 yen
*Admission is free for preschool children.
*Children under elementary school age must be accompanied by a guardian.
*If you enter with a student ticket, please show your student ID. (Excluding elementary school students)
*Persons with a disability certificate (Physical Disability Certificate, Rehabilitation Certificate, Mental Disability Certificate, Ai no Techo, Atomic Bomb Survivor Health Techo) can enter the museum free of charge for themselves and up to one accompanying person. . Please speak to the venue entrance staff when you visit.
organizer
Fuji Television Network, The Ueno Royal Museum
Contact information
050-5541-8600 (Hello Dial 9:00-20:00 all day)
Exhibition HP
https://www.mago-exhibit.jp
<Past coverage article>
"Japanese art" started here. [Tokyo University of the Arts University Art Museum] Special Exhibition "Unraveling Japanese Art-Imperial Family, Treasure Box of Beauty" (~9/25) Preview Report
[Venue Report] The exhibition "Finn Juhl and the Danish Chair" opens at the Tokyo Metropolitan Art Museum. There is also a special corner where you can actually sit on a chair!
Power seeks art, and art becomes power. [Tokyo Metropolitan Art Museum] "Boston Museum of Art Exhibition Art x Power" (~ 10/2) preview report