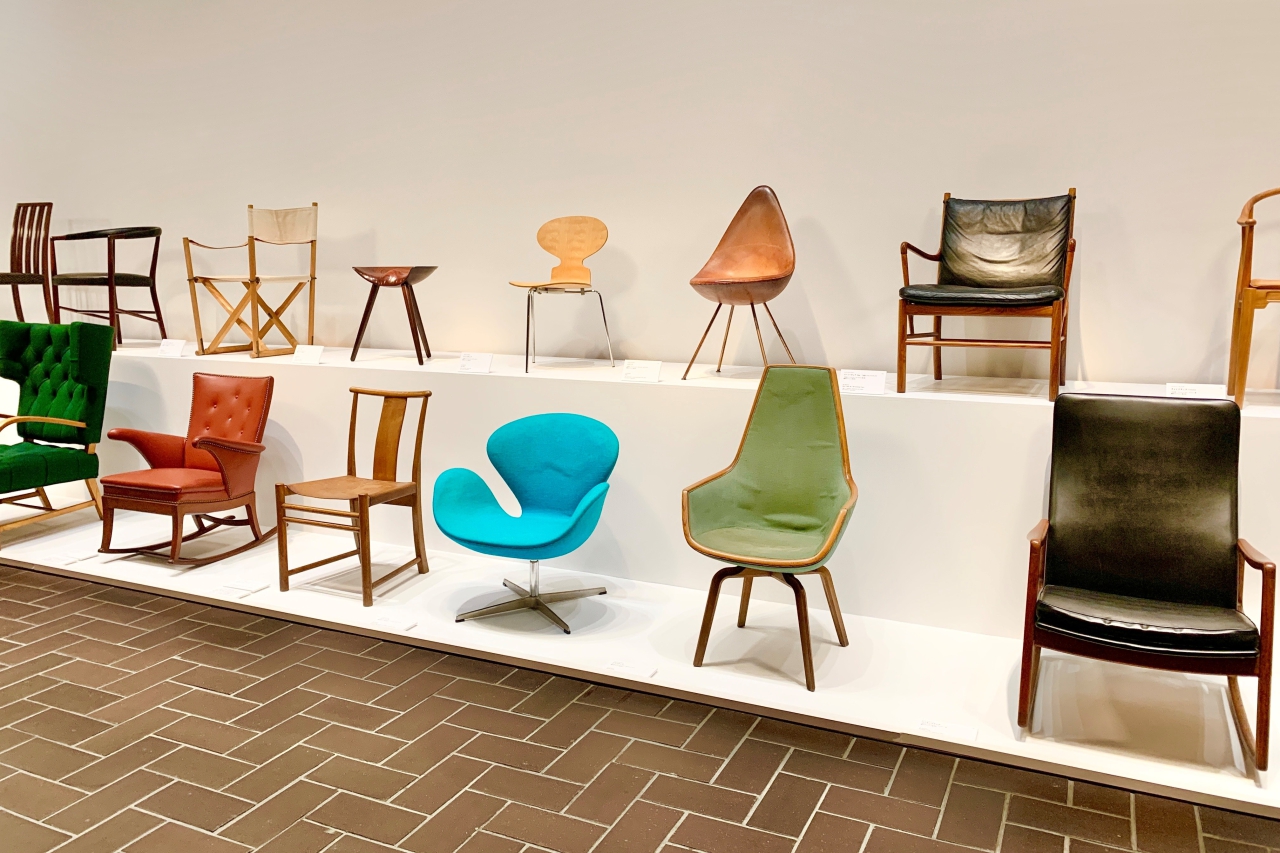 A special exhibition "Finn Juhl and Danish Chairs" will be held at the Tokyo Metropolitan Art Museum, focusing on the works of Finn Juhl, a Danish designer known as a "furniture sculptor", to introduce the history and transition of furniture design in the country. It started on July 23, 2022.
Since I participated in the press preview held earlier, I will report on the situation of the venue.
An exhibition focusing on "chairs" that support every day
In Denmark, a Scandinavian country known as a design powerhouse, Hygge's values, which mean "comfortable and enjoyable time," have taken root in lifestyles, and simple comfort has been pursued in terms of furniture design. rice field.
Especially from the 1940s to the 1960s, Denmark entered a golden age with many of the finest furniture in history. Finn Juhl (1912-1989) is one of the leading designers of the golden age.
Not only does his furniture fit comfortably in the body, but it also stands out for its modern design with graceful curves and the beauty of its fine details, such as works of art, which have been described as "sculptural". increase.
The "Finn Juhl and Danish Chairs" exhibition explores the charm of Finn Juhl's design while tracing the history and transition of furniture design centered on Danish chairs with a variety of examples.
At the end of the exhibition, there is also a special corner where you can actually experience Danish-designed chairs.
Most of the exhibits are from the world-famous "Oda Collection" owned by Higashikawa Town, Hokkaido. Noritsugu Oda (Professor Emeritus, Tokai University), one of the academic collaborators of this exhibition, is a collection of furniture and daily necessities of the 20th century that has been collected for many years as research materials. This exhibition will be the first opportunity.
Chapter 1 "Denmark Chair-Background of the Design"
This exhibition consists of three chapters, Chapters 1 to 3.
Chapter 1, "Denmark Chairs," began with the introduction of the 1930 Stockholm Expo, which inspired young Danish architects and designers to come into contact with the modernist movement that dominated Europe with rationalism and functionalism. increase.
---
---
He led the Danish unique modernism movement of opening designs to the general public while inheriting traditional furniture making, and advocated the idea of " redesign" to study and reconstruct traditional furniture and ergonomic methodologies. Kaare Klint (1888-1954) , known as the "father of Danish modern furniture design" .
He was the first professor to create the Department of Furniture at the Royal Danish Academy of Fine Arts , which is said to have had the greatest influence on the development of furniture design in Denmark.
The existence of a furniture craftsman association that efficiently trains furniture craftsmen and frequently holds exhibitions that showcase their high level of skill.
Along with various materials such as photographs, posters, publications, and videos, we carefully look back on the background of the creation of Danish masterpiece furniture that is still loved all over the world.
Here, Kaare Klint, of course, Ole Wanscher, who became the second professor of furniture at the Royal Academy of Fine Arts , Børge Mogensen , who designed functional furniture without extra decoration for the general public, deep into wood. You can overlook various chairs by famous designers such as Hans J. Wegner who produced masterpiece furniture one after another with knowledge and outstanding craftsmanship.
It is a chair with a simple basic structure of seat, back and legs, but some of them are Helge Westagod Jensen's "Racket Chair" using a gut stretched on a tennis racket and Verner shaped like an ice cone. -There is a wide variety of chairs, such as Panton's "Corn Chair" and Grete Jark's "Plywood Chair" that looks like they were made of origami.
However, none of them are gorgeous, and they have a calm atmosphere common to Danish design.
The works lined up here are all works that were born in Denmark in a short period of about 30 years in the 20th century, but you can see that there are surprisingly diverse thoughts and ideas even if you say a chair.
Chapter 2 "The World of Finn Juhl"
Many of the furniture designers at the time were from Kaare Klint's students or furniture workshops.
Finn Juhl, aspiring to be an art historian, enrolled in the Royal Academy of Arts in 1930 to study architecture at the recommendation of his father. He studied furniture design by himself while being involved in building design and interior design at an architectural firm, and in 1937, when he was 25 years old, he exhibited for the first time at an exhibition of the furniture craftsmen's association.
Chapter 2, "The World of Finn Juhl," begins with an early architectural drawing by Finn Juhl, an architect, interior designer, and furniture designer.
Many masterpieces such as "Easy Chair No.45", "Chieftain Chair" and "Pelican Chair" were created in the late 1930s when he teamed up with excellent furniture craftsman Niels Votter to explore a unique form.
Designed for his own residence (Finn Juhl), which was built in 1942 in northern Copenhagen and became a lifelong workplace.
Finn Juhl's wide range of activities since 1950, which has been acclaimed abroad, includes interior design at the United Nations Headquarters in New York, office design for Scandinavian Airlines in Sweden, and cabin design for passenger planes. Introducing the whole picture of.
Finn Juhl's work, which is described as "like a sculpture," is said to be greatly influenced by the form and inherent aesthetics of abstract sculptures by sculptor Hans (Jean) Arp.
Especially in the early works, the sculptural approach was remarkable, and the smooth arms along the elbows and the flowing curves of the slender and sharp legs were abstracted like sculptures with the human body of the Alp as a motif. Reminiscent of the body.
As Finn Juhl puts it, "The chair is not just a daily necessities, it is a form and a space in itself", his chair with an organic form is not only comfortable to sit on, but also architecture and art. It is a big attraction that it creates harmony in the space while closely resonating with daily necessities.
The exhibition related to Finn Juhl's house clearly shows its charm. As a place where you can embody your own concept without being interfered by anyone, it is a discerning mansion that not only designed the building but also designed the furniture and daily necessities.
The beautifully arranged works of art such as Wilhelm Lunström's paintings and the video material that introduces the space of the mansion in harmony with the scenery of the lush forest will give you a sense of the aesthetics of Finn Juhl's design.
Chapter 3 "Experience Danish Design"
Finn Juhl thought to the chair, "If there is no one sitting there, the chair is just a thing. Only when a person sits down will it be a comfortable everyday item."
This exhibition features Finn Juhl, so in Chapter 3, "Experience Danish Design," we will return to the original role of chairs, which are everyday tools and are designed with the user's life in mind. I am. How, visitors can actually sit in more than 30 different Danish chairs.
There are heavy leather chairs like the president's seat, and folding stools that are perfect for outdoor production.
Touch the chair directly to check how easy it is to sit and feel, and observe the person sitting. You can experience how each designer faces the issues surrounding chairs and how they have solved them.
The chairs and luminaires featured here are still being manufactured by Danish manufacturers.
Denmark is known as "the happiest country in the world".
In a world of ever-changing values and lifestyles, the fact that Danish design, with its simple design and functionality, and universal familiarity that fits into any space, is rooted around the world. It may be a hint for us to live comfortably.
---
The exhibition "Finn Juhl and Danish Chairs" will be held until October 9, 2022, which will shed light on familiar furniture such as chairs that support every day.
By the way, regarding the holding of this exhibition, at the renewal of the Tokyo Metropolitan Art Museum in 2012, Finn Juhl and other Danish chairs and tables will be installed in the "Keitaro Sato Memorial Art Lounge" on the 1st floor of the central building, and a break corner will be set up. It is said that the new establishment was the trigger.
It is said that it was installed to make it a cozy space where visitors can spend a relaxing time, but it is not only the high affinity between the architecture of the Tokyo Metropolitan Art Museum and Scandinavian furniture, but also the power of furniture that completely changes the impression of the space. Was also surprised.
If you visit this exhibition, be sure to take a look at the "Keitaro Sato Memorial Art Lounge".
★ Click here for the report article of "Boston Museum of Fine Arts Exhibition Art x Power" that started on the same day ↓
Power seeks art, and art becomes power. [Tokyo Metropolitan Art Museum] "Boston Museum of Fine Arts Exhibition Art x Power" (~ 10/2) Preview Report
Outline of the special exhibition "Finn Juhl and the Danish Chair"
Session
July 23rd (Sat) -October 9th (Sun), 2022
venue
Tokyo Metropolitan Art Museum Gallery A, B, C
Closed days
Monday, September 20th (Tuesday)
* However, the room will be open on August 22nd (Monday), 29th (Monday), September 12th (Monday), 19th (Monday / holiday), and 26th (Monday).
Opening hours
9: 30-17: 30 (Enter 30 minutes before closing) * Friday 9: 30-20: 00 (Enter 30 minutes before closing)
Admission fee
General 1,100 yen / College student / vocational school student 700 yen / 65 years old and over 800 yen

* Free for high school students and younger
* Free for persons with a physical disability certificate, love certificate, nursing certificate, mentally handicapped person's health and welfare certificate, and A-bomb survivor's health certificate and their attendants (up to 1 person)
* For other details, please check the official exhibition website.

Organizer
Tokyo Metropolitan Foundation for History and Culture Tokyo Metropolitan Art Museum
Exhibition official website
https://www.tobikan.jp/finnjuhl
* The content of the article is as of the date of the interview (July 22, 2022). Please check the official website for the latest information.
<Past coverage articles>
Power seeks art, and art becomes power. [Tokyo Metropolitan Art Museum] "Boston Museum of Fine Arts Exhibition Art x Power" (~ 10/2) Preview Report
A story of nature and people spun by masters of Western art. [National Museum of Western Art] "Dialogue of Nature and People" Preview Report (~ 9/11)
Weaving the feelings of the islanders into the future. [Tokyo National Museum] Special exhibition "Ryukyu" preview report (~ 6/26)
[Press Release Report] Special Exhibition "All about the Tokyo National Museum, a National Treasure" A memorial exhibition that shows all 89 national treasures in its possession!
Click here for a list of reports