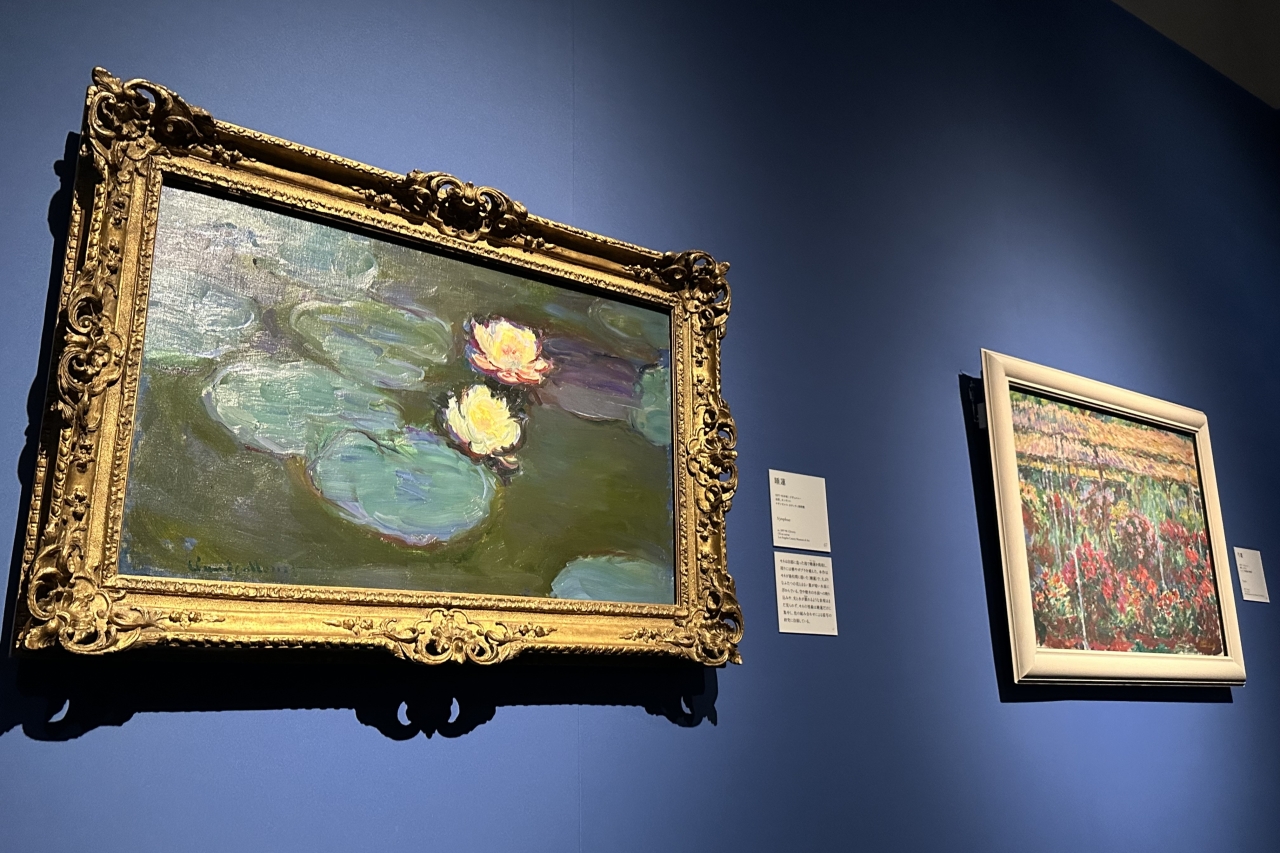 Article provided by: Taito Bunka Marche
The exhibition "Monet: Scenes from a Series'' is currently being held at the Uenonomori Art Museum, tracing the life of Impressionist master Claude Monet through more than 60 of his masterpieces, including the "Stack of Straws'' and "Water Lilies'' series.
The exhibition period is until January 28, 2024.
I attended the press preview held prior to the event, so I will provide a detailed report on the venue.
All of the works on display are Monet. A valuable exhibition realized with the cooperation of over 40 museums in Japan and overseas
Claude Monet (1840-1926) is a master of Impressionism.
Monet, who had an extraordinary sense of natural light and color, observed the same places and motifs in different seasons, weather, and times of day, and created continuous impressions and the instantaneous movement of light on multiple canvases. He is known as a painter who established an innovative method of expression called "series'', which was unprecedented until then .
This exhibition is being held to commemorate the 150th anniversary of the birth of Impressionism in 1874 (the holding of the first Impressionism exhibition), and features a variety of Monet's works such as "Stack of Straw'' and "Water Lilies.'' While focusing on a series of paintings with motifs, we will also be introducing works from before they were known as Impressionists, such as the large portrait painting Luncheon, which will be shown for the first time in Japan. Through more than 60 masterpieces collected from more than 40 museums in Japan and abroad, you can trace Monet's life, which continued his constant dialogue with time and light.
Luncheon, an early masterpiece that marked a turning point towards Impressionism, is exhibited for the first time in Japan
The exhibition is organized into five chronological chapters.
Monet was born in Paris in 1840 and spent his childhood in a port town in Normandy. From around the age of 15, he had already distinguished himself locally as a master of caricatures, and at the age of 17, on the advice of the landscape painter Eugène Boudin, he began painting landscapes outdoors.
---
---
After training as a painter in Paris, in 1865 he won two landscape paintings at the Salon, a traditional public exhibition that was the only gateway to success and the best market for French artists at the time. was selected in his first attempt. Although he made a successful debut, in 1867, the salon's judging standards became strict and conservative, and he was not well received. In 1870, his carefully prepared work Lunch (1868-69), over 230 cm in height, was rejected.
In Chapter 1, "Monet before Impressionism,'' Monet's "Lunch'' will be exhibited for the first time in Japan, as well as landscape paintings and portraits depicting waterside scenes in the Netherlands, where he lived from 1871 after fleeing the Franco-Prussian War. .
"Lunch'' depicts a casual scene at the dinner table when Camille, who later married, and her son Jean, who had been living separately for financial reasons, began living together. This is one of Monet's early representative works that allows you to experience the rare "black" style, and one theory is that his bold, rough brushstrokes and bright colors are new expressions, and that he depicts everyday scenes with little narrative as if they were great paintings. It is believed that the fact that he painted it on a large screen displeased the judges, who emphasized neoclassicalism.
Taking this rejection as an opportunity, Monet distanced himself from the salon, which had a different artistic style, and turned to full-fledged Impressionism.
At the end of 1871, Monet moved to the picturesque Argenteuil, a town along the Seine River on the outskirts of Paris, where he devoted himself to painting alongside Manet and Renoir, who visited the area. Seeking a new venue for presentation, in 1874 he held the "First Impressionist Exhibition'' with his comrades in Paris. Although it attracted attention, sales were poor and the company was in financial trouble. Furthermore, in 1879, he lost his wife Camille, who was his best model and understanding person, due to illness.
Chapter 2, "Monet, the Impressionist Painter,'' exhibits a variety of Impressionist-like landscape paintings created by Monet, who was living in such a difficult environment in the 1870s and 1880s, while traveling to various locations around the Seine River Basin. Monet loved natural scenes, especially waterside views, rather than the rapidly modernizing cityscapes.
Around this time, Monet imitated the landscape painter Charles-François Daubigny and created a unique atelier boat with a cabin on top of the boat, as depicted in "Monet's atelier boat'' (1874). This vehicle, which can withstand the bad weather that comes with outdoor production, allows him to move around freely, capturing many of his works from a unique perspective on the water.
What particularly fascinated Monet was the view of the small village of Vetheuil, including its church, looking out over the Seine River, and he painted this theme repeatedly. Among them, The Church of Vetheuil (1880), housed in the Southampton City Art Gallery, is famous as a masterpiece of this period, and he applied bold strokes of paint to the canvas in an attempt to depict the moment as it is visible, reflecting the constantly swaying surface of the water. The highlight is that it's posted quickly.
Another thing that caught my eye in the same chapter was the painting , which depicts the desolate winter landscape of Vetheuil in a somewhat abstract and rough brushstroke compared to other works from the same period. ( 1879).
Another work that takes the nature of Vétheuil as its theme is Spring at Vétheuil (1880), which was painted with a woman and child who appeared to be Alice, the wife of the Hochede family who lived with her. , is a richly expressive drawing with short, thick touches, thin and short lines, and rhythmic lines that run like waves, mixed with soft pink.
When I compared the two works, I got the impression that the latter was clearly more stable as a picture. One can only imagine that the warm arrival of spring and the presence of those close to him may have gradually soothed Monet's deep sadness over the loss of his wife Camille.
Towards the idea of "series''. A group of loosely connected works with the same theme
Monet, who traveled extensively throughout Europe thanks to the development of the railway network in the late 19th century, preferred natural scenery such as deserted beaches rather than crowded resort areas, and spent several months in one place intensively painting. Or I worked on it while revisiting it on a yearly basis.
Chapter 3, "Concentration on a Theme,'' introduces works that capture the diverse expressions of a single landscape, such as the beaches of Pourville in Normandy and the strange rocks of Etretat, which fascinated Monet.
Of particular interest are four works that deal with the coast of Pourville. The two works , The Cliffs of Pourville, created in 1882, and 15 years later, The Cliffs of Pourville, Morning and The Ripples of the Sea of Pourville, created in 1897, both depict cliffs that can be seen across the coast. The sandy beach, sea, and sky are depicted in similar compositions.
However, while the 1882 work clearly emphasizes the prominent cliffs and reefs as motifs, the 1897 work has weaker motifs, and is instead more conscious of the changing weather, sea conditions, and overall atmosphere. I feel like it's aimed at me.
These four works vividly conveyed the changes in Monet's style and his point of view, which can only be seen because the works were painted in the same location over a period of more than 10 years.
Other works such as La Manneporte (Etretat) (1883) and La Manneporte in Etretat (1886) are works with a certain order that give a sense of loose connection, variations on the same theme. It can be expressed as something like. Through this process, Monet came up with the idea of creating a series of paintings about a single subject.
From Chapter 4, "Monet, the Painter of Series'', we will finally see the representative works of "Series,'' which is the main focus of this exhibition.
In 1883, at the age of 42, Monet moved to Giverny on the Seine River as his final home. Monet initially painted the stacks of straw, which was a familiar sight in autumn in this area, as a motif, but around 1890 he arranged multiple canvases side by side and created paintings based on the effects of light depending on the weather and time. Simultaneously depicting the ever-changing situation. In 1891, he held a solo exhibition at the Galerie Durand-Ruel in Paris, displaying them as a series, which was a dramatic success, and established him as one of France's leading painters both at home and abroad.
This Stack of Straws is thought to be the first series in which Monet seriously practiced the method of systematic serial painting.
The Stack of Straw, Effect of Snow (1891) exhibited in this exhibition is one of 15 works exhibited at the Durand-Ruel Gallery in 1891. The stack of straw is placed large in front of the screen, creating a beautiful dramatic contrast between the stack of straw, which is almost in shadow, and the bright snow.
Since then, he has created a series of works based on a number of motifs, and from 1899 he spent several years painting Waterloo Bridge and Charing Cross Bridge in London.
"Waterloo Bridge'' has 41 works, the most of any series in London, and three of them, depicting cloudy weather, dusk, and sunset, will be exhibited at the venue.
The screen seems to be filled with a humid atmosphere, and the details of the bridge, which was the motif, are omitted in each painting, and the soft silhouette appears as if it is floating in the mist of the River Thames. The highlight is the delicate harmony of colors created by the prism of light, and just like a woodblock print that changes its printing color, the uniqueness of the color expressions stands out because the composition is the same.
By repeatedly viewing a single subject in a variety of visual effects of color and light, the viewer is immersed in the work and is able to trace the "time'' that Monet himself would have experienced, which cannot exist on screen. Let them experience it. I believe that creating this immersive experience was also the aim of Monet's "series''.
It is not just a simple exploration of light and color, but also how "sequential works'' function together and what effect they produce on the viewer, creating new art that can only be achieved through "sequential works.'' I felt Monet's firm will to do so.
The water lily that made Monet the "father of abstract painting''
Monet's home in Giverny was the greatest source of inspiration, filled with his ideals. Monet spent many years trying to use the "Flower Garden,'' where seasonal flowers such as wisteria and peonies bloom, and the "Water Garden,'' which was inspired by Japanese gardens and is called "Monet's masterpiece,'' as subjects for his paintings. Also spent a lot of time on maintenance. The water lilies that the gardener cultivated in the pond of this "water garden'' became the motif of one of his greatest series of works in his later years. Supported by his second wife Alice and his family, Monet continued to create art until his death at the age of 86, despite suffering from visual impairment.
The fifth and final chapter, "Water Lilies and the Garden at Giverny,'' introduces scenes from Giverny and various garden scenes that Monet loved, including water lilies.
Monet began intensively painting water lilies in the summer of 1897, four years after he started constructing the pond, and Water Lilies (circa 1897-98) are among the eight works he produced at the beginning of his career. One of them. A close-up composition of water lily flowers and leaves, drawn close to the surface of a pond, with a clear form. What caught my attention was how the bold brush strokes of the flowers appeared as a glossy three-dimensional effect from a distance.
At this point, you can see that Monet's gaze is fixed only on the water lilies, with no reflection of the trees or sky around the pond on the dark surface of the water. As the years pass, our gaze focuses on the water surface. As his eyesight deteriorated, he lost depth, his brush strokes became rougher, and the shapes, colors, and light melted together on the surface of the water, which reflected his surroundings like a mirror, transforming him into something like an abstract painting.
These later works stimulated abstract artists in the mid-20th century, and Monet's art received new attention and re-evaluation.
This is a valuable exhibition where each piece is a representative oil painting by Monet, "100% Monet'', without any drawings or underpaintings. This book is recommended for beginners of Monet, as it shows the changes in Monet's style from before Impressionism to his later years. Please come and visit us.
Overview of "Monet Scenes from a Series"
Period
From October 20, 2023 (Friday) to January 28, 2024 (Sunday)
venue
Ueno Royal Museum (1-2 Ueno Park, Taito-ku, Tokyo)
*3 minutes walk from JR Ueno Station Park Exit
Opening hours
9:00-17:00 (~19:00 on Fridays, Saturdays, and holidays)
*Admission is allowed until 30 minutes before closing.
closing day
Sunday, December 31, 2023, Monday, January 1, 2024 (Holiday)
Admission fee (tax included)
Specific date and time reservation recommended
[Weekdays (Monday to Friday)] General 2,800 yen/University/vocational school/high school student 1,600 yen/Junior high school/elementary school student 1,000 yen
[Saturdays, Sundays, and holidays] General 3,000 yen/University/vocational school/high school student 1,800 yen/Junior high school/elementary school student 1,200 yen

*Preschool children are free of charge, and reservations for specific dates and times are not required.
*For other details, please check the ticket page on the exhibition's official website.

Sponsored by
Sankei Shimbun, Fuji Television, Sony Music Entertainment, Ueno Royal Museum
inquiry
050-5541-8600 (Hello Dial) All days 9:00-20:00
Exhibition official website
www.monet2023.jp
※※The content of the article is as of the date of coverage (2023/10/19). Please check the official website for the latest information.
<Past coverage articles>
Beautiful and magnificent. Strolling through the world of traditional "Yamato-e". [Tokyo National Museum] Special Exhibition "Yamato-e – Beauty of the Dynasty Inherited" (~12/3) Preview Report
[Interview report] 102 new items released for the first time! The "Yokoo Tadanori Kanzan Hyakutoku'' exhibition is currently being held at the Tokyo National Museum. See a new frontier that is not bound by anything
[Interview report] Ueno's "Beginning, Beginning" Tamana Araki exhibition will be held at the Tokyo Metropolitan Art Museum. Travel through an extraordinary world that is both cute and disturbing.
The movements and trajectories of young artists. [Tokyo University of the Arts University Art Museum] "Taito Ward Collection Exhibition – Artists who left Ueno, a capital of culture and art" Preview report
[Venue Report] A major retrospective exhibition "Matisse Exhibition" will be held at the Tokyo Metropolitan Art Museum. His early masterpiece "Luxury, Tranquility, and Fun'' is shown for the first time in Japan, tracing the journey of a explorer of color.