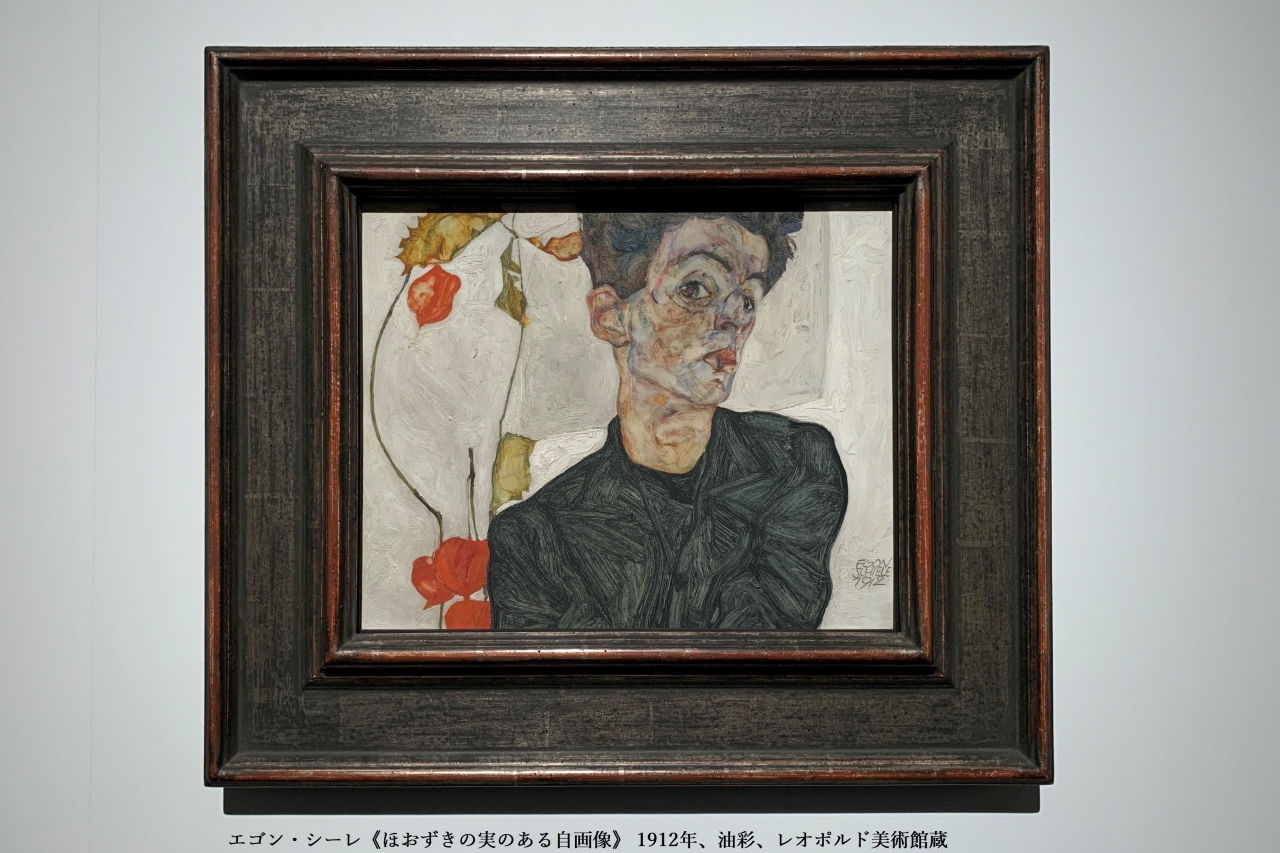 A large-scale exhibition of Egon Schiele (1890-1918), one of the most important painters representing fin- de-siècle Vienna, will be held on January 26, 2023 in Ueno, Tokyo. It opened at the Tokyo Metropolitan Art Museum.
A retrospective exhibition of the genius Egon Schiele, who died young, for the first time in about 30 years in Tokyo
From the end of the 19th century to the beginning of the 20th century, Egon Schiele was a painter who was brilliantly active in Vienna, which was experiencing a period of rare artistic maturity. .
In 1906, Schiele, who showed glimpses of painting sense from an early age, entered the Vienna Academy of Fine Arts as a special admission at the age of 16, the youngest in the school year. In the following year, he was discovered by Gustav Klimt (1862-1918), another representative painter of fin-de-siècle Viennese art, and was greatly influenced by him.
In 1909, he voluntarily withdrew from the conservative system of the academy and formed the "New Artist Group'' with friends. He continued to produce innovative works, and in 1918 he was successful at the 49th Vienna Secession Exhibition, but in the same year he died of the Spanish flu at the age of 28.
His scandalous creative activities, which were unconstrained by the common sense of the time, were criticized, and he was arrested. Schiele's works, which vividly depict the spirituality, life and death, and sex of the world, continue to fascinate people even today.
"Leopold Museum Egon Schiele Exhibition: A Young Genius Born in Vienna" has a world-class collection of Schiele's works. A retrospective exhibition that looks back on Schiele's life and work through a total of 50 paintings and drawings.
65 works by contemporary painters such as Klimt, Moser, and Kokoschka are also introduced.
Self-Portrait with Hozuki Fruit, a representative work by Schiele, who continued to explore the inner world of human beings, is coming to Japan!
I would like to introduce some of the exhibited works.
The centerpiece of this exhibition is Self-Portrait with Hozuki (1912), which Schiele made when he was 22 years old. Schiele's most famous self-portrait is synonymous.
The tension created by the composition of the cherry blossom vines and the slanting posture of the characters creates a tense atmosphere. The contrast between the white background, the clothes, the hair, the black eyes, and the red of the cherry blossoms creates a dignified beauty, while the pale face is boldly arranged with colors such as red and green, giving it a strange liveliness. reflected.
Is the gaze directed at the viewer a provocation or a rejection? Her quiet mouth gives the impression of being both snobbish and swallowing words, and she expresses clearly narcissism and unstable emotional fluctuations with naive sensitivity.
Around 1910, Schiele broke away from the influence of his teacher Klimt and established a one-of-a-kind expressionist style characterized by unstable forms, expressive line drawings, and vivid colors. This work is a masterpiece of the time when his painting style reached maturity.
If you look closely, you'll notice that the cropping and poses in this work are common in modern "selfie" culture.
According to the director of the Leopold Museum, more and more young people are coming to see Schiele's works at the Leopold Museum. For those who express themselves through self-portraits, Schiele's self-portraits, in which he visually puts into practice his thoughts on the "ego," such as human identity, sexuality, and spirituality, while exposing the body and mind, are a striking source of inspiration. It may be something. In that sense, Schiele can be said to be an extremely modern painter.
Self-Portrait with Cherry Blossoms is paired with Portrait of Valli (1912), which is not shown in this exhibition but is modeled on the woman who was Schiele's lover and muse at the time. It is made to be, so if you don't know it, please check it out.
Death was familiar to Schiele from an early age, such as the repeated stillbirths and premature deaths of his siblings, and the death of his beloved father when he was 14. I had a view of life and death. "Death" is an important theme in Schiele's paintings, and there are many works that incorporate the disturbing signs of death.
The Person Contemplating Oneself II (Death and Man) (1911) is a work in which Schiele directly expresses "death". Schiele's self-portraits are often depicted as two people, and in this work as well, the painter himself, with his eyes closed as if indulging in meditation, is surrounded by a presence that looks like a god of death or a ghost. increase. It feels as if he is impatient with the approaching fate of death, and as if he has already accepted his fate, but the third person's hand extending from below strengthens the eerie impression.
According to the exhibition commentary, this work attempts self-reflection using the image of division. As you can see from Self-Portrait with Hozuki Berries, most of Schiele's self-portraits have no background. Going against Klimt's decorative painting style, it suggests that Schiele's interest is directed toward thorough self-exploration and self-introspection, single-mindedly inward.
Schiele also repeatedly uses the motif of mother and child. In general, mother and child images are associated with love and peace, but Schiele's Mother and Child (1912) and Mother and Two Children II (1915) both depict death rather than love and peace. emphasizing unrest such as fear, sadness, and despair. Not only the skillful expression, but also the intense brushwork and gloomy colors, I felt a thrilling dreadfulness that made me take a step back. It can be said that it is a development typical of Schiele that breaks the traditional image of mother and child.
Another must-see is the drawing of a nude woman, where you can enjoy Schiele's exceptional drawing ability and line expression.
For Schiele, who sought to depict "light emanating from all bodies" and depicted radical "sex" that did not sublimate aesthetically, the female nude was also an extremely important motif. Traditionally, nudes are drawn in standing or lying poses, but many of Schiele's nudes are characterized by a wide variety of poses, such as holding the knees, crouching, and extreme twists.
Their bodies are sometimes in a state of extreme agony, but it is strange how beautiful and vivid it looks. There is no doubt that the certainty of Schiele's lines is supported by his relentless exploration of physicality, such as bending his own body to the limit.
The screen composition, which denies spatiality by eliminating the floor and the background and leaving blank spaces around the characters, is also interesting.
The drawings in later years especially caught my eye. The expressive contour lines and slight gradation of black chalk are used to explore the model, and the unwavering lines and silhouette are truly beautiful. In spite of the fact that he sketches the complicated poses with the minimum level of brushwork, such as in Reclining Girl with a Ribbon (1918), the level of perfection is so high that it can be called a work of art by itself. am.
Schiele was the youngest student in the school and was able to enter the academy as a special admission.
Stylized Flowers in Front of a Decorative Background (1908) and earlier Academy Several early works, such as the period, before Schiele established his own style of painting, were also introduced. You can closely follow the artist's journey to emerge, and how he continued to change his style with an obsessive inquisitive mind even after establishing his style.
Painters such as Klimt and Moser who colored the art of Vienna at the end of the century
As mentioned above, this exhibition focuses mainly on Schiele's works, but also Klimt , Schiele's teacher, as well as Koloman Moser (1868-1918), who founded the Vienna Secession with Klimt and specializes in landscape painting and graphic art. ), Richard Gerstl (1883-1908), who is positioned as the first painter of Austrian Expressionism and has been re-evaluated in recent years, and Oskar Kokoschka (1886-1980), a master of Viennese Expressionism like Schiele. A collection of works by Viennese painters associated with Schiele. We can see the background of how Schiele stood out in the flow of the Golden Age of Viennese art.
The modernity of Schiele's work remains intact even after 100 years.
Once again, this exhibition is a very valuable opportunity to bring together 50 works by Egon Schiele, a genius painter who died young. Please come and experience Schiele's trembling, provocative and delicate sensibilities, as well as the creative energy that filled Vienna at the turn of the century.
Outline of "Leopold Museum Egon Schiele Exhibition Young Genius Born in Vienna"
exhibition period
Thursday, January 26, 2023 – Sunday, April 9, 2023 *Dates are subject to change.
venue
Tokyo Metropolitan Art Museum (Ueno Park, Tokyo)
Opening hours
9:30-17:30, until 20:00 on Fridays (last admission 30 minutes before closing)
closing day
Monday
viewing fee
[Date and time reservation system]
General 2,200 yen, university/vocational school students 1,300 yen, 65 and over 1,500 yen, weekday pair discount 3,600 yen *Please check the ticket page on the official website for details.
⇒ https://www.egonschiele2023.jp/ticket.html
organizer
Tokyo Metropolitan Foundation for History and Culture, Tokyo Metropolitan Art Museum, The Asahi Shimbun, Fuji Television Network, Inc.
patronage
Austrian Embassy, Austrian Cultural Forum Tokyo
inquiry
Hello Dial 050-5541-8600 (All day/9:00-20:00)
Exhibition official website
https://www.egonschiele2023.jp
*The content of the article is as of the interview date (January 25, 2023). For the latest information, please check the official website of the exhibition.
<Past coverage report>
[Interview report] Shogun's warriors who landed in Japan for the first time! "Terracotta Warriors and Ancient China Exhibition" Opens at Ueno Royal Museum
The world of The Tale of Genji, now reunited. [Tokyo Metropolitan Art Museum] Ueno Artist Project 2022 "The Tale of Genji that weaves beauty-Meeting encounters and deepening-" (~ 1/6) Preview report
The biggest TARO exhibition ever is coming! [Tokyo Metropolitan Art Museum] "Exhibition Taro Okamoto" (~ 12/28) preview report
[Venue Report] Over 250 "Poison" Exhibits! Special exhibition "Poison" opens at the National Museum of Nature and Science (until February 19, 2023)
[Venue report] The special exhibition "National Treasure Tokyo National Museum" finally opens! 89 national treasures are open to the public, and there is also a "National Treasure Sword Room" where 19 swords such as Mikazuki Munechika are available